This article may contain affiliate links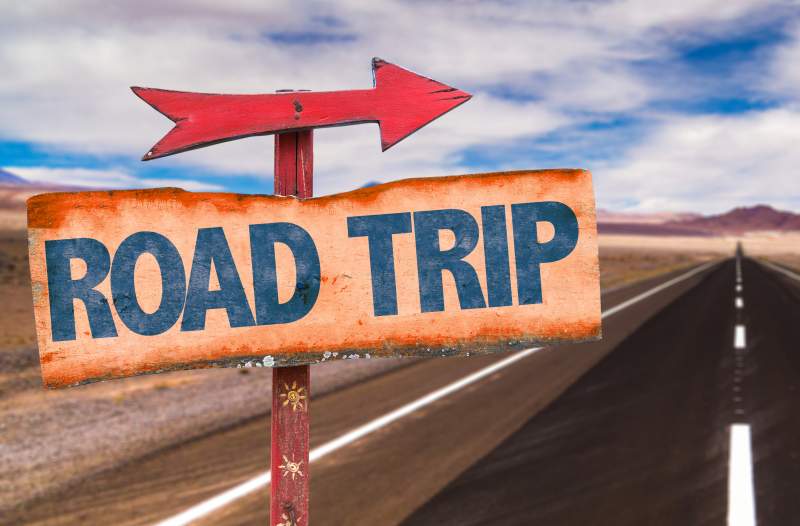 The great American cross country road trip. Who hasn't dreamed of taking an epic cross country road trip across the United States? Think about it. Movies have been made about it, such as Rain Man, National Lampoon's Vacation and my favorite, Planes Trains and Automobiles. Even books have been written about the great American road trip like, John Steinbeck's Travels with Charley In Search of America, and On The Road With Jack Kerouac.
If you have never taken an a road trip, you should consider doing so. So, to give you a nudge, here are 10 reasons to take a cross country road trip.
1. MAKE FAMILY MEMORIES
When I was a kid, my family always took a 30 day vacation during the summer and we always drove. We took epic road trips from Texas to California, Colorado, and one year went to New York. But instead of trying to get there as fast as possible, we took a week or more to get to our destination, where we would spend a week or so, then a week to get home. Stopping along the way to see all the sights, visit historic places, cool small towns, campgrounds and National Parks. When I look back, those were some great times. Taking a road trip with family or friends can give you lifelong memories and leave you wanting to even more. If you have kids, then a road trip might instill in them a love of history or maybe spark an interest in a future career. Many a kid has gone on to work in the fields of science and space exploration because of a trip to NASA. You just never know what memories you might make until you take that epic road trip.
2. AVOID AIRPORT HASSLES
Have you taken a flight lately? I love to travel; I absolutely hate the airport and the flight to get to where I am going. It seems that at the airport, everyone is frustrated, The passengers, the airline staff, the security personnel, everyone. Airline travel used to be tolerable if not fun. Today, with long security lines, airlines that treat passengers as a commodity instead of customers and passengers who are rude, impatient and entitled, the whole experience makes you want to stay wherever you are traveling to and not have to go back through the gauntlet. Add to the fact that once on board the airplane you must deal with crazy passengers, stressed out flight attendants, lost baggage and multiple airline cancellations, it just adds stress when you are supposed to be enjoying a vacation. With a road trip you avoid all of that and can enjoy the trip.
3. FLEXIBLE SCHEDULE
Along with avoiding the hassles of airline travel, on a road trip you have the luxury of a flexible schedule. There is no rushing to catch a connecting flight, and if you find something interesting along the way you can spend a little extra time exploring the area and not worry about time constraints. On a road trip, you decide when to hit the road, when to spend a little more time relaxing and enjoying your morning coffee and changing your itinerary to suit your interests without the penalties of flight changes or missing your flight all together.
4. DISCOVER SMALL TOWNS AND EXPLORE NEW PLACES
One of the best things about hitting the open road on a road trip is the experience of discovering new places. Those places that are often overlooked by mass tourism and those you would never know about flying overhead at 36,000 feet. You can take the interstate and get to your destination in a timely fashion, or you can take the less traveled highways and byways to enjoy the countryside and discover those out of the way places. Some of my most memorable travel experiences have occurred when I get off the beaten path, or main highways, and take to the back roads. Small towns and businesses have offered me the opportunity to meet some nice and interesting people and discover a lot of places that I otherwise would have never known about. Even when I am traveling in a foreign country, I have often rented a scooter and hit the roads to discover amazing places that staying at the main tourist areas just don't offer.
5. ROADSIDE ATTRACTIONS
When I was a kid, we always started yelling at dad to stop every time we saw a sign for the world's largest snake at some reptile farm or petrified dinosaur eggs at some park. There may be a lot less P.T. Barnum type attractions luring families with rowdy kids to stop but there are still many interesting places you can find along the roads. I have visited a Chisholm Trail Museum that was nowhere near a major highway, took a side road to Coffeyville Kansas to see where the infamous Dalton Gang met their end, discovered an old Vietnam village in the Philippines, a historic Texas town known to few people, and much more. Texas has historic markers along the highways and roads, over 16,000, that tell a short story of a historic event that occurred there. Many other states have historic signs and markers along the roads as well. If you have kids and you are on a road trip, what better way to teach them a little about history that stopping and exploring some of these attractions and historic places?
6. EXPERIENCE SLOW TRAVEL
Taking a road trip is the best way to experience slow travel. What is slow travel? In an article by Booking.com they describe slow travel in this way; "At its most simple, slow travel centers around three rules for travel. One, focus on the journey. Two, get to know the locals. Three, protect the environment." With the benefit of a flexible schedule and taking the back roads when available you can start experiencing slow travel. Instead of rushing to the airport, rushing for the flight, rushing for the hotel shuttle that will whisk you away to the all inclusive resort with hundreds of others looking for paradise, you can the time to experience and enjoy the journey, as well as the destination. There is nothing wrong with all inclusive resorts, I liked to be pampered and catered to as well, but why not take the time to enjoy the trip, see new things and meet interesting people along the way before you stake out that beach chair and order the margarita?
7. PACK WHAT YOU WANT
Airline baggage requirements change all the time. Baggage fees change and each airline has different requirements. Then there is TSA and their requirements on what you can take in your carry on, everything limited by small sample bottles, getting your fingernail clippers taken because MacGyver could turn it into a weapon and having to stuff the bag into a small, cramped space on the plane, if you can even find a space. If you pick up a few souvenirs on your trip you have a hard time finding space to pack them for the journey home. On a road trip, you pack what you want. Take one, two or five bags if you want. Take a cooler full of drinks and snacks without having to but $5.00 water and overpriced snacks at the airport. Find that lamp on your travels that you just must buy? Buy it and put it in the car.
8. GREAT PHOTO OPPORTUNITIES
Taking a road trip gives you the opportunity to take some fantastic photos. There are some great scenic drives in the United States, and a scenic drive beats a crowded airline seat any day. You have the scenery and nature passing by right outside your window. For memorable photos, learn how to frame and get the best scene possible. Often people see something and take a photo of it, only to be disappointed that the photo doesn't convey what they saw with their own eyes. You can take great landscape photos with just your phone. Check out a few tips from CNET on taking landscape photos. By experiencing slow travel and taking the time to enjoy your road trip, you will find many more opportunities to capture stunning photos that will add to your memories. Once you have returned from your trip download your photos and back them up to an external hard drive so will have them for years to come.
9. MULTIPLE ADVENTURES IN ONE
Taking a road trip allows you the opportunity to have multiple experiences. If you are headed to a vacation getaway, a two or three day road trip to get there becomes just one more big adventure in the scheme of things. Let's say you are headed to a weekend resort stay. A lot of people might fly there, spend a couple of days, pack up and fly home just to feel exhausted from the travel. Take a few days to drive there instead. Stop along the way and explore wineries, parks, attractions, museums, small towns, etc. Then spend a couple of days relaxing at the resort before you take a day or two to travel home, stopping along the way to enjoy some out of the way place. You will find that by taking a slower approach, you won't be quite as exhausted, have a lot less frustration over airports, and come home planning your next adventure.
10. ROAD TRIPS ARE CHEAPER THAN FLYING
At this writing, gas prices are the highest they have ever been. Some places hitting $5.00 per gallon, yet a road trip is still cheaper than airline tickets, especially if you are traveling as a family. At $4.90 per gallon, a road trip from Dallas Texas to Jacksonville Florida is approximately 490 miles making a round trip cost between $300 to $370 depending on gas mileage. That same trip, according to Expedia, costs $344 for a 1 stop flight and $430 for a non stop flight, for 1 person. Plus, you have the advantage of having your car with you when you get to your destination and don't have to rely on taking an Uber or getting a rental car to get around and see the sights. You can save the several hundred dollars spent on buying airline tickets to splurge on a really nice hotel room, take an excursion at your destination or go to that hyped up expensive restaurant you heard about. Better yet, save the extra money you would have spent on airline fares for your next long road trip.
So, there you have 10 reasons to take a cross country road trip. Now all you need to do is grab the family or some friends, pick a destination, pack the bags, and get ready for an adventure. Who knows you might discover something about yourself along the way.
SIGN UP FOR THE NEWSLETTER AND GET ALL THE LATEST TRAVEL NEWS
(Visited 233 times, 1 visits today)