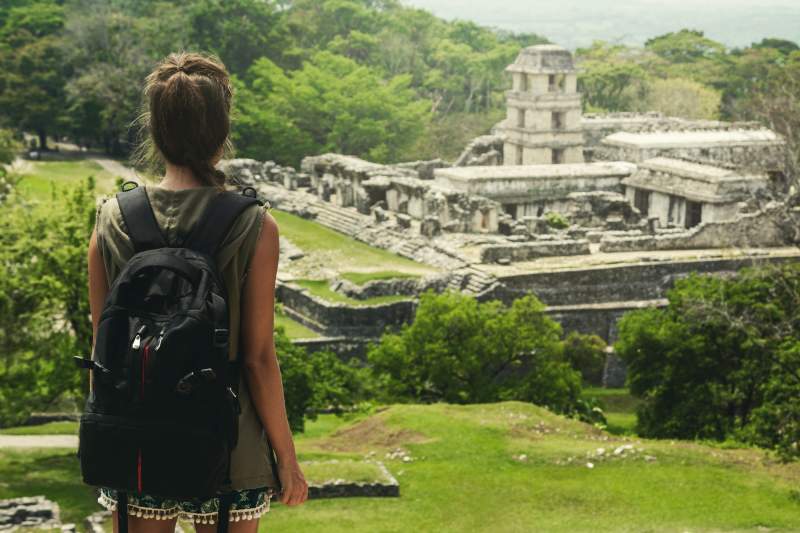 The following article contains affiliate links
I travel solo quite a bit and I have had a few friends and relatives ask about traveling solo. They are curious about it, some are nervous, but many just don't know where to start. The thought of going somewhere unknown by yourself can be intimidating to some. There are some things you need to know to start traveling solo.
For a lot of people traveling solo is a way to experience a certain freedom without having to rely on others interests that they don't share, or they may just enjoy the experience of exploring things on their own. For many, especially seniors, solo travel may happen once they are alone in life and have the desire to finally get out and see the world. Here are 16 things you need to know to start traveling solo.
1. EASE INTO SOLO TRAVEL
If you have never traveled solo and, a little nervous about the prospect, then just ease into it. Start out with a short trip not to far away from home. Take a long weekend and go somewhere new. Get used to looking for accommodations, exploring new areas and being in a new place and still have the comfort of knowing you are not that far away from home. Look for a cheap round trip airfare to someplace new or take a long road trip to a new city and check it out. You can get used to traveling alone and discover new things. Book your low cost airfare with CheapAir.com

2. LEAVE AN ITINERARY WITH FRIENDS AND FAMILY
Let your friends and family know where you will be traveling to. Tell them where you will be staying and when you expect to be home. In the event something happens, bad weather, an incident or, something happens back home, someone can always get in touch with you. It also helps you have a little piece of mind that someone knows where you are. You can also set a time to check in with them just to let them know how things are going.
3. DOWNLOAD HANDY APPS AND PUT IMPORTANT PHONE NUMBERS IN YOUR PHONE
There are several handy phone apps you should download before a trip. Find a good weather app that will send notifications of severe weather. If you are traveling in certain parts of the world severe storms can sneak up quick and you don't want to be caught ill prepared. The AccuWeather app is one of the best weather apps to keep you informed. For traveling in the US, the FEMA app will notify you of natural disasters and emergency situations including riots and more. For road trips in the US the Gas Buddy app can point you to the lowest priced gas in your area, which today more than ever is very important. You also want to put in useful phone numbers such as the hotel where you are staying. If traveling abroad, put in the number to your country's embassy or consulate. There are other apps to keep you informed of security situations, traffic, currency converters, and the Smart Traveler app.

4. RESEARCH YOUR DESTINATION
Whether you are traveling domestically or internationally, a little research can go a long way. Do a search for places to avoid, local attractions and tours, unique or interesting things to do, and places to eat. You don't have to visit everything, but it will give you a good idea of things to do. When traveling internationally check out the US State Department page on the situation there. It will list crime, political environment, places to avoid and more. Other countries have similar pages that can be checked through their government. Check out the best areas in which to stay and where not to. If you are interested in art, do a search for local art. Interested in history? Do a search for museums, and historic areas.
5. TAKE COPIES OF IMPORTANT DOCUMENTS
At the very least, use your phone and take photos of your driver's license, car insurance, and registration, and if traveling abroad your passport. Make a copy of your itinerary and, travel confirmations along with travel insurance info. Make copies of important phone numbers like your bank, and credit card customer service numbers. Make sure you keep a paper copy of all this info and leave one at home with someone you trust or that you can tell them where it is if needed.
6. LOOK FOR INEXPENSIVE ACCOMMODATIONS
Unless you are planning on spending all your time at a resort, look for an inexpensive place to stay. That doesn't mean you have to stay in a dump in a bad part of town. There are all kinds of places in the US where you can find clean, cheap and safe accommodations. You are not going to be spending that much time in your room or at the hotel, so why book an expensive place to stay. Traveling abroad you can find a lot of nice places to stay. I like to use Agoda for cheap hotels because I can find good rates and places not listed on other sites. I am not big on hostels, but many people are and with a hostel you can meet others traveling alone. Some even have private rooms. I have stayed at private condo rentals oversees that were cheaper than a lot of hotels and they were bigger with a lot more amenities. There are home stay organizations that place you with local families, or companies that you can sign up and perform home sitting duties.
7. CHECK OUT THE HOTEL REVIEWS
Do your due diligence and check out the reviews on places you want to stay. Just understand that there will always be a bad review, even with high end hotels, so check a few sources before you book that room. Plan to arrive during the daytime. You don't want to try and find your way late at night in an unfamiliar place. A good place to start is TripAdvisor reviews.
8. PACK LIGHT
Simple, but hard to do. Many people take more than they need when traveling, "just in case I need it". For the most part, you can get away with packing a lot less. Since you are traveling alone, do you really want to haul all that stuff around? Especially if you are flying and traveling abroad. The less stuff you take, the easier it is to get around. Here's a tip, lay out everything you want to take with you, then put half back. Learn to do more with less. I have traveled all over the world and have always been able to do laundry. You can have the hotel send it out, find a laundry close by and do it yourself, or drop it off and put a rush on it so you can get it back the same day. It just makes traveling solo so much easier with not having to haul around a bunch of luggage.
9. TALK TO PEOPLE
If you are an introvert, this on is difficult, but essential. The best way to learn about a new place is to talk to the people that live there. When I was traveling in Asia, I would talk to everyone. By talking to the hotel security guard in Nepal about the kukri blade he was carrying on his belt, I learned he was a retired Ghurka soldier, and he told me about a Ghurka museum I should visit. I talk to the maids, the taxi driver the salesclerk and just about everyone. I have had the privilege of meeting some really nice and interesting people when I travel. Now there is a difference in walking around, annoying strangers by asking a bunch of questions and just being friendly, saying hello and having a little interaction with people you are already meeting. Try talking to the hotel clerk, or the waiter at the café, and ask them "what would you recommend I see or do while I am here?" Ask where a good breakfast place is or anything that you might be interested in.
10. GET OFF THE BEATEN PATH AND EXPLORE
One of the things I enjoy doing while traveling solo is to unleash my inner explorer. I love going to new places and discovering those places most tourists just don't know about. I learn a lot of things about the culture and people by getting away from the big tourist attractions and discovering everything a place has to offer. While traveling in the Philippines I saw what looked like a Chinese temple, I walked to it and knocked on the gate. After talking to the person who opened the gate, I discovered it was a Taoist Temple. He let me in to look around and take some photos. We had a great conversation about the temple, and I would have never known about it since it isn't a tourist site. In Prague a saw a cool looking bar on a side street. Walking in I noticed I was the only male in the bar, and it was adorned with what looked like Halloween decor with witches hanging from the ceiling. It turned out to be owned by a lady who was a witch and belonged to a coven. We had a great conversation while I enjoyed a beer and as far as I know, no spells were cast. You can discover a lot by allowing yourself to get lost in a new destination.
11. TAKE ADVANTAGE OF CITY TOURS
One of the best ways to learn about a new city is to take a city tour, often hosted or narrated by a local. While in London visiting the Tower of London, I saw a man holding a sign about walking tours. The sign gave the dates, times and cost, which was very reasonable. I took a walking tour of Jack the Ripper locations, that was hosted by a retired Scotland Yard detective. We visited all the scenes and heard about the crimes from someone who had been studying the case for years. Many places have walking or riding tours of various things. You can take a history tour, craft beer tour, public art tour and much more.
12. AVOID LOOKING LIKE A TOURIST
This can be hard if you are the only white guy in town, but you can still take measures to not stand out. Don't walk around with a camera around your neck and a shirt that says, "I heart Munich". Try not to wear clothing or carry around things that scream "I am not from here and am just waiting for you to take advantage of me". If you don't draw attention to yourself, you have a lot better chance of not be a victim of a pick pocket or tourist scam. While we are at it, leave your valuables at home. No one cares about your expensive watch, necklace, rings and jewelry except the thief that is looking to steal it. You don't have to impress anyone.
13. ALWAYS STAY ALERT
It is easy to get distracted when traveling in a new place. Looking around at new things and not paying attention to what's going on around you can be a recipe for disaster. It doesn't matter if you are on the road and stop for gas, leaving the airport and headed to your hotel, walking around the town square, or visiting a tourist attraction, you need to always be aware of your surroundings. Keep your belongings close and do not let them out of your sight. When walking at night, stay in well lit, and populated areas. You can't always tell who might be the pickpocket, the thief, or just looking to take advantage of you. Use your common sense, don't get distracted by everything and stay alert.
14. USE CREDIT CARDS AND ATM'S
When purchasing items or booking lodging use a credit card. If any discrepancies arise you can always contact the credit card company for a remedy. If you use your ATM, especially in a foreign country, go to the bank directly and use the ATM located there. Do not use ATM's located in convenience stores, shopping malls or other places. Prior to traveling contact your bank and let them know the dates and locations of where and when you will be traveling. This will benefit you from having a charge declined in a foreign country due to suspected fraud and cut off any transactions occurring after you have left. If you are traveling to a foreign country, then look around for a credit card or ATM card that doesn't charge foreign transaction fees. You could also contact your bank and ask for the fees to be waived. They may not, but it is worth a try.
15. INVEST IN A GOOD PORTABLE CHARGER
You want to be able to stay connected while traveling. If nothing more than for piece of mind that you can always call someone. Portable chargers have come a long way in the last few years. They have gotten more powerful while becoming lighter and smaller. I personally use an Anker charger. They have a great reputation, they are reliable, and have the capability of multiple charges. Anker Nano | The best option for charging any phone fast
16. MEDICAL INSURANCE
Before you leave on your trip, check to see what your medical insurance covers. If traveling abroad your insurance may not cover much. There is however specialized travel insurance that does cover things like foreign hospital stays, transportation home or to a medical facility, and much more. No one ever thinks they might need a medical policy until they have an accident on a motor scooter in Thailand, a medical emergency in Turkey or any multitude of accidents, incidents, or medical conditions.
The bottom line is don't be overly afraid or nervous about traveling solo. Start out small, maybe go to a resort that caters to singles, take a cruise for singles around your age group, sign up for a singles group trip, or just strike out on your own. Now you have a few tools and tips under your belt to make that trip memorable and fun.
Do you have any solo travel tips? If so, drop them in the comments.
SIGN UP FOR THE NEWSLETTER AND GET ALL THE LATEST TRAVEL NEWS
(Visited 320 times, 1 visits today)