I had the opportunity to Visit Huntsville Alabama and was hosted by the Huntsville Al CVB. All opinions are my own. This post contains affiliate links.
Huntsville Alabama, known as "The Rocket City", is located about halfway between Birmingham and Nashville and offers a lot to experience. I recently traveled to Huntsville for a few days to explore the city and attend a conference and had a blast. Check out these awesome things to experience in Huntsville Alabama.

While I didn't get to see or experience nearly enough, I had just enough time to figure out that I need to return. Here are some of the things that made Huntsville a great place to visit.
One thing Huntsville has done is develop several mixed use facilities around town that offer multiple things to experience.
CHECK FOR HOTELS IN HUNTSVILLE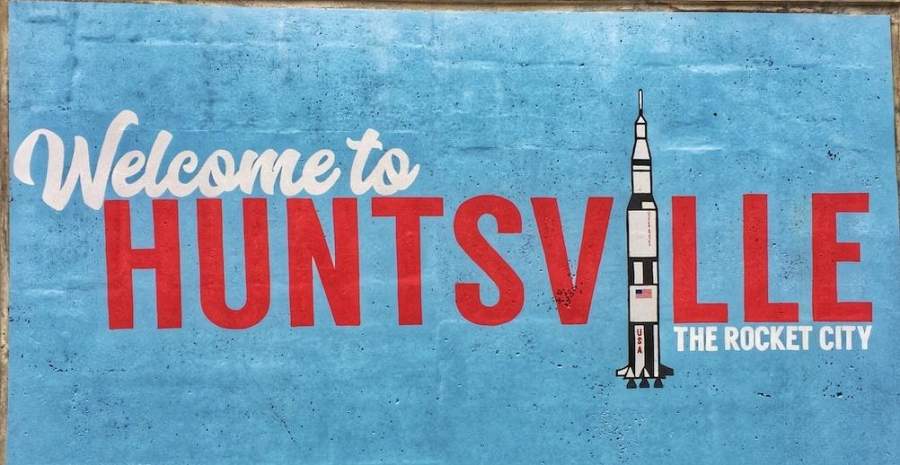 Bridge Street Town Centre
The Bridge Street Town Centre multi use facility is located in the heart of Cummings Research Park and I-565 and is where I stayed for the first couple of nights while in Huntsville. They have everything from hotels, luxury apartments, shopping, restaurants and places to play.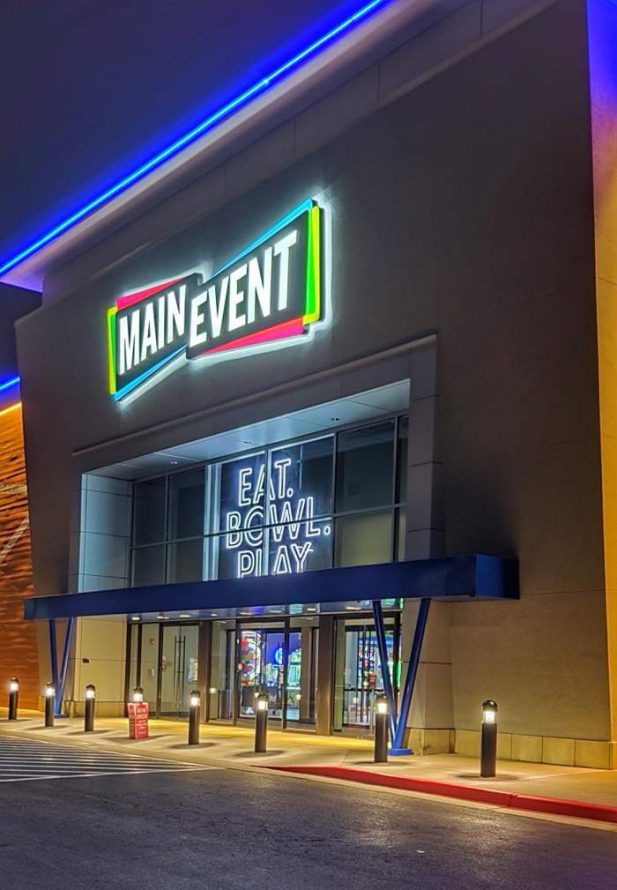 Main Event Bridge Street Town Centre is one such place to go and spend time enjoying yourself with friends or family and have a great time. I was lucky enough to stumble onto this place during their soft opening a couple of days before they officially opened. You talk about a place to unwind, Main Event has it all. You can play some killer games, Virtual Reality games, billiards, laser tag or bowling, including a VIP bowling area you can rent out for private parties complete with your own private dining area. They also have a bar and restaurant.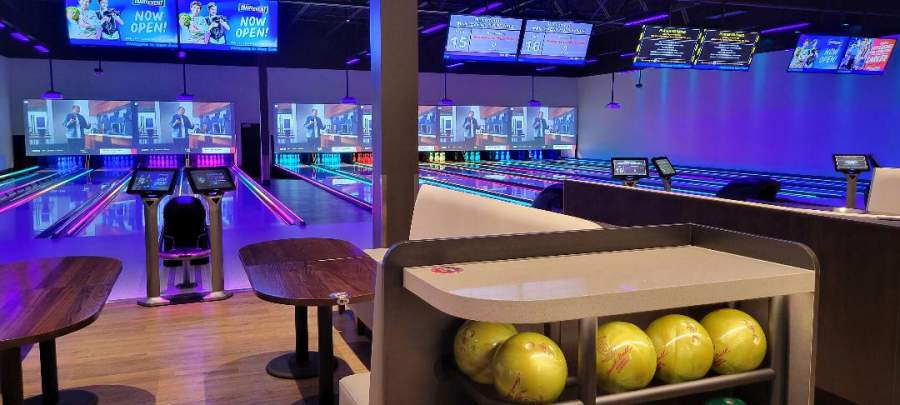 Mid City Huntsville
MidCity Huntsville is a mixed use retail development center currently being built on the corner of University Drive and Research Park. Mid City is still being developed but already has a lot going for it. There are restaurants along with entertainment and recreational venues ranging from Top Golf, High Point Climbing and Fitness and lots more.
The Camp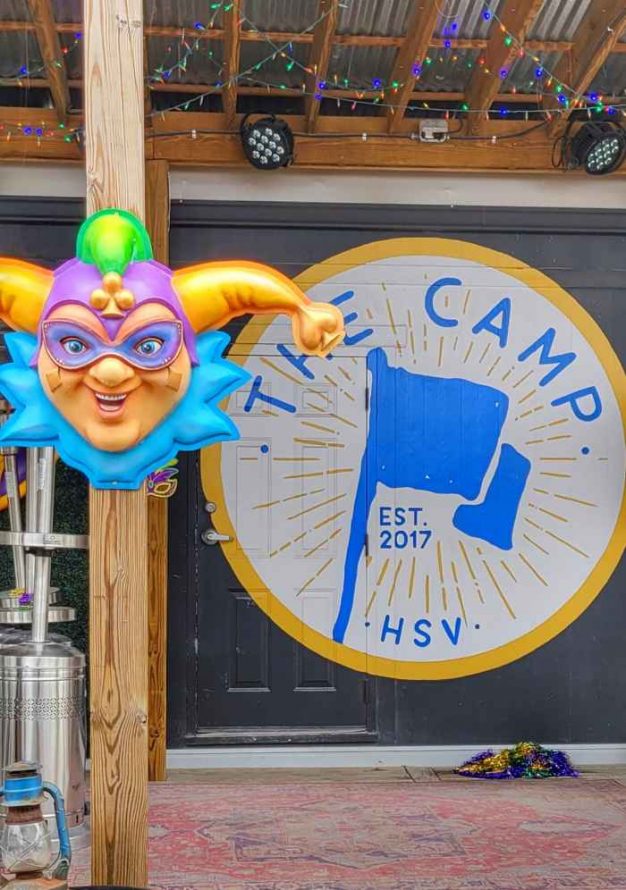 Located at the entrance to Mid City is The Camp. A funky outdoor venue with food, a coffee shop, live music and bar. There is always something going on here and it's a great place to meet up with friends.
The Orion Amphitheater
The Orion Amphitheater is the star of the show. When I visited it was in the final stages of construction and due to open early to mid May 2022. This 8,000 seat venue has been meticulously designed to make for the ultimate in outdoor venues. The way the seating is done makes the amphitheater look and feel like an very intimate concert with friends. They also took into account the way the sun sets, noise for the other businesses in the area and a lot more. Plus, they have already booked some big name acts such as Dave Matthews Band, Kenny Chesney, The Black Crows and Hank Williams Jr, to name just a few.
Once complete, the development will include 350,000 square feet of retail, dining, and entertainment space; office space; Over 1500 residential units; and approximately 650 hotel rooms.
Campus 805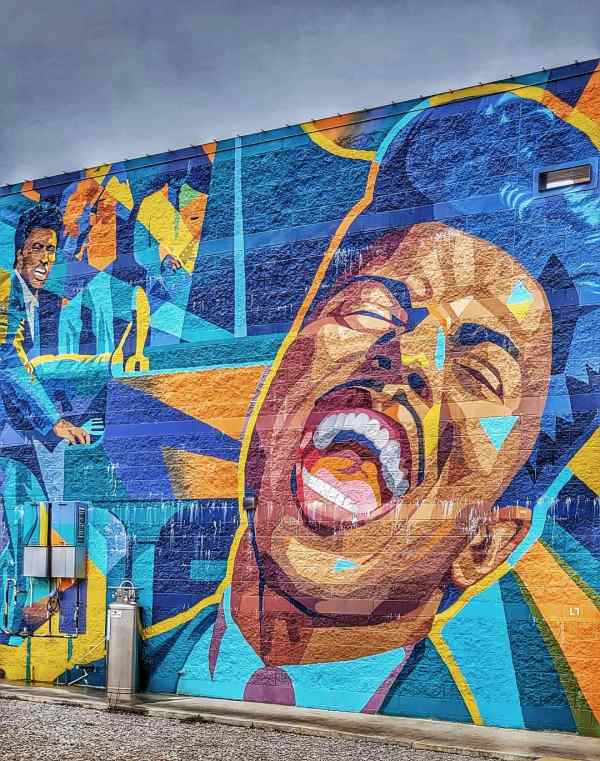 Campus 805 is an example of repurposing a property and making it a destination. Opened in 1949 as an extension campus for the University of Alabama and from 1951 t 2009 was used as a high school and a middle school. Today Campus 805 houses bars, coffee shops, the Straight to Ale brewery, virtual golf and if you get the urge, a tattoo shop to commemorate your visit.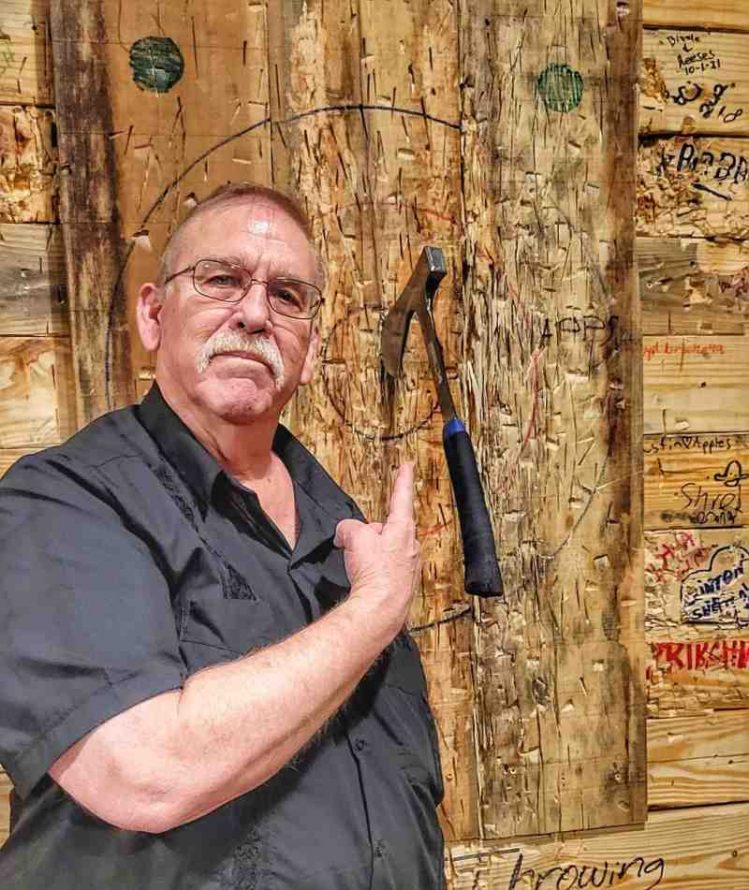 One thing you have to try your hand at is axe throwing and Civil Axe is a great place to test out your skills.
Stovehouse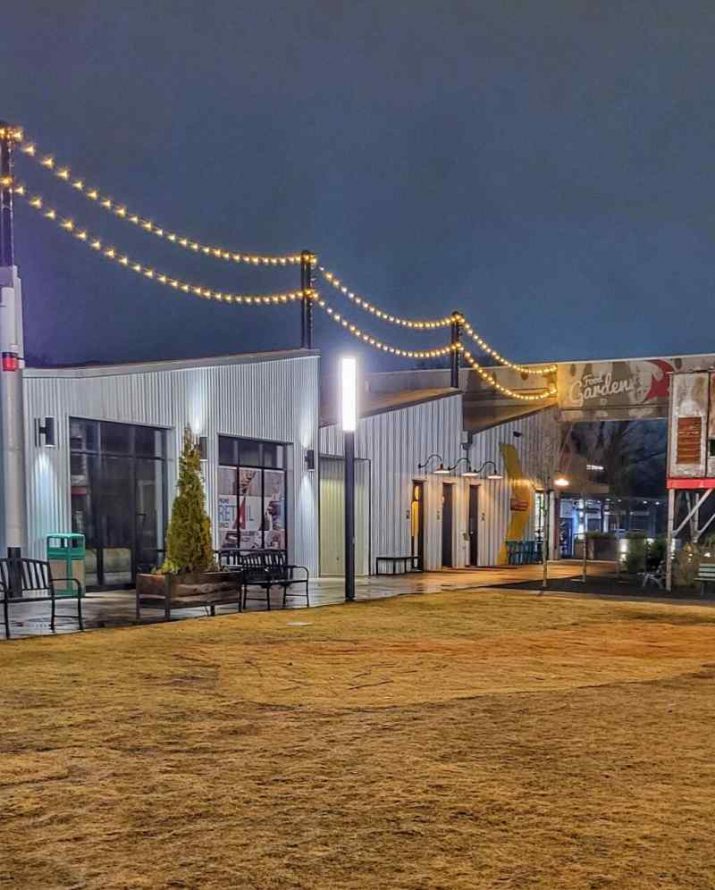 What started as the Electric Belle Stove Company and later the Martin Stamping and Stove Factory has been transformed into Stovehouse, a place to work, eat, shop and enjoy live music. They also have private event spaces available for weddings, meetings and conferences. Stovehouse makes for a great place to stop by for lunch or just chill out in the evening for something to eat and listen to live music.
Huntsville Ice Sports Center
Alabama is not the first place you think of when it comes to ice sports. Heck, it's not even the second or third but don't tell the many people that enjoy the Benton H. Wilcoxon Municipal Ice Complex. The complex offers ice skating, curling and hockey. They often run a kid's camp where kids can learn to ice skate. They also have skating classes, open and league play hockey along with the Rocket City Curling Club which teaches the basics of curling as well as curling leagues. Of course they also have a tavern on premises so you can down a beer or two after a few hours on the ice.
There is also a lot of history in Huntsville, after all it was founded in 1805 but the Chickasaw claimed to have settled in the area around 1300. While I didn't have a lot of time to explore the history, I did visit a few places. Denise from Scenethat Tours offers a few walking tours of Huntsville from downtown walking and food tours to civil rights tours or she can create a custom tour.
Oakwood Cemetery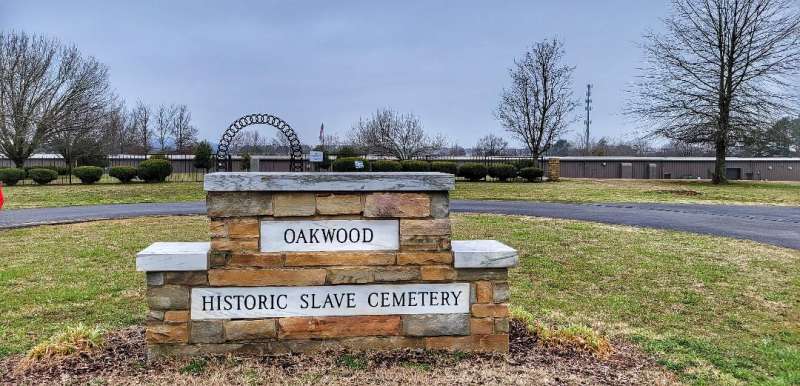 I love visiting old cemeteries. They tell you a lot about the people and history pf places and Oakwood is no exception. Located on the grounds of Oakwood University there are actually two cemeteries, Oakwood Memorial Gardens and the Historic Slave Cemetery. Singer/songwriter Little Richard is buried at Oakwood memorial Gardens. The slave Cemetery is located nearby and was the burial ground for slaves who lived on both the Peter Blow and Job Key plantations from 1811 to 1865. Dred Scott's first wife and their two children are believed to have been buried here.
Buffalo Soldier Memorial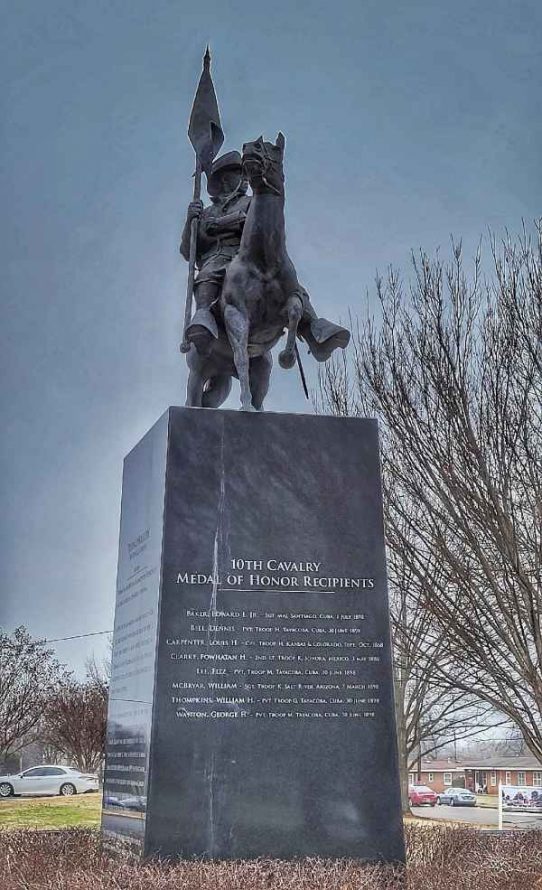 Buffalo soldiers were African American soldiers who mainly served on the Western frontier following the American Civil War. In 1866, six all-Black cavalry and infantry regiments were created and served with distinction in both the west and during the Spanish American War taking part in the attack on San Juan Hill in Cuba. They also served in The Philippines and served as park Rangers for some of the US National Parks. Following the Spanish American War, the 10th Cavalry, under command of "Black Jack" Pershing spent time in Huntsville and the memorial serves to honor them.
H.C. Blake Art and History Center & Huntsville Revisited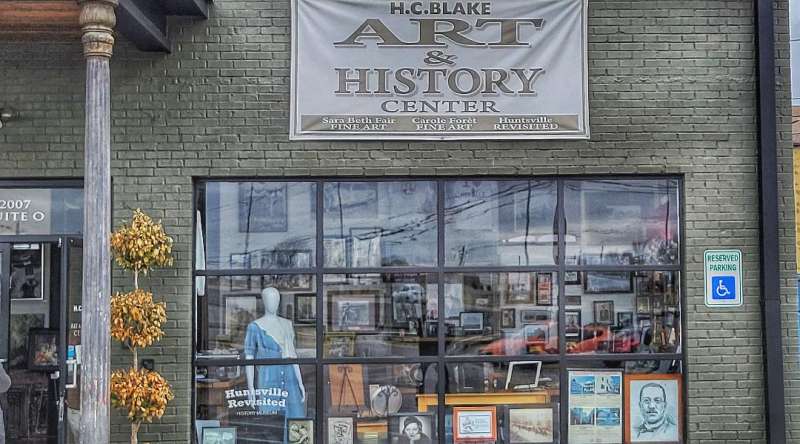 The H.C. Blake Art and History Center serves two purposes. One is to showcase local artists and the second is to house Huntsville Revisited. Huntsville Revisited was founded by local William Hampton in 2008. If you want to learn the history of a place, do so from a local with a passion for the history and people that lived there. William Hampton is just such a person and does a great job of showing you around the collection of artifacts, photos and even non-descript little things that hold a story about Huntsville and its people. William will walk you through the history of Huntsville and has a way of connecting artifacts together to tell a fascinating story of the region.
U.S. Space and Rocket Center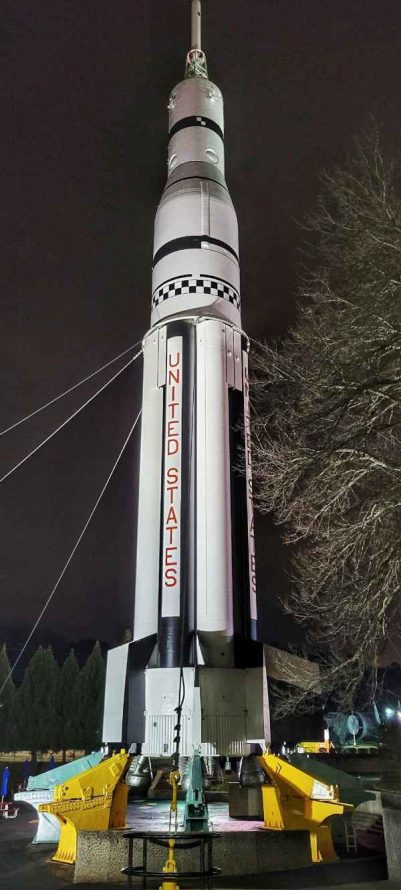 Opened in 1960, the Marshall Space Flight Center was established at Redstone Arsenal in order to develop and test rockets for use in NASA flights. You can visit Marshall and take a tour of the facilities but that isn't the only NASA facility in Huntsville. The US Space and Rocket Center was opened in 1970, just after the Apollo 12 moon landing, as is a museum, Smithsonian affiliate and the Marshall Space Flight Center official visitors center showcasing rockets and artifacts from the US space program. Here you can enjoy a 20 minute experience aboard the space shuttle simulator or a virtual reality experience of the Apollo 11 moon landing. Enjoy an F-18 Super Hornet flight simulator, check out the planetarium or see what a rocket launch feels like with the moon shot ride. Blast 140 feet straight up in 2.5 seconds and experience 4 G's of force and 2-3 seconds of weightlessness before coming down to earth.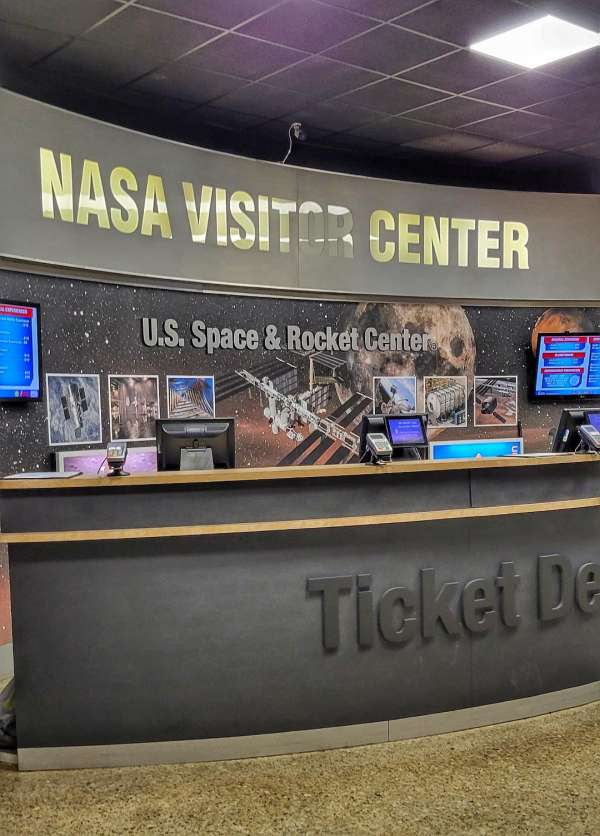 The US Space and Rocket Center is also home to Space Camp where kids and adults can learn about space, robotics and more. Space Camp has hosted over one million attendees since opening and some of the Alumni include astronauts, Navy elite Blue Angel and Top Gun pilots, pilots for all branches of the service, Aerospace Engineers, scientists for NASA and much more. The US Space and Rocket Center is a must visit while in Huntsville.
Huntsville Alabama has a lot to offer for a weekend getaway or better yet spend the week and take the time to really explore the city. Have You been to Huntsville? What was your favorite thing to do?
(Visited 773 times, 1 visits today)