The following article contains affiliate links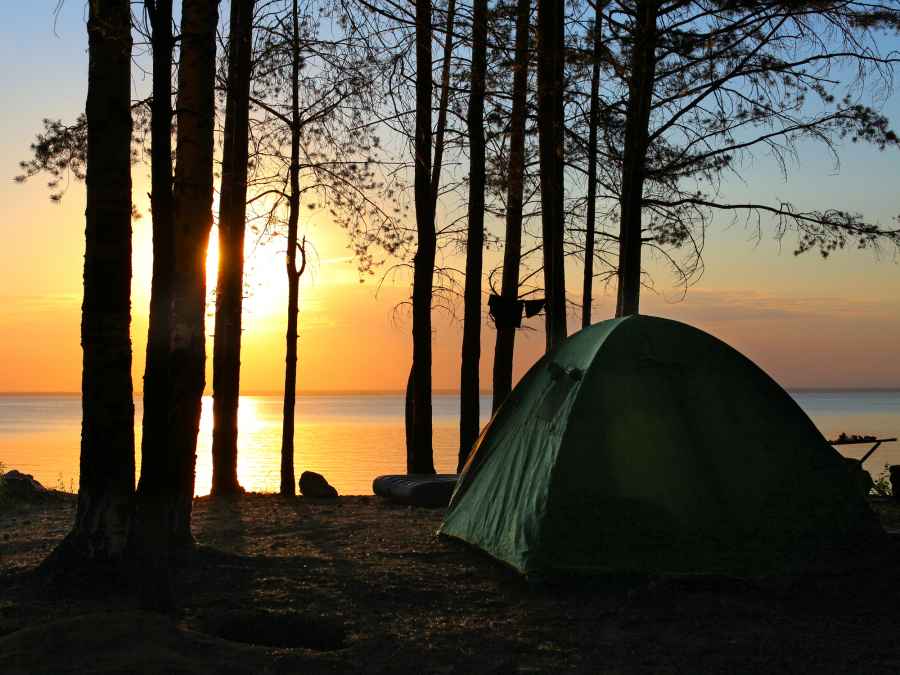 I grew up camping in Texas. For that matter we camped all over the US when I was a kid. Not being one to waste money on hotels, my dad thought it best to stay in State and National Parks while we traveled. As a kid, there was no better way to spend a vacation than swimming, fishing, building campfires and sleeping in a tent.
Camping today can take many forms. From what is called primitive camping, where you use a tent and set up a campsite, to staying in campgrounds for RV's, or renting a cabin in a park or even glamping with fully furnished digs complete with air conditioning, there are many ways to enjoy the outdoors.
Families looking at camping in Texas also have a lot of options. There are private campgrounds and RV parks, Glamping options, State Parks, National parks, US Forestry Services Parks, Corps of Engineer Parks and even some City parks. There are also campgrounds and RV Parks for military personnel which allow active duty, retired, DOD civilians and a few other categories.
People using RV's have gone up in the last few years and RV's come in all sizes and price ranges. You don't have to own an RV to enjoy one though. Companies like Outdoorsy and RV Share make it easy to rent an RV for the week or just a long weekend.
Getting all the gear to go camping doesn't have to break the bank either. Check out specials and sale items at places like Dick's Sporting Goods, Bass Pro Shops, Camping World, or even Walmart.
So, while there are hundreds if not thousands of camping, glamping and RV Park options in Texas here is a list of some of the best camping in Texas along with links to State and Federal camping directories.
Private Campgrounds in Texas
By The River
By the River campground is located on 65 acres of beautiful Texas hill country near Kerrville Texas. The park offers RV sites, cabins and tent camping on their private island. The campground has hot showers, restrooms, laundry facilities, swimming pool and an outdoor BBQ area. All this on the shores of the Guadalupe River. They offer daily, weekly and monthly rates and have group discounts available.
Jellystone Park Guadalupe River
Jellystone Parks have been around since 1969 and this is another popular Guadalupe River destination. Jellystone Park Guadalupe River has tons of stuff to do. Indoor and outdoor pools, waterslides, mini golf, fishing and all kinds of activities. They have all types of different cottages and cabins along with various RV sites that include riverfront RV sites. If you do decide to ever get out of the park there are some great small towns and attractions nearby.
La Hacienda RV Resort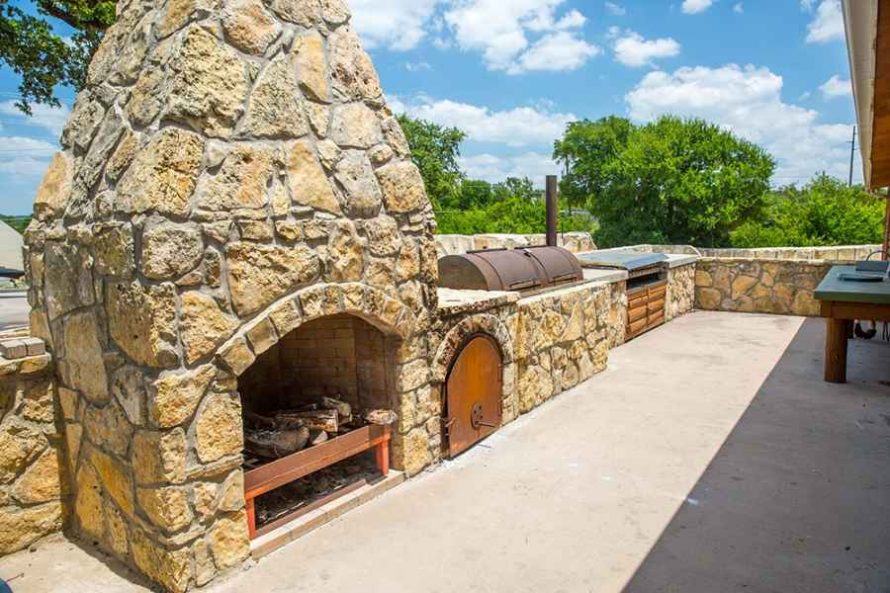 La Hacienda RV resort sits on a peninsula at Lake Travis. While not directly lake side, it is only a couple of minutes' walk. This luxury RV park itself is one the most popular RV parks in one of the most popular destinations in Central Texas and offers both RV sites as well as cabins. Amenities include a dog park, 4 hole chip and putt golf, miniature golf, fitness center, playground for the kids, pavilion for functions and a business center, if you just can't stop yourself from working. You can also head into nearby Austin and check out the great restaurants, attractions and of course the live music scene.
GLAMPING IN TEXAS
Open Air Resorts
Open Air Resorts is also located at Lake Travis, in Spicewood Texas and offers full hook up RV sites, tiny home rentals, vintage renovated trailer rentals and improved tent sites. The park has a dog park with dog bath facilities, fishing pond, lounge, laundry facilities, shower facilities, pool and courtyard along with several outdoor courts. Their retro trailers are really cool and they have wooden decks for relaxing outside.
Cypress Valley Canopy Tours and Treehouses
Cypress Valley Canopy Tours is a destination for the adventurous and those wanting something out of the ordinary. They offer zip lines, rope bridges and rappelling but the really cool thing is that you can spend the night in your very own tree house. These aren't the kind of tree houses you built as a kid. These are not the tree houses you knew as a kid. These have king size beds, wrap around porches, outside decks and bathrooms.
Wahwahtaysee Resort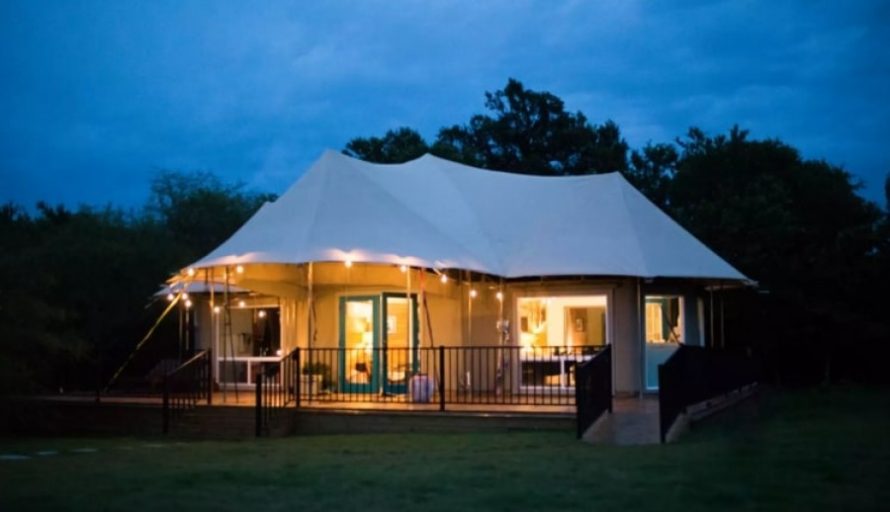 Located on a 100 acre parcel of land on the San arcos River, the Wahwahtaysee Resort offers both Luxury Safari Tens and Cabins. Both have all the amenities of home, including kitchens. If you don't want to cook, you can book a private chef to come to your room and cook. There are hiking trails, great fishing and you can visit the Gruene Dance Hall nearby or get some famous Texas BBQ in Lockhart Texas only 12 miles away.
Palo Duro Glamping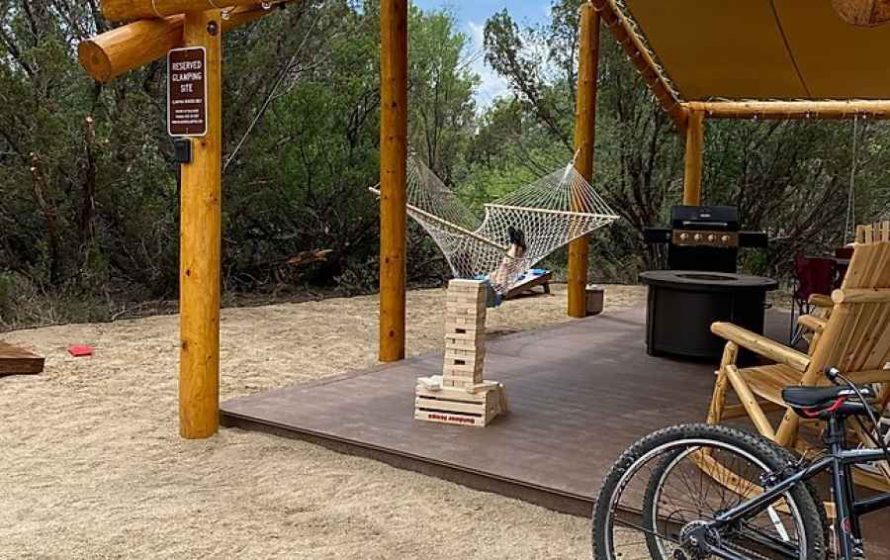 For years Palo Duro Trading Post has been a popular place to grab a bite to eat, buy souvenirs and get camp supplies. Now they have added glamping to the list with glamping tents at the floor of Palo Duro Canyon. Both tents are secluded from other camping but only a short distance from the trading post and hiking trails. With amenities such as covered patios, cedar porch swings, kitchenettes and dining areas, there is no better way to relax and take in the beauty of Texas's largest canyon.
STATE PARKS IN TEXAS
Dinosaur Valley State Park
Located at the site of what once was an ancient ocean, Dinosaur Valley State Park has campsites with electricity and then primitive campsites with no electricity. There are campsites where you can walk into and some where you have to hike across the river a couple of miles to get to. Spend time exploring the dinosaur tracks made over 100 million years ago or just relax on the banks of the Paluxy River and enjoy the outdoors.
Caprock Canyons State Park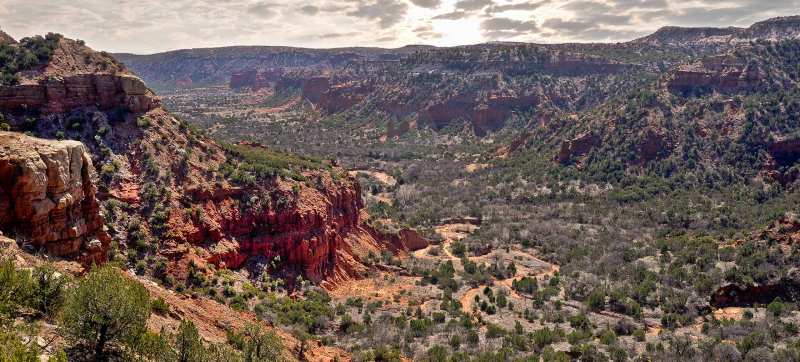 Ok, this park has it all. Campsites, some with corrals for your horses, swimming and fishing on a 120 acre lake, 90 miles of hiking and biking trails and a 10,000 acre area set aside for the Texas State Bison Herd. With a DNA different from any other bison in North America, the herd is the result of famed cowboy and rancher Charles Goodnight catching a few stray bison and starting a herd in the 1870's.
Goliad State Park
Goliad State Park is one of the most historic parks in the State of Texas. The park offers full RV hookups and campsites with electricity. There are historic sites within the park and nearby, hiking and biking trails and the San Antonio River, where you can go fishing or paddling. Mission Espiritu Santo within the park and La Bahia nearby are both great places to visit and learn about Texas history, not to mention the Fannin battlefield and memorial. Since you don't need a fishing license to fish from the shores at a State park you can borrow fishing gear and fish for Bass and Catfish.
Directory of Texas State Park Campsites
NATIONAL PARKS
Padre Island National Seashore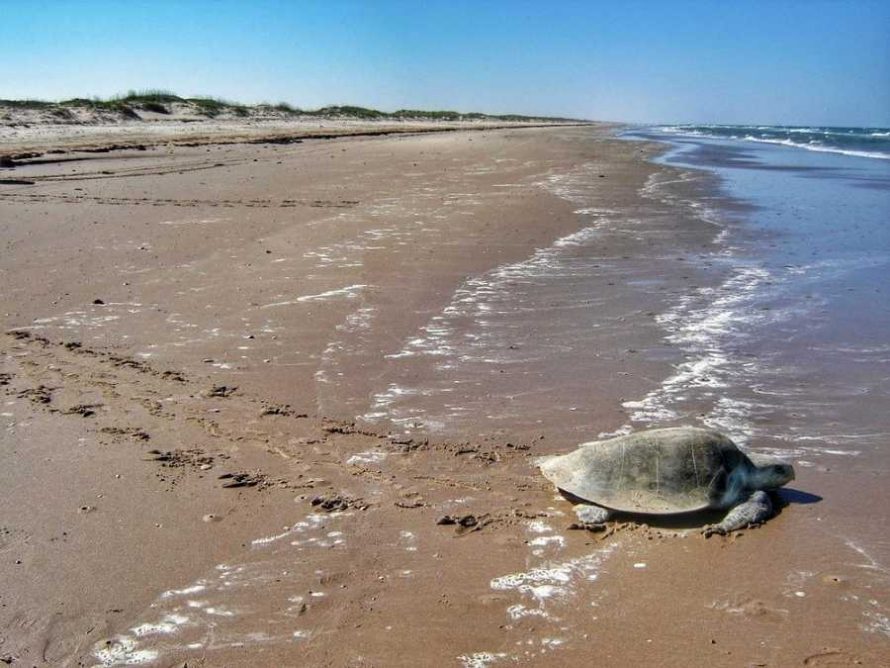 There are five different campgrounds on the 70 mile stretch of Padre Island National Seashore. There are no RV hookups but there is an RV dumping station and a water filling station. Other than that, you will need to get all your supplies outside the park. I grew up going to Padre Island and it is a great place for enjoying the beach, sand dunes and surf fishing.
Big Bend National Park
Big Bend National Park has a rich history of the people that lived and passed through the area. The park has three camping areas and an RV Park. There are also some back country campsites which require a permit to go backpacking and hiking in the vast back country. Big Bend offers Desert, Mountain and River hiking, fishing, areas for horseback riding and learning about this part of the country that saw its first visitors around 8,000 BC.
Directory of National Parks in Texas
US ARMY CORPS OF ENGINEER CAMPGROUNDS IN TEX

A

S
Canyon Lake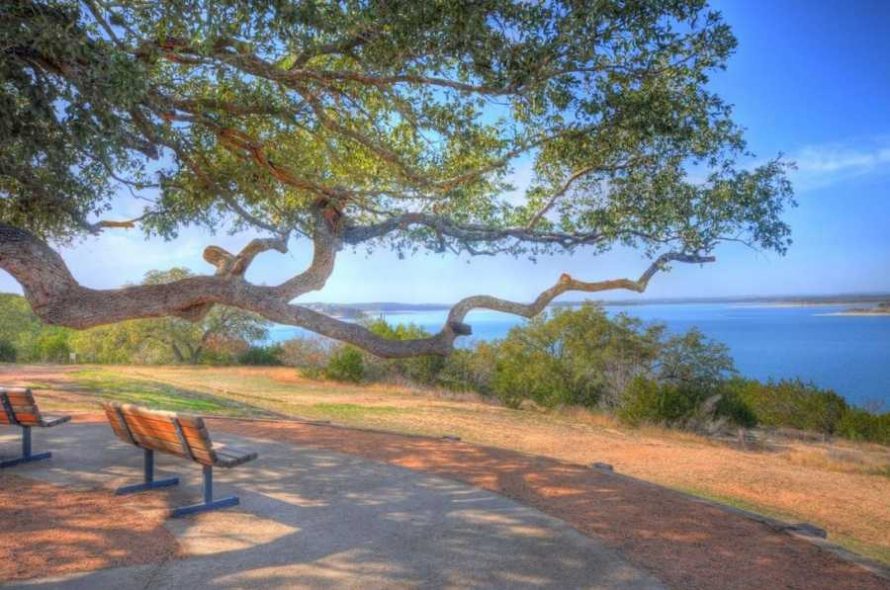 Canyon Lake has RV sites, group camping sites and developed camping sites open to the public in addition to those reserved for military use. The park has boating, hunting fishing, hiking and swimming available. Located 20 miles West of San Marcos you are only a short drive to shopping, dining and other activities.
Hords Creek Lake
Hords Creek Lake offers group shelters with cooking areas and multiple campsites. Some with screened in areas, sewer, water and electrical. The park offers, camping, hunting, swimming, boating, fishing and hiking areas. Located South of Abilene near Coleman Texas the park is famous for large mouth bass and catfish fishing. Surrounded by Oak trees the park is a great place to enjoy the outdoors.
US FORESTRY CAMPSITES IN TEXAS
There are four National Forests and one National grasslands in Texas totaling over 600,000 acres of land. Camping is allowed along with other activities such as hiking, fishing, swimming and off road trails. There are improved and primitive campgrounds, RV facilities and group camping sites.
Directory of US Forest Campsites in Texas
MILITARY CAMPGROUNDS IN TEXAS
The Military has operated MWR (Morale Welfare and Recreation) facilities for years and offer some fantastic opportunities to enjoy the outdoors. These facilities are open to Active duty, Reserve and National Guard, DOD employees and contractors and certain former military personnel.
Belton Lake Outdoor Recreational Area
Belton Lake has an RV Park, partial and full hookups, tent camping areas and cottages for rent. They also have a marina and boat slip. Mountain biking, hiking and horseback riding trails, paintball, climbing wall and archery range. They also have Kayaks, canoes, wake boards, skis, knee boards, tubes, camping equipment, pop-ups/travel trailers, accessories, boats and more for rent or check out.
Military Outdoor Recreational Areas In Texas
Looking back, I think that having the opportunity to get outdoors, go camping, fishing and spending time just enjoying the parks was one of the best experiences I had growing up. I was fortunate enough to travel around, not only Texas but a lot of the US, and I saw a lot of attractions, historic sites and learned a lot about places. I think maybe that is one reason I have always loved traveling and learning about new places and the people that live there. The fact that I got to spend my Summers swimming, fishing and boating didn't hurt either.
So, grab a tent, rent an RV or book a glamping site and check out some of the best places to camp in Texas. Let me know in the comments your favorite place to camp.
(Visited 2,112 times, 1 visits today)