The following post has affiliate links in it.
Luxury travel accessories are more than just gadgets. Quality travel gear can become heirlooms and passed down through generations. Whether you are taking a flight, a roadtrip in an RV or camping, there is no reason to be ordinary.
If you have taken a flight anytime in the last few years you will more than likely have noticed people traveling in flip flops and pajamas, toting cheap luggage or just plain looking like they just woke up and walked out of the house.
Next time you travel, do it in style.
In this list you will find quality duffle bags, weekend bags, dopp bags, sunglasses and other travel accessories. All of which will stand the test of time and become treasured items.
Keep reading for my list of the best luxury travel accessories for men.
Travel Wallets and Document Holders
Men's Leather Duffle Bags and Weekender Bags
Men's Luxury Backpacks
Noise Cancelling Headphones
Travel Kits and Dopp Kits for Men
Sunglasses
Travel Bars, Flasks and Accessories
Quality luxury travel accessories not only look good but they can also be used for years and then passed down through the family. Start out by buying one or two quality items and as time goes add more. I think you will find yourself wanting to use these even when you are not traveling.
Before your next trip check out my interactive packing list.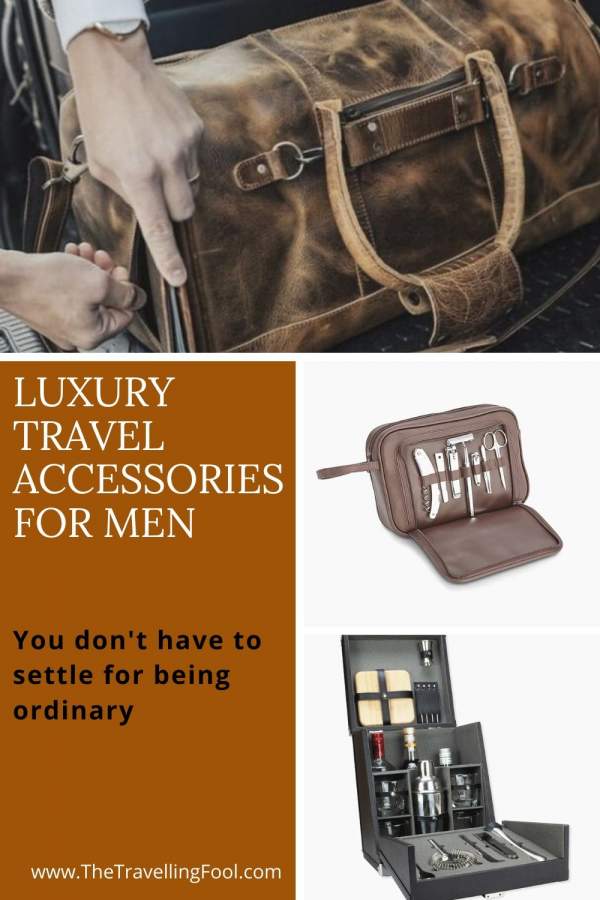 (Visited 1,733 times, 1 visits today)