As I pulled up to the gas station I noticed the sign stating "not much to see, but what you hear makes up for it". I soon discovered why.
One of the best things about travel is not the sights you see, but the people you meet and the things you experience on the trip.
I have often advocated getting of the "tourist path", in other words don't limit yourself to just the main tourist attractions but explore the area a little bit and see what you can discover.
On a trip to Georgetown Texas several people told me about a place called Walburgs and suggested I visit. Some of the best places I have ever visited have been those suggested by the people that live there so of course I decided to check this place out.
I was told Walburgs was about 20 miles from town, given directions to a two lane country road and told "you can't miss it, just go until the road meets a T-intersection and it will be right in front of you".
After a short leisurely drive on a Texas country road lined with small farms and orchards I came to a stop sign. An old two story house on my right was being remodeled and on my left was a couple of old buildings that looked abandoned. In front of me stood a building with a metal sided front and the name Walburg painted in black, old lettering proclaiming "HY Doering Company Groceries, Dry Goods, Hardware, Cotton and Produce" appeared underneath.
Looking in both directions the only thing seen is a few old buildings with a house or two and an occasional car passing by. This was definitely a small place, the kind where most people living there actually lived on small farms nearby coming to town to collect mail or gather at a café for morning coffee. Other than the one stop sign, there was no other traffic signals and the town is what we call in Texas, "a wide spot in the road".
I didn't see any vehicles parked at Walburgs although the sign on the door stated it was open. So I decided to see what else the town had to offer. I noticed a few hundred feet away stood an old bank building that appeared to have been restored
The Walburg State Bank originally opened in 1913 and remained open until sometime in the 1990's.
A little further down the road stands Mickan Motors. The building appears as though it has been there for quite some time and has the look and feel of an old time gas station. The kind you might find in any small town although modern convenience stores have replaced most.
The sign on the front states "not much to see but what you hear makes up for it". Once inside a gentleman sitting in a chair cordially welcomes me and asks what I need. Seeing some jars of honey from various local merchants I ask which one is the best. He immediately responds in a way any good salesman would. "They are all good".
This was my first encounter with Ray.
As we began to talk, Ray starts telling me about the farms where the honey came from, the people who sell it, where they live and more. It seems Ray knows a lot about the area.
And he does, Ray tells me he was born in Walburg and lived here his entire life.
I ask him how long the Gas Station has been around and Ray begins to relate his family history. It seems Ray's father, Daniel Mickan established the business in 1927. In 1961 Ray took over the business and he along with his wife Ethel, who was behind the cash register when I visited, ran the business until 2000 before turning over the reins to his youngest son, Danny.
Ray and Ethel live next door to the station and own the land around the station and across the highway. When not working on his ranch, Ray spends his time visiting the station and talking to everyone that stops by.
On this day I was lucky enough to meet Ray and learn a little about the area. I tell him I had heard Walburgs had some pretty good German food at which point Ray begins my history lesson.
It seems Walburg was originally known as Concordia and in 1881 Henry Doering, a German immigrant, moved to the area and opened a General Store. In 1886 Doering added a Post Office and renamed the small settlement after his hometown in Germany, Walburg.
Ray tells me that if I take the road out to the top of the hill and look back, the landscape looks just like Walburg Germany.
Soon after that two Lutheran Churches, both still active, were established and the small town began to grow. Although decent size for the time, the population never really got larger than 400, and that was during the 1920's, now it is around 200 or less.
Ray asks if I had seen the Bank building and tells me that it was one of the only Banks during the depression to never close. He tells me the reason is because no one ever told them about the stock market crash until much later and by then they didn't see any reason to close.
Walburg is the kind of place where everyone knows everyone. A town where you grow up and go through school from start to finish with the same people. Young men go to war together, old men tell boys "tell your Dad I said hi" and you get a call on Sunday afternoon asking if you are alright since "I didn't see you in church".
Ray tells me about Walburg's the restaurant. He tells me some time ago they turned the old store into a German Restaurant. He says the food isn't bad and they play a lot of music at nights, sometimes too loud and you get a crowd. They also have a Beer Garden behind the main building.
The band that usually plays is called the Walburg Boys and they play a mix of German and Texas music. Ronny is originally from Germany and plays the Accordion and yodels, Scott plays Bass, Rusty is the Fiddle player and a veteran of the Texas Music Scene, Steve is the drummer when not fulfilling his day job as a Jeweler in Georgetown and Reese plays Lead Guitar.
Ray also tells me that they have another "eating place" in town. Dale's serves up breakfast, lunch and dinner and also has a Beer Garden and live Music.
As Ray continues to tell me about the various places and people in town, Ethel prompts him to leave saying they have to go somewhere. After a few more minutes of talking Ethel leaves saying "I'll be in the car waiting". Ethel shoots a knowing look our way that says she has been through this before. Ethel knows that Ray will probably talk all day unless she makes him leave or threatens to leave without him. After Ray and I talk a little more he finally leaves after hearing the car horn.
I decide to try Walburgs Restaurant and at a little after 5pm I am the first to arrive. The front of the building is deceiving since once you enter, the restaurant is pretty big and is laid out family style.
You won't find small tables or booths. Instead you find large tables that accommodate several people, just like many places in Germany. One wall has a display of various German Beer Steins and other memorabilia like the kind you might find in a German Gasthaus.
With a wide selection of imported German and domestic beers it shouldn't be too hard to find something to quench your thirst. The restaurant has a menu with a lot of German classics but they also have a buffet with Sauerbraten, Schnitzel, Bratwurst and other favorite foods. I ordered a large German beer and opted for the buffet, the food was pretty good. Since I had to get back to Georgetown for an appointment I left before the band really got started.
The next day I completed everything I needed to do in Georgetown and headed back to Walburg. I hoped to run into Ray again.
Since it was late in the morning and I had heard about Dale's being known for their hamburgers I decided to give it a try.
I have a pretty good appetite but I couldn't finish the burger, it was huge. I opted for the Black Jack burger, a ½ pound patty with pepper jack cheese, grilled fresh jalapeños, grilled onions, lettuce, tomato, mayo and mustard. Like I said, huge. Besides being big, it was good. No wonder everyone was telling me to check out Dales.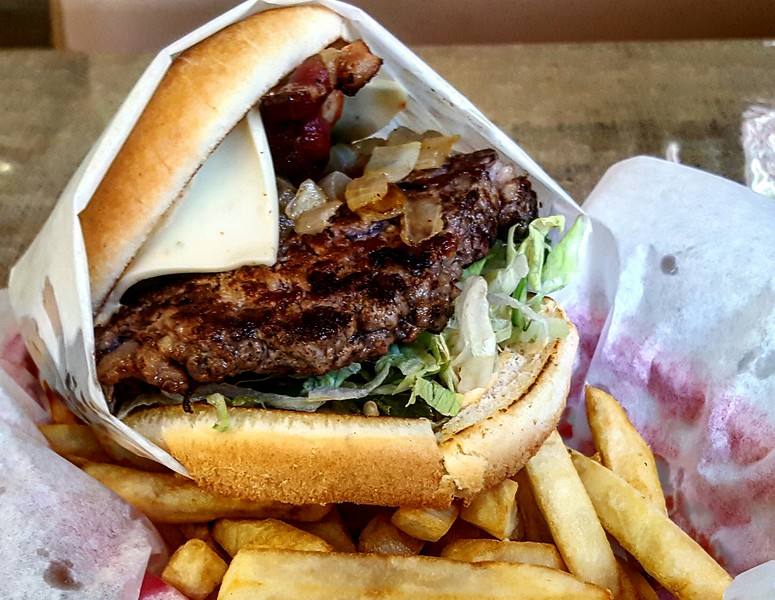 The restaurant was pretty full with the breakfast crowd finishing up and who did I see but Ray and Ethel.
I went over to say hi and asked if I could stop by his place later to check out his herd of Texas Longhorns. After Ray agreed I went back to my massive ½ pound gut buster.
In a few minutes Ray comes up and sits down with his coffee and continues our conversation of the day before as if we had never really finished. Ray begins telling me about the people in the restaurant, who lives where and who owns what. He tells me about the olive orchard up the road. A relative, Curtis, began growing olives in 2009 and now has over 23,000 olive trees and producing olive oil for sale in local markets.
Ethel stops by the table and says they need to go and she will get the car started. Ray continues to tell me about the town and asks how my burger is. Ray tells me in addition to the beer garden outside that Dale is building a venue for wedding receptions and parties and I should go out back and check it out before I leave.
We continue talking about anything and everything when a young lady comes in the door, walks up to the table and says "Ray, your wife is sitting in the car waiting on you, you better get outside". Ray waves a hasty goodbye and heads to the door telling me, "See you soon at the place".
After trying to finish my burger I head out towards Mickan Motors where Ray has started to put out feed for the Longhorns near the fence so I can get some photos.
Ray tells me that once or twice a year he opens the gates on both sides of the road to move the herd and when he does people stop on the road and help keep the cattle in line.
Ray has a pretty good size herd of Texas Longhorns that he has acquired over the years including one very large Longhorn he got from a former Major League Baseball player who decided he didn't have enough room for the big animal to roam.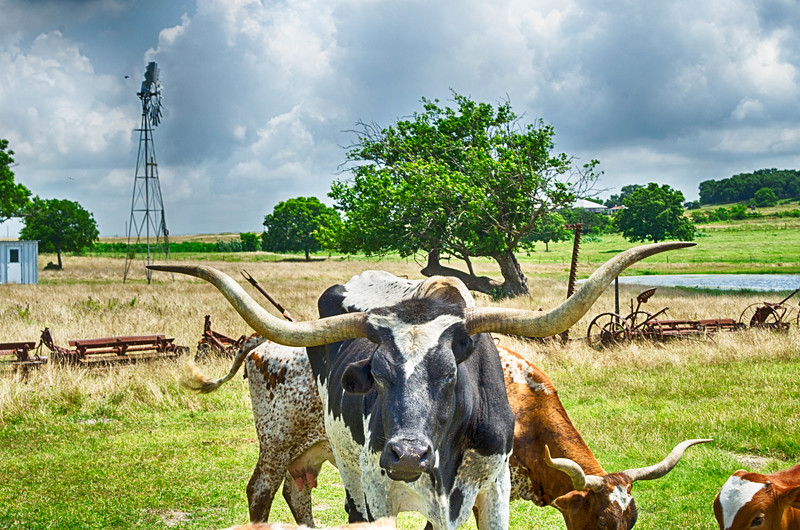 Ray also has three Sicilian Donkeys. Having never heard of a Sicilian Donkey, Ray tells me that Sicilian Donkeys have a cross on their back. After doing a little research I discover that Sicilian Donkeys are a miniature donkey breed and all standard and miniature donkeys have crosses on their back. The legend is a donkey carried Mary to Bethlehem for the birth of Jesus and the donkey carries the cross knowing what Jesus would go through. Regardless of the origin they are pretty cool little animals and friendly.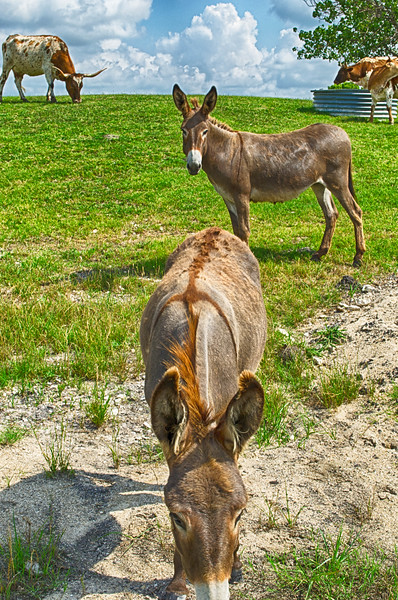 Ray tells me about how he acquired the land across the highway. Years before his father had helped a man by loaning him money to purchase the land. The man's only son was killed in WW2 and he told his family that when he died he wanted Ray's father to have first option to buy the property.
That is what people in small towns do, they help look out for each other, they know each others family and often find themselves eating breakfast at the same time at a local restaurant. They go to church together, work together and take care of each other during rough times.
One of the things I like best about traveling, no matter where it is, is meeting people. I love to learn the history about places and the people that live there. From Europe to Asia to my own State of Texas I always try to meet people wherever I go. By taking time to talk to people I learn about the places I visit instead of just snapping photos.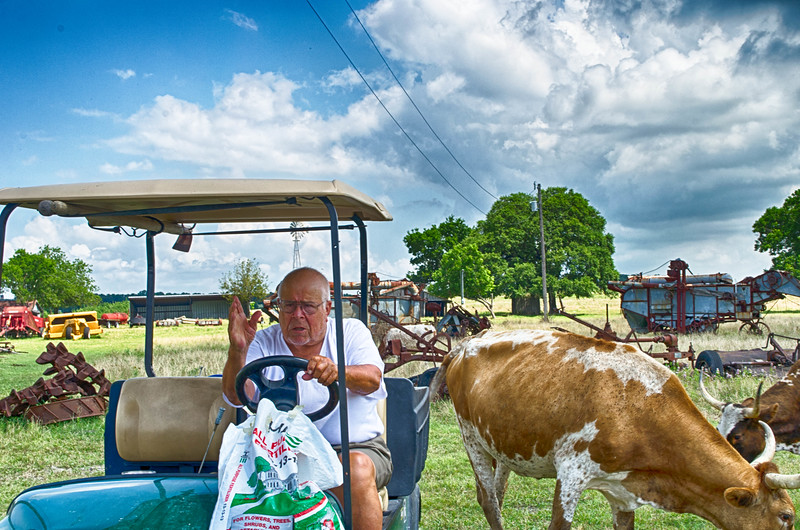 If I am lucky enough, I meet someone like Ray Mickan.
Walburg lies at the crossroads of Farm to Market Road 972 (FM 972) and Farm to Market Road 1105 (FM 1105) in Williamson County, Texas, east of Interstate 35 and about 38 miles Northeast of Austin
(Visited 1,380 times, 1 visits today)