My trip to Wichita Kansas was sponsored by Visit Wichita but all thoughts are my own.
I took a trip to Wichita Kansas and was looking forward to checking out the town since I had heard it was an interesting place with a lot to see and do. What I didn't know until I arrived was that Wichita has the title of being the Air Capital of the World. I knew about Wichita having a Boeing plant at one time but that was about it. So, how did Wichita earn the moniker of Air Capital of the World?
Well for that you have to go back to 1928, when Wichita, with a population of around 100,000 at the time, had 16 aircraft manufacturers and produced 120 aircraft a week. It seems the abundance of flat land and existing airfields was a huge draw for aircraft manufacturers and still exists today. To get an understanding of the rich aviation history there are two sites you should visit, The Kansas Aviation Museum and the B-29 "Doc" hangar.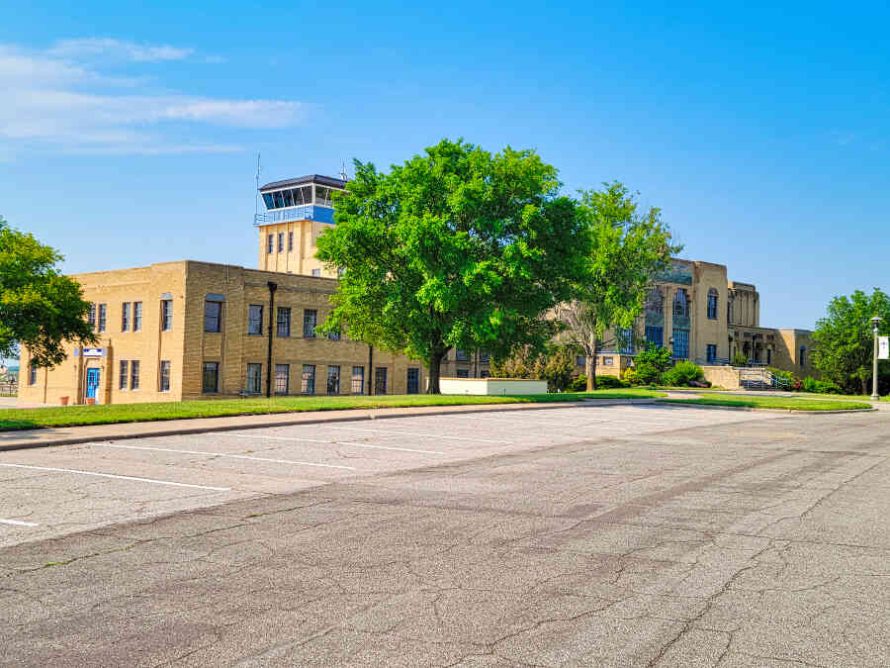 Kansas Aviation Museum
Located in the former Wichita Municipal Airport terminal, which was built in 1935, and sitting across the airfield from McConnell Air Force Base, the Kansas Aviation Museum showcases flight history including the innovative entrepreneurs that pioneered early aviation successes.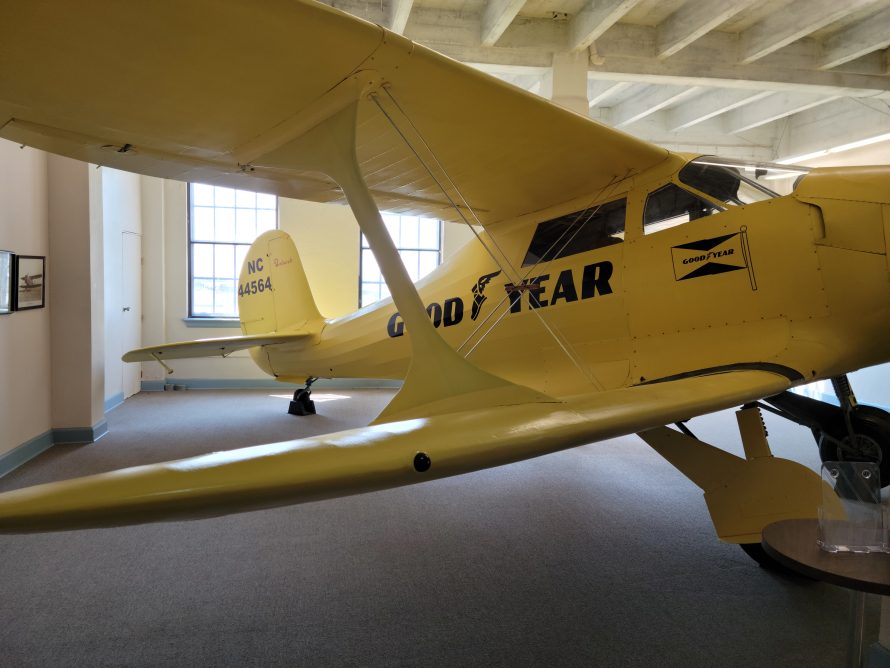 The museum building itself is worth a visit and the old air terminal has seen its share of famous aviators and personalities. Charles Lindbergh and Kansas native Amelia Earhart both landed here at one time and Fred Astaire entertained waiting passengers with a dance number once.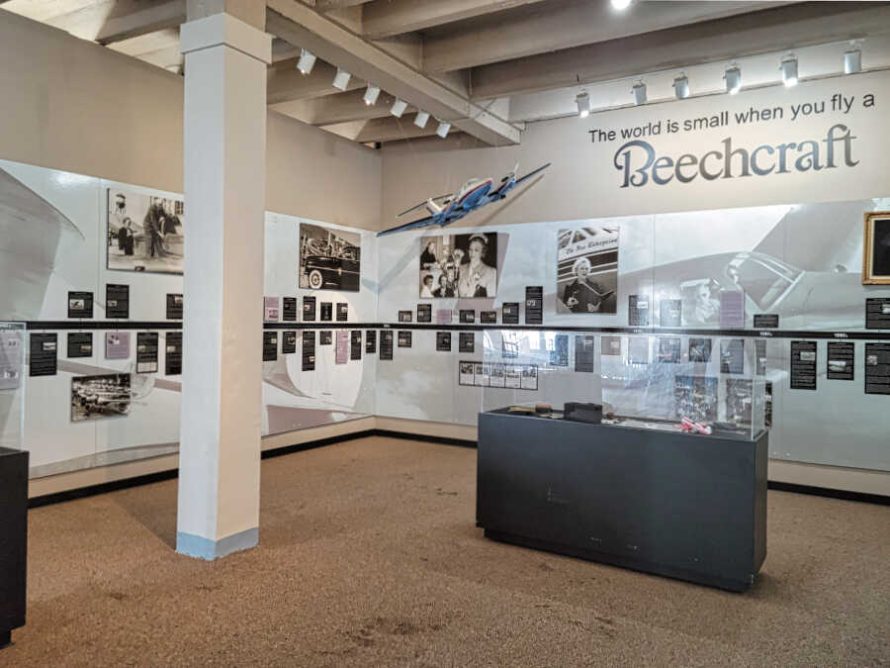 Companies like Beechcraft, Stearman, Cessna and others, along with the men who built those companies are profiled in the museum.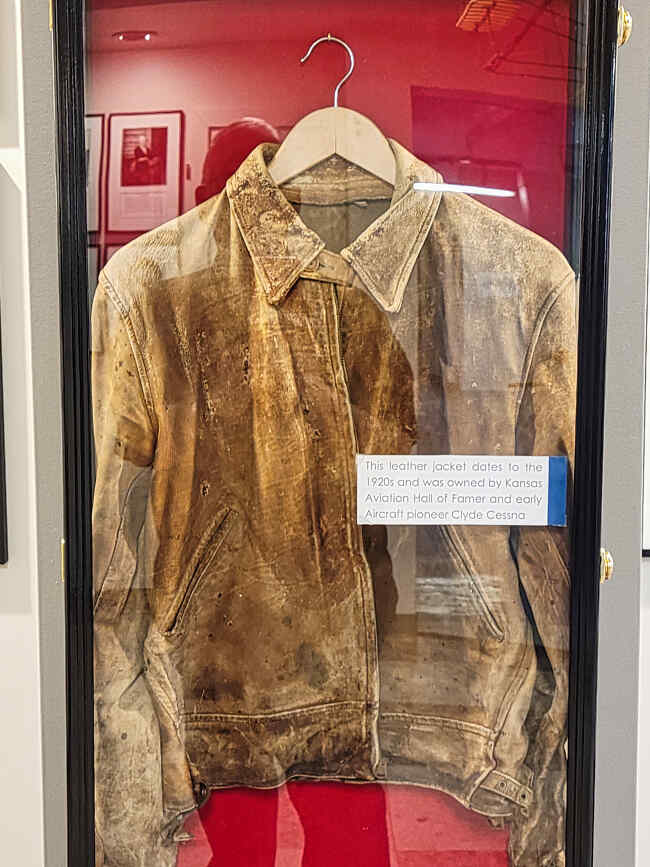 The Kansas Aviation Museum tells the stories of early pioneers such as Clyde Cessna, who founded Cessna Aviation in Wichita in 1927, Lloyd Stearman who founded Stearman Aircraft Corporation, which later merged with Boeing and Walter Beech, who along with his wife Olive Ann and others founded Beech Aircraft Company in 1932, and many others.
You can see some of the personal items that belonged to these aviation pioneers along with aviation inventions as well as numerous planes. You can get up close to such iconic planes as the Laird Swallow and Watkins Skylark among others. There are also some planes parked just outside.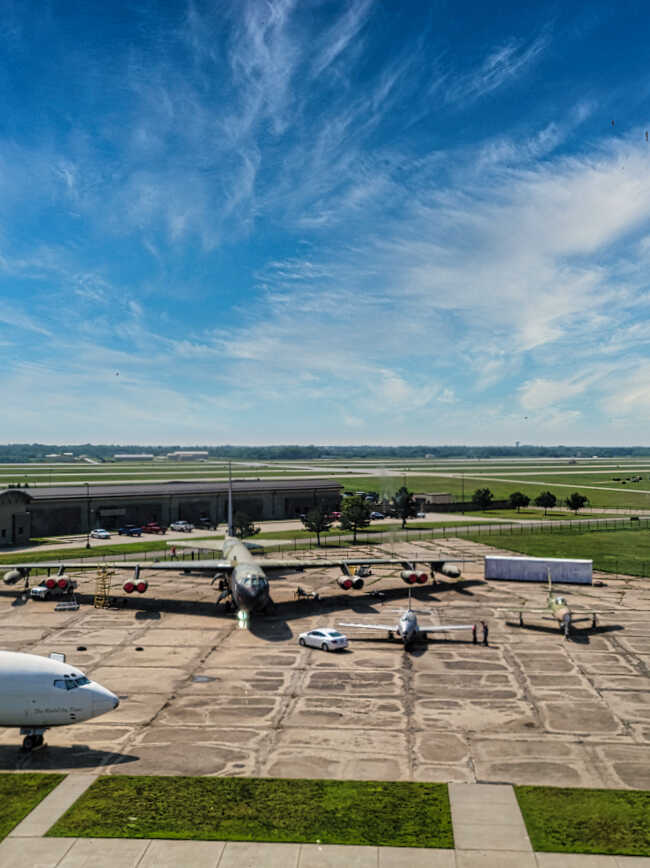 There are also displays telling the stories of the Tuskegee Airmen as well as a section about the females that helped make aviation history. One such female is Connie Palacioz, a real life Rosie the Riveter, who helped build the B-29 Superfortress at Boeing during WW2.
You can also see a model of the Boeing 200 Seek Spinner. Built in the 1980's, the Seek Spinner was an unmanned aircraft designed to seek out and destroy enemy radar systems, an early drone if you will.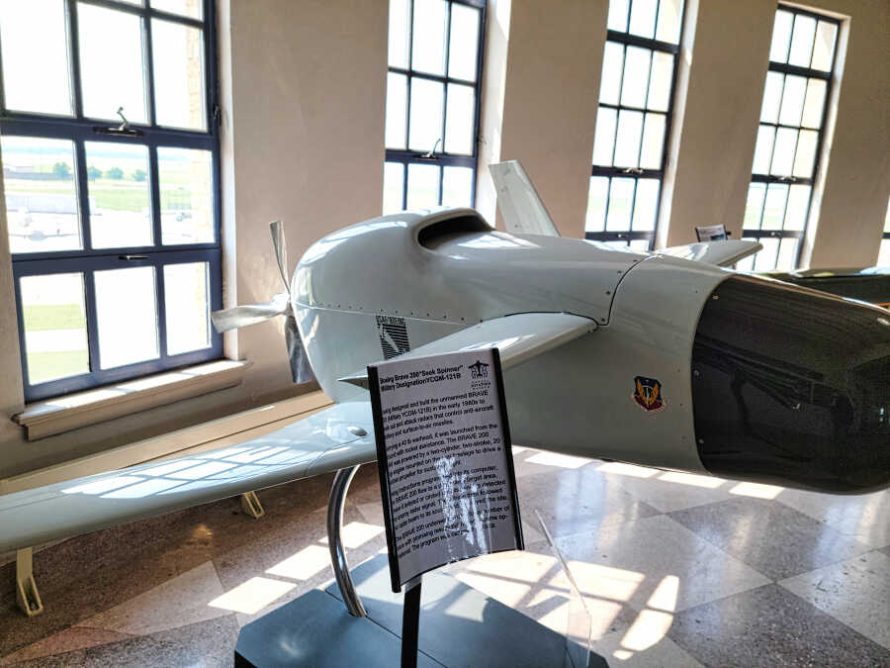 There is also an example of the Boeing Brave 3000, another UAV designed to carry a 185 lb. payload and had a range of 125 miles. Both were early prototypes that were instrumental in today's military drone technology.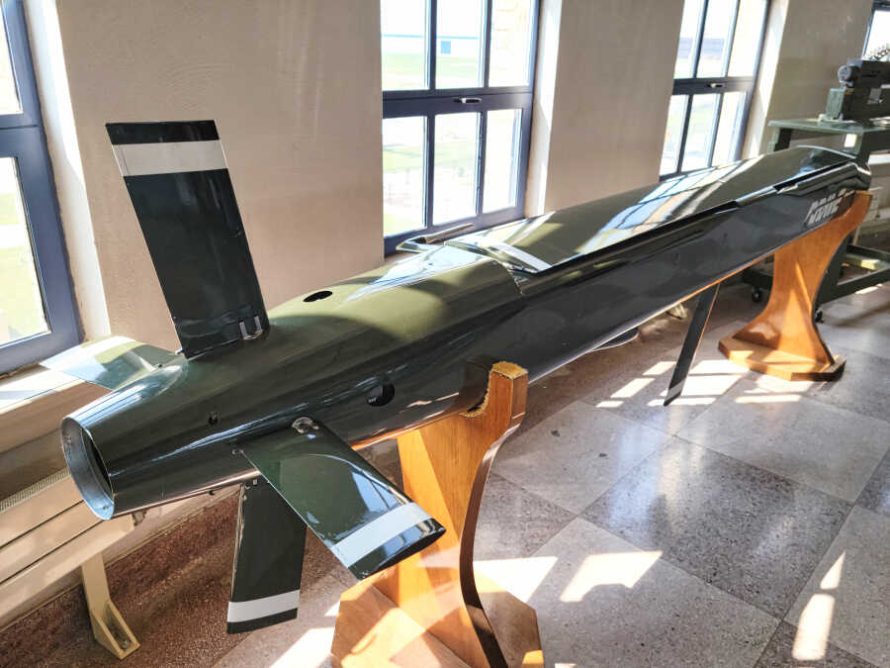 You can climb the stairs to the flight control tower and see just how sparse things were in the early days, plus you get a great view of the aircraft outside as well as the flight lines.
Many of Wichita's early aircraft manufacturers live on today. Stearman Aviation was purchased by Boeing, which built the B-29 during WW2 and later the B-47 Stratojet and B-52 Stratofortress. In 2005 Boeing sold its plant in Wichita and a new company Spirit AeroSystems was formed. Today Spirit is one of the world's largest manufacturers of aerostructures for commercial, defense and private jet companies.
Looking For Hotels in Wichita?
Textron Aviation is another aviation industry giant originally formed in 1927 as a textile company in Boston. In 2014 the company bought Beechcraft and changed the name to Textron. The sale also included Cessna and Hawker and today they manufacture a wide range of aircraft from business jets, turbo props and high performance pistons. They are also involved in special mission, military trainers and defense aviation. Textron has produced more than half of all general aviation aircraft worldwide.
The Kansas Aviation Museum offers visitors a chance to learn about the part Wichita has played in aircraft industry history and allows you to get up close to some of the world's iconic pioneer aircraft. The Museum is located in the old Wichita Municipal Airport Terminal at 3350 George Washington Blvd, and is open Monday-Saturday 10am to 5pm and Sunday noon – 5pm.
Admission prices are:
Under 3yrs – free
Age 4-12 – $6
Age 13 -54 – $10
Over 55 – $8
The B-29 Doc Hangar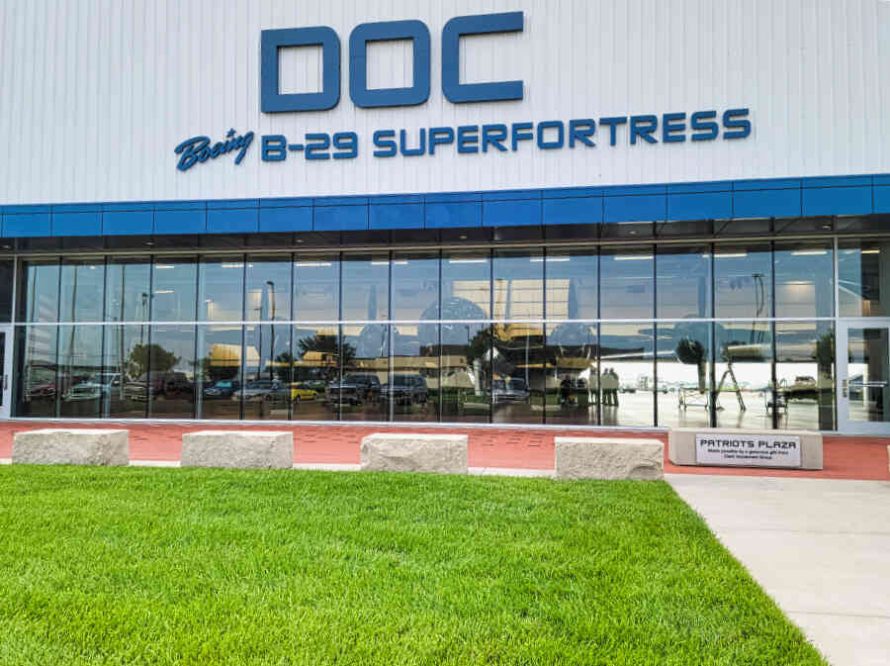 I love military history and museums, like the Mighty Eighth Air Force Museum in Savannah, so I had to check out the B29 "Doc", one of only two B29 Superfortress aircraft flying today. The only other flying Superfortress is the B29 "FIFI" based out of Dallas Tx. The B29 Superfortress was flown by American forces in WWII and the Korean war and was designed for high altitude strategic bombing. With four remote machine gun turrets, the B29 was one of the largest military aircraft produced during WW2 and had state of the art technology for its time. At a cost of $3 billion for design and production it exceeded the cost of the Manhattan Project, which designed and delivered the first two atomic bombs, at a cost of 1.9 billion.
There was a total of 3,970 B-29's built at five plants between 1943 and 1946. The Boeing plant in Wichita built 1,644 of those planes and one of them was the B29 Superfortress named "Doc" after one of the seven dwarves. The plane now known as "Doc" rolled off the assembly line in March 1945, five months before another B-29 dropped two atomic bombs on Japan, ending the war in the Pacific. "Doc" served in non-combat roles, first in radar calibration duties, with a squadron known as the Seven Dwarves, it was then assigned to target towing duties and later as a target for bombing training in China Lake California.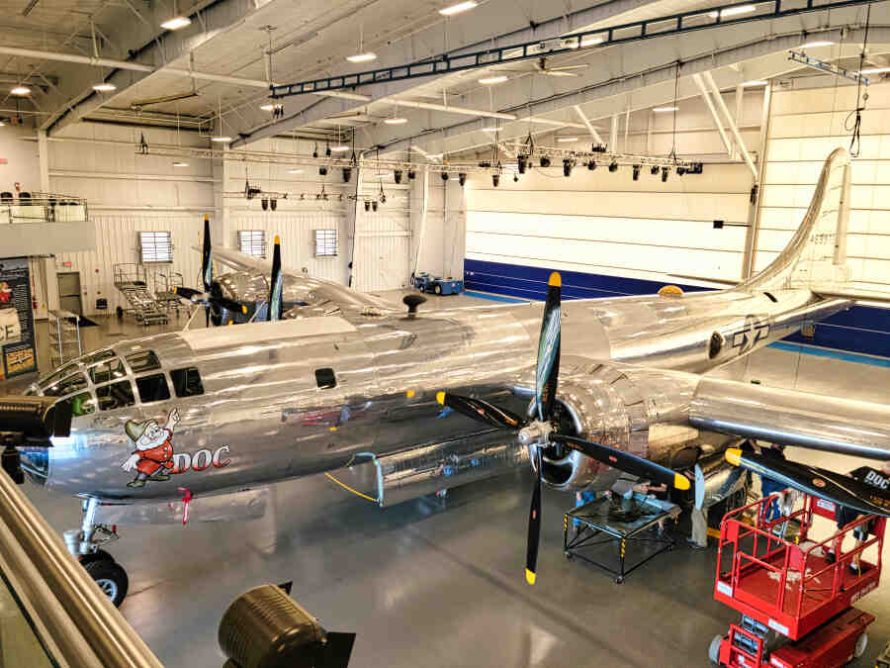 After serving as a target for Navy training for 47 years in the Mojave Desert, Doc was discovered by Tony Mazzolini, who along with a team of others took twelve years negotiating with the Navy to purchase the plane. In 1988 the team took possession of the plane, and had it towed out of the desert and transported it to Wichita in May of 2000, where a long restoration process would begin. With help from volunteers, Boeing and a slew of other companies and individuals, the restoration process began. In June 2016 Doc was deemed airworthy and in July, after years of restoration Doc took its first flight in over sixty years.
The B29 Doc Hangar is manned by volunteers that maintain the plane, do all the required maintenance, lead tours of the plane and tell you the history of Doc and the B29 Superfortress. It is not often you get a chance to get up close and personal to such an iconic aircraft. As I walked around and climbed into the plane, I could only imagine what it was like for the crews as they took off from bases in India to bomb Japanese targets in Thailand and the Pacific rim.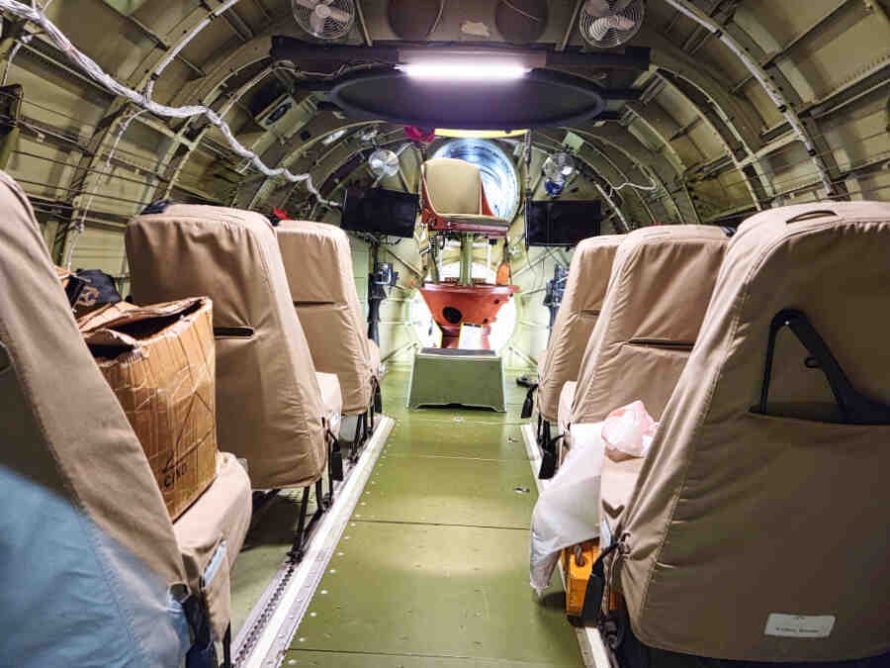 When I visited the Kansas Aviation Museum, they told the story of the contributions women made to building the B29 and they highlighted Connie Palacioz. When I went to the B29 Doc Hangar one of the volunteers manning the welcome desk was none other than 98 yr. old Connie Palacioz, the real life "Rosie the Riveter."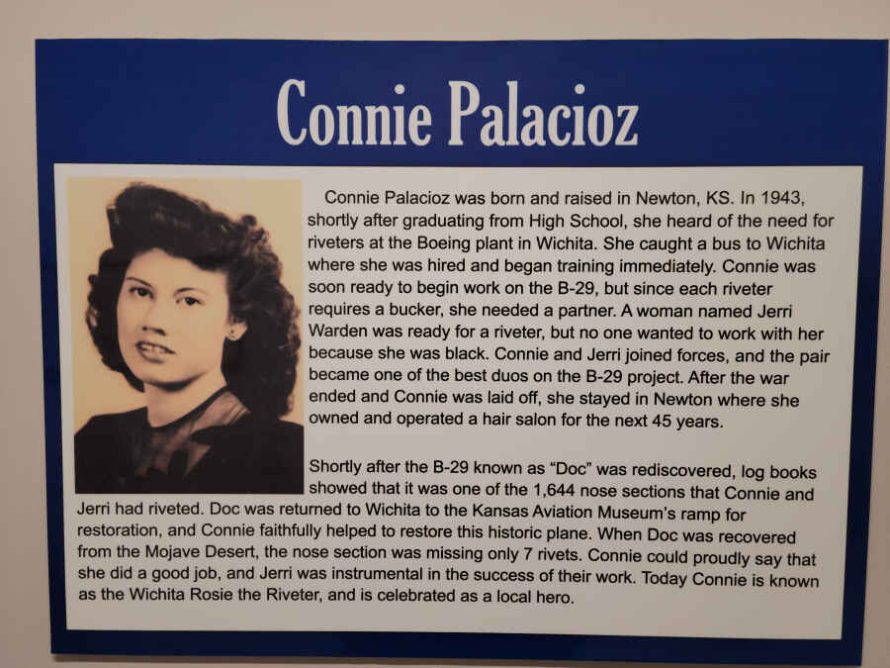 It was a real honor getting to meet someone that played such an important role during that time in history.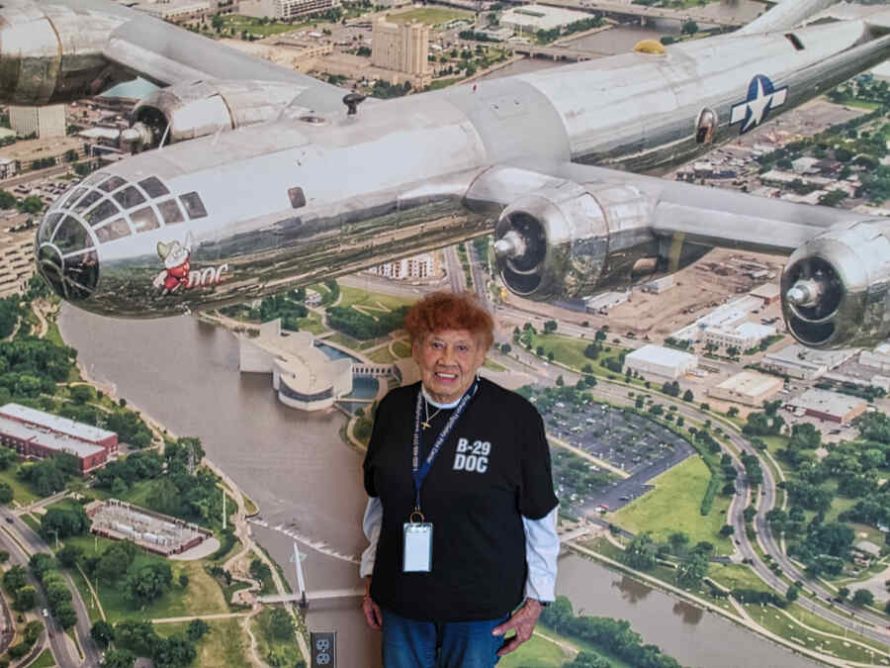 Connie was just one of around 20 volunteers I saw working that day. Some were performing maintenance on Doc, some were guiding tours of the plane and facility, others were explaining the various displays and the importance each played in the B29 history.
The B29 Doc Hangar is a 42,000 sq foot facility that not only serves as a maintenance facility but an interactive educational experience. From photographs and timelines, displays and a tour where you get to climb up into the aircraft, have direct access to the flight deck and get to learn all about the plane.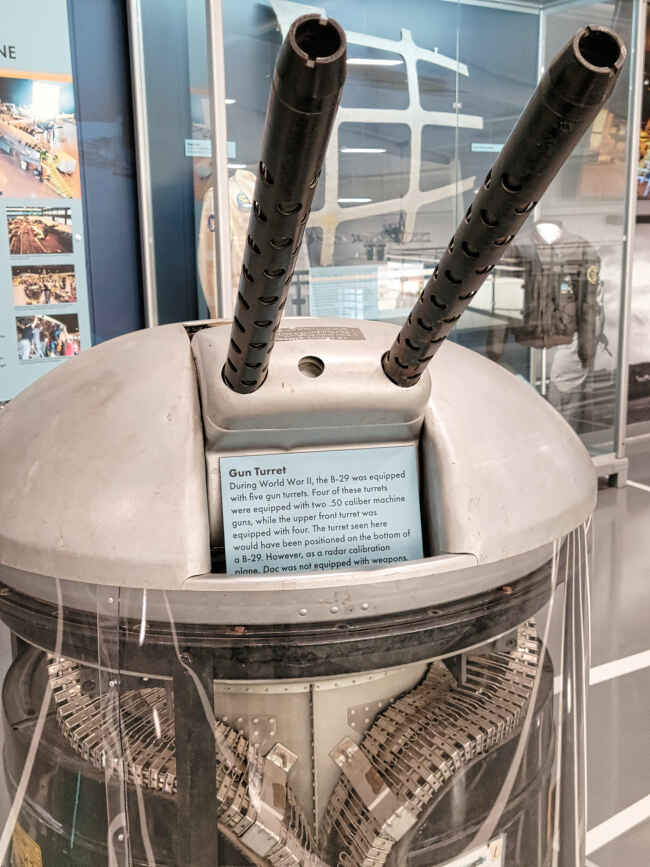 The B29 Superfortress didn't have as much trouble with fighter planes in WW2 as did the B25 and other bombers due to the fact it could fly at such high altitudes and the fighters couldn't climb that high. During the Korean war the introduction of the MIG-15, which could fly at the same altitudes, made the B29 more susceptible to enemy fighters. The B29 was removed from duty in the 1960's and while some were sold off to other countries, many became relegated to being targets for practice while they sat forgotten in the desert.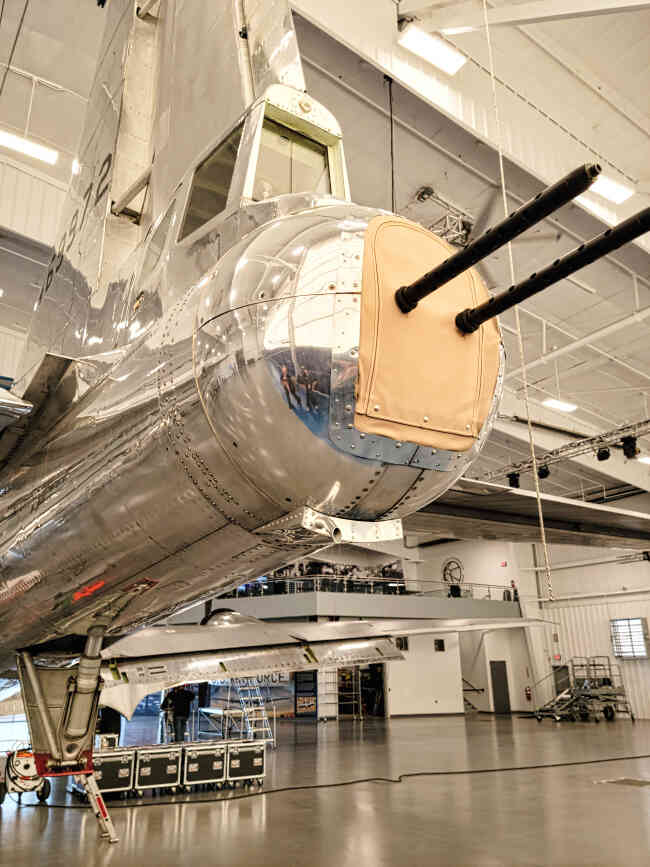 Thanks to the dedication of volunteers and donors who wanted to keep the history of these giants alive for future generations, The B29 Doc and its sister plane FIFI in Dallas allow people to learn about the people and planes that helped make history.
Before visiting you need to ensure that Doc is in Wichita. As a flying display of history, the plane travels around the United States to air shows and displays so check out the B29 Doc website about visiting and look at the calendar at the bottom of the page prior to planning your visit. You can also check out the traveling schedule and maybe see it on the road. If you really want to see what it is like inside a B29 Superfortress you can book a flight on board the plane.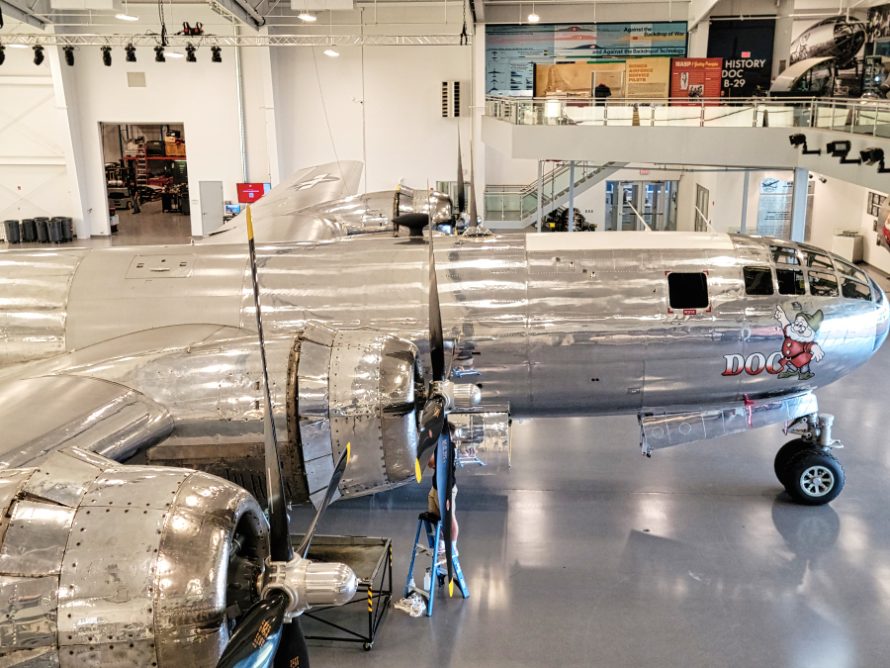 The flight experience lasts about 90 minutes with 30-45 minutes of it being the actual flight. It costs a lot to fly these planes so keep that in mind when you see the prices.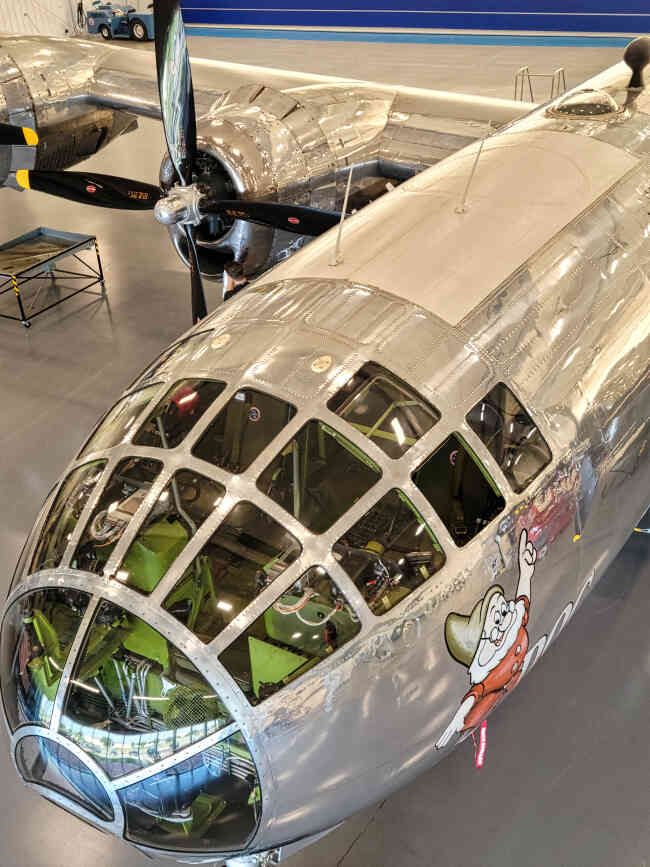 There are 11 seats on board for a flight. There is one Master Gunner seat that costs $600, six gunner seats that also cost $600, the Navigator, Radio Operator and Cockpit/Pilot Observer seats cost $1,200 and the Bombardier seat, which is in the nose bubble of the plane costs $1,500. Well worth it when you get to experience flying in an actual piece of military history.
The B29 Doc Hangar is located at 1788 Airport Rd close to the Dwight D Eisenhower National Airport. The facility is open Tuesday and Thursday from 9am-2pm and Saturdays 9am-1pm, when Doc is not on tour. Admission costs are $10 per person plus $5 for cockpit access, $20 per family (up to 5 in the family) plus $10 cockpit access.
There are a lot of great museums in Wichita Ks and a whole lot of things to do. You should really put these two on your list of things to see.
Related Posts
(Visited 383 times, 1 visits today)