The following post contains affiliate links
I recently had the opportunity to visit the Oryx Lounge at Doha International Airport in Qatar. By opportunity I mean I had a 9 hour long stopover waiting for my connecting flight. After a long journey I had no intention of spending it wandering around the airport.
Check out Hotel Prices in Doha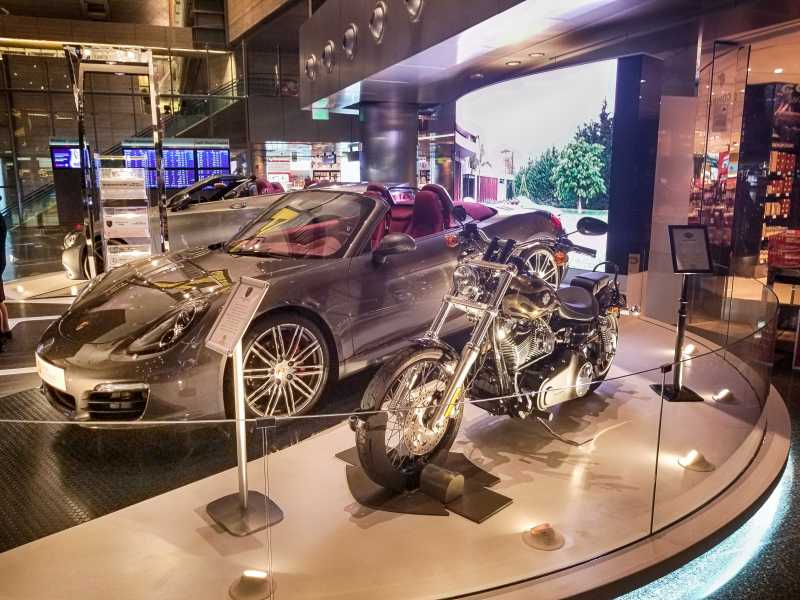 With a 9 hour layover you don't have a lot of options. You could buy a raffle ticket for one of the high end vehicles or motorcycles. It is too long to sit in the food court and not really long enough to leave the airport and see the town. While there are several airport lounges at Doha airport, The Al Mourjan Business Lounge, The Al Safwa First Class Lounge and others, most are reserved for business or first-class passengers. However, the Doha Airport Oryx Lounge is open to anyone as long as you buy access.
The Oryx Lounge location is located near the freakishly weird 23 ft tall, yellow teddy bear lamp in the departures area, after clearing immigration and security, on the 2nd floor. To access the Oryx Lounge you just need to show your boarding pass and pay QAR 200, which depending on the daily exchange rate is somewhere around $55-$57 USD at the reception desk for a maximum stay of 6 hour stay for lounge access. They take all major credit cards.
If you are flying into Doha airport from the US then chances are you had a long flight, mine was 14 ½ hours. After a long flight and looking at a long layover the Oryx Lounge is a welcome relief. While it might not be the most luxurious airport lounge it does have a lot of amenities that make a long layover tolerable.
1. Freshen Up With a Shower
One of the best things about the Oryx Lounge is the fact they have shower facilities. Located in the restroom is a separate room with a sink, toilet and shower room. The staff at the lounge have razors, shaving cream, toothpaste and toothbrushes available and the shower rooms have towels and liquid soap and shampoo. If you want a wash cloth you need to bring your own. It's always a good idea to put one in small zip lock bag and throw it in your carry on anyway.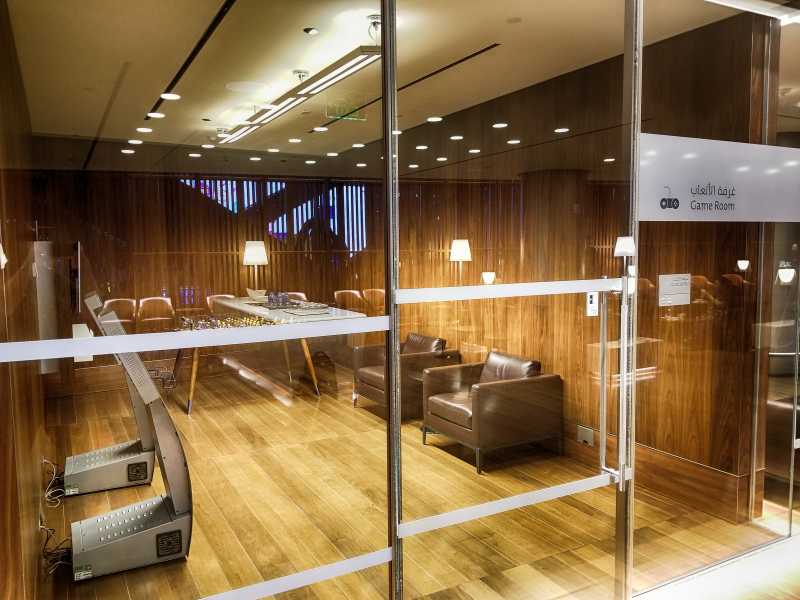 There is something about taking a shower after a long flight to make you feel better and get ready for the next leg of your journey. The facility was clean and I saw people going into the area several times while I was there to clean it up and restock the towels and such. The Oryx Lounge has several other features that make it worthwhile.
2. Grab a Bite to Eat
While the lounge does have a complimentary buffet dining they do not have a huge buffet that some airport lounges offer, they do offer both western dishes as well as local food and drinks. The food area had soup, a variety of sandwiches, various desserts and sweets along with salads. There was coffee machines, tea, water and cold drinks, including soft drinks, available as well as juices. I was there during Ramadan so no alcoholic drinks were being served. I didn't see any restrictions to bringing food in so you could always hit up one of the restaurants at the food court and bring it something if you are really hungry. A hot drink was a welcome sight and the coffee was good. There is a small dining area but you can take your food anywhere in one of the spacious lounge areas.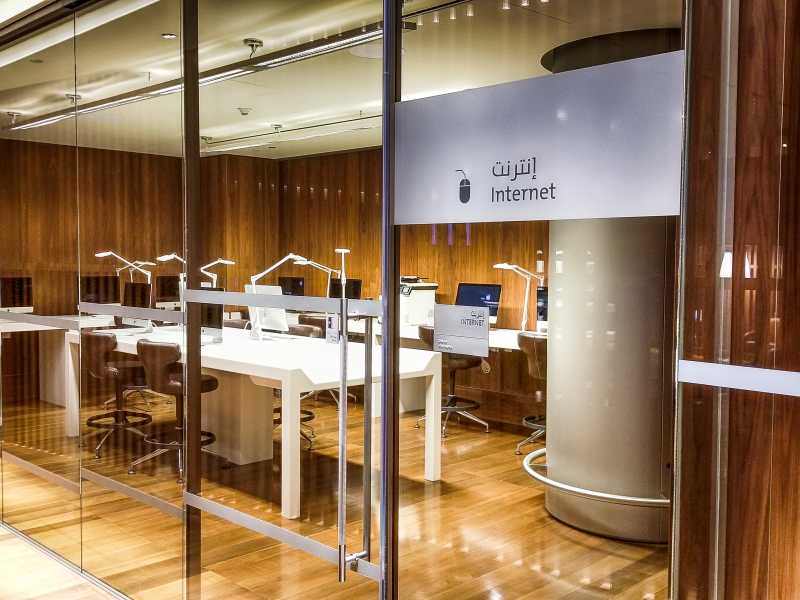 3. Get A Little Work In or Just Surf The Web
There are a lot of comfy chairs and tables throughout the lounge along with USB and electrical outlets so you can charge your phone or fire up a laptop. There is also a dedicated internet facility with a business centre and computer room with several workstations. The nice thing about these rooms are unlike other lounges, these are not just areas of the lounge but actual rooms where you can go and get away from everything else. There were a lot of computer connections and plenty of space if you needed to get some work done.
4. Let The Kids Roam Free In The Game Room
There is a game room with several games and a family room where only families with kids are allowed. That is a pretty good feature since they have a dedicated space and it keeps the rest of the lounge free from kids running around.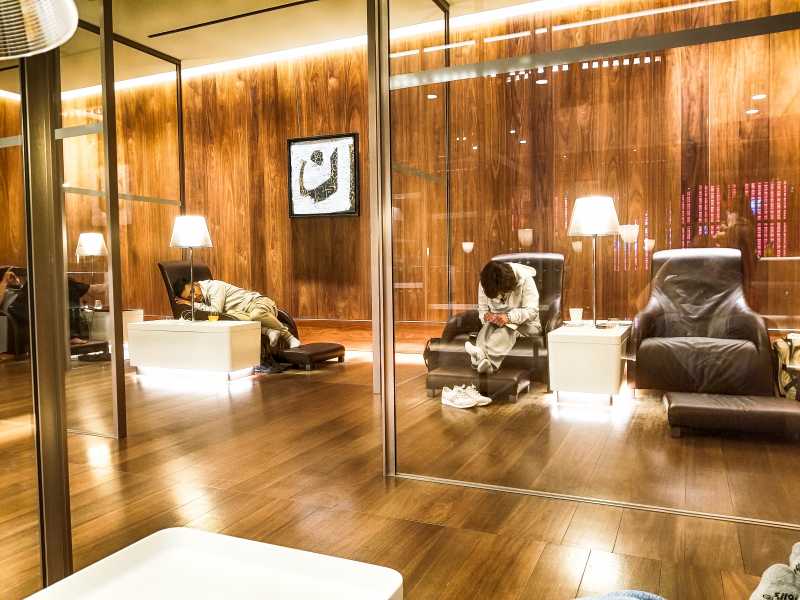 5. Just Relax In The Quiet
There is a quiet room with several comfortable chairs and footrests. Each area is somewhat partitioned off and has chargers next to the chairs. The only problem I saw was people tended to go in, set up camp and never leave so it was hard to get a chair. I finally got on after awhile and it is a good place to relax. I found it the perfect place to take a break in the quiet and get a little nap in.
6. Dedicated Smoking Room
I like my cigars so when they have a dedicated smoking room I am a happy dude. I can relax with a cigar and take a little break. The smoking room has comfortable lounge chairs and a couple of sofas. The room has several machines to suck out the smoke and while a lot of people don't smoke, it is nice to find a comfortable place for those that do.
7. Overall Great Value
Overall, the Oryx Lounge at Doha Airport is worth the price if you have been traveling for several hours and have a long layover. The staff will have your gate assignment when it comes time to leave and it is a good option to just wandering the airport or trying to find a chair to sit in.
The entire lounge was a nice place. It was a comfortable atmosphere, there was an abundance of facilities and it was an overall great experience. Although it was my first time having a long layover at the Doha Hamad Airport, if I had to do it again, I would definitely choose to buy access to the Oryx Lounge. I can honestly say the staff offered superior hospitality and overall it was a good value for the time and money spent. Much better than wandering around the airport. Long haul travel can take a lot out of you, especially when you have a long layover between flights and spending time relaxing, taking a shower or getting a bite to eat can make a world of difference, especially when you have another long flight ahead of you.
(Visited 21,997 times, 20 visits today)