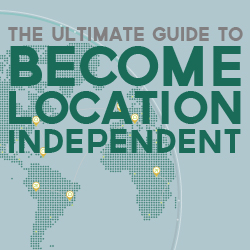 From time to time I make recommendations to my readers on products, books or tools that I believe in and use.
I never recommend something that I don't personally believe in.
I received The Ultimate Guide to Become Location Independent and was pleasantly surprised to find this is no ordinary book. Norbert has put together one of the finest guides I have seen for people desiring to live and work unconventionally.
Like you, I have read many books and guides that promise a lot of information only to find the same old useless drivel and generic ideas.
There is nothing worse than spending money for a book only to read things like "Start a business that you can do anywhere" or "Build a blog and sell advertising". Well duh, if it were that simple everyone would be living on a beach working two hours a day and living the high life.
You won't find anything like that with this book.
Norbert has put together a comprehensive guide that covers a multitude of things.
Through 206 pages and thirteen chapters, Norbert covers everything from, do you have the mindset for this type of lifestyle and strategies to pursue location independence to five chapters dedicated to creating an income and money issues.
There are chapters that cover travel planning, travel hacking, Visa issues, what to pack and take with you, and what to expect when you are on the road.
Interspersed throughout the book are case studies with 10 of the most highly successful location independent entrepreneurs and their thoughts.
From "How to pay for your lifestyle" to real world case studies this is a great guide. One of the best things in this book, is that Norbert has put links to tools and websites that he and others use to make this life possible.
There are links to sites that cater to people living a life on the road. Job sites, living accommodations and more.
From links to credit card services, banking services, travel sites, booking sites, health services and more, you will find an invaluable tool unlike I have seen anywhere else.
You will also find cost of living examples for some of the most popular locations.
I rarely decide to become an affiliate for a product and those that I do I believe in. I became an affiliate for The Ultimate Guide to Become Location Independent because I know how valuable a tool it will be for me and my readers.
If you are thinking of having a location independent lifestyle or dream of a way to travel long term then this is a must have guide.
The guide is not available on my SHOP page, instead you can purchase the guide HERE.
I hope you decide to buy it and if so let me know what you think.
(Visited 159 times, 1 visits today)