When Visit Wichita invited me to come and check out Wichita Kansas, I told them that I wanted to check out some local Wichita restaurants. I always like to visit the local cafés and restaurants when I travel because after all, you can visit a chain restaurant anytime. Why go to McDonalds or Starbucks when you can eat at a local burger joint that's been in business for years or a locally owned coffee shop? Now there are some chain type restaurants that are really worth visiting, especially regional chains that you might not otherwise know. One of the places on the breakfast list is just such a place.
I find some of the best places to eat in any destination I visit is a place loved by the locals that live there. Afterall, if they go there on a regular basis, it must be good. I was only in town for a couple of days, and I am sure there are a lot of great locally owned Wichita restaurants, but here are the places I visited, and you should try them out next time you visit.
Looking for Hotels in Wichita?
Where to Eat Breakfast in Wichita
Doo-Dah Diner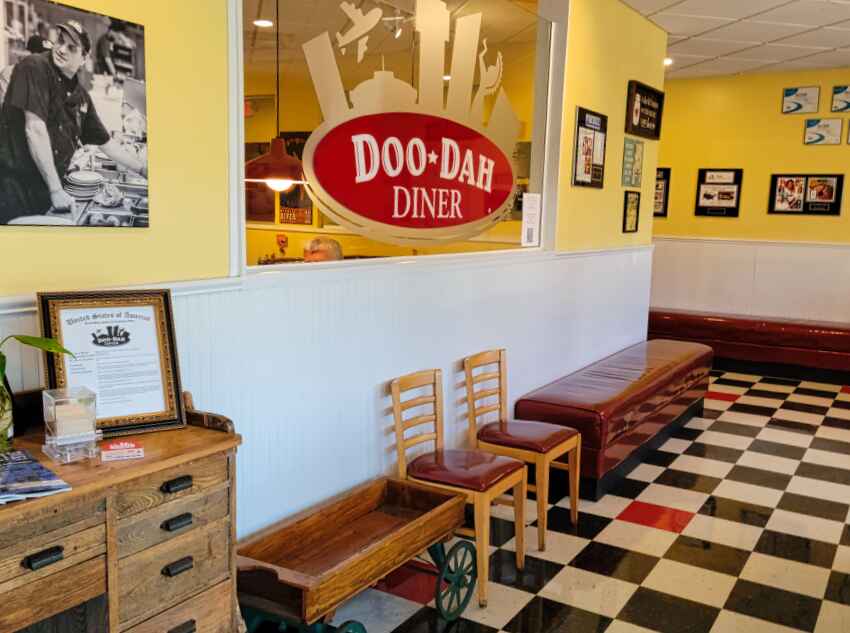 Stepping into the Doo-Dah Diner you might think that this place has been around forty years. You get that feel of a diner that has has garnered a loyal following and a place where neighbors and families gather for breakfast. You have seen those places; every small town has a breakfast place and that is the Doo-Dah Diner. The fact is the diner was established in 2012 by Patrick and Timirie Shibley. Wanting to create a casual breakfast and lunch restaurant with a laid back vibe, they certainly accomplished that and the Doo-Dah has quickly become a favorite of locals and those like me lucky enough to be told about it.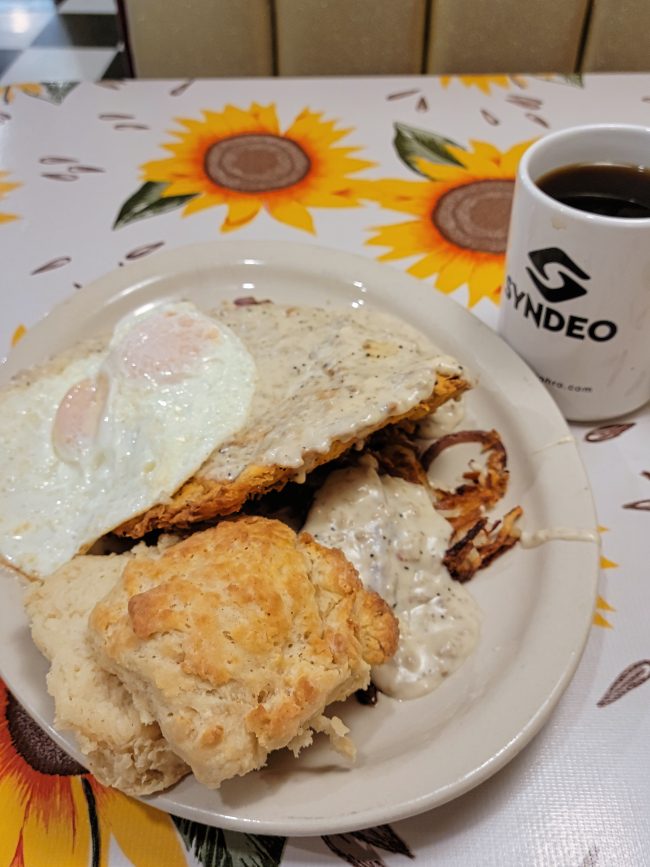 All the food is great but if you can't decide what to order for breakfast, order the Triple D. Half portions of 3 best sellers, Banana Bread French Toast, Corned Beef Hash and Tanya's Benny, an English muffin topped with maple pepper bacon, avocado, poached eggs and hand whipped hollandaise sauce. Just bring a big appetite. The Doo-Dah is located at 206 E Kellogg St, and is open 7am – 2pm Wed-Fri, 8am – 2pm Sat and Sun and is closed Monday and Tuesday.
HomeGrown
Homegrown serves breakfast, brunch and lunch and is one of those, what I call regional chains. With locations in Wichita, Kansas City, Des Moines Iowa and Springdale Arkansas, they serve up fresh and very tasty dishes. The thing with HomeGrown is that they partner with local farmers and businesses to use their products. For example, in Wichita they use Prairie Fire Coffee Roasters, Yoder meats and (316) honey along with other locally sourced products.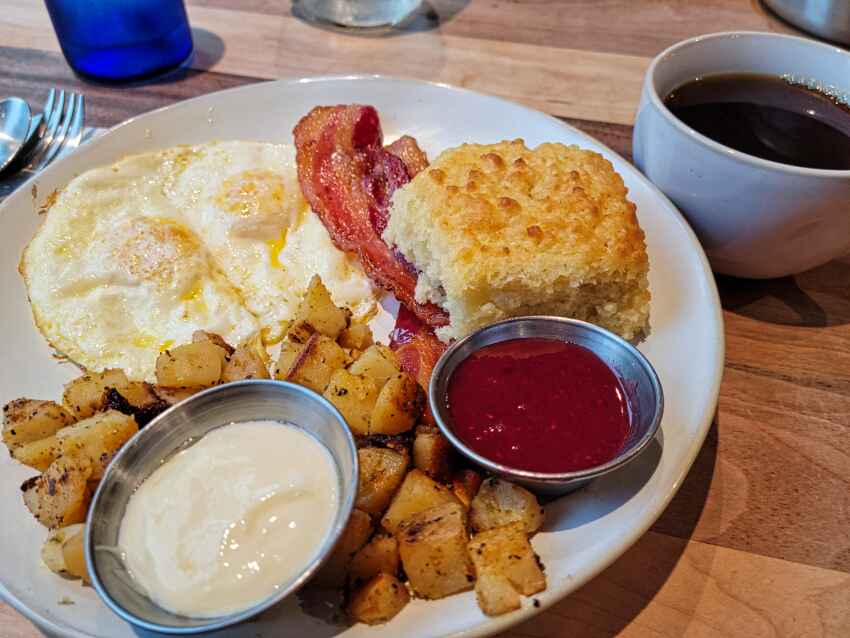 It is the same for their other locations, wherever you go the use local foods on the menu. While I had bacon, eggs, potatoes and an English muffin, they have a lot of other creative and delicious meals. HomeGrown has three locations in Wichita, three in Kansas City, one in Des Moines Iowa and one in Springdale Arkansas. Check out the HomeGrown locations page for the various places they have.
Related Posts
Lunch and Dinner
Old Mill Tasty Shop
The Old Mill Tasty Shop has been a Wichita staple since 1932. Located on Douglas Street in downtown Wichita, it is a throwback to the soda fountains of old. Today they serve soups, salads and sandwiches along with a daily lunch special and of course ice cream, shakes, malts, sundaes and other desserts. Still family owned and operated, this is one place you need to visit, but they are only open from 11 am – 3 pm. Old Mill Tasty Shop is located at 604 E. Douglas Ave.
Dempsey's Burger Pub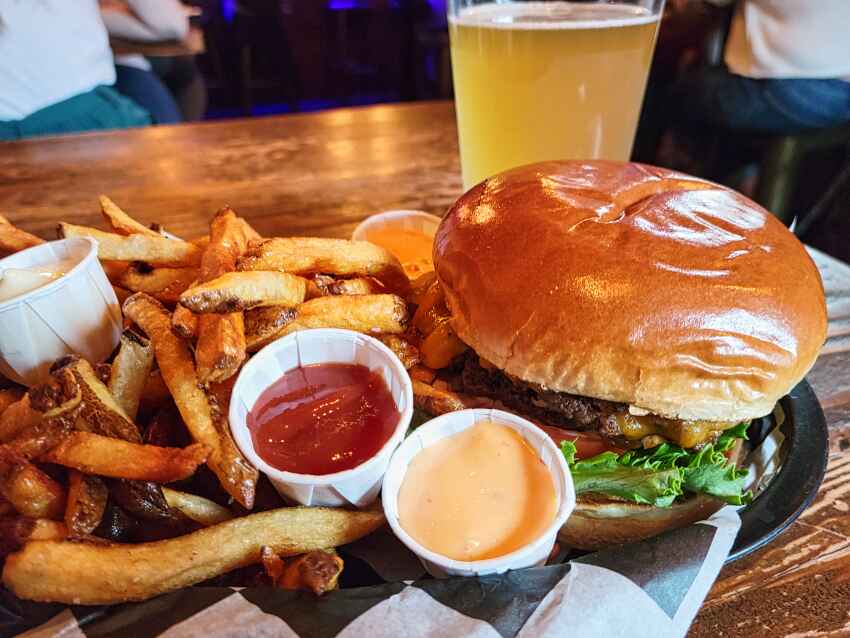 Dempsey's Burger Pub is the perfect place to relax with a great burger and beer on tap as well as cocktails. The pub is located at Clifton Square, which is a shopping and dining village in the College Hill neighborhood. When you walk in there is a dining space or you can take the stairs down to the lower level where there are a few more tables as well as a bar. They use fresh Angus Beef sourced from Kansas and fresh bread from Farm to Market bread company in Kansas City. They also have Wagyu burgers. Like any good burger place they have a wide variety, they even have a salmon burger and a chicken burger. You have to try a couple of different fries though, because they have truffle fries, fries cooked in duck fat, sweet potato fries and fire fries, which are tossed in chili oil and pepper flakes. They also serve root beer floats and milk shakes. I love a good burger and was not disappointed with Dempsey's, I highly recommend you check them out. They are located at 3700 E Douglas Ave in Clifton Square.
NuWay Crumbly Burgers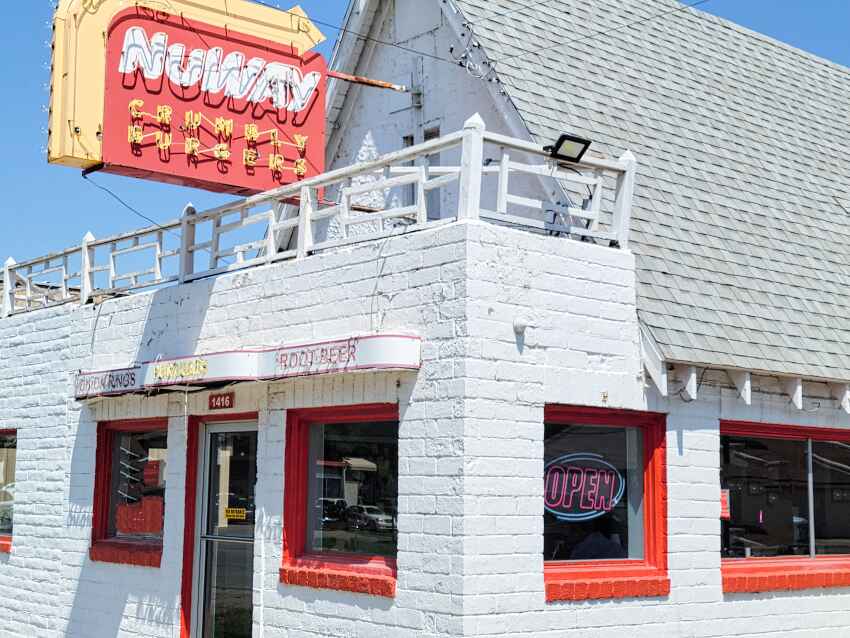 NuWay Crumbly Burgers is truly a Wichita institution. Opened in 1930, by Tom McEvoy, they have been serving up burgers their way ever since. Unlike a lot of places, they have only a few items on the menu, and they do it with perfection. Their crumbly burger is made the same way it always has been using their patented cookers along with hot dogs, chili, curly fries and onion rings. You have to get the handmade onion rings they are delicious and a root beer in a frosty mug is a must. The root beer is homemade daily and is fantastic, it was hot the day I stopped in, so I had two.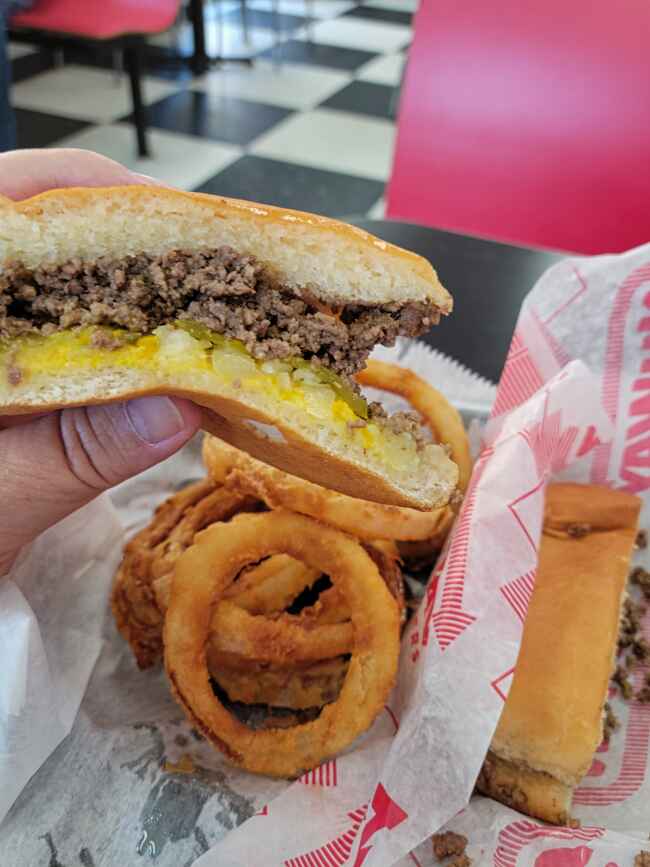 I am not used to crumbly burgers, but it had a pretty good taste and when you throw in the onion rings and root beer it made for a great lunch. I gotta say though the star of the show was the homemade rootbeer. At their height Nuway had several stores in Wichita. Now they are down to two restaurants. I went by the original place at 1416 W Douglas. It was like stepping back into a simpler time.
Nortons Brewing Company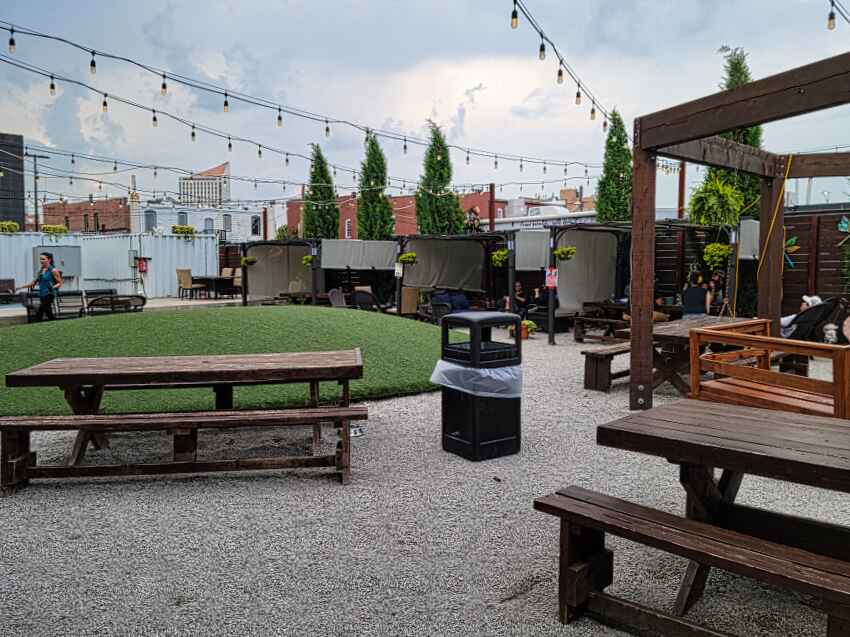 There are several brewpubs in Wichita and I would have loved to visit all of them but I only had time for one. Norton's is a brewpub in Old Town, and they offer a great atmosphere, a wide variety of beer and damn good food. Fantastic burgers, parmesan garlic fries, and decadent desserts.
They also have a full bar for cocktails and an outside patio that has semiprivate seating and a big open area. They also celebrate Taco Tuesday with a taco menu including burritos and quesadillas. Check out the fried pickles and bacon crack on the appetizer menu, and good luck deciding on which beer to try, there are a lot. Nortons Brewing Company is located at 125 N. St Francis.
Pumphouse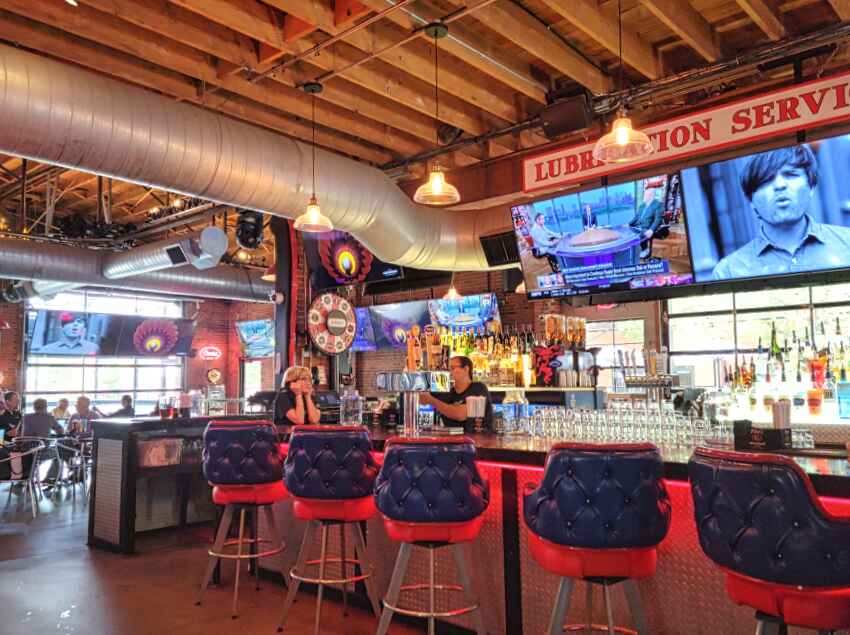 The Pumphouse originated in 1931 as a full service gas station. Located in the warehouse district they served downtown Wichita, adding a garage do oil changes and eventually adding a small diner serving homemade food. Today is a family owned and operated bar and grill and a popular destination for lunch and dinner. Walking in you are met with nostalgic signs and old gas pumps, a large full bar and TV's mounted on the walls. They also have an outside seating area. Burgers, fish and chips, sandwiches, salads, pastas, pizza and soups along with great appetizers are served up. When the sun goes down the fun continues with DJ's on Friday and Sat nights and more events during the week. The Pumphouse makes for a great lunch stop or a place to enjoy a drink at the end of the day. Located at 825 E. 2nd St N, they open the doors at 11 am.
Station 8 BBQ
Okay, full disclosure here. I did not eat at Station 8 BBQ, I went there and they were closed. I did, however, meet some of the guys working there and they allowed me to go inside and look around and ask a few questions. Located in a historic former firehouse from the 1920's, the restaurant is adorned with all kinds of fire memorabilia and antiques, including an antique bar and vintage fire vehicles parked outside.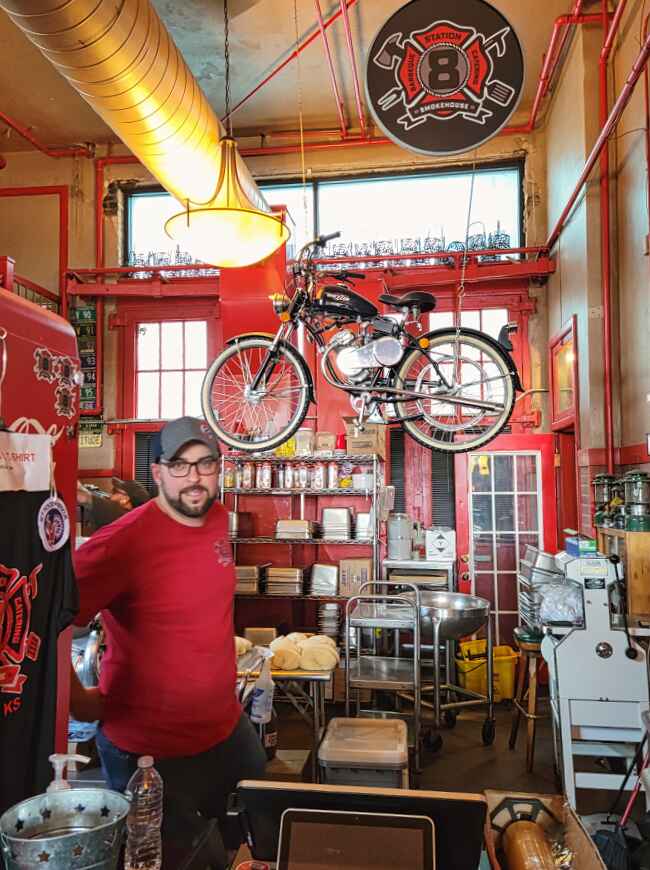 I saw them preparing to smoke some briskets and getting ready for the next day and it looked pretty dang good. According to Yelp they are the highest rated BBQ place in Wichita as of when I visited, plus they rate really well on other sites including over 300 Google reviews and a rating just shy of 5 stars. I will definitely visit next time I am in town. Station 8 BBQ is located at 1100 E. 3rd St N. and open Wed – Sat 11 am -2 pm.
Mort's Martini and Cigar Bar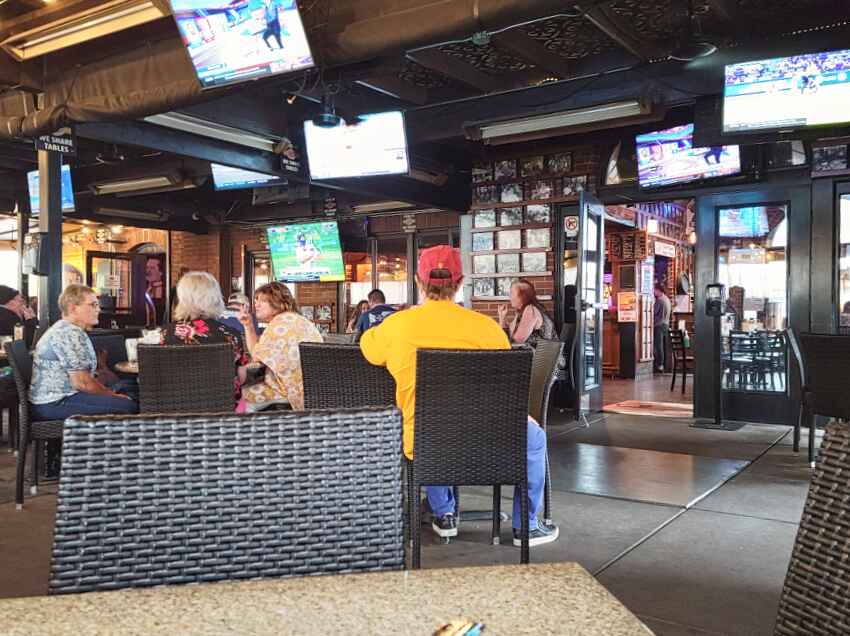 While this is not a restaurant it is a fantastic place to relax and take a break. You know I love a good cigar and whisky, so when it was suggested that I check out Mort's Martini and Cigar Bar I was sold. Now when I think of a martini bar, I get images of a place that tries to impress people with a sense of a forced elegance and upscale sophistication, which usually means they are around for a couple of years before another fad takes over. Mort's has been around since they opened the doors in 1996 and they are more like a neighborhood gathering place.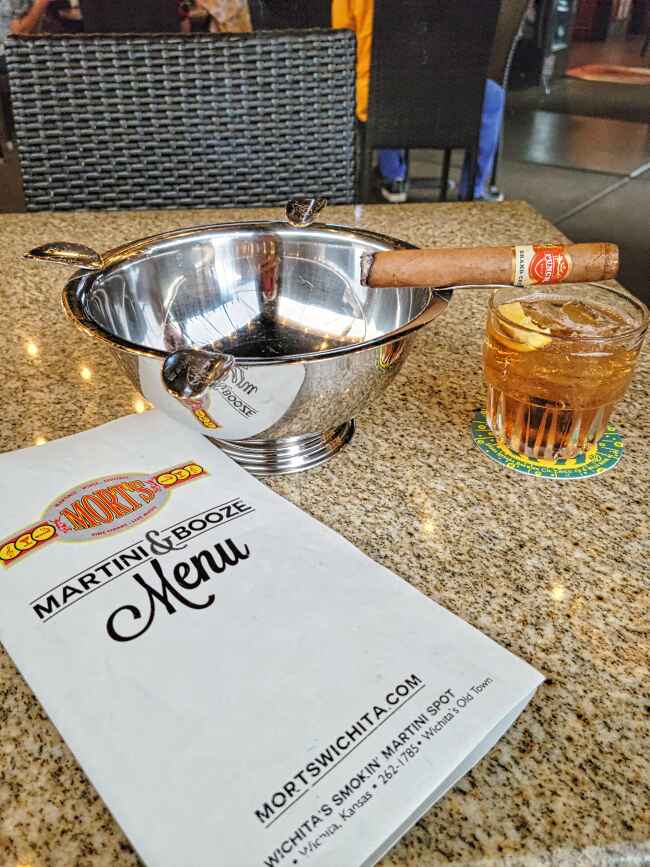 With over 160 different martinis, beer and some really good cigars for sale they have established a loyal following. The place is always busy and while you can bring your own cigar it is just rude not to buy one there. They also have a few items of bar food or appetizers, live music 7 nights a week, and if you want to experience the fun without the cigar smoke, they have an indoor area next to the bar. The outside area is a covered open air patio that can be partitioned off for bad weather. Daily and seasonal specialties are on the menu and with the extensive selection you will find something to your liking. Mort's Martini and Cigar Bar is located at 923 E 1st St N in the Old Town district. Must be 21 yrs of age to enter.
Like I said at the beginning, I was only in town for a couple of days, and I saw a lot of places that I would have loved to check out if I had the time. These are the places I visited and can recommend you visit as well.
Have you been to Wichita? What retsuarants can you reccomend?
(Visited 10,673 times, 1 visits today)