I love the Philippines and once you get outside Manila the country is beautiful with great beaches and lots of things to see. Don't get me wrong Manila has a lot going for it also but as with any big city the prices are more expensive, the traffic sucks and it's crowded. One thing Manila has in its favor is the many places to get your grub on. There is everything from local food chains to restaurants found in the US, German restaurants, Middle Eastern food, Korean and Japanese food and more.
With McDonald's, Kentucky Fried Chicken and most every other restaurant delivering you don't even have to leave your place to get food. I mean come on, 2:30 am and you have had a long night drinking just call up McDonalds or Burger King and within 30 minutes you can have those greasy fries and burger your drunken stomach is craving for.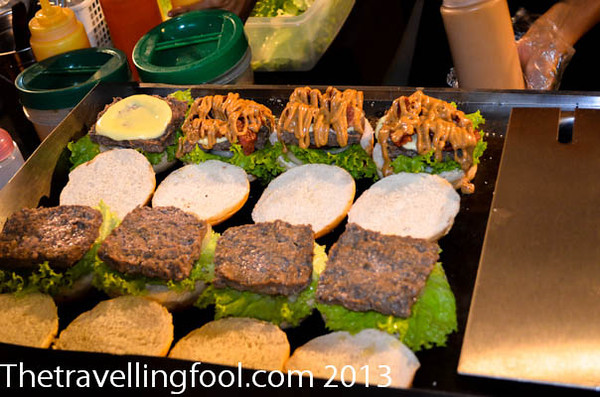 With all the great places to go it gets hard to choose. I found a solution though. I wrote about it on a trip I took some time ago but the last time I was there I decided to expand my gastronomical horizons.
Why they don't do this more in other cities I have no idea but the food markets in Manila are a great place to sample foods from all over and mingle with people.
Manila has several food markets to choose from in various parts of the city with most being held at night. Catering to the late night crowds and call center employees that work all night these markets are thriving and growing in popularity.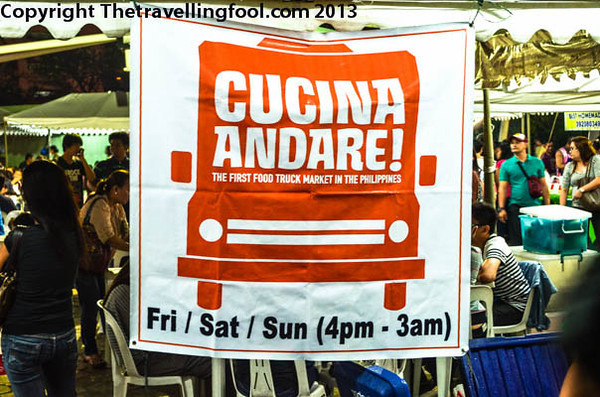 The Cucina Andare market, located at Glorietta 3 Park across from the Shangrila Hotel is one of the newer venues. The market is open every Friday, Saturday and Sunday from 4pm to 3am. This is the place to find one of the newer entries to food mania in Manila, the Food Trucks.
Unlike the food trucks in the US where the trucks travel around town and pick out prime spots for customers, the food trucks in Manila only show up at the food markets.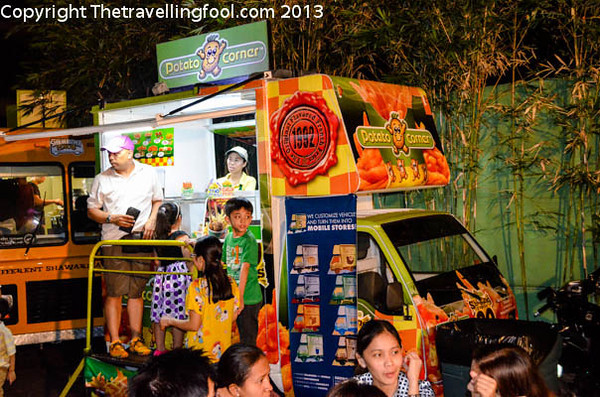 With all the street vendors selling everything from BBQ to drinks on the roadside you would think these trucks would find a way to park where the crowds are and operate seven days a week. As it stands now if you want to sample what they are selling you have to go to where the night markets are on a select few days.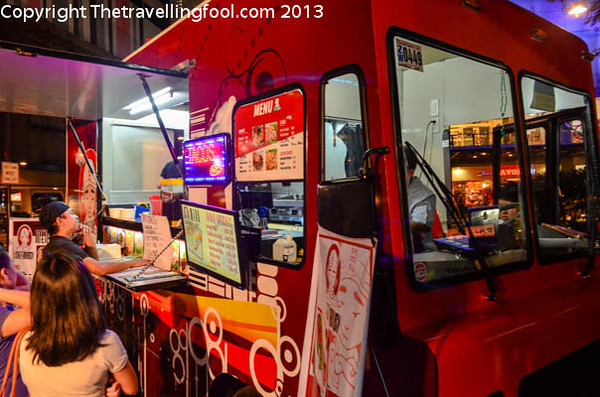 However, if you do get to one of the night markets the food trucks offer some great selections. From Philly Cheese Steaks to Tacos the trucks surround the perimeter of the Cucina Andare Market.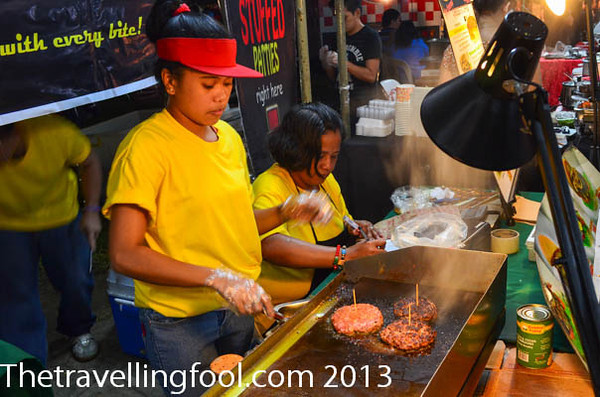 Once you get past the trucks there is a lot of other great food finds inside with booths selling burgers, cakes, local foods and more.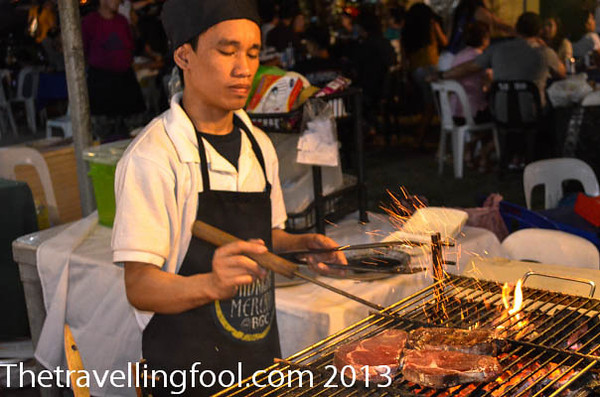 The Midnight Mercato is held in Bonafacio City on the corner of 34th & 8th Ave., next to the soccer field, and opens from 10pm to 3 am every Friday and Saturday evening. This is one of the first midnight markets I attended and I always try to make it there at least once every time I get to Manila.
Bonafacio is a great place at night with bars and music venues and the night market always draws a crowd. There are two seating locations, one outside and one in a large tent.
If going out at midnight to eat isn't your thing don't worry the Mercato Centrale is located in the same place and open every Saturday and Sunday from 7am to 2 pm. Along with some great prepared food to sample the daytime market also offers organic fruits vegetables and meats.
Another of the midnight markets is Mezza Norte. Like many others Mezza Norte caters to the call center workers that work at night. With hundreds of hungry people taking their lunch breaks it only made sense for some enterprising people to set up a venue where they could congregate, relax for a few minutes and grab some good food.
Mezza Norte has recently relocated to Trinoma in Quezon City and is open Friday, Saturday and Sunday from 4pm to 3 am.
Banchetto bills itself as the Original Overnight Food Fiesta in Manila and has been around since 2007. Banchetto is open six times a week both daytime and night and operates in three locations, Shopwise, Forum and Manila Ocean Park. Their website lists all the times and a handy map.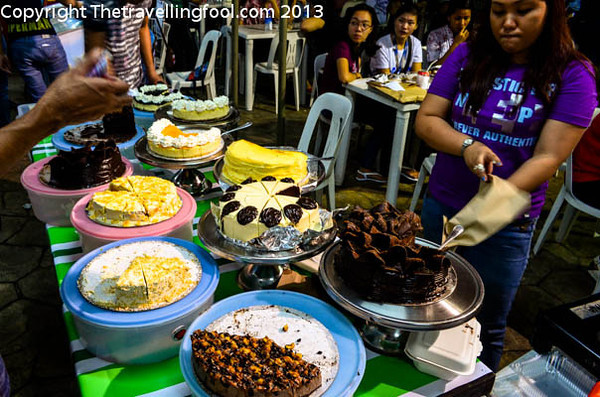 For early risers on Sundays, head over to the Lagazpi Sunday Market in Makati. Located in Legazpi Village on the corner of Rufino and Legazpi Streets the market opens at 7:30 am and closes at 2 pm. Fresh fruits, produce and vendors selling hot foods fill the parking lot. From fresh crepes, breakfast and lunch items, organic products and fresh fruit drinks, it is a great way to start your morning.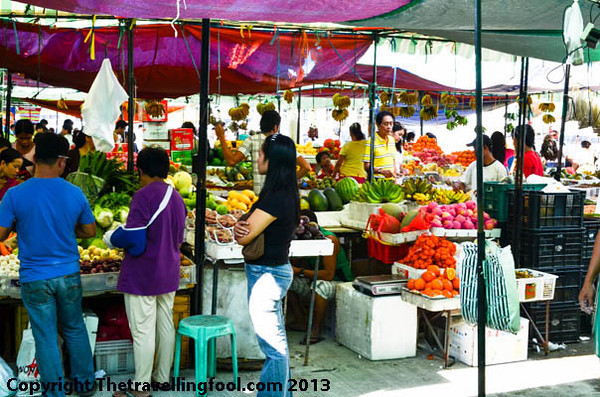 Another Makati area food market is the Salcedo Saturday Market. Located between L.P. Leviste and Tordesillas Streets in Makati City This Saturday market is open from 7am to 2 pm.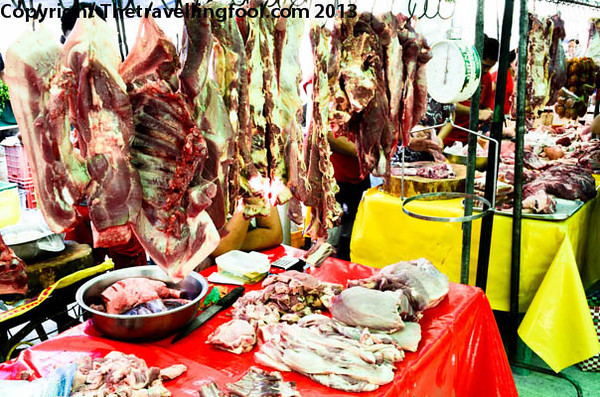 Quezon City has another market. Known as Sidcor Market or Centris Market this one is located on Edsa at the corner of Quezon Avenue.
The market has various sections with organic produce, fresh fruits, fish and meats for sale, several aisles of food vendors selling everything from Pad Thai, Pizza and traditional Filipino dishes.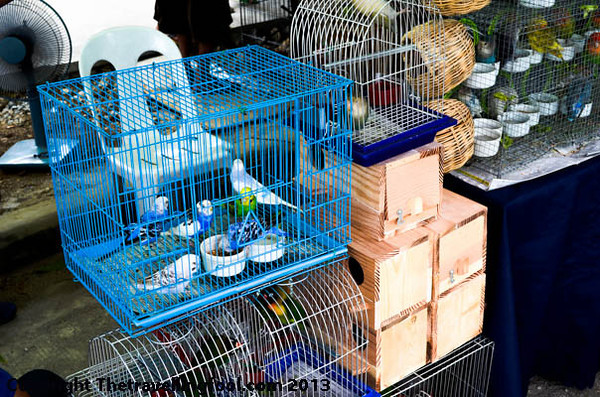 There is a section for clothes and one for plants and even pets for sale. There is no web site that I know of and my understanding is the market opens around 6 or 7 am. I am not sure when it closes.
As you can see, it doesn't matter what part of the city you are in there is a market nearby. Of course you could do like me, wherever I am in Manila I check out the times and grab a taxi. It may not be the best thing for your waistline but damn the food is good and no matter how hard I try I usually have some there and take just a little back for later.
Have you ever been to one of the Manila Food Markets? Tell me which one was your favorite.
(Visited 3,429 times, 3 visits today)