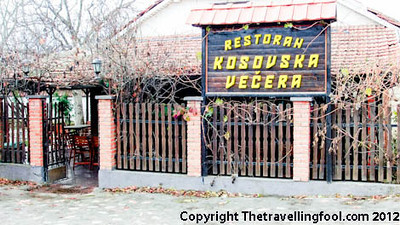 Smashed Chicken? That doesn't sound at all appealing. At least that was my thoughts when I heard about this place. Having eaten a lot of different foods in various countries I decided to give it a try. Unlike the raw Sea Urchin on the beach in the Philippines, or the Grilled Mystery Meat in Honduras this turned out pretty good.
I traveled with a few coworkers to Llapllasalle Kosovo, a little town South of Prishtina, the Capitol. Arriving at the Kosovska Vecera Restaurant on the side of the road it looked like a typical restaurant in the region. In other words the outside had seen better days.
Entering the restaurant we were greeted by a warm wood burning stove, clean interior and nicely laid out tables. Evidently smashed chicken takes a while to prepare so we had called ahead and ordered three to be ready at a certain time. Within a few minutes our chicken was being brought out on three trays like the sacrificial birds they were. You have to understand when we go out it usually turns into a feeding frenzy and enough calories to satisfy a Pro Football Team are usually consumed.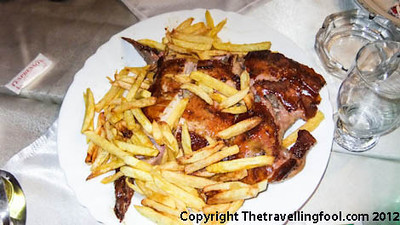 I guess here is where I should tell you that the name on the menu isn't Smashed Chicken, but then again there is no way anyone in our party could pronounce the name and none of the menu items were in English anyway.
It Turns out Smashed Chicken could have been better described as a whole chicken, deboned and stuffed with Ham, Cheese and Mushrooms, then baked so it has a crispy skin and topped on the platter with a mound of Fries.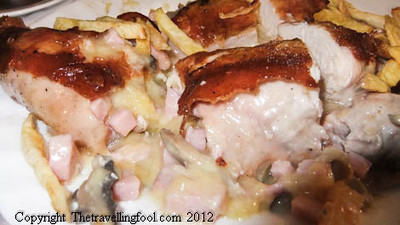 The fact that it has absolutely no bones and is laid out flat with legs, wings and all, makes it easier for some of us to just call it smashed. After all to call it road kill chicken would just be rude.