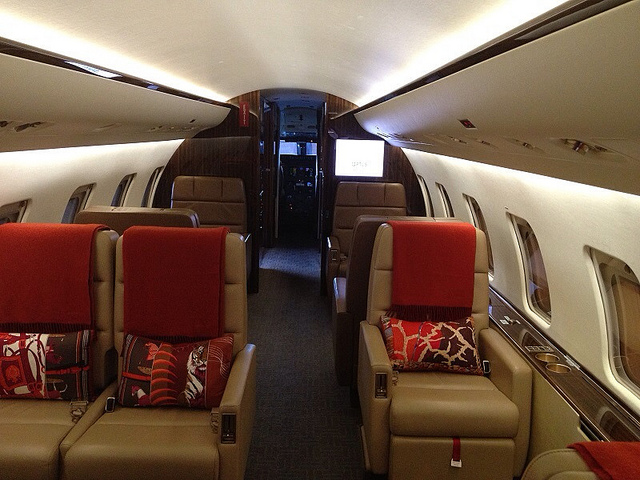 Are you tired of crappy airline service, long lines, flight delays and people who give the impression they could care less?
With the price of oil down, some airlines are contemplating stabilizing airfares or even lower them but that is little consolation when the customer experience continues to get worse. You have little choice but to endure the cattle car mentality of the airlines, drive yourself, in some cases take the train or shudder, take a bus. There is one option gaining in popularity though. Private jet travel.
At one time private jets were the exclusive option of the rich and famous. Those that could afford their own jet and crew flew in style. There was also the option of fractional jet ownership where you bought a share of the plane allowing you to use the jet on a shared basis with other owners.
So by now you are thinking "Well of course I can get a good airline seat if I pay thousands of dollars for a private jet". What if I said you didn't have to be rich to score a private jet? Private Jet Charter companies have discovered that when they fly their passengers from NY to Las Vegas they have no revenue coming in for the return trip. Commonly called empty leg flights, a new market has emerged where charter companies and private jets are opening up seats to the general public.
Some companies have decided to open up their unused seats to people willing to travel in a fairly limited time frame. There is a catch however, you can't just book one seat and have the plane to yourself.
Well I guess you could but the pricing is usually for the entire plane so the more people on the flight the cheaper each seat becomes. Even though you might be paying for the plane it is at drastically reduced prices from the normal rates.
It takes some doing to find the right flight at the right price. Most Private Charter companies advertise their flights on their own web page. A Google search of "private jet empty leg seating" will pull up numerous choices and companies. Some companies are more flexible when it gets closer to the flight time allowing you to make an offer. If the offer is reasonable you get the flight.
One company Jet Suite offers their deal of the day with all the flights they currently have available. One search shows a flight from White Plains New York to Greenville SC for $1073.93. That price is for six seats aboard a private jet, which comes out to $178.80 per seat. The same one way flight on the same day checked through Kayak averaged $262.00 per seat in economy class.
Now granted not all flights will be cheaper than commercial. In fact most are more expensive. Sometimes by only a few hundred dollars, sometimes more. You have to decide if flying on a private jet through a private boarding area is worth the extra money. It is also cost prohibitive if you are flying alone, unless you just have money to burn. The cost advantages come in when you have a family or group and can take advantage of splitting the cost between four or more seats.
Empty leg flights are advertised for all types of aircraft and offer anything from four seats to thirty and sometimes more. If you belong to a group that is flying somewhere would you rather have the entire craft to yourself or have to put up with getting fifteen people through check-in, customs and boarding at a busy airport?
When you look at the various empty leg flight schedules you will see the departure and arrival airports. This is actually the departing and arrival points the aircraft is going, however a charter can be flown anywhere along that general route and direction. The other thing to take into consideration is that these are one way flights so it takes some planning and research if you are making round trip plans. A search will show flights for the US, Europe and other parts of the world to include International flights.
The bottom line is that occasionally you can fly in comfort aboard a private jet for less than the cost of economy on the major airlines. Most of the time it will cost a little more but is usually comparable to a business class ticket. Flying on a private jet you will depart from a totally different terminal dedicated to private flights or in some cases a different airport that caters to private flights. While you will still go through security screening it will probably be just you and the people you are traveling with not the hundreds of other passengers scrambling to make their flights. The flight times are flexible since you are chartering the plane so you can leave pretty much when you want that day. Instead of arriving at your destination and walking two miles through the airport to the baggage area, then waiting for an hour to see if your bags made the flight you instead walk inside the terminal and wait a few minutes for them to unload and bring your bags to you.
If you think the convenience and the comfort factor are worth the extra money then this might be an option for you.
Have you ever taken advantage of a Private Jet or would you consider doing it in the future?
(Visited 2 times, 1 visits today)