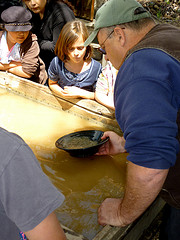 Image by davitydave via Flickr
Here is a twist on the family vacation. Take the family to a place in the country, camp or maybe stay in a cabin, enjoy the outdoors, share quality time with the kids, take your shovel and dig a hole get dirty, hot, sweaty……… WAIT ….. what the…..?
The first obstacle is talking everyone into doing a little manual labor, but dangle a carrot or carat in front of them. Take the family on a mining vacation. There are several places you can go and do a little mining. Everything from gold, to diamonds. Abandoned mining locations, property that is privately owned and even State Parks have opened up the possibilities to you striking it rich. These places are not profitable enough to justify corporate mining operations so they make money by letting you do the work and you get to keep the rewards.
Some of the places that let you express the prospector in you are;
The Chicken Gold Camp appropriately named because it is in Chicken Alaska, the place has cabins for rent, camping, a cafe, gift shop along with fishing and boating when your not digging for gold. They will rent you all the equipment needed and for a daily fee you can pan for gold.
Not all of the gold is in Alaska, there are recreational gold mining opportunities in California, Arizona, Oregon, and even Alabama.
If gold mining isn't to your liking try mining for gems;
Gem Mountain gemstone mine is in North Carolina. According to their website you can find rubies, sapphires and more. They also have gem cutters on hand to shape and polish your treasures. There are several other locations in North Carolina, Tennessee and more.
Want to step it up a little?
Crater of Diamonds State Park in Murfreesboro Arkansas offers the opportunity to find genuine diamonds. In 1906 a farmer owned the property and discovered diamonds. The area became a State Park in 1972. The park has plowed up an area of 37 1/2 acres for visitors to look for their own diamonds and since the park opened they have found nearly 29,000 diamonds. The largest diamond found was a 16.37 carat white diamond found in 1975. Even today people find 2 carat diamonds, rare to find but it happens.
The opportunities exist for different mining vacations where you can enjoy the outdoors, give the kids an adventure and memories and who knows maybe pay for the entire trip or more.
(Visited 128 times, 1 visits today)