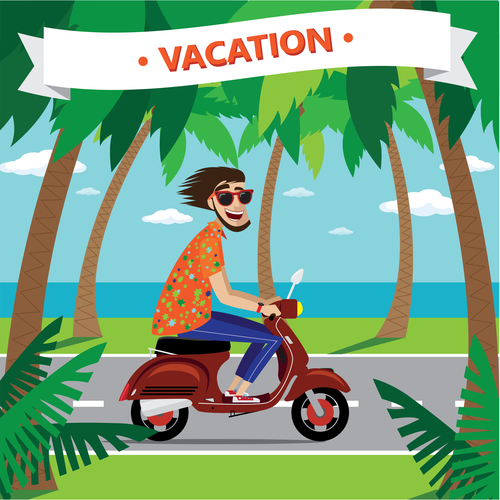 If you have spent any time traveling in SE Asia, coastal towns in Europe, or just about anywhere abroad you have probably had the urge to rent a scooter or motorbike. While in many parts of the Western world scooters and motorcycles on the road are in the minority, in many parts of the world it is the preferred way to travel.
In many parts of SE Asia the roads are full of scooters and motorbikes, some being driven by children. Spend time in Thailand or any other country in Asia and you will see scooters for rent everywhere. And while they are a great way to explore the island or city, they can also be a source of your biggest nightmare.
Whether you rent a scooter on the coast of Spain or on an island in the Philippines there are a couple of things you need to consider.
Motorcycle and scooter crashes represent almost 70% of all road deaths in Cambodia while the number is higher in Thailand and Laos.
In Viet Nam motorcycles outnumber cars 57 to 1.
Thailand is the second most dangerous place to drive according to the World Health Organization, the Dominican Republic is number one.
The Philippines has over 16,000 deaths per year from scooter and motorcycle crashes.
Now that I have scared you from ever renting a scooter let me say I have rented them and will probably continue to do so when I am visiting certain places.
Here are a few guidelines if you should decide to rent a scooter for the day while traveling.
If you have never ridden a scooter or motorcycle before then reconsider your burning desire to rent one now. Downtown Bangkok or Ho Chi Minh City are not the places to learn. Even trying to learn on a semi desolate road on an island somewhere is probably not the best idea. Learn at home.
Get an International Driver's License. If you are from the US, some countries will accept your US driver's license depending on how long you are staying in country, some won't. Same applies if you are from an EU country or Australia. Just because you have a driver's license doesn't mean you have a motorbike license. It must have the motorcycle or scooter endorsement. For US citizens there are only 2 places to get an International License. AAA and AATA are the only organizations authorized by the U.S. Department of State to issue International Driving Permits. The cost is minimal and takes a couple of weeks to process. Another reason for an IDP is that it serves as a recognized ID.
Get insurance. Contact your car insurer before you go and see if they cover you while traveling internationally. If they don't then get a quote from one of the many companies that insure drivers when traveling. If you get in a wreck you might wind up being blamed and responsible for damages even if it isn't your fault. You may not have much money but to the farmer in the country you just collided with, you're a rich foreigner, otherwise how could you have so much money to travel and have fun.
Wear a helmet. I know you don't look cool wearing a helmet but trust me it will come in handy when you get cut off by a car and wind up in a ditch.
Check out the scooter before you rent. Make sure everything is working, lights, brakes etc. You will find scooters being rented by hotels, cafés, tour operators, bars, stores and just about everybody. Just because they are renting it doesn't mean it is safe to drive. Take photos of the ride and make sure you document any damage, otherwise you might find yourself paying a hefty fine for a dent when you return it. Read the rental documentation and make sure you understand it.
Don't drink and don't speed. Common sense right? You would be surprised how many accidents occur because of people driving a scooter to the bar, getting ripped and then driving off into the traffic. Also speeding will not only get you a hefty fine but could also be fatal. Remember in many places people cross the road wherever they feel like it. Other drivers don't necessarily follow traffic signals. It is common to see people driving in the incoming lanes, animals crossing the roads and any number of hazards you might not be used to.
Always lock the bike and take your helmet when you make stops somewhere. The last thing you need is to have your rental stolen because you left the key in it or didn't lock the wheel. Even if you do lock it these things aren't that heavy to pick up so try to keep an eye on it.
In Thailand they are called Farang Tattoos. Those are the burns you get from touching your bare leg on the hot exhaust. Just remember the exhaust is on the right, next to your bare legs and is really, really hot. It will melt plastic and skin in no time.
Don't give your passport to the rental place. Some places will want your passport as collateral. Don't do it. If they won't take a copy or honor your International Driving Permit then find another place. You don't want your passport being held hostage due to any real or imagined bike damage. Also you don't want your passport "lost". Passports are worth a lot of money to people on the black market.
Use the horn. It might impolite or the sign of hostile driving back home but in most places using the horn is the norm. Give it a few beeps before passing people walking on the side of the road or when passing vehicles. It doesn't hurt to give it a beep going through an intersection just so everyone knows your there.
Remember when you rent that scooter that a fun day touring the island can turn bad quickly. If you think it won't happen to you think again. Here is a list of a few stories regarding scooter accidents recently.
A family having to raise thousands of dollars for medical expenses
A fatal crash in Thailand involving a tourist
Huge bills for medivac flight and care
Another fatal crash involving a tourist on a scooter
Look I have a motorcycle. I love to ride. I also rent scooters when traveling. There is nothing like enjoying the open air and cruising on some road on a tropical island. You see more things than you would in a car or taxi.
GET A $15 DISCOUNT ON A MEDJET MEMBERSHIP
You just have to be aware of your surroundings, more than you would normally. Take the right precautions and be careful.
Even doing all those things it is still a gamble but at least you took the precautions you could so you don't pay a price more than you bargained for.
Have you ever rented a scooter on vacation? If so what were your experiences good or bad.
(Visited 984 times, 1 visits today)