I had a chance to interview Wendell Cagape, better known as "Doc Wends", who runs  Journeys and Travels travel blog. Here is what the Doc has to say.
Can you tell us a little about yourself?
First off, I am a PhD by profession, working in an academe as a board secretary and do part-time travel blogging as a passion. I also have a graduate degree in Foreign Service and studies foreign policies of my own country, The Philippines and those nations which interests me. I have had been employed with agencies in the Philippine government, from the Philippine Senate (advising for a Senator) and to a Local Government Unit (working for the Governor) but what one thing remains, I love to be away from my desk as much as I can so I can get inspired by the people I meet on the road. In short, I should I admit, I am more inspired by meeting strangers on the road than just by sitting on my desk.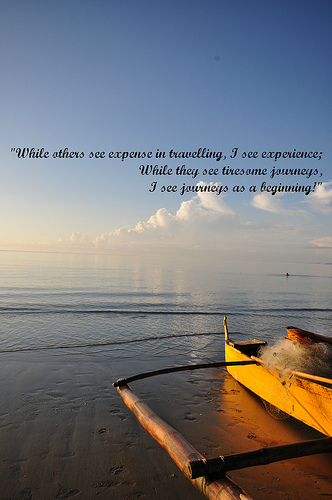 What was it that made you fall in love with travel?
This quotation I made on the photo I took while on the road best describes me falling in love with travelling. All my life, since very young, I have had been exposed to travels, though short-distance visits to the countryside with my family. Those experiences fascinate me a lot and inspire me to go beyond where I am presently at. I started to look at travelling as a way to relieve myself of the stress and see beyond what I saw first-hand, live to share my passion and tell the stories of those whom I met. In an island in the Philippines, my family vacationed on summer every year when we are still young and that perhaps, defines me in my pursuits for what makes me happiest and that is travelling.
How did you get into blogging and why?
I have had been a blogger but last year, was seriously transformed into a travel blogger from my meet-ups with fellow travel bloggers and couch surfers. They were my inspirations and since then, my blog Journeys and Travels is picking up on the internet and all remains to a surprising and exciting journeys ever since.
There are thousands of travel blogs and more every day, why do you think they are so popular?
Travel blogs are fast becoming both an alternative to Lonely Planet, though online. Many travelers, budget or not, backpackers or not, are searching the web for suitable information on destinations they wanted to undertake and visit. Many travel blogs provide just that, from the utilitarian (Lonely Planet-type) to the experiential (Trip Advisor-type) and that captivates the global readers. I, in fact, though a travel blogger myself, depend on these sites for plans from itinerary to experiences, it is one enriching tool of the trade.
Who is your audience?
According to Alexa Traffic, my audience reach are females between 25-35 years old who works at home or in the office and are independent, I wanted to also get out of the box and share my passion for traveling to almost all sectors of the travelling market. Since my blog is also an inspirational photo essay blog, I made sure I can be able to associate my posts to those who seek inspiration on the road. My ideal readers are editors, backpackers, travelers and students. I was even surprised that known musicians and magazine editors are reading my blog. Awesome!
In all your travels, which one place stands out and why?
I should say, Cambodia. I have had been to Japan, China, Vietnam, Malaysia and Brunei, of course, the Philippines but Cambodia is one place that really made me find my own humanity on the road. Awesome wonders especially while spending the day in the Angkor complexes and taking photos. I am inspired by its great grandeur and unmatched cultural heritage.
What place is on your travel bucket list and why?
First on my bucket list is India. I so love the country which made me even paint an oil on canvas after always having it on my mind. India is very mesmerizing, enchanting and has amazing culture, people, traditions and music. I would love to witness a Hindi wedding and all those palaces as grandeur is redefined each year that India grows as a nation and as a destination. Second, of course, is Nepal. I want to touch base with my own spirituality and journey on from where I left in Cambodia. Third is the Maldives for a very sunny and inviting beach bumming. Fourth, Petra in Jordan, impressive history, rich cultural heritage and warm, friendly people.
Has your blog and travels led to any other opportunities for you?
My travel blog Journeys and Travels led me to share my passion to a group of students whom I gave an inspirational talk as they capped their academic year. It was my alma mater too so when I was given the opportunity to speak before the students, I was ecstatic. Turned out that one of students, on his sharing of experiences, cried and his raw emotions moved me as much as those who attended my talk. Next month, I am one of the speakers of the 8th Philippine Blogging Summit in Manila in which I will talk about what makes ones post sell, citing my upcoming collections of quotes and photos on the road which will be printed as a coffee-table book.
What is the worst thing that happened to you while traveling and how did you handle it?
Worse? Nothing much except for that awkward experience I had with my Swiss friend when we took a bath at the sento in Osaka, Japan. We were both naked as culture dictates us however, unmindful, my Swiss friend was wearing his sleepers. We were alarmed by one Japanese man who shouted at both of us, pointing to the sleepers. We just went out of the Sento, remove the sleepers then went back inside and continue taking the warm bath. Other than that, nothing much.
Many people who don't travel always think they can't afford it. What do you have to say to them?
Traveling, as I said in my quoted photo need not be expensive. One can travel and get inspiration from even riding a bus from where they lived. As much as possible, budget your travel and suit it to your preferences. I am a backpacker and though with a PhD on my sleeves, do not dwell on it on the road. I can virtually sleep in a $5 room in Saigon, so no fret. Depending on your travel tastes, one's travel is affordable so to speak.
What is your best Travel tip?
Travel light. One lesson I learned while backpacking in Cambodia and Vietnam was on the very thought that I travelled light but actually, I was not. With me was my Lenovo Laptop and its crazy because not only it was heavy to stash away in the backpack, I was not able to use it, not at all! For directions, I use my Ipad2, so reliable when it gets free WIFI signal. Also, don't bring maps with you if wanted to save up on time. The best maps are the locals whom you will meet along the alleyways and the roads to your destination. No harm is asking directions from those people who lived in the strangest place you journey through.
What advice would you give to someone that is thinking of starting a travel blog?
Gather your thoughts and write. No matter what you write about your travels, just pound on the machine and write. Be inspired by others and share those inspirations around. Life is too short to bother yourself about grammar, semantics and all the technicalities of blogging, make sure you enjoy writing about your experiences while on the road. Practically essential is your passion for both travel and writing.
Any last thoughts?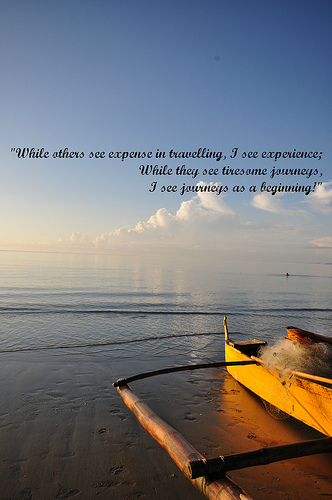 My passion is to share my inspiration to as many people I meet on the road or virtually, online. Let me share you my quote and hope, this makes one of your reflections on the road too. It is through this that my travels defined me and gladly, I am seeking your inspiration too. Happy travels and hopefully, would love the chance to meet anyone of you on the road. I recently wrote an article on my site regarding what inspires people to travel.
You can check out Doc Wends on his blog Journeys and Travels and follow him on Twitter @DocWends
Did you enjoy this article?
Subscribe for Updates
I promise not to bombard you with emails and I will never sell or share your information with anyone.