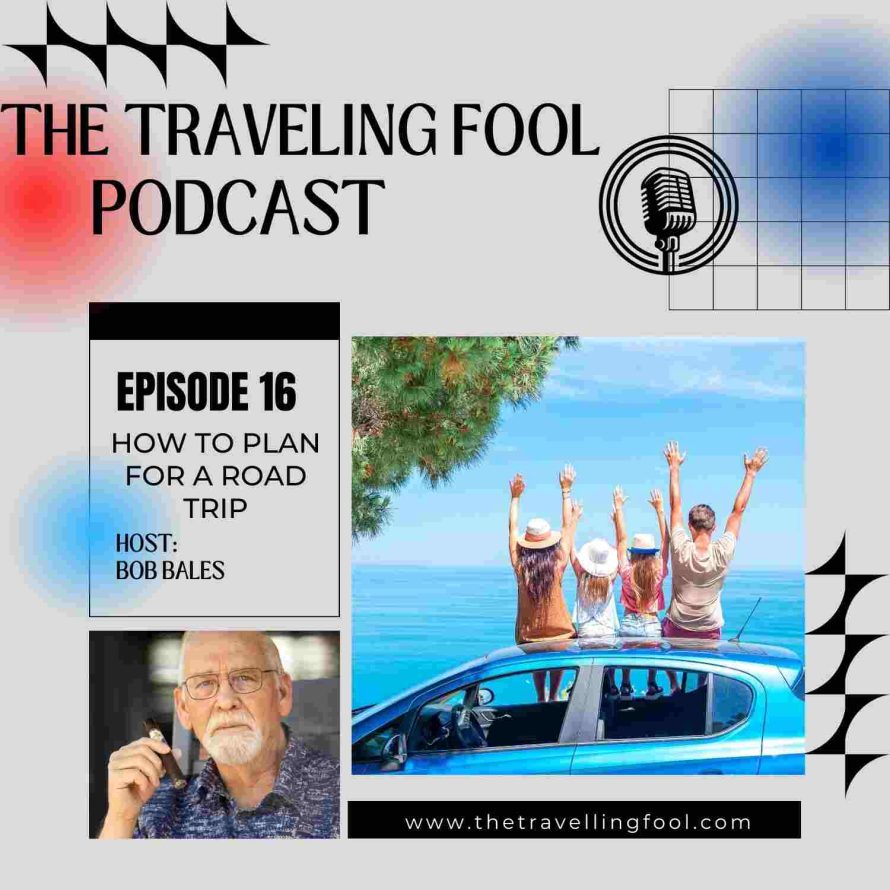 Eager to embark on an adventure that takes you off the beaten path? Prepare to be armed with an extensive toolbox of road trip planning strategies. From the comfort of our studio, we take you through every aspect of road trip preparation, from prepping your vehicle to planning your route. Not only will we cover the basics, but also dive into how to use Google Maps beyond just directions. This versatile tool can help you explore alternate routes and discover fascinating points of interest to make your journey even more memorable.
TRANSCRIPT
Welcome to the Traveling Fool, the show that talks about travel destinations, the history, culture and people of those destinations, and travel tips and news. I'm Bob Bales, and today we're talking about how to plan a road trip. Not just check the tire pressure and fill up the gas tank, but how to plan a trip, so it's more than just driving down the interstate.
Now, before we start, I want to let you know there are some links in the show notes and products that I use in helpful sites. A couple of them do pay me a small commission if you use them, but, like I said before, I'm never going to promote anything that I don't personally use or haven't used in the past. So let's get started.
Now, you've probably heard it said before that it's not the destination, it's the journey. Well, that's how I've always looked at my travels, especially road trips. I remember vacations as a kid. They always involved road trips since we would travel to other states hauling our camper trailer behind us. Our road trips consisted of eating sandwiches for lunch that mom made in the front seat and passed out to everyone, stopping only for gas and bathroom breaks, and the times my father would get fed up with me and my brother I mean my dad was a true athlete. I was always impressed that he could drive 70 miles an hour down the highway smoking a cigarette, reaching in the backseat with the hands the size of a catcher's mitt, just to whack some sense into my brother and me and do it with deadly accuracy.
Now, my dad was a firefighter and he had 30 days of vacation a year. He always took about three weeks of it in the summer and we would go somewhere. But the road trip started out sometime around February when he would get out the Rand McNally road map and start planning the route. He would calculate total miles, how much gas needed to be used, based on the car's gas consumption, distances and time between stops, camping sites, places of interest along the way. Before long he had his detailed plan with the route marked, total mileage, total cost of gas, and he knew what he needed to save up for the trip come summertime. But the road trips of my youth fueled my passion for travel, learning about new places and led my interest in history, since we always stopped at historic locations.
Now almost every blog post, article or guide out there about planning road trips lists the same things. So let's get them out of the way, just so you can check the box, and then we'll get into the meat of the subject.
Prepping Your Vehicle For The Trip And Packing
Prepping your vehicle for the trip and packing. Now I'm going to lump both of these into one subject, because it's really not that hard Check the oil, tires, brakes and make sure your vehicle's maintenance is up to date. Consider packing a car emergency kit. Pick one that's suits your needs. I mean, they have a wide variety of kits that contain jumper cables, flares, tow straps, first aid kits and so on. Just pick one that'll give you a piece of mind in case something happens on the trip. Buy them off of Amazon for anywhere from $20 to over $100. Now, since you're on a road trip, you can pack everything in the car, just cram it in the vehicle and go. But you don't want to do that. So pack comfortable shoes, with a few changes in clothes, of course, any medications and snacks for the road. Consider a small ice chest for drinks and a flashlight. I carry a small mini light that fits easily in my pocket and it's really bright and costs two or three dollars. Just because you're in a vehicle, don't over pack. Keep it simple. And that pretty much covers prepping your vehicle, and packing. Now let's get to the important stuff.
Planning Your Road Trip Route
Planning your route. Okay, the first thing you need is a Rand McNally roadmap. No, you really don't. I know everyone likes using their cell phone for everything these days, but I like using my laptop when it comes to planning trips. I can easily bounce between the tabs doing research on several things and have multiple tabs open without losing track of one another. And, yes, you can do that on a cell phone, but either I'm just too technically disadvantaged or it's just easier on a laptop. For instance, I'm planning a trip to Gulf Shores, Alabama, in a few months. So I go to Google and I put in Houston and Gulf Shores and click on the map view. It tells me it's a little over an eight hour drive and it's easy. Get on Interstate 10 out of Houston, head east till you get to Mobile Alabama and Gulf Shores is a few miles south of Mobile.
However, I don't plan on just driving nonstop. I want to see a few things along the way. So, looking at Google Maps, I can see alternate routes, check to see if I want to stop along the way and check something out. Which means on this trip I'll probably get off Interstate 10 somewhere around Mississippi and drive along Highway 90 down coastal Mississippi and explore some of that area a little bit. When I do this, for most road trips I usually take back roads, because not that Highway 90 is a back road, but I find it taking alternate routes and back roads and just getting off the Interstate I really find some interesting places, Instead of just hitting cruise control, sitting on the Interstate for eight hours at 70 miles an hour. So when it comes to planning your trip, do it the easy way. Just go to Google Maps, put in your destination, look at a few alternate routes. It'll tell you everything you need to know, how many miles, how long it should take you to get there, toll roads, just all kinds of info.
Hotels and Accommodations
Next is accommodation options. For this, you have a lot of options. You can rent an RV for a few days or a week and just stay in RV parks. Like I said, when I was a kid, we had a camper trailer. We stayed at state and national parks all along our route. You can go for luxury hotels, resorts, vacation rentals, budget hotels. There's just a lot of options. If you're going to stay at your destination for several days, you might want a resort there. But if you're planning on stopping along the way, you can look at all sorts of options. Some parks offer cabin rentals, and I'm not talking some broken down cabin in the woods, I'm talking some really nice places. Or, book a comfortable budget hotel somewhere along the way. Check out the reviews on several of the booking sites to get a feeling for the place. Is it clean, safe and a good location? Those are the things I look for. Unless I'm going to spend lots and lots of time at that hotel, those are the only things that matter to me, because I'm only there to sleep anyway. I want a clean place, a safe place and a decent location. I'll put a few resources in the show notes so you can look at some of the things that I check out whenever I travel.
Capturing Trip Memories and Road Trip Safety
Alright, now you're on a road trip, so you want to capture memories and you want to be road safety conscious. So everyone has a cell phone that has a camera, and a lot of people also have digital cameras that they take on trips, so use them. Take more photos than you think is necessary. The nice thing about today's cameras is, unlike the old 35mm cameras, if you don't like the photo, just delete it. More important is to take a little insurance along the way, and by that I mean a dash cam. Now, Rexing is a great company, and they have a lot of options for dash cams. I love this company. Dash cam prices range from anywhere around 50 to 300 dollars, depending on what you want. Dash cams can capture things that happen on the road trip that you may not have time to pull out a cell phone and capture.
Dash cams also capture the important things like accidents, road rage from other drivers, weather incidents and just cool stuff along the way. All of this comes in real handy if you ever want to make an insurance claim. I'll give you an example, I was traveling on a road trip through Iowa in a rental car a few years ago and a deer ran across the highway. I mean within a split second. I never saw it coming, came up an embankment and the first thing I saw it was in front of me. I hit that thing doing 70 miles an hour, totally destroyed the front of my car, airbags deployed and, of course, the deer had a bad day. Now, I didn't have a dash cam, but luckily the truck driver behind me, that was traveling on the interstate behind me, witnessed the whole accident, and he told the authorities what happened, that in a split second, deer ran across the highway. No way for me to react. But it would have been a whole lot easier if I had a dash cam to show. Just get one, trust me. The peace of mind is worth it. Plus, you capture some really cool video along the way. I'll put a link to Rexing in the show notes, and they have great reviews. You can't go wrong with this company. But even if you go with a different company, trust me, just get a dash cam. You may never need one, but come the time you do need one and you don't have one, you'll regret it.
Food and Dining Adventures
Alright, now you're on a trip. You got to eat sometime, so let's talk about your food and dining adventures while you're on the road. Some people take a road trip and they get hungry along the way. They just see a fast food place along the side of the highway, and they stop and grab something, or they get something from the gas station. When they stop for gas Unless you are lucky enough to be traveling in a state, such as Texas or a few others, that has a Buccee's then gas station food usually isn't that great. For those that know Buccee's, then you know when you see one. It's time to stop. For those that don't know, Buccee's think mega gas station with up to 100 pumps or more and the inside sells everything from clothes to barbecue pits, smoked sandwiches, smoked brisket sandwiches, fudge, breakfast sandwiches. Well, just trust me, it's worth a stop. When I plan my route using Google, I know what time I plan on leaving and I look for approximately where I will be at certain times. Let's take this trip to Gulf Shores. I'm planning on going on. I plan on leaving around 2 o'clock in the morning for a couple of reasons.
I can get out of Houston, get away from the metropolitan area, before there's any morning traffic going on. It's nice and quiet at 2 in the morning. I can roll down the window a little bit, light my cigar, sip my coffee and hit the road. I also plan on stopping along the way. So I want to be able to leave early enough so I can see a few things and get into my destination early enough to relax and see a few things when I get there as well. So I plan on leaving very early in the morning and I know approximately where I'll be come Breakfast time, and I know it'll probably be somewhere around Bay St Louis or Gulfport, Mississippi. So, once again, using Google Maps, I search for restaurants or breakfast. Just put that in the search terms Around those areas and I zoom in and they'll let you hit search this area" and you'll come up with all kinds of places. Now I like to try local restaurants when I travel, not the chain restaurants or the fast food places. So when I do this, I get Google reviews, I can check out what the place looks like and I can always cross-reference it with some place like Yelp to get some other reviews, which I find Yelp and Google reviews are. They're not always accurate, but if there's enough of them in there, you can take it pretty much accurately. Yeah, you may have a bad experience when you go somewhere, but if I see somewhere that's got 4.8 stars on Google reviews and there's 300 of them, chances are it's a pretty good place to eat.
So you like seafood? Search for that. Barbecue? The same thing, and anything else. If you're traveling in Florida and you want to sample Key Lime Pie, then type in Key Lime Pie, hit the search button in Google Maps. It'll tell you all kinds of restaurants that serve it. If you want to stop and check out a distillery or a winery or a brewery on your trip, or you want to try something that the state is known for or something new. Just do a Google search on it, look at the reviews and check the Yelp reviews. I also love to hit local cigar shops when I travel, so, along the way I'm hitting these towns, I'm looking in Google Maps for cigar lounges and if a couple of interesting ones pop up, well, trust me, I will be stopping there and checking them out. So far we've learned to use Google Maps for planning out your route and looking for places to eat and things to do along the way.
Learn to Explore
Learn to explore on your road trip. If you get off the interstate and take some alternate routes, you can discover some really interesting things on your trip. It might be a roadside attraction or an interesting store that you see passing through a small town, or one of a thousand things that you would have never known about if you hadn't done just a little bit of exploring. Now, whether I'm at my destination or enroute to my destination, I always explore the surrounding areas. I've discovered interesting museums, wineries, an olive oil farm, restaurants, roadside attractions and historic sites on my travels, just by taking the time to do a little exploring while heading to a destination.
So, let's recap Make sure your vehicle is in good shape. Pack what you need, but don't overpack. Plan your route and consider taking the back roads, or at least get off the interstate for part of the trip. Consider all your accommodation options. Get a dash cam for safety and peace of mind. Check Google Maps for restaurants that you might want to try and do some exploring on your trip. That's my usual process when it comes to road trips. I do add a couple of others in there, but they're specific to me, like packing plenty of cigars and making sure I start off with a huge cup of black coffee.
Road trips can be a lot of fun. If you have young kids, it's something that they will remember for the rest of their lives. And if you have older kids, well, hopefully they get along with each other. You know the way air travel is these days, I will gladly take a road trip when I can. Instead of having the hassle of getting to the airport, dealing with crazy air travelers, long lines at the TSA, overcrowded and overbooked flights, flight delays and nutcase passengers and flight attendants who would rather be anywhere else.
Travel is about the people you meet, the stories you collect and the memories that stay with you for years. So make your next trip and every trip afterwards, a memorable one. Thanks for tuning in to the Traveling Fool podcast. I hope you enjoyed it and get something out of it that you can use. Please take a moment to leave a review, subscribe and share it with your friends, and stay tuned for more tips, destinations and travel news in our future episodes. Thanks again.
List Of Resources Mentioned In This Episode
Please subscribe and leave a review on I-Tunes.
Feel free to drop me an email I would love to hear from you [email protected]
You can sign up for my email list
Follow me on social media
(Visited 58 times, 1 visits today)