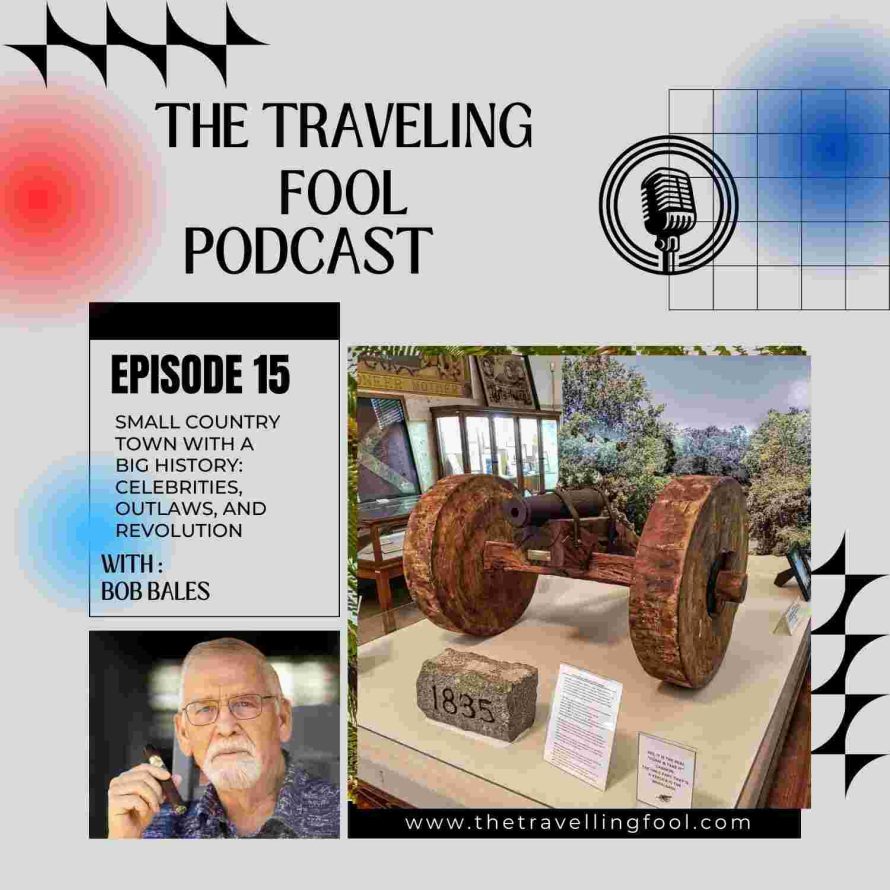 In this episode, we explore the extraordinary tales of small town Texas with its ties to figures like Elvis Presley and Bonnie and Clyde. Discover how this town of just 7,000 fired the first shot in a revolution, hosted celebrities and learn about one of the deadliest Old West outlaws, John Wesley Hardin, and his epic escape from the city jail. So, buckle up for this thrilling journey and allow the Traveling Fool to guide you on your next history-packed adventure!
Transcript
Hi and welcome to the Traveling Fool, the show that talks about travel destinations, the history, culture and people of those destinations, and travel tips and news. I'm Bob Bales, and today we're talking about a small country town that has seen celebrities, outlaws and fired the first shot in a revolution.
Now, before we start, I want to let you know there are some links in the show notes for products that I use and helpful sites. A couple of them do pay me a small commission if you use them. But, like I said, I'm not going to ever promote anything that I don't personally use or haven't used in the past. So, let's get started.
Celebrities and Outlaws
Now, I love visiting small towns and learning about their history, and there is a small town in Texas that has never had more than about 7,000 people living there, but can count among the many of the most famous and most popular city citizens A young lady who was born there and went on to become a supermodel actress and a long time partner of an iconic rock musician. I'm talking about Jerry Hall, who was born in this town in 1956, and went on to become the long time girlfriend and partner of none other than Mick Jagger.
Now there's another person in this town who was just as famous in his time In 1839, a fellow by the name of Phil Coe was born in this town. He became an old West gambler, a businessman and partner of gunfighter Ben Thompson out of Abilene, kansas, and wound up getting killed by none other than Marshall Wild Bill Hickok in a gunfight in 1871.
Now in the early to mid-1950s, there was a young man that visited this town a couple of times. The first time this young wannabe singer visited, he was headed to another town to perform a gig and he stopped by the hotel in town, grabbed a sandwich and asked if he could take a nap for a couple of hours. The second time he came to town, he actually played a concert from the bed of a pickup truck for the citizens.
The hotel where he stopped at is still standing and operating to this day and there's a room decked out in memorabilia. Oh, the young man. Well, that would be the future king of rock and roll, Elvis Presley.
That same hotel hosted a famous crime duo by the name of Bonnie and Clyde in 1938. They got a room using aliases because they really didn't want to be noticed too much, but alas, somebody did and they wound up escaping through a window as the law was closing in.
Another outlaw by the name of John Wesley Hardin, spent some time in the city jail before making an escape. Now, if you've never heard of John Wesley Hardin, he was undoubtedly one of the deadliest of the Old West outlaws. He boasted of killing over 40 men, one of them for snoring too loud. He was arrested several times, escaped several times before being caught and sent to prison, where he was later pardoned and became a lawyer, living in El Paso, where he finally died in a gunfight there.
The First Shot In a Revolution
Perhaps the most historic event of this town occurred in the 1800s, when the town was a fledgling community. It would come under raids by local Indian tribes. In 1831, the Mexican government gave this town a small cannon to protect itself, but mainly make noise to scare off intruders.
In 1835 the seeds of the Texas revolution were brewing and a provisional army had been raised. In September of 1835 the Commander of all Mexican troops in Texas requested the cannon back. After the settlers refused, he sent 100 Mexican soldiers to retrieve the Cannon. In the meantime, fearing trouble, the settlers rounded up some help and had 140 men respond to defend the town and its cannon.
On October 1st, the settlers decided to take the fight to the Mexican Army and attacked their camp. Raising a homemade flag with a crude drawing of a cannon and the words "Come and Take It", the Settlers fired their cannon and let loose a volley of gunfire. The Mexican commander knowing he was outnumbered and deciding the small cannon wasn't worth the fight withdrew his forces before any more shots were fired and this became the first shot fired in the Texas Revolution.
Gonzales Texas
The town I am talking about is Gonzales Texas which is about 74 miles east of San Antonio just south of Interstate 10, which means you have to want to visit since it isn't a town you pass zipping along the interstate.
The hotel where Elvis, Bonnie and Clyde stayed is the Alcalde Hotel just a couple of blocks from the town square. There is also the Gonzales Memorial Museum which houses the famous cannon as well as other historic artifacts.
The old city jail is a museum and makes for an interesting tour and you can also visit Pioneer Village. A living History Center with a collection of 1800s and early 1900s era houses and buildings from Gonzales County.
Reasons to Visit Gonzales
Gonzales is a fun town to visit and holds a lot of history. It is one of the reasons I love visiting small towns. They don't always have flashy tourist attractions, and most are not on the Interstate, you have to travel the backroads to get to them. But when you visit them, you can learn about some interesting history and meet some interesting people.
If you are making a road trip out of it you might as well visit Goliad, just 63 miles south of Gonzales, another historic site in Texas.
Now, before I go, I want to leave you with this thought. Next time you go somewhere on a trip look at taking some of the backroads and explore the smaller towns. If you travel somewhere, whether it be stateside or overseas, look at visiting one of the nearby towns and you just might find some interesting history.
Travel is about the people you meet, the stories you collect and the memories that stay with you for years. So, make your next trip and every trip afterwards a memorable one.
Now there's going to be a few links to some resources and blog posts that I mentioned in this episode in the show notes. Thanks for tuning in to the Traveling Fool podcast. I hope you enjoyed it and got something out of it that you can use. Please take a moment to leave a review, subscribe, and share it with your friends, and stay tuned for more tips, destinations and travel news in our future episodes. Thanks again.
List Of Resources
Please subscribe and leave a review on I-Tunes.
Feel free to drop me an email I would love to hear from you [email protected]
You can sign up for my email list
Follow me on social media
(Visited 75 times, 1 visits today)