You have seen them and maybe even taken them or wanted to. I am talking about what is commonly called street photography. Those great photos that capture people and the culture in an authentic setting. Not staged, not posing, just real people in real life.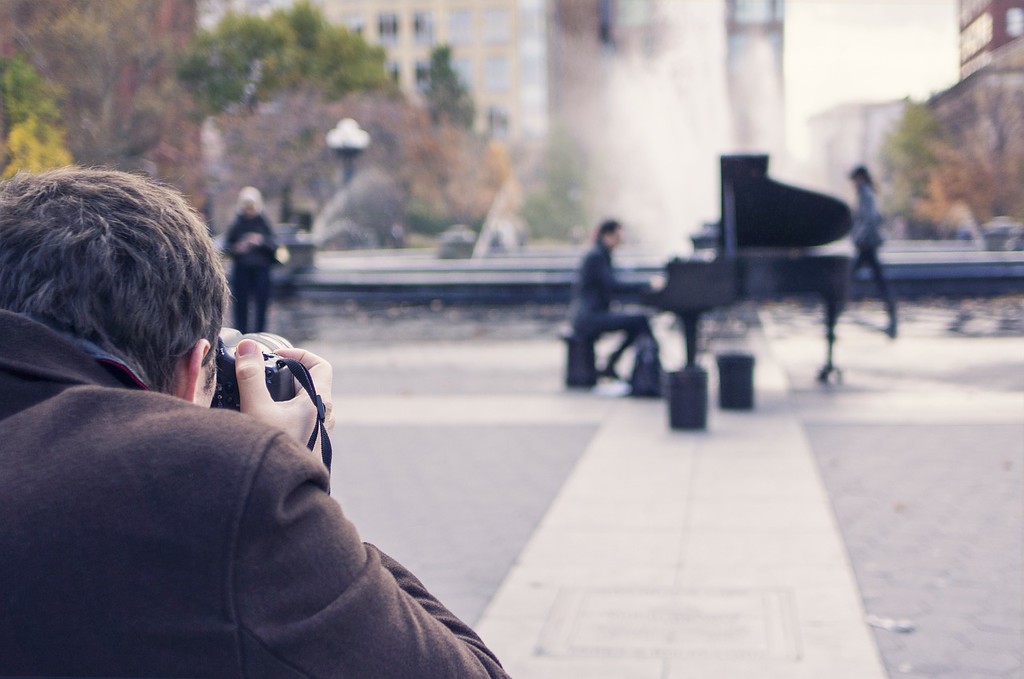 When done right, and you get lucky, street photography can capture all types of emotions and behavior. Some people have no problem snapping pictures of people, no matter what the situation is, while others find it difficult to just take a picture of a stranger without saying anything.Have you ever wondered if it was even legal to take those photos without first getting permission?
Well it depends on several things but one of the biggest factors is the country you are in. I did some research and could never really find one really comprehensive guide for all the countries. I did find this listing on Wikipedia for several countries. Now being Wikipedia, I would not rely solely on their word. I mean who knows if it is accurate or the last time it was updated.
I can however, talk about the US. The bottom line is you do not need permission to take a photo in public. A property owner can prohibit photography on their premises but it is legal to photograph those premises from another location. For example, a building has a gated parking facility and they prohibit photos anywhere on the premises to include the parking area. You can legally stand across the street and take photos of the building, people entering and leaving and people or anything else in the parking lot. There are exceptions. Photography on parts of military installations and certain government buildings and facilities can be prohibited.
As long as a person is in public you can generally take their photo. This includes people walking on the street and even children.
Bert Krages II is an attorney in Oregon and handles intellectual property issues. He is also an advocate for taking photos in public and has done a lot of work in this area. He has an excellent article on photographer's rights posted on his website. You can read it here.
What can you do with the photos you take?
The courts have decided that photography is an art and protected unless used commercially. That means you don't need releases and you're pretty much free to use them. You can post them on your blog and even sell them. The courts have decided that commercial use of a photo exists when the photo is used to promote or advertise a product, like a soft drink ad for example.
A good article explaining this can be found here
If you plan on going out and taking a bunch of candid street photos it is always best to do some research and see if there are any particular laws or statutes you need to follow in your area.
Ask ten street photographers how they get their shots and you will get ten answers. Some are aggressive, walking right up to people and taking their photo. Some do it from a respectful distance, some smile and wave after, some even say thanks and offer to show the photo to the person. Digital cameras today make it easy for you to just hold it at your waist and snap away without anyone knowing or you can use a telephoto lens.
The law about taking photos of people in public is pretty clear but opinions, even among photographers, are pretty wide ranging. Is it legal to walk up to a young woman with a baby, not say anything and start snapping photos of the kid? Yes, it is, although kinda creepy in my opinion.
Some photographers don't take any photos of people without asking first. Other photographers say that while those might look good they don't capture the person in real life and people when asked, tend to pose.
Here are a few suggestions.
If you are traveling in a foreign country find out the laws.
A few years ago, I was traveling in Greece and saw an organ grinder. The guy looked like a photo waiting to happen. Now according to the laws in Greece you do not need permission to take someone's photo in public but I asked him anyway. He said I could take his photo for 1 Euro. I paid him since I figured it was better to donate a Euro than have an angry Greek organ grinder chasing me down the street.
Be polite and respectful
Just because you can take the photo doesn't mean the person appreciates it. Don't invade their privacy. If they ask you not to take their photo then don't be an ass. Stop taking their photo. If they see you taking their photo then smile and offer to show it to them. Hell introduce yourself and strike up a conversation. I love talking to people I meet when traveling. They tell me all the best places to eat and where I can find interesting things to see and do in town.
When in doubt, ask
If you are traveling in a foreign land it is always best to ask before you take photos of government buildings, military or police. Just smile, walk up to them and say "Hi can I take a quick photo?" If they say no, then don't. Don't ask first and you may find yourself being detained or questioned in a language where you don't understand a damn thing they are saying even if it is legal.
Use common sense
Just try to treat people like you would like to be treated. If it feels creepy then it probably is.
Do you take street photos? Ever had someone take your photo without permission? What are your thoughts? I would love to hear them.
Disclaimer: This article does not constitute legal advice, nor does it establish an attorney-client relationship. The information contained herein is no substitute for legal advice from an attorney licensed in your state and may or may not be applicable to your specific situation. You are strongly encouraged to consult with local counsel to discuss your individual circumstances. It is your responsibility to research the laws in your location.
(Visited 409 times, 1 visits today)