Sponsored post. I attended a press trip and my expenses were paid by Visit Clarksville. All opinions are my own. This post may contain affiliate links.
Awhile back I was invited by Visit Clarksville to come and experience Clarksville Tennessee. I had been following Clarksville on Facebook and Instagram and the place looked beautiful. After spending a few days in Clarksville Tennessee, I can see why a lot of people have decided to move there and folks looking for a weekend getaway from Nashville are discovering that Clarksville makes for an excellent place to visit. It is only about 49 miles from Clarksville Tn to Nashville Tn and depending on traffic takes any where from an hour to hour and a half to get there, so it makes for a nice quick weekend or even day trip.

Keep reading to find out what to see and do, great places to eat and drink and where to stay in Clarksville.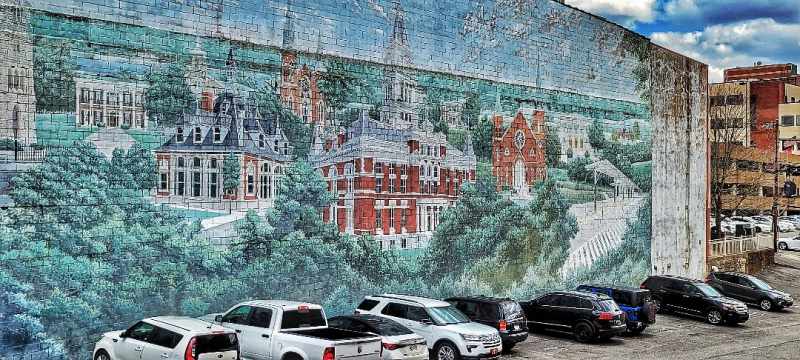 WHAT TO SEE AND DO IN CLARKSVILLE
Dunbar Cave State Park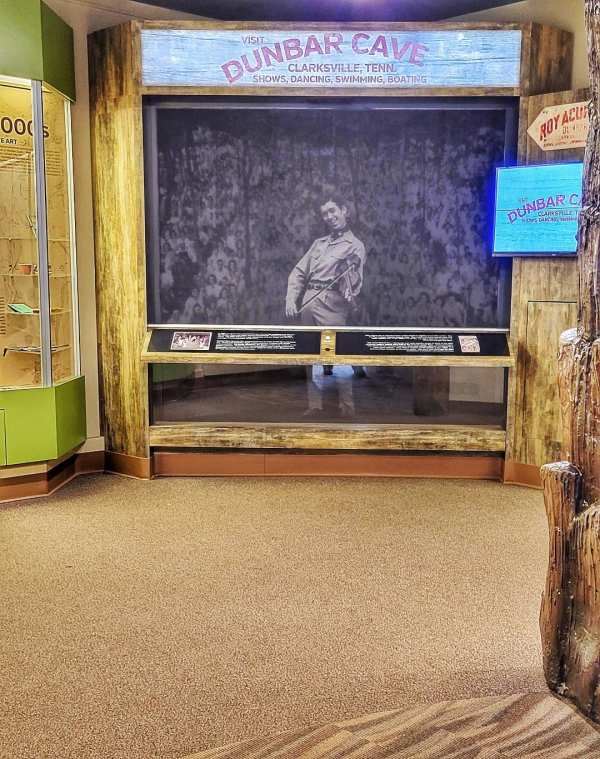 Dunbar Cave State Park is a 144 acre park with cave art dating as far back as the 14th century. From prehistoric times to present day people have been utilizing the cave and surrounding area. Guided tours of Dunbar Cave offered that allows you to explore and see some of the fantastic art as well as graffiti from those that have explored here in years past. The cave has been fully explored for 8 miles, although the tour isn't that long.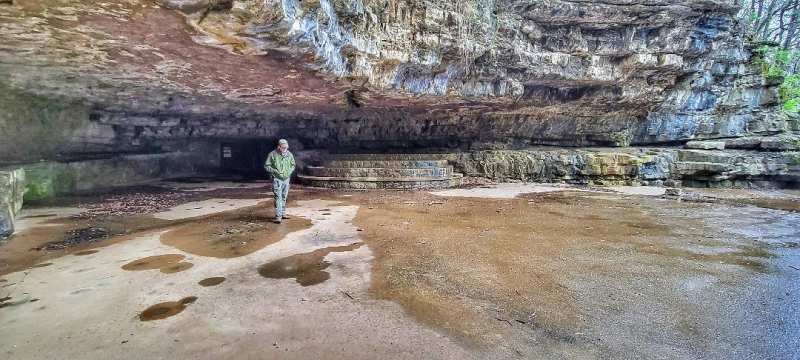 There is also over three miles of hiking trails in the park as well as a lake full of waterfowl like geese and ducks. All the trails start at the welcome center which also has a display of the cave and its history. Artifacts have been found dating to Paleo Indian times. Over the years Dunbar Cave was owned by private individuals and the land was originally claimed by Thomas Dunbar in 1784. After the Civil War a 2-story hotel was constructed on the site drawing a lot of visitors to the area. Country Music Hall of Fame legend Roy Acuff purchased the land in 1948 and held music shows at the site including famous big bands of the time. The last private owner was McKay King and in 1973 the State of Tennessee bought the property and it is now operated as a State Park.
Dunbar Cave State Park is located at 401 Old Dunbar Cave Rd, Clarksville Tn and is open;
8am – 430pm daily
Customs House Museum
Built in 1898, the Customs House Museum is the second largest general interest museum in the State of Tennessee. Back when there was a lot of international business conducted in the tobacco industry, the US Government wanted their share of the money so the Customs House was built to collect taxes and serve as a post office. Today the Customs House Museum has a little bit of everything. From showcasing art to telling about the history of Clarksville and surrounding area to a train lovers mecca.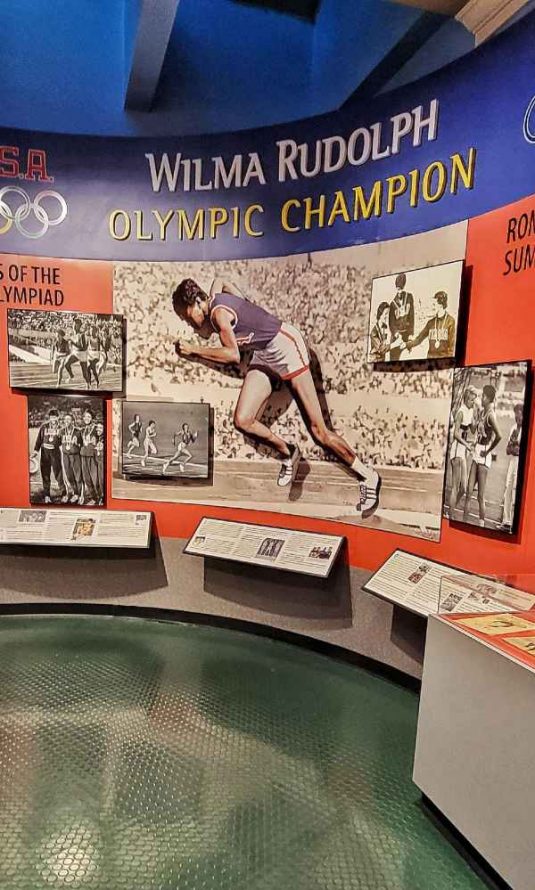 There are displays for kids where they can get hands on and learn about how things work. There is also a log house built in 1842 showing what life was like in early Tennessee. There is a sports hall that showcases the life and achievements of race car driver Jeff Purvis, Billy Copeland's street luge and local Wilma Rudolph, Olympic champion and international sports icon. There is also a huge model train set up run by volunteers that will keep kids and adults like me enthralled.
The Customs House Museum is located at 200 South Second St, Clarksville Tn and is open;
Tue – Sat 10am – 5pm
Sun 1pm – 5pm
Closed Sat
Fort Defiance Civil War Park & Interpretive Center
Built in November 1861 as a Confederate defensive fort to guard the Cumberland River from Union forces, Fort Defiance was built as an earthen fort with 3 cannons defending the river. On Feb 19, 1862, two Union gunboats came up the river to Clarksville and captured the fort without a shot being fired. The Confederates, knowing they couldn't defend the fort and city, had abandoned the fort and raised white flags. The Union army took control of the fort and in Aug 1862 the Confederates briefly retook the fort and just a month later the Union Army retook the fort putting Col. Bruce in command of the fort and Clarksville where it would be renamed Bruce Fort. The fort stayed in Union hands for the remainder of the war.
The Fort Defiance Civil War Park and Interpretative Center sits on the site today along with the well-preserved earthen works and visitors can learn about the fort, Clarksville during the Civil War and take a tour of the fort and surrounding area. Several events are held throughout the year and there is nearly a mile of walking trails that overlook the river and where you get the best view of Clarksville from anywhere.
Fort Defiance is located at 120 Duncan St, Clarksville Tn and is open;
Spring and Summer
Tue – Sat 10am – 5pm
Sun 1pm – 5pm
Closed Mondays
Fall and Winter
Tue – Sat 10 am – 4pm
Sun 1pm – 4pm
Closed Mondays
Public Art Walking Tour
There are over 25 statues, murals, fountains and other artwork in downtown Clarksville alone. Statues of Pat Head Summitt, born in Clarksville was the head coach of the Tennessee Volunteers Women's basketball team and accrued 1,098 wins, the most in college basketball history when she retired. Statues of Wilma Rudolph, actor Frank Sutton better known as Sgt Carter on the Gomer Pyle Show and other prominent citizens are dotted around town.
There are some really good, photo worthy murals as well as sculptures. Take a stroll through the downtown area and discover some of the great artwork.
River City Clay
River City Clay is located on Franklin Street in downtown Clarksville and is a place you need to stop by and visit. Ken and Melody Shipley are internationally recognized potters and along with Shelby Crutcher have created a place where people can learn the craft of pottery making. They hold classes for all ages as well as have a gallery where you can pick up an item or two to commemorate your trip to Clarksville.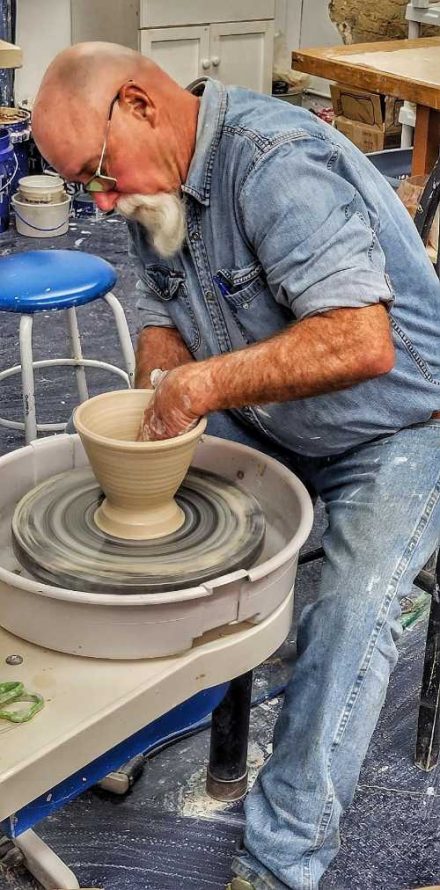 River City Clay is located at 115 Franklin St, Clarksville Tn and is open;
Wed – Fri Noon to 8 pm
Sat 10am – 9pm
Sunday 11am – 5pm
Closed Monday and Tuesday
Historic Collinsville Pioneer Settlement
JoAnn Weakley and her husband Glenn began rebuilding the settlement of Collinsville in 1974. After scouring the State for old buildings, the 40 acre site opened to the public in 1997 as a way to show people what life was like in early Tennessee. Historic Collinsville is now owned by the Montgomery County Government.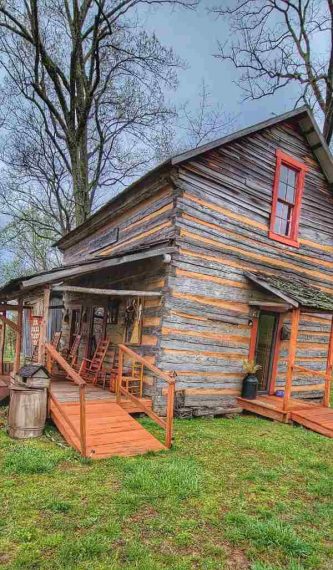 The welcome center is a log cabin built in the 1830's and was originally the home of Newton and Savannah Weakley, grandparents of Historic Collinsville founder Glenn Weakly. There is also a smokehouse built in 1803, an old tobacco barn, used for air curing tobacco, blacksmith shop, church, school and more. In all there are 17 buildings where you can learn about early life as well as attend special events held throughout the year.
Historic Collinsville is located approximately 15 miles south of Clarksville at 4711 Weakley Road in Southside Tennessee and is open April 1 thru October 30th yearly. Admission is $8 for ages $13 and up, $6 for ages 6-12 with kids under 6 free. They also have a military discount.
Wade Bourne Nature Center
The Wade Bourne Nature Center is located in Rotary Park and is relatively new, having opened in the fall of 2020. Named in honor of Wade Bourne who attended college in Clarksville and resided on a farm there with his family. The former Air Force pilot was a well known personality in the outdoors scene having been a radio host syndicated on ever 200 stations discussing hunting and fishing, Editor at Large for Ducks Unlimited magazine and Senior Writer for Bass Master Magazine among others.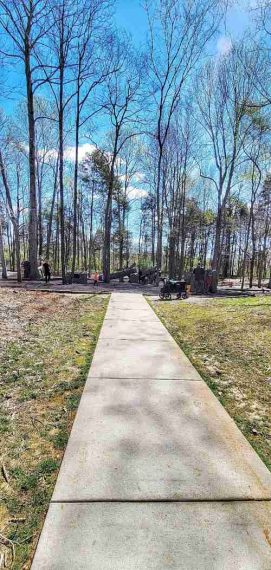 The nature center has permanent exhibits, children's hands on exhibits, a large indoor classroom with a fireplace and an outdoor classroom. There is a viewing deck overlooking a stream where wildlife can be spotted as well as a huge outdoor playground for kids. The center also has easy walking trails an amphitheater and 25 acres of open space along with an 18 hole disk golf course and three pavilions.
The Wade Bourne Nature Center is located at 2308 Rotary Park Drive Clarksville, Tn and is open;
Tuesday – Friday 10am – 5pm
Sunday 10am – 3pm
Closed Sunday, Monday and in observance of all government holidays
L&N Train Depot
Built in 1890. The L&N train station/depot is now the home of the Montgomery County Historical Society. The Louisville and Nashville Railroad operated for 120 years and the Clarksville train station was one of the busiest places in town at one point. There is a diesel locomotive and old caboose parked on the rails outside the station and a small museum inside where memorabilia from the glory days of railroads is displayed.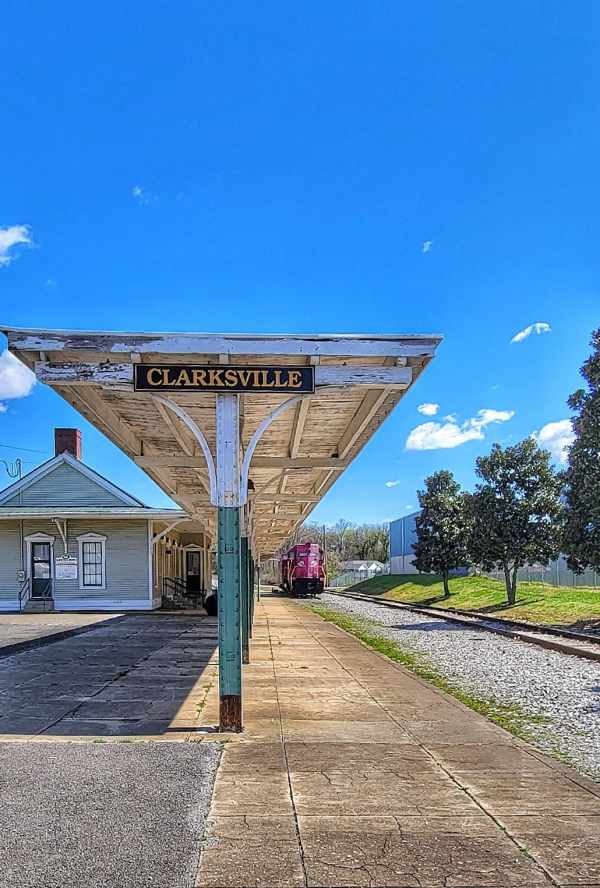 There is also a farmers market held on the grounds on Tuesdays, Thursdays and Saturdays during the summer and fall. Just a bit of trivia, the 1966 song "Last Train to Clarksville" by the Monkees is not about Clarksville at all but Clarkdale Arizona. The writer changed the named because Clarksville sounded better.

The L&N Train Depot is located at 189 South 10th Street, Clarksville Tn
Ft. Campbell Tour
Ft Campbell Kentucky is located 14 miles from Clarksville making Clarksville a military town. Lots of soldiers and dependents live in Clarksville as well as civilians working on base. Since it is so close you should stop by and check out the base if you get a chance. You can get on base by stopping at the visitors center and getting a visitors pass. I love a good military museum, so one of the things you need to check out on Ft Campbell is the Don F Pratt Museum for the 101st Airborne Division, the Screaming Eagles.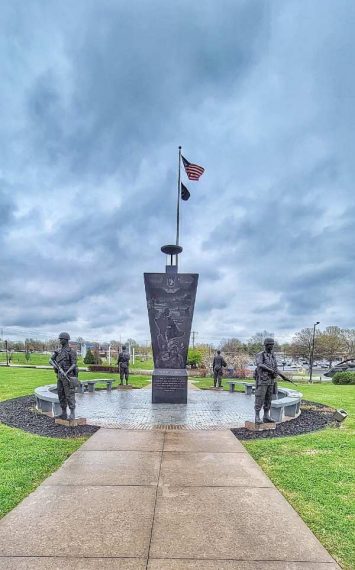 Named after Brigadier General Don F. Pratt, the assistant Division Commander of the 101st Airborne and the highest ranking officer killed on D-Day, June 6, 1944. The museum relates the story of the 101st Airborne Division and there is also a separate hall with photos of all the soldiers of the 101st who have been awarded the Congressional Medal of Honor and the citation of each. There are plans for another museum named The Tennessee Wings of Liberty Museum to be opened around 2025 just outside the base.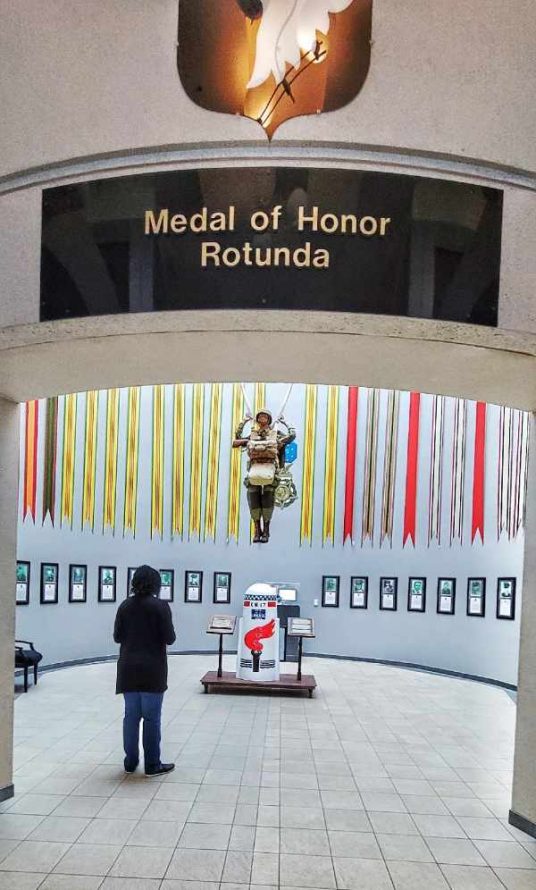 The Don F. Pratt Museum is located at 5702 Tennessee Ave. Fort Campbell, KY and is open Tuesday thru Saturday from 9am – 4:30 pm
The TC Freeman Visitors Center is located just inside the main entrance at 5004 Screaming Eagle Blvd A, Fort Campbell, TN. All you need is valid driver's license, proof of vehicle registration and proof of insurance.
WHERE TO EAT AND DRINK IN CLARKSVILLE
Whenever you are out traveling don't settle for fast food every day, check out some local business. I love eating at local places when I travel. For one thing I can get fast food or large chain restaurant food anytime but discovering good local dishes is always fun. Check out these places to eat and drink in Clarksville.
Yada on Franklin
When you walk into Yada on Franklin the first thing you notice are the high ceilings and open concept. Yada is open for breakfast, lunch and dinner and has really good food and some killer cocktails. I stopped in for lunch and had a pastrami sandwich with a side of broccoli crunch and of course a cocktail.
For dinner they serve a variety of pastas and pizza as well as other Italian food but definitely check out their cocktails.
Yada is located at 111 Franklin Street, Clarksville Tn and opens daily at 9am.
The Bakery at 1601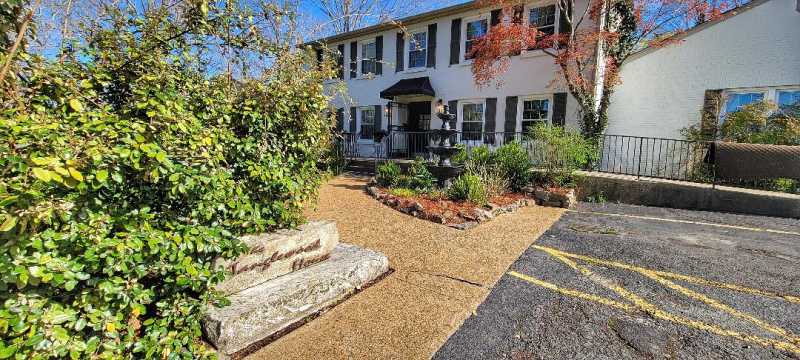 If you want something fresh baked for breakfast, then try out the Bakery at 1601. Located inside the Tanglewood House, Clarksville's premier wedding venue, the bakery offers up fresh baked sweets such as cinnamon rolls, muffins and other baked goods like sausage rolls and even cakes. They also have a variety of fresh squeezed juices with some interesting and delicious combinations and fresh brewed coffee.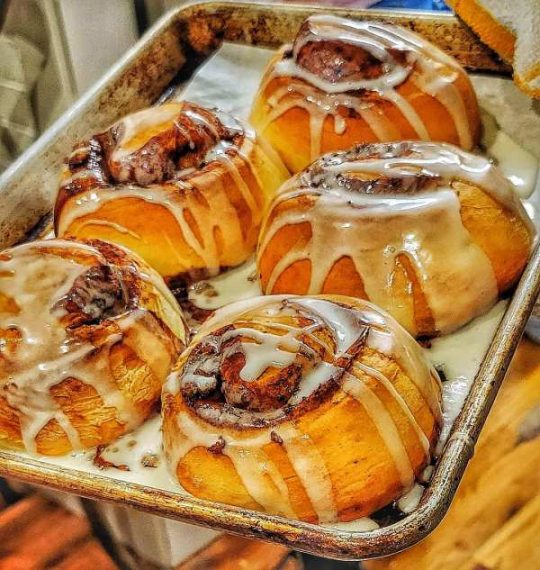 For quick and delicious breakfast, you have to stop by and pick up a few items.
The Bakery at 1601 is located at 1601 Madison Street, Clarksville Tn, inside the Tanglewood House and is open Thursday thru Sunday from 7 am to 11 am.
Founding Frothers Coffee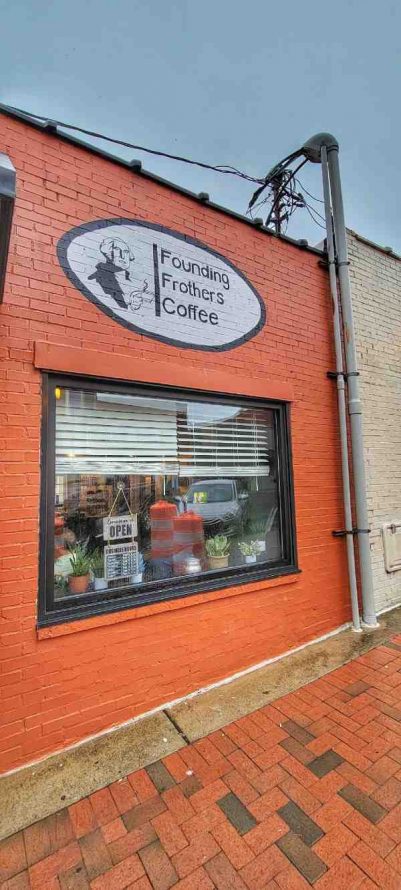 Founding Frothers Coffee Shop is another great place to stop in the morning for fresh brewed coffee both hot and cold, expresso and cappuccino as well as scones and muffins. When you are visiting downtown Clarksville, it is nice to just stop in for a cup of coffee and a quick lite breakfast before heading out to discover all Clarksville has to offer. This makes for just such a place. The cozy shop has a couple of tables to sit and relax over morning coffee before you head out or to just take a mid morning break.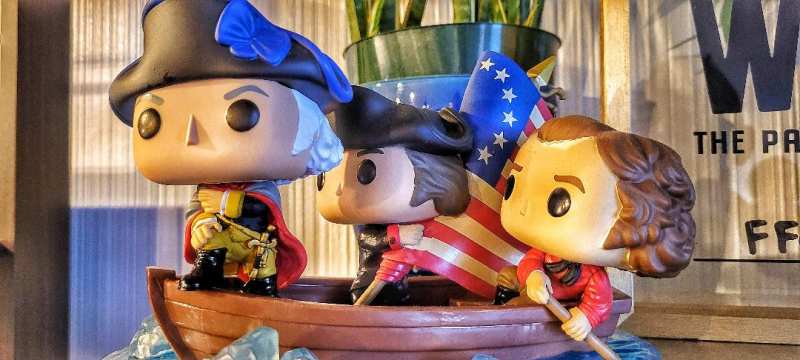 Located at 111 Strawberry Alley in Clarksville Tn, the shop is open daily from 7:30 am to 3 pm.
City Forum/ Dock 17
The City Forum is a family entertainment facility. Picture a huge indoor area with a bunch of fun stuff to do like go carts, bowling, laser tag and more. Now add Acme Athletics a 50,000 sq foot training facility, two event spaces and a couple of restaurants such as Miss Lucille's Café and Dock 17 and you have a destination worth going to. I didn't have time to check out everything but did have the opportunity to dine at Dock 17 and can wholeheartedly recommend it.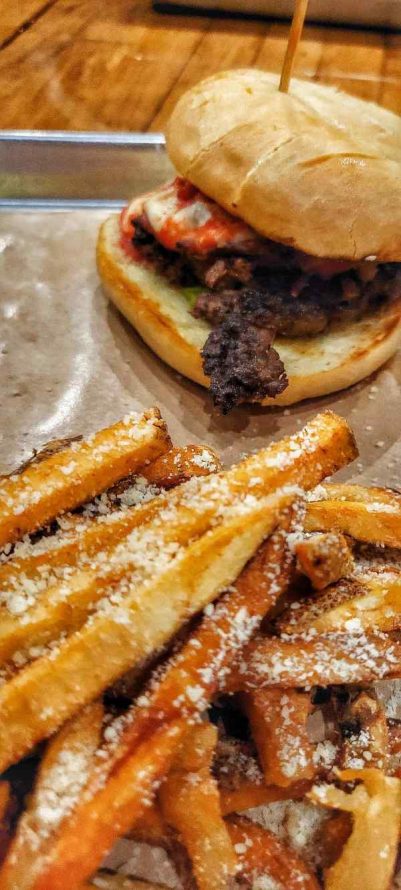 They bill themselves as a place for Burgers, Brews and Brunch and they do it well, but they also have steaks and ribs. When I went the place was full and from my understanding that is pretty normal. The Burgers are great, and they have several combinations such as a grilled steak burger topped with brisket or the Beer Belly, a burger topped with pork belly and pimento cheese. Here is a tip, order the garlic Parmesan fries and get one of six signature dipping sauces. I can't attest to Brunch, but I am willing to bet it is good.
Dock 17 is located at 2231 Madison Street Suite D, Clarksville Tn and is open;
Wed thru Thurs 3pm – 10pm
Friday 3pm – 11pm
Sat 10am – 2pm (Brunch) 3pm – 11pm (Dinner)
Sun 10am – 3pm (Brunch) 3pm – 9pm (Dinner)
Madeleine's Place French Bakery
While I didn't get a chance to visit I have it on good authority that Madeline's Place is well worth visiting. Madeline's Place is a favorite among locals for French Crepes, pastries and macrons. They also serve breakfast, lunch and dinner.
Madeline's Place French Bakery is located at 100 Strawberry Alley in Clarksville and is open;
Sunday 9am -5pm
Monday close
Tuesday-Thursday 9am – 6pm
Friday & Saturday 9am – 7pm
Beachaven Winery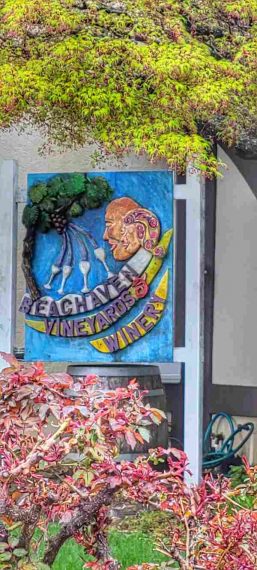 The oldest single family owned winery in the state of Tennessee, Beachaven Winery was licensed in 1986. Started by Judge William O Beach, daughter Louisa and son in law Ed Cooke, Beachaven quickly earned a reputation for great wines and winning gold medals in competitions. Let's get something straight right off the bat. I no nothing about wine except "I like this one" and "I don't like this one much". However, I went for a wine tasting at Beachaven with several other folks that did know about wine and they all said that is was very good and picked up a few bottles.
Beachaven also does a lot for the troops at nearby Ft Campbell, bottling wines for specific units and occasions. They also have family friendly Jazz concerts on the grounds as well as events throughout the year and they have a event space that can be rented out by groups. Even if you are not a wine connoisseur, the staff at Beachaven can recommend something that you will enjoy.
Baechaven Winery is located 1100 Dunlop Ln, Clarksville Tn and open year round;
Mon – Sat 11am – 6pm
Sunday 12pm – 5pm
Trazo Meadery
Trazo Meadery was the first meadery in the State of Tennessee. What is mead you ask? Mead, sometimes referred to as Honey Wine, is an alcoholic beverage made from fermenting honey, water and other ingredients such as fruits, spices and grains. The earliest evidence of mead dates back to 7000 BC where evidence has been found in pottery jars from China and became popular in ancient Europe and Greece.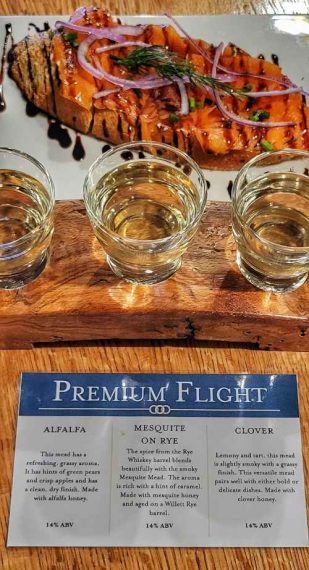 The Trazo Meadery is a family owned and run business and was the first meadery in the state of Tennessee. If you have never had mead or maybe had it and didn't care for it I suggest you stop by and try this place out. They make their mead using only the best ingredients, getting honey, botanicals and spices from around the world. In addition to that they have a fantastic menu, again using imported meats and cheeses from around the world. As per owners David, Becky and son Travis Powell they want your experience to be the best possible and everything is geared to making your visit special. The attention is in the details as you will notice.
Trazo Meadery is located at 116 Franklin Street in Clarksville Tn and is open;
Thursdays 3pm – 9pm
Fridays 3pm – 11pm
Saturdays 11am – 11pm
Sundays 12pm -7pm
Closed Mon, Tue, Wed
Old Glory Distilling
Founded by local and former firefighter, Matt Cunningham, Old Glory Distillery has become a very popular place in Clarksville. Handcrafted whiskey and bourbon using local grains, they are still maturing and a few years away from being ready. In the meantime, they are using the finest ingredients to produce small batch whisky, bourbon, gin, vodka and rum, which has garnered quite a following.
They also hold events throughout the year and have a venue suited for large gatherings. They also have a gift shop where you can do tastings, a craft bar and while you are there pick up a couple of bottles to take home. They also do tours of the distillery.
Old Glory Distillery is located at 451 Alfred Thun Rd in Clarksville Tn and is open;
Mon- Sat 9am – 6pm
Sun 12pm – 6pm
Kings Bluff Brewery
When your last name is Brewer and you love beer, well it is only a matter of time before you open a brewery. With proximity to Austin Peay State University, Kings Bluff Brewery is popular with college crowd. It is also popular with everyone else. That's what happens when you brew good beer. Lagers, ales, stouts and dark beer are just a few of the offerings along with live music, movie nights and other live events.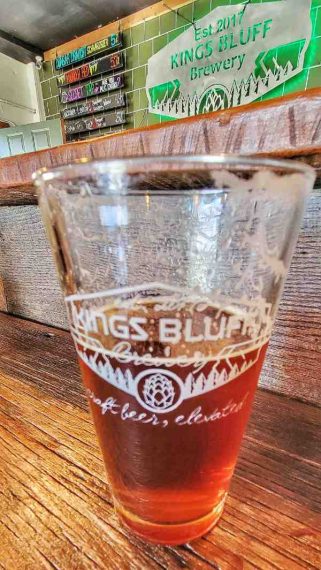 Kings Bluff Brewery is located at 128 University Ave, Clarksville Tn and is open;
Tue – Thur 12pm – 9pm
Fr – Sat 12pm -10pm
Sun 12pm – 7pm
Mon Closed
Gladiator Brewing
Gladiator Brewing is a service disabled, veteran owned business that draws a big crowd from Ft Campbell. Located close to the base the German styled pub offers up European style craft beers as well as having a great kitchen that puts out some really good food. You can order the fish and chips, which I had, schnitzel, Belgian meatballs, bratwurst and more.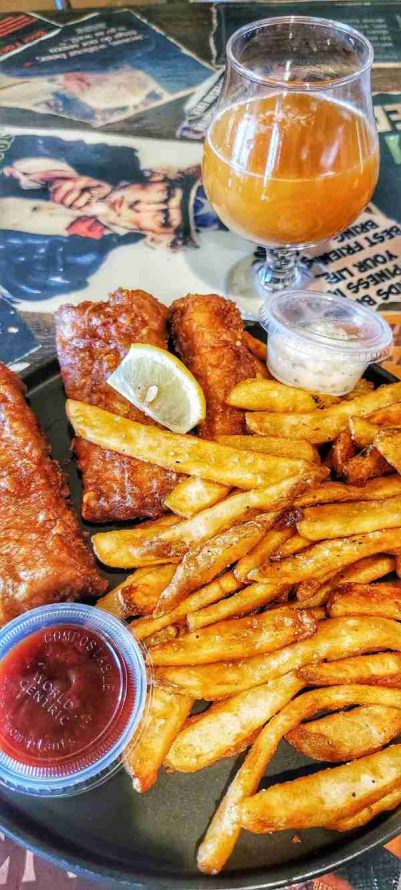 The beers are good and they have bingo on Saturdays as well as a game room, place for kids to play and live music.
Gladiator Brewing is located at 214 Tiny Town Road, Clarksville Tn and is open;
Tue – Thur 3pm – 9pm
Fri 3pm -11pm
Sat 1pm – 11pm
Sun 1pm – 7pm
Closed Mondays
I didn't get a chance to visit these, but I hear they are great places.
232 10th Street in Clarksville Tn

Wed – Fri 4pm-10pm
Sat 1pm – 10pm
Sun 12pm – 5pm
Mon & Tue Closed
1030 Progress Dr, Clarksville Tn
Wed & Thur 3pm – 8pm
Friday 3pm – 10pm
Saturday 12pm – 10pm
Closed Sun, Mon, Tue
1761 Jardco Dr, Clarksville Tn
Thur 5pm – 9pm
Fri 5pm – 10pm
Sat 4pm – 10pm
132 Franklin, Clarksville Tn
Mon – Thur 11am – 10pm
Fri 11am – 11pm
Sat 1030am – 11pm
Sun 1030am -10pm
CIGAR LOUNGES IN CLARKSVILLE
Up in Smoke Cigar Lounge
Whenever I travel, I like to find time to visit a local cigar lounge to pick up a cigar, relax and meet some of the local folks. I found a great cigar shop and lounge in Up In Smoke Cigar Lounge. Veteran owned, this full service cigar and pipe lounge has everything you need. They have a really nice walk in humidor stocked with all the major brands as well as a few you don't often see.
The lounge area has a full bar and big leather chairs for relaxing to watch a game on tv or just sit and chat with others. When I visited there were probably 6 or 7 others in the lounge enjoying a good cigar. They host cigar events from time to time and the atmosphere is great. If you enjoy a good cigar and want to pick one up while in Clarksville, I highly recommend Up In Smoke.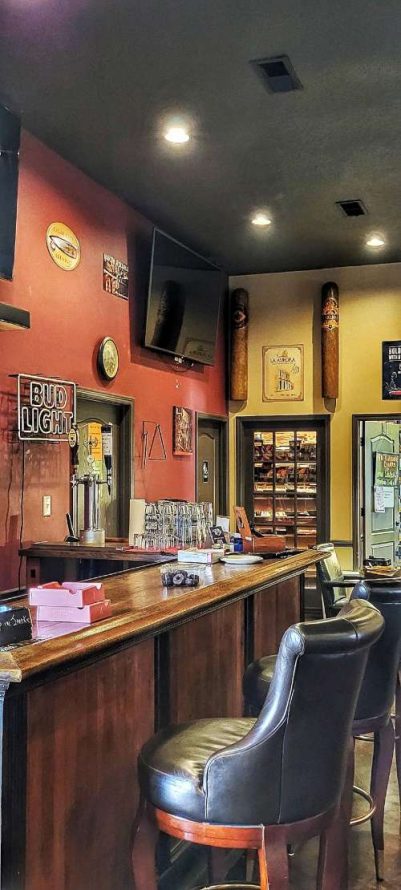 Up In Smoke Cigar Lounge is located at 109 Hatcher Ln in Clarksville Tn and is open;
Mon – Wed 10am -8pm
Thur – Sat 10am – 10pm
Sun 1pm – 5pm
WHERE TO STAY IN CLARKSVILLE
There are a lot of places to stay while in Clarksville and all are pretty convenient to getting around and seeing the sights. While I was in town we were hosted by The Holiday Inn.
Holiday Inn Clarksville Northeast
The Holiday Inn Clarksville Northeast is really convenient at the intersection of US Rt 79 and Interstate 24. They have nice clean, modern rooms, an outside patio as well as an indoor area with tables and plug ins for your computer. The rooms came with free wi-fi and there is a restaurant on site.
Serving breakfast, lunch and dinner the onsite restaurant is actually a Burger Theory Chain. I noticed that Holiday Inn has been putting Burger Theory restaurants in a lot of their properties. They also have a full bar so you can relax, have a drink and a great burger as well as other foods. The staff was friendly and always available for anything you needed.
Holiday Inn Clarksville Northeast is located at 215 Cracker Barrel Dr, Clarksville Tn
OTHER LODGING OPTIONS
There are also several other hotels in Clarksville to choose from as well as home rentals and campgrounds.
Clarksville is a great place to visit with a lot to see and do. It is no wonder why people in Nashville are discovering why Clarksville makes for a great weekend trip. Whether you want to experience a cave used in pre historic times, learn about history or some of the famous people from Clarksville, check out some military history or even have a destination wedding, there is a lot to experience in Clarksville.
(Visited 1,311 times, 1 visits today)