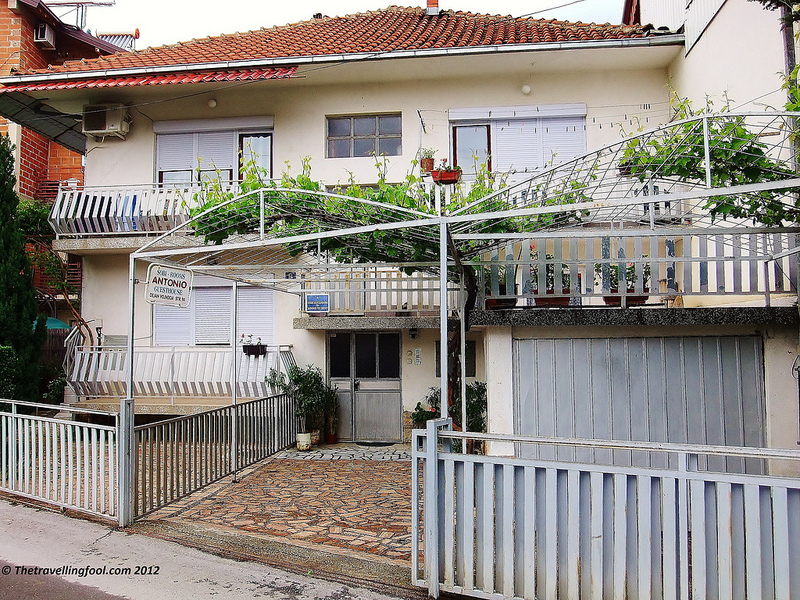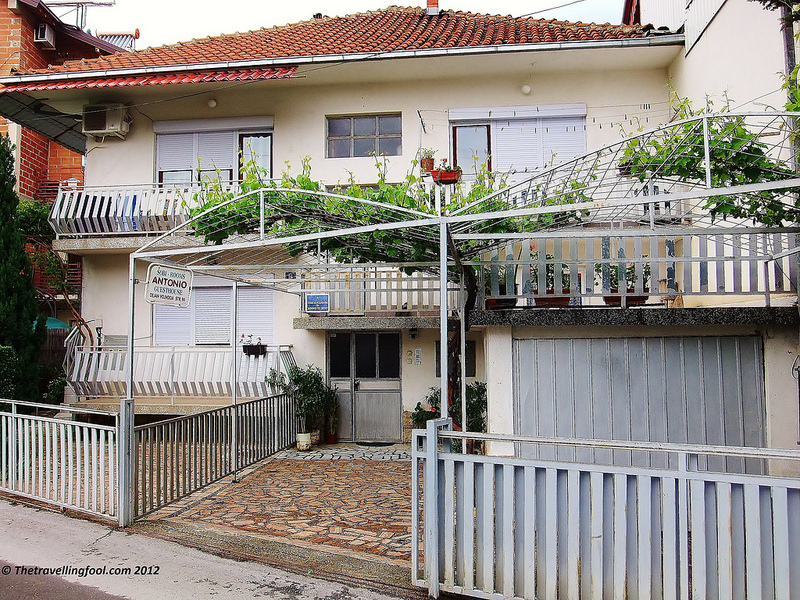 For many reasons I dislike hotels. When I decided to take a road trip to Lake Ohrid Macedonia I checked online to see what the hotel prices were. The last few years I have tried to stay away from hotels, preferring instead to rent a condo or apartment.
I find it not only less expensive but in a lot of cases you get added benefits that you wouldn't at a hotel. After all I spend most of the day away from the room and no need in wasting a bunch of money on something I am not going to be using much. I have never been a Hostel kind of guy. I snore enough I don't want to listen to someone else doing it. And I don't particularly like sleeping in a dorm setting.
After a little research I found Antonio Guest House consisting of 6 rooms for rent and the price was great. For 15 Euros I had my own room at a place that had great reviews from multiple online sites. I booked through the internet and got my confirmation and was ready to go.
Upon arriving in Ohrid I found the place with no trouble. I am not sure what I expected but the place is basically a house. The door was locked so I rang the doorbell and Stojna, the lady of the house answered the door, pointed her finger at me and said "Robert"? I answered yes and she waved her hand and said "Come". Entering the house she pointed to my shoes and then pointed to a shoe rack. I took my shoes off and closed the door and she started pointing at the door, then a button that unlocks the door. Then she waved her hand again and said "Come". She took me upstairs and opened one of the rooms with a skeleton key, she pointed to the two single beds and then opened a window that looked out over the garden and said "smoke". Then she waved her hand again and said, yep you guessed it, "Come". She pointed at the common use bathroom and then we went downstairs where she took the other key on the ring and showed me that it unlocked the front door from outside and then waved her hand and again said "Come". Now by this time I was starting to like Stojna, something about her said we were going to get along okay.
We went into the kitchen downstairs and sitting at a table was her husband Trajce who seemed to be waiting for the door to open and next to him was a well used notebook. Trajce tells me he speaks a little English. His son Antonio, who speaks good English, is currently giving a tour of the city to some Japanese tourists.
Stojna looks at me and asks, "drink?" To which her husband asks if I want brandy, juice, coffee or water. Trying to be polite and not go for liquor just yet I said water is fine. At this Stojna points and says, "Brandy". She quickly produces a clear glass pint bottle with no label and clear liquid. Now having had more than one drink out of a no label liquor bottle I knew what was about to happen. She proceeds to pour me two ounces and then gives her husband about a teaspoon full in his glass. He smiles and says to me, "It is good brandy almost like schnapps, drink." Drinking about half the glass and feeling molten lava run down my throat, with just a hint of fruity flavor, he smiles again and says "good, finish." Always being one to please I drink the rest of the liquid fire and before I can put the shot glass down Stojna pours me another two ounces.
Trajce asks how many nights am I staying, after answering 3 he says "Good" and pulls out a sheet of paper with a map of the city. The map has all the famous tourist sites listed and he starts by showing me where we are. Then he tells me we are 700 meters from the old town and shows me the route I need to take. He circles several churches and tells me why they are famous drawing a route along the old town and back to the guest house. He then says "You take this tour, it will take you 3 to 4 hours". He then tells me we are 15 Km from the town of Struga. He circles the bus stop where I need to be and turns the paper over which has all the bus times to various locations. He tells me Struga will cost me 40 Denar or about .80 USD. He then tells me we are 30 Km from St Naum Monastery and it will cost me 120 Denar or about 2.50 USD. He then circles a couple of banks and money exchange places along with a few restaurants. After this he asks for my passport and opens his notebook and dutifully writes down my name and passport info, then begins looking through the passport. He points and shows his wife my Cambodia Visa and tells me his son was recently in Cambodia and then he points to my shot glass and tells me to drink. I am really starting to like these folks. After downing the last of the brandy his wife comes at me with the bottle and now it's my turn to wave my hand and tell her no thanks I have had enough.
The next day after a couple of British backpackers leave Trajce moves me into their room, which is a little larger and has a balcony. The rooms have free wi-fi, television a small table and a couple of chairs. Outside the room there is a refrigerator a couple of electric burners with a few pots along with silver ware, glasses, instant coffee and tea bags.
I spend the next couple of days getting up early and seeing the sights of the Old Town and having a few beers in the evening.
The last day I go downstairs in the morning and tell Trajce I will be checking out. I have someone coming to pick me up in the early afternoon so I ask if I can I keep my pack downstairs while I walk around town a bit. Trajce puts my bag in the corner and Stojna appears asking if I want coffee or tea? Having just had a couple of cups of coffee upstairs I tell her no thanks I am going to walk around a bit. Stojna doesn't really seem to like that answer, points outside to the garden and tells me "Sit". Trajce and I sit down and start to chat when Stojna comes up from nowhere and pours me a double shot of morning Brandy along with a slice of her home made walnut cake drenched in Brandy. So here we are at 7 am chatting and drinking Brandy. That's when Trajce tells me he made the Brandy from the grapes growing in the garden. He also tells me he has 80 liters of the fire water and sometimes sells it to guests at a whopping price of 5 Euros per liter. Now for my American buddies that is roughly $6.20 a Quart for some high quality Moon Shine.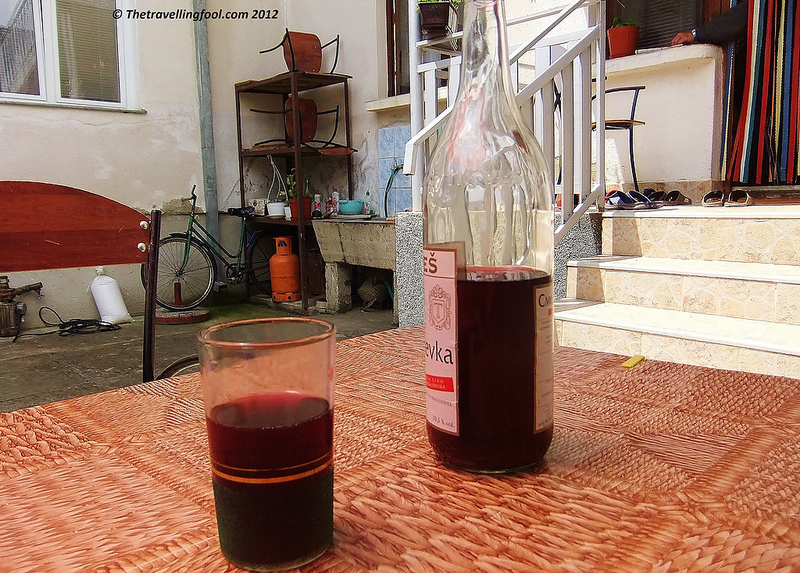 After a few drinks I leave and walk around town for the last time picking up a few things to take with me. Returning to the Guest House I still have about an hour or so before my ride shows up. I tell Trajce I will just sit in the garden and wait. Trajce sits down with me and we begin chatting about his life, he used to work at the train station and also at a travel agency, and Stojna worked in a garment factory. Now they run the Guest House while their son Antonio promotes the Guest House and works as a tour guide in town. At this point Stojna pulls out a bottle of wine pours me a big juice glass full and gives Trajce a little. Trajce asks me how the wine is and I respond pretty good. He smiles and says "I made that too I have a lot." Well of course you do ya little moonshiner. So for the next hour we chat and drink wine until my ride arrives and just like family they walk me to the car wave goodbye and tell me to be careful on the road.
Now you tell me of a hotel where you can have that kind of experience. With such hospitality it is no wonder I dislike hotels.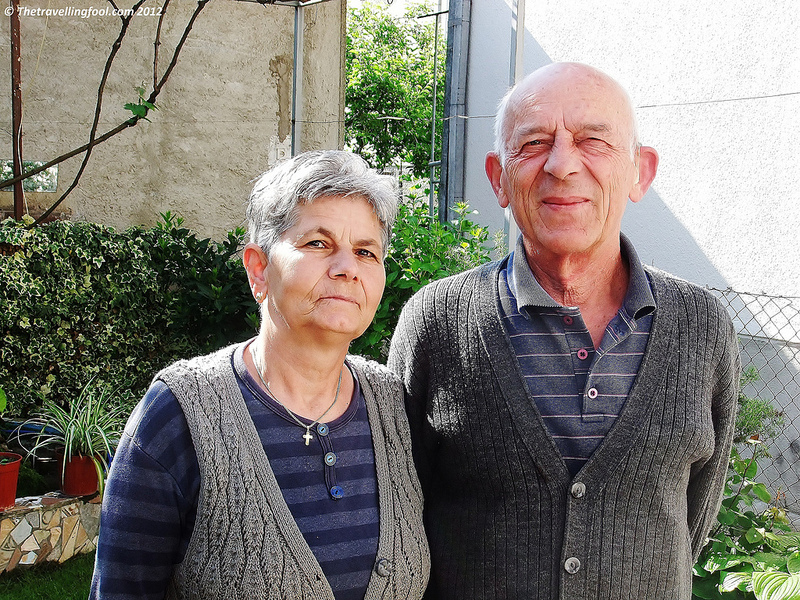 (Visited 421 times, 1 visits today)