Full disclosure, I was given complimentary accommodations while attending a travel writers retreat in Playa Del Carmen Mexico. The opinions however are all mine.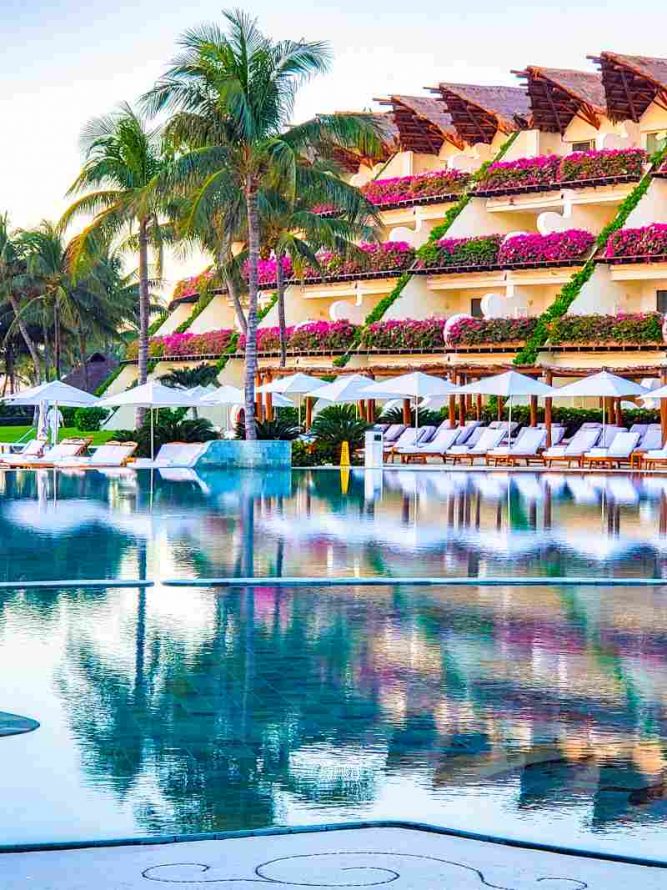 There are a lot of Hotels and resorts in Playa Del Carmen but for a truly luxurious stay the Grand Velas Riviera Maya can't be beat. While I don't exclusively stay at luxury resorts and hotels, I have been to several around the world. I can say without any hesitation that Grand Velas is one of the best I have ever visited.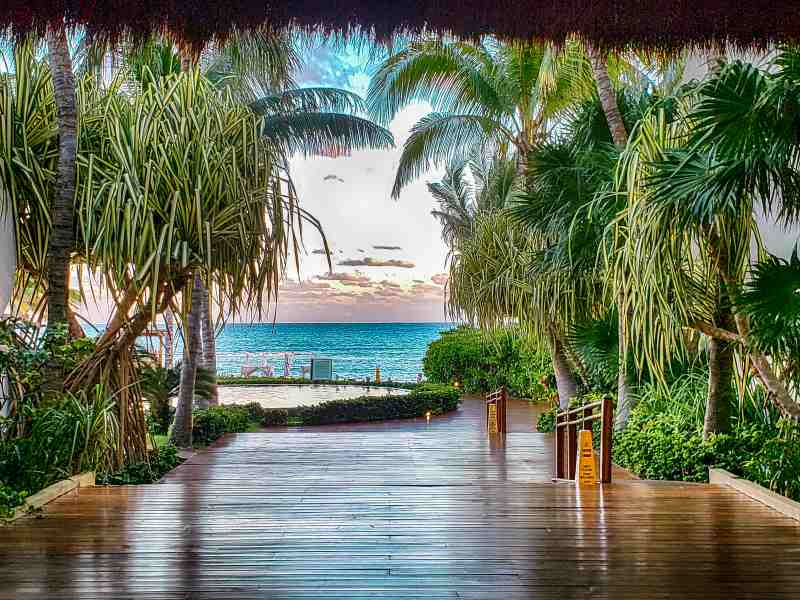 From the moment you arrive you are taken care of. The check in process takes place with someone greeting you and offering drinks while you sit and relax. During this time your passport is taken and the check in process is completed with all you having to do is stop by the desk and sign the paperwork.

It is at this point you are introduced to your private concierge who will escort you to your room and explain the resort. Your concierge is available from morning until around 8 pm. After that just call the desk and they will take care of any needs. There is always someone available to ensure your stay is memorable.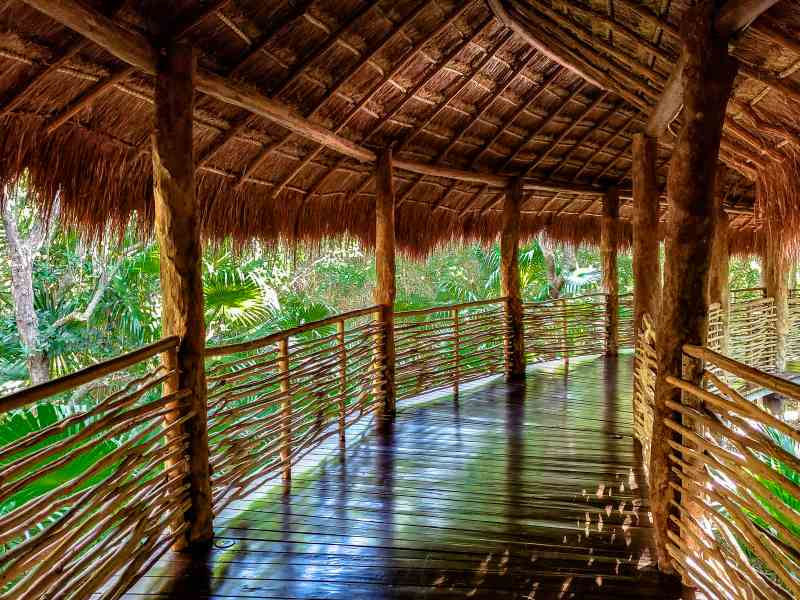 The Grand Velas has three distinct areas spread out over 205 acres. There are a total of 539 all suite accommodations and no matter which one you choose you are able to take advantage of all of the resorts many restaurants, bars and other amenities.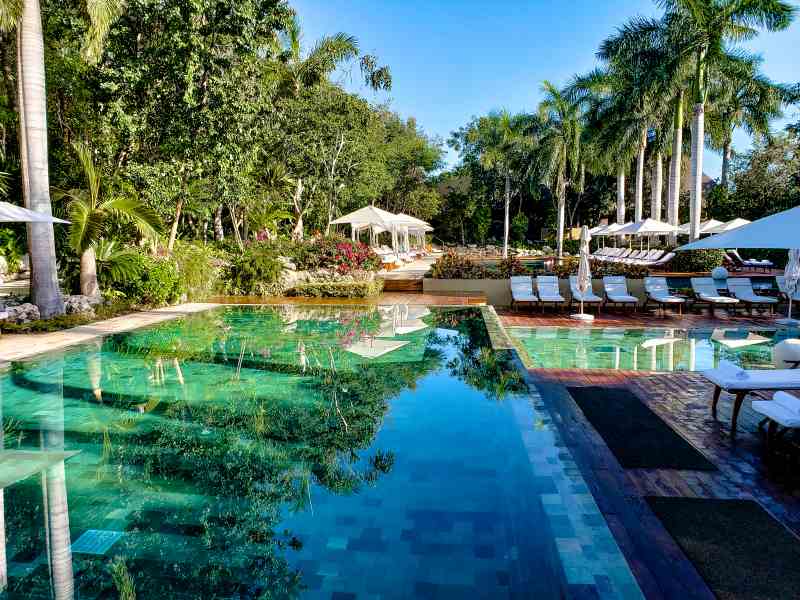 The three different areas offer the perfect experience whether you are traveling as a couple or family and makes for a great base to explore the ancient Mayan ruins. The Ambassador overlooks the beach and has a casual atmosphere, The Grand Class is a romantic setting overlooking the oceanfront and the Zen Grand Experience is in a jungle setting with a pool and koi pond.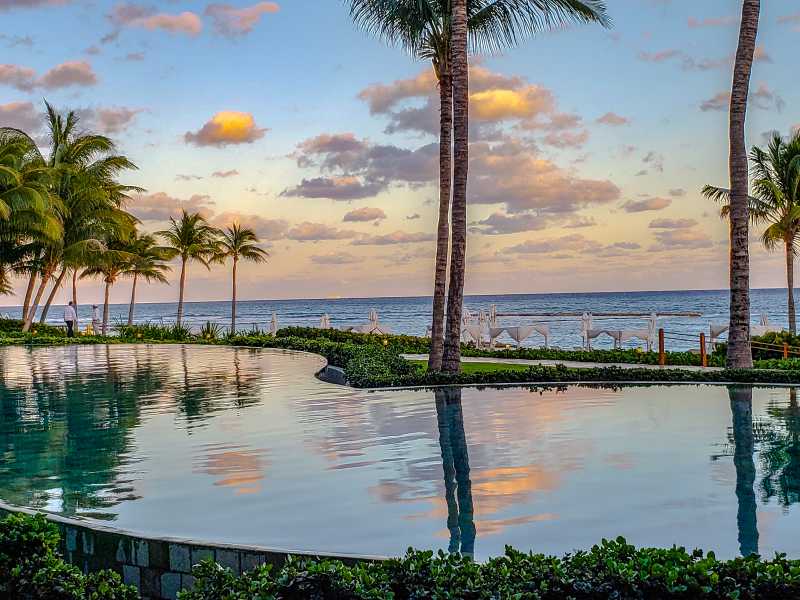 All three areas are all inclusive and you have access to all the amenities in the entire resort. I was at the Zen Grand and had a suite along with a private jungle patio and pond.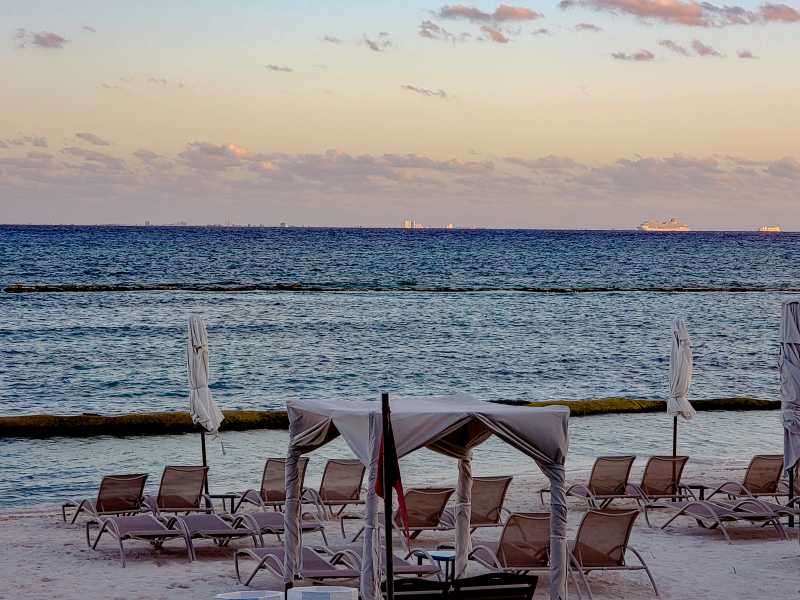 Even though the hotel employees are available at a moment's notice you hardly notice them. They seem to blend into the background so it feels like you have the resort all to yourself until they magically appear asking if you need something. I know when I was there the hotel had a lot of guests but unless I was in one of the restaurants or bars I hardly saw anyone. I think it has to do with the layout. Grand Velas has done a great job of making guests feel like they have a resort all to themselves.
Part of the reason is all the amenities you can choose from. There are six bars on the resort grounds. From the pool bar, Karaoke Bar, piano bar and Koi bar where you watch sporting events to the Sen Lin bar with cocktails and live music and the Sky bar rooftop lounge.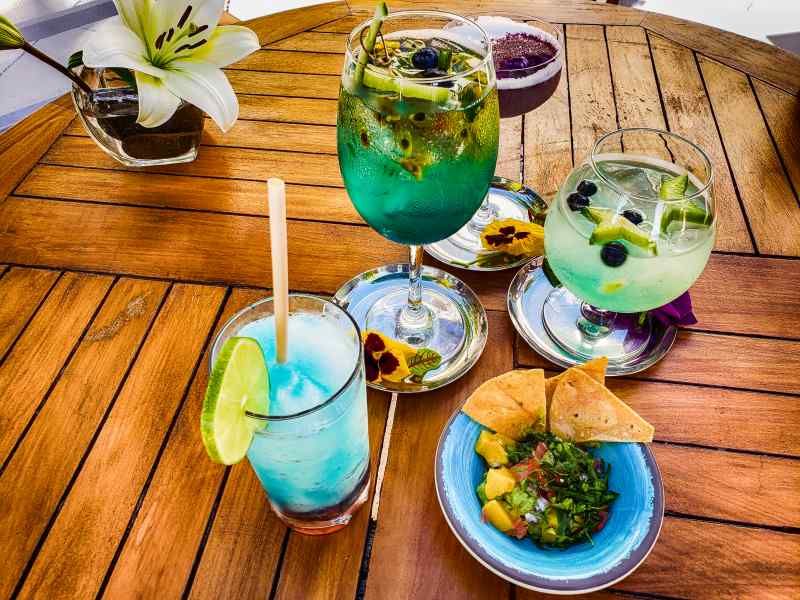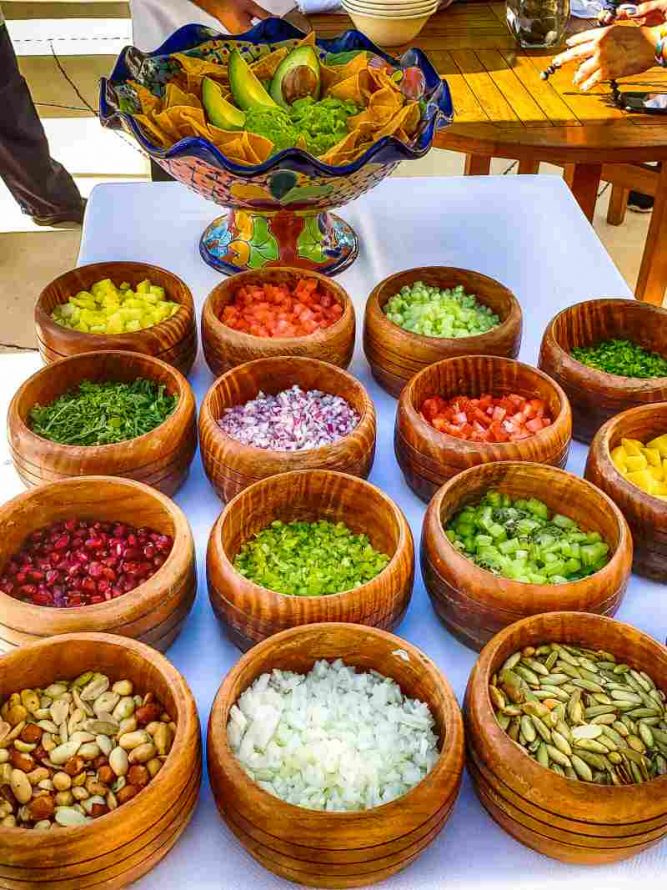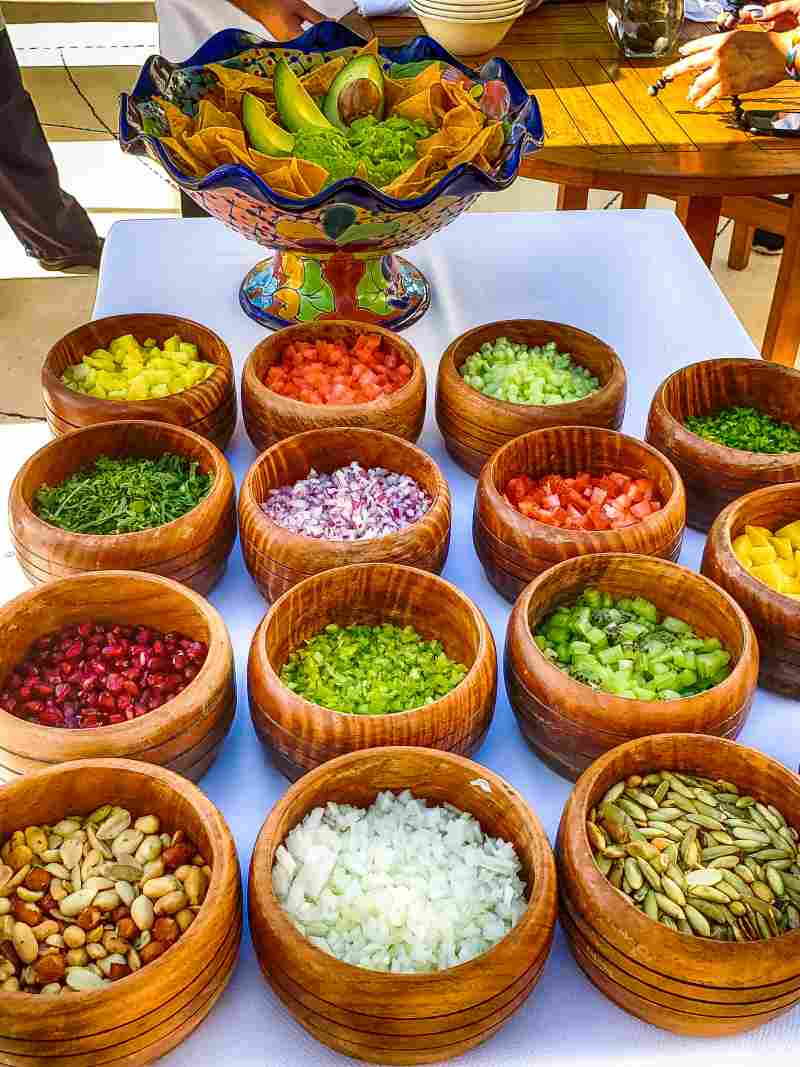 There are also eight restaurants at the resort ranging from the beachfront buffet Azul restaurant to a French fine dining restaurant, one serving modern Mexican cuisine, a French Bistro, The Chaka fusion restaurant, Sen Lin Asian restaurant, Lucca Italian Mediterranean restaurant and the Cocina de Autor headed by Chef Nahum Velasco. The Cocina De Autor offers a multi course tasting menu and is one of only 67 restaurants to receive the prestigious AAA 5-Diamond award and one of eight 5-Diamond awarded restaurants in Mexico.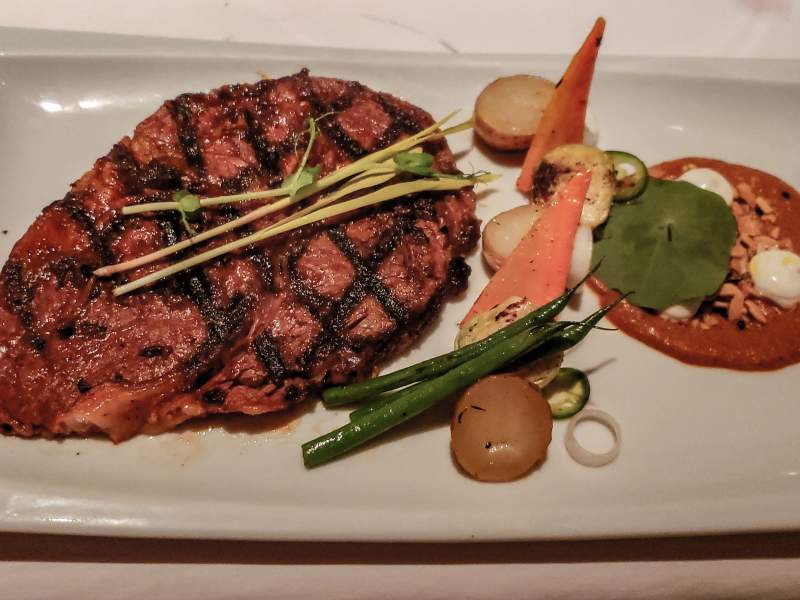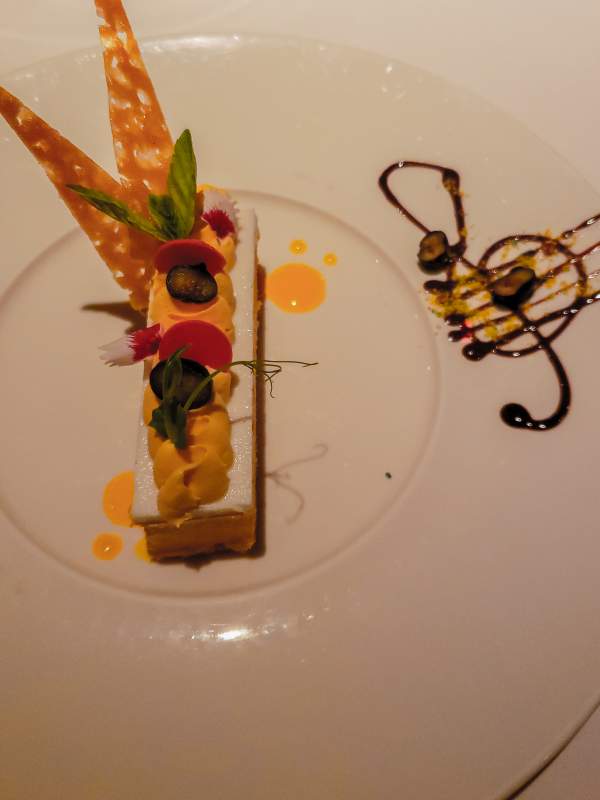 Chef Velaso offers a menu that changes daily and is presented in a unique, scientific, molecular style. It is truly an experience and a chance to taste some of the finest of this talented chefs' creations. Each course is accompanied by a wine selected by the sommelier.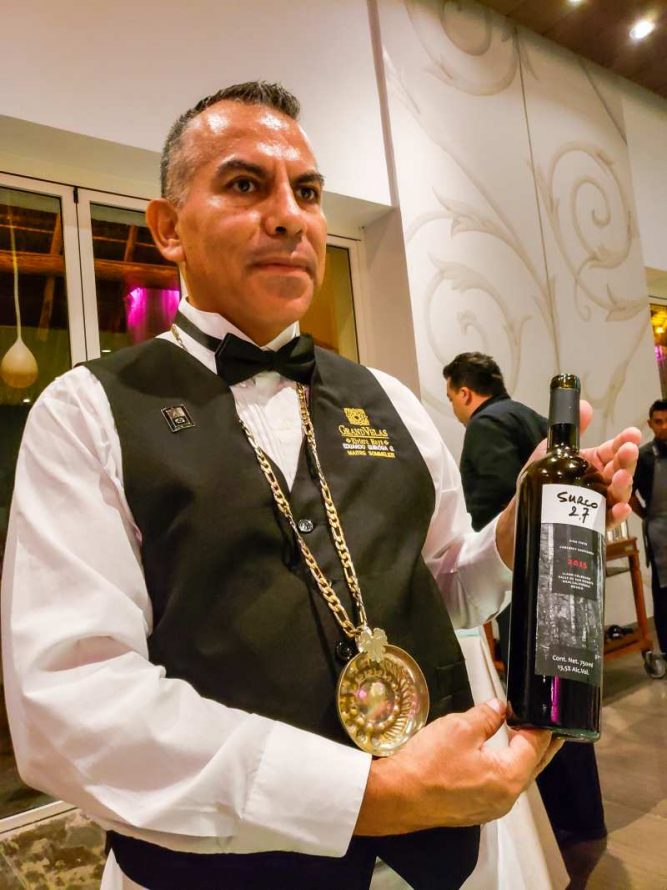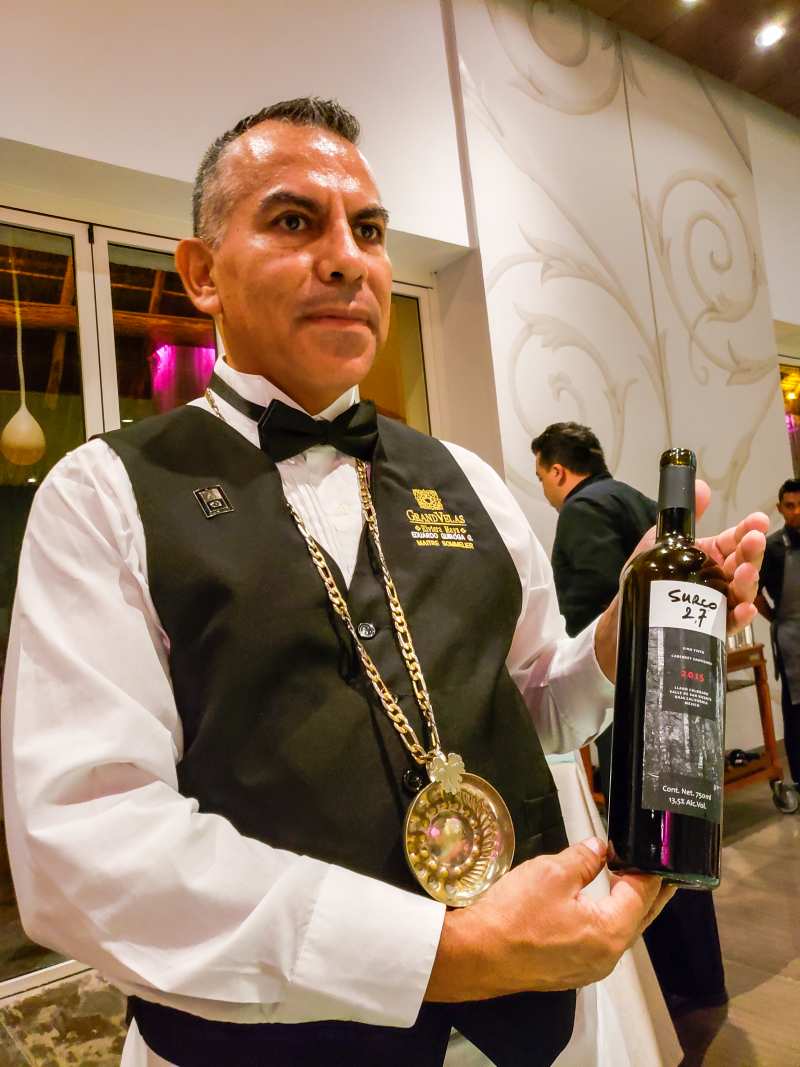 There are also kitchens and staff that cater to your needs when you are at one of the pools or room service. Speaking of room service, or suite service since all rooms are suites, it is available 24 hours a day. There are also teens and kids clubs available so if you are traveling with small children, they can enjoy some play time while you enjoy some alone time.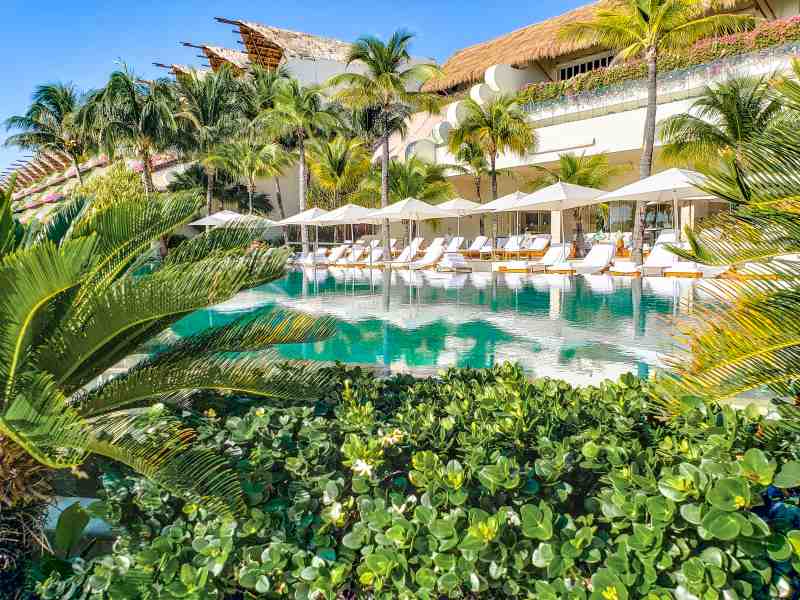 Some of the suites are 1000 plus square feet with Jacuzzis or private plunge pools. Each suite has fully stocked mini bars and if there is something you want just ask.
The Se Spa has been rated one of Forbes' 30 Most Luxurious Spas in the World and while I didn't have a chance to visit, some of the writers I was with did. Check out this post from my friend Alexa Williams Meisler regarding the Spa at Grand Velas Resort.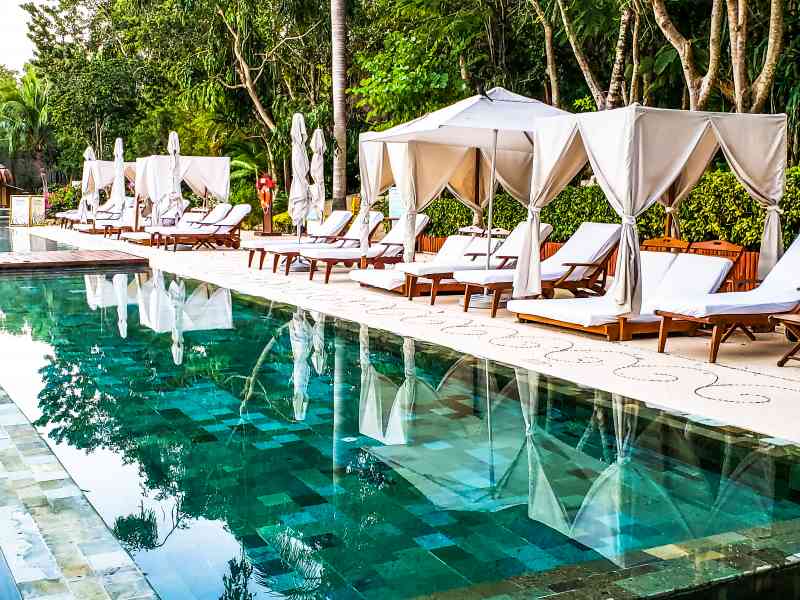 The resort offers mixology classes, cooking classes, snorkeling, kayaking and boogie boards, a huge fitness center along with Yoga, Zumba and Pilates classes.
The Grand Velas is a popular venue for weddings, corporate meetings and large gatherings along with families and couples looking for a truly exceptional experience.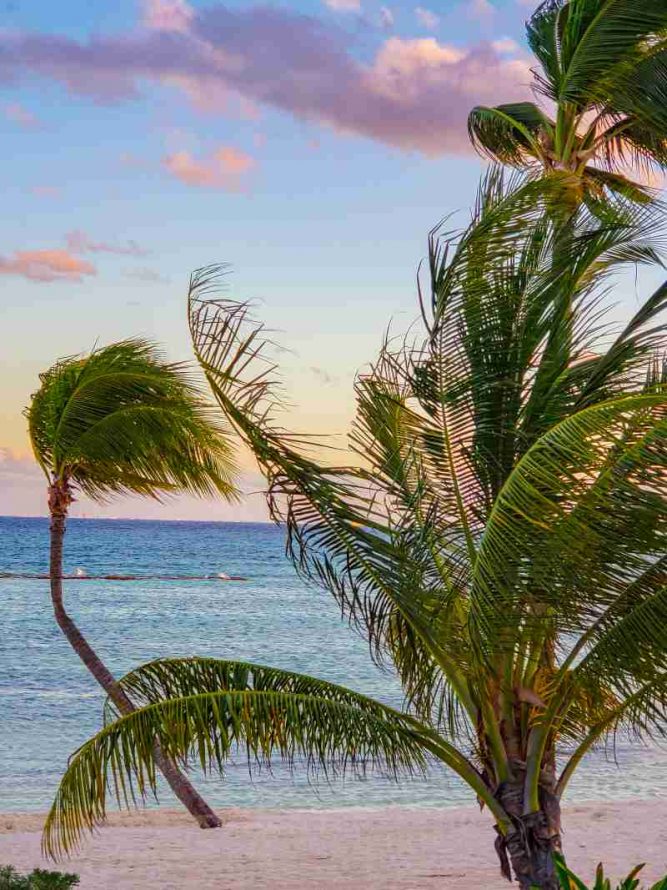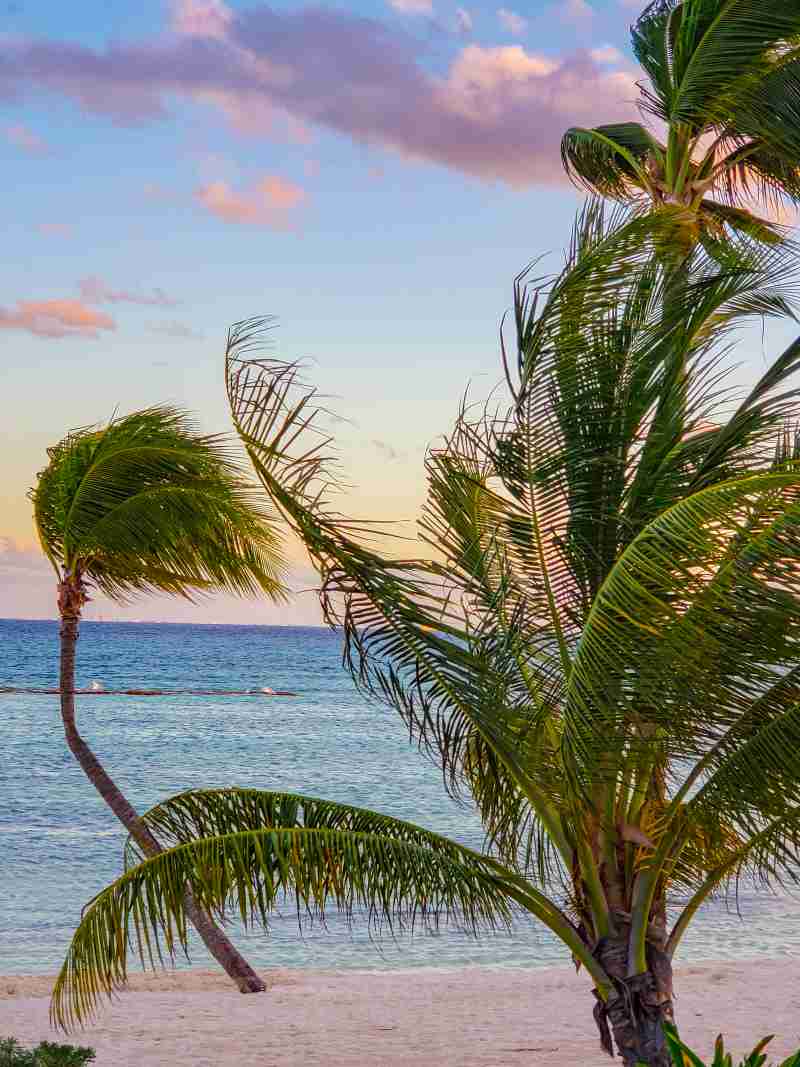 The Staff and management of Grand Velas Riviera Maya truly go above and beyond what you might be used to in order to ensure your stay is the best possible.
Velas resorts has created the ultimate in luxury throughout their six properties in Mexico. Grand Velas Riviera Maya in Playa Del Carmen, Grand Velas Riviera Nayarit in Puerto Vallarta and Grand Velas Los Cabos. There is also the Casa Velas in Puerto Vallarta, designed for adults, Velas Vallarta in Puerto Vallarta, a family friendly venue and Mar Del Cabo in Los Cabos.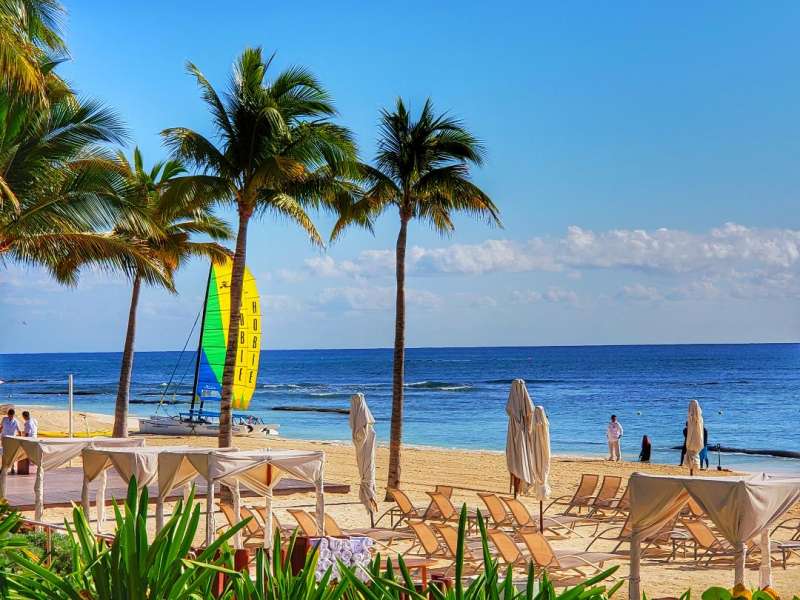 If the other properties are anywhere near the experience at Grand Velas Riviera Maya then I know they are fantastic.
Don't just take my word for it Check out what other say on TripAdvisor . Find the best deal, compare prices, and read what other travelers have to say at TripAdvisor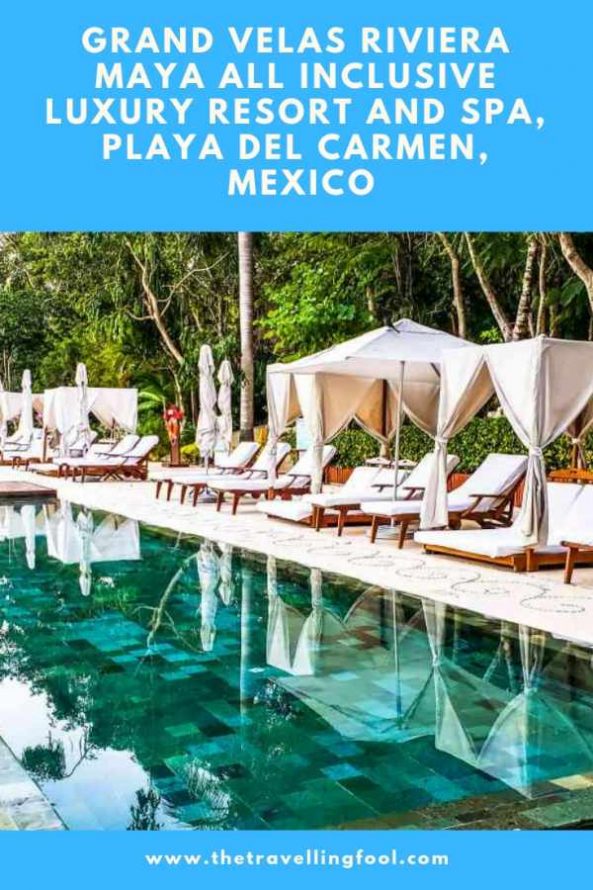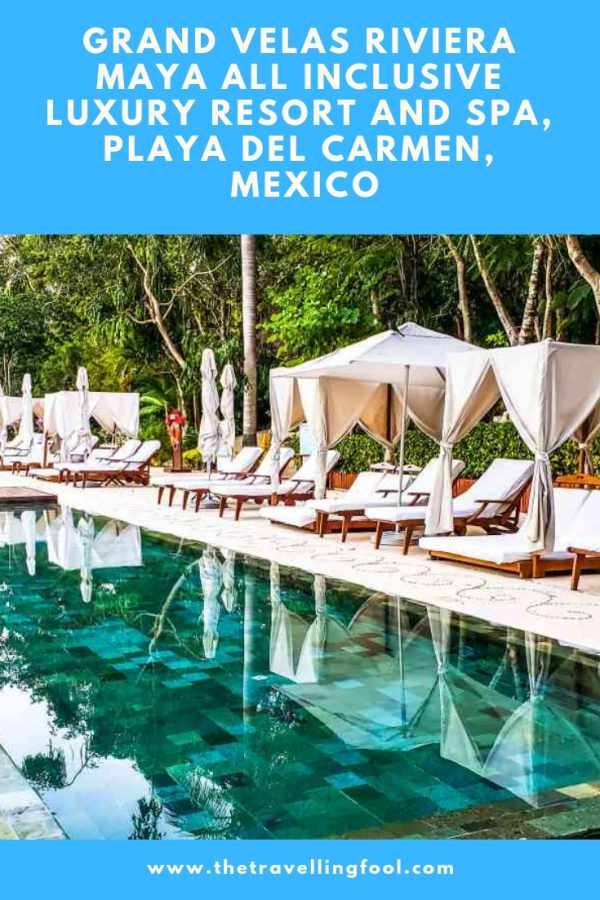 (Visited 1,454 times, 1 visits today)