When you say College Town what comes to mind? Is it Frat houses all in row throwing beer swilled parties where daddy's little girl is running around with her shirt over her head?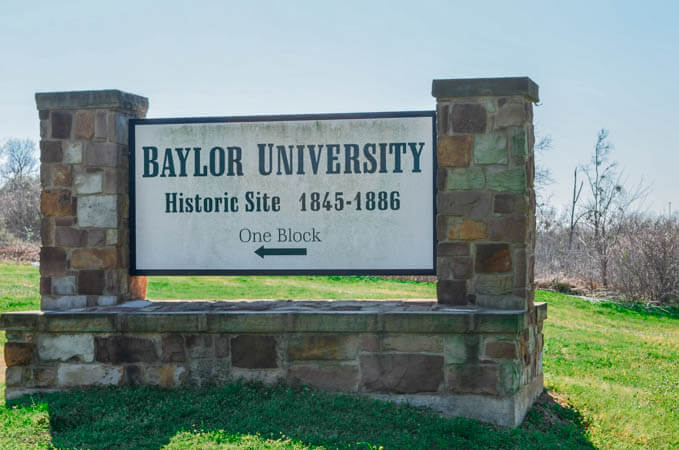 How about throngs of people wearing a sea of colored jersey's screaming for their team on the gridiron or double the rent for apartments and traffic choking congestion on the roads.
It didn't used to be that way and to be fair in some places it is not all that bad but what about the first college town in Texas?
The oldest college town in Texas is not in Austin, where the University of Texas is located. It is not in College Station, home to Texas A&M or even Waco home to Baylor. It is however the original home to Baylor University.
Independence Texas is located twelve miles northeast of Brenham Texas at the intersection of FM Rd 390 and FM 50 in Washington County. For those unfamiliar with Texas road systems FM stands for Farm to Market, in other words small two lane roads connecting Texas towns. Blink and you will drive right through this little town. Independence is one of those rural towns that you may have driven though a hundred times and never paid any attention to other than slowing down a little in case there is a police car running radar.
This Texas town doesn't have a police force but with a population of around one hundred forty it has a big history. Once known as the richest town in Texas it is home to a rich history as well.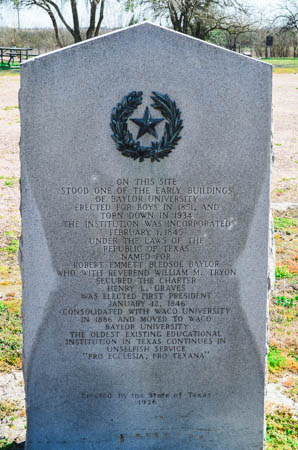 Founded in 1835 on seventy-eight acres in Stephen F Austin's colony the town quickly became a Baptist religious and educational center of the Republic of Texas.
In 1845 the town of Independence won a bid for a University from the Republic of Texas. Named after Robert Emmett Bledsoe Baylor, REB Baylor to his friends, 'ol REB had quit a history himself.
Son of a revolutionary war soldier, REB Baylor fought in the war of 1812, lead a contingent of volunteers against the Creek Indians, was a lawyer and judge, a member of the Alabama State legislature and a US congressman all before he converted to Christianity and became a Baptist. preacher.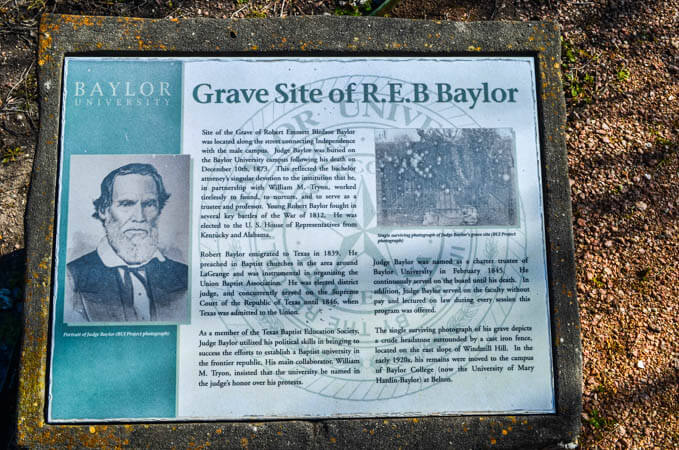 Baylor University for men and women, later named the University of Mary Hardin Baylor for women, were established and opened in 1846, the first year of Texas statehood.
Things the way they were in those times, and also the nature of the religious ways of early settlers, two separate Universities were built, one for men and one for women. All that remains today of the Universities, located about one mile apart, are some ruins at the men's University along with the grave of R.E.B. Baylor and the pillars of a building at the site of women's University.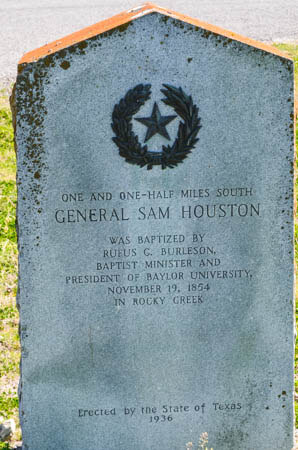 In 1839, prior to the founding of Baylor University, the Independence Baptist Church was organized. The church was the fourth missionary Baptist Church in Texas and is still active today. There is also a free museum located at the church dedicated to the early history.
Sam Houston, General of the Texas Army, twice President of the Republic of Texas and later a US Congressman for the State of Texas and Governor, was a member of the church when he lived in Independence in the 1850's.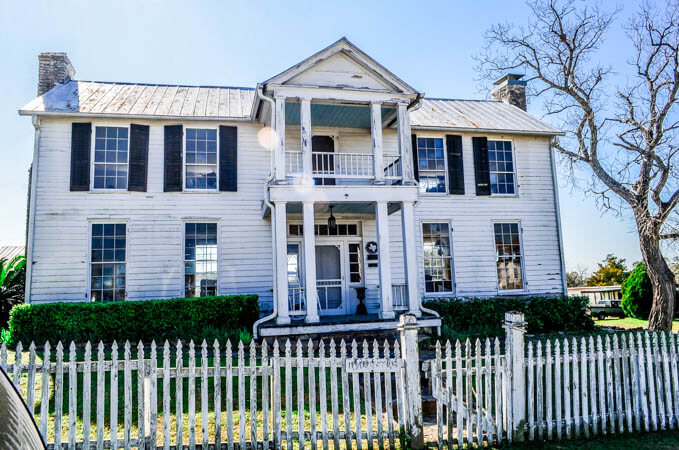 After Sam's death, his widow, Margaret Lea Houston, returned in 1863. When she died of Yellow Fever in 1867 she was buried at the cemetery next to the church.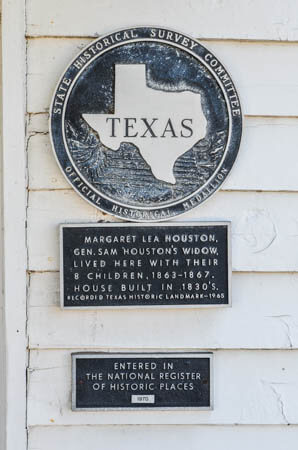 The home of Margaret Lea Houston, built in 1830, is still standing and located on a main road near the highway intersection. Privately owned, it was being renovated at the time of this writing, soon to be open to the public.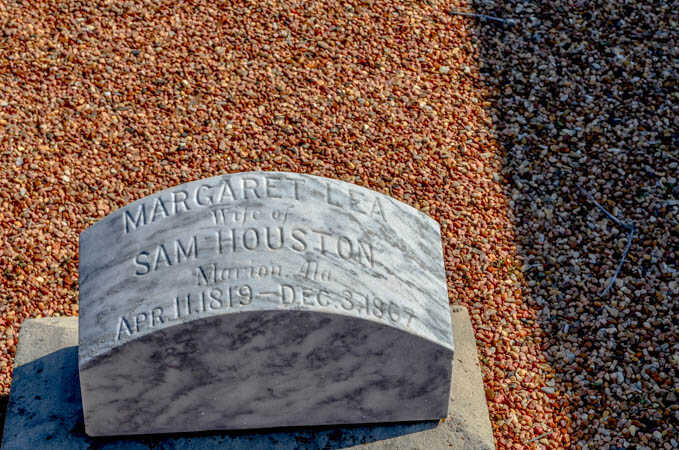 There are old houses and buildings along with historical markers located all over town.
Some of the other notable sites in town include the home of Jerome Bonaparte Robertson, Kentucky physician and later Civil War General from Texas. One of two father-son generals during the civil war the other being Robert E Lee and sons.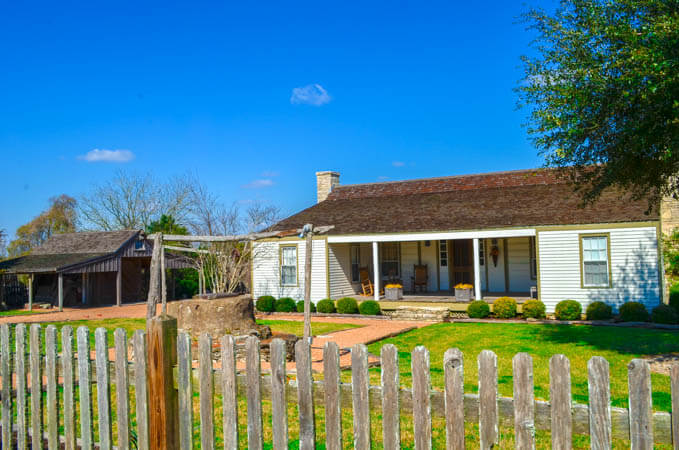 The Adobe House, built in 1836 and once served as the county court room and jail.
Blanton Block, built of native limestone in the 1820's, consist of two buildings which were originally used as a hotel, stagecoach and mail depot, general store, and residence. Today they are home to a real estate office and private residence.
The Liberty Baptist Church was established in 1866 when over 100 African Americans withdrew from the Independence Baptist Church and established their own congregation.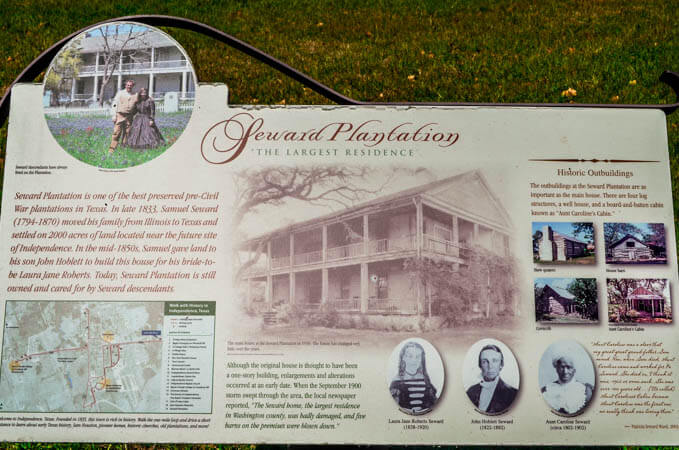 The Seward Plantation built in the 1850's was one of the largest homes in Independence and is still owned by descendants today. Along with the main house there are four log structures—a corn crib, horse barn, place for storing hay and slave quarters. There is also a well house and "Aunt Caroline's Cabin," an old board and batten cabin that has a blacksmith's shop attached to it.
The General Store was originally built as a residence and later turned into a commercial property. The store has changed hands a few times and in 1939 Walter Luckmeyer bought the store and replaced the old false-front building with a stone front he patterned after the iconic look of the Alamo. The store is open today as a grocery store, gas station and grill.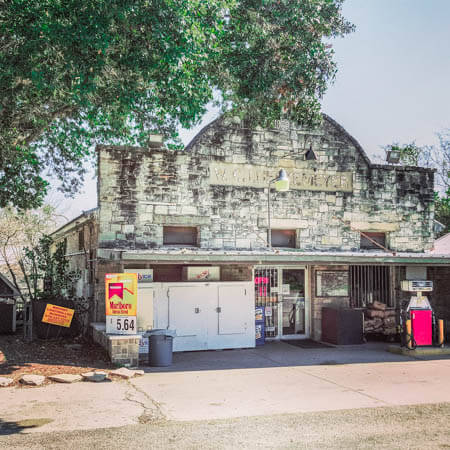 There are several other old homes scattered throughout town and to make it easy there are signs located on various properties that tell about the early history.
There is also a small visitors bureau, that may or may not be open when you stop in, where you can learn about the town.
If you ever find yourself near Brenham Texas, home to Blue Bell Ice Cream by the way, then take a short side trip to Independence and check out some early Texas history.
(Visited 809 times, 8 visits today)