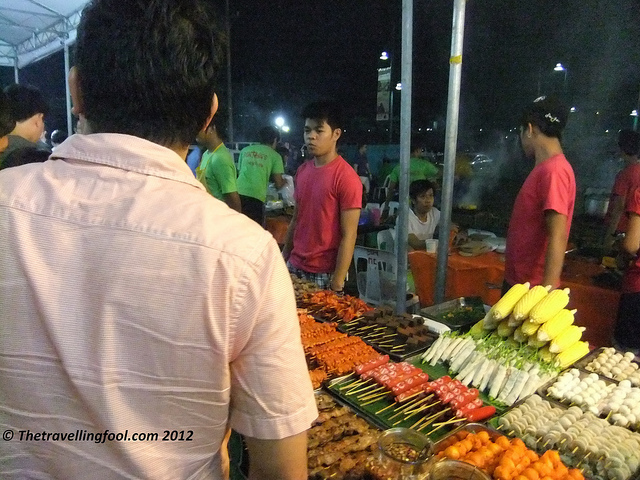 Night Markets in The Philippines, Thailand and other parts of Asia are fantastic way of sampling all types of foods in one location.
The Midnight Mercato in Global City, Manila is open every Friday and Saturday night from 10pm to 3am. When I went there was a fairly large crowd around 11pm.
With every type of food imaginable you can pick from typical Filipino dishes to burgers, grilled sausages, fish and chips, gelato and more. The fresh fruit drinks are great I can attest to that.
Walking around and smelling all of the aromas coming off of the grills and cooking stands can easily lead to blowing that diet you have been working on. Just when you decide on a dish and buy it you notice something else that looks equally as good and you begin thinking to yourself, "okay I'll hit the gym early tomorrow, another few dishes can't be too bad."
This is one of many Night Markets that occur on different days of the week in Manila, some stay open until 5am or 6am in the morning. They all have one thing in common and that is great food.
This particular Night Market in Global City has a large outside eating area with tables and chairs and also another large area situated in a big festival style tent. I think that is great because you can walk around and pick up something, have a place to sit and eat and then loosen your belt for round two.
This Market also offers a daytime venue for those that don't want to get out at night. Called The Mercato Centrale it is open every Saturday and Sunday from 7am to 2pm. And there are other daytime markets open usually on the weekends in other parts of Manila.
Whether you venture out t night, which I would highly recommend, or hit one of the early morning weekend markets a visit to one of these gastronomical parties is a trip worth taking. Even for this Fool.
(Visited 724 times, 1 visits today)