A relative newcomer to the Texas Bed and Breakfast industry, The Sweet Lemon Inn is off to a running start in Georgetown.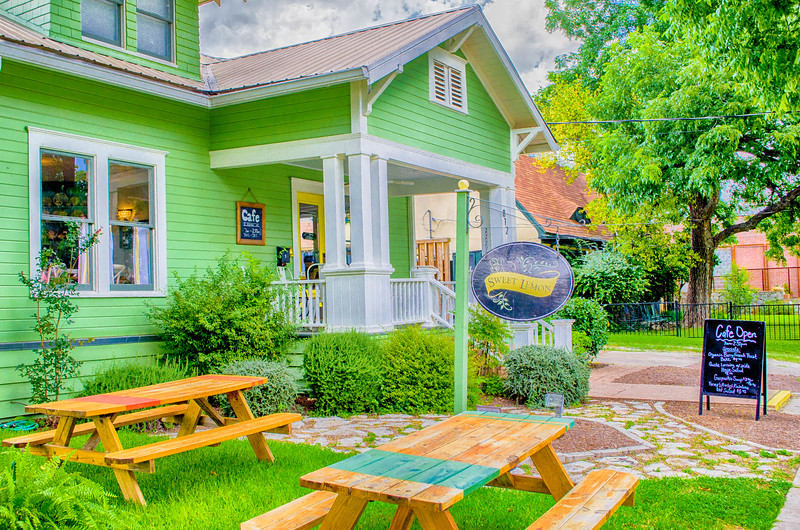 The Sweet Lemon Inn opened in 2014 in a home built in 1918 at the location of the founding of the city of Georgetown. In fact, founders park is right outside where you can see a plaque that marks the event. Rachel and Kevin Cummins purchased the property in 2013 and opened the upstairs to guests, later adding the café downstairs.
The Inn is located a block away from Georgetown's famous town square and the perfect location for exploring the town. With parking a few steps from the Inn you can leave your vehicle and walk to the Georgetown Art Center, Williamson County Museum, Palace Theater and take in all the shops, restaurants and venues on the square.
The Inn has three rooms, all located upstairs, and I stayed in the Lemon Chess Suite. Entry to the suite is from the rear of the building and the room is secured with a digital lock using a specific combination unique to each guest.
Once inside the suite you are greeted by a large living room area complete with sofa, table and a fully stocked mini kitchen. When I say fully stocked I mean dishes, glassware, silverware, coffee maker, some coffee and teas, microwave and more.
The master bedroom has a huge king size bed and armoire. Just off the master bedroom is the bathroom with a claw foot tub with shower. Now I like beds with a fairly firm mattress, you don't get that here. The mattress is really plush and soft. The kind where once you lie down it engulfs you. It makes for a really good sleep I just can't roll around much and my back doesn't appreciate the luxury.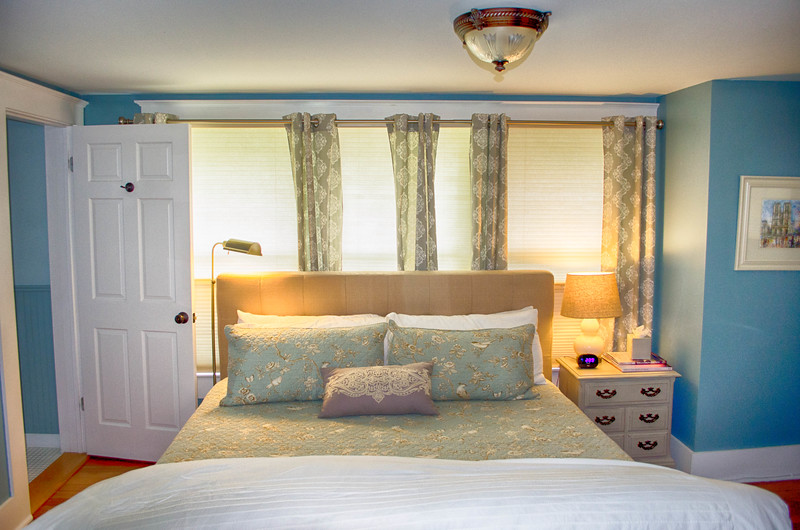 There is also a table and chairs just outside the room on a balcony, more like the second floor landing, where you can sit, relax and enjoy the evening.
I had one problem during my stay and that was with the shower function in the bathroom. The shower wasn't working properly but once I told Rachel she profusely apologized and opened up the other bathroom in the hallway for me. Since it was late when I told her, the handy man wasn't able to get to it until the next day.
Now you know when staying at places, whether a Texas Bed and Breakfast, chain motel, hotel or luxury property, things sometimes malfunction or need repair. That doesn't bother me, hey I know it happens. What I look for and appreciate is how management addresses the problems. In this case, Rachel addressed the problem and handled it quick. Although she might have been a little embarrassed it didn't really bother or inconvenience me and I appreciate the way it was handled. The only reason I am telling you is I think it shows their commitment to addressing any problems quickly and making your experience the best possible.
The Inn also provides free WI-Fi, which came in handy. Once the café closes downstairs there is a phone number to call in case you need anything.
The café is open from 7:30 am to 2:30 pm and since opening has become a popular place in a town where there are a lot of dining options. With homemade cinnamon rolls, kolaches, yogurt, oatmeal and fruit cups it is a great way to start your morning.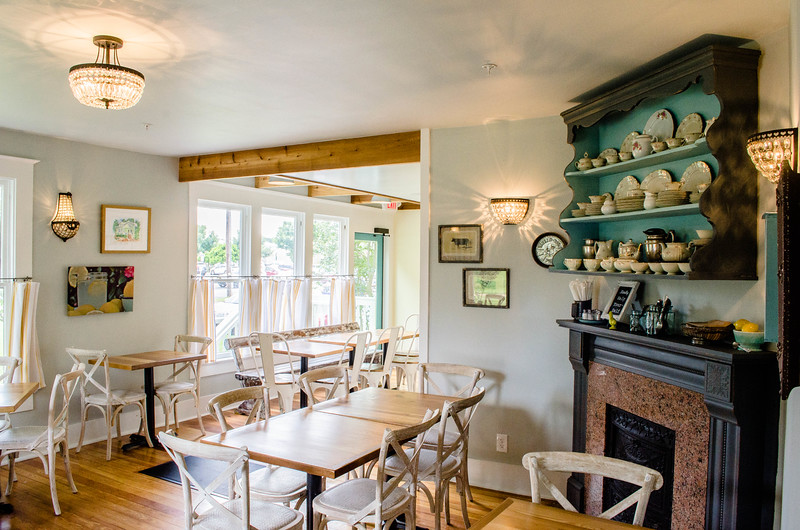 The lunch menu offers a variety of gourmet sandwiches, salads, soups and oh those desserts. Rachel bakes the desserts and they are not for those looking to diet. But what the heck you're on vacation, if even for a weekend, so forget about the diet. Lemon bars, strawberry shortcake, brownies, cookies and those cupcakes. It is no wonder the kitchen has become a popular spot for visitors and locals alike.
Now you might think being above a café and next to the town square the room would be noisy, well it wasn't. Once I turned in for the night it was nice and quiet and I had a great night's sleep. I actually woke up pretty early the next morning and was surprised when I went downstairs and noticed people already working in the café. I had not heard anything and didn't think anybody was around yet.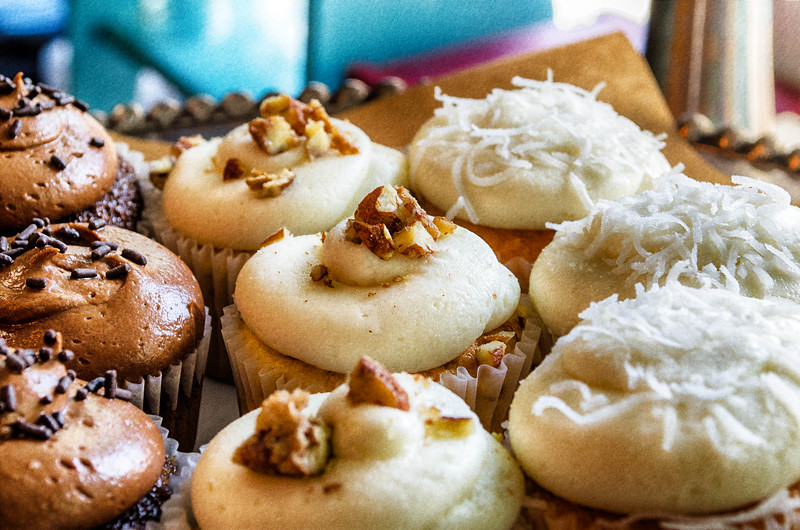 A couple of things to remember, The Inn is a no smoking facility and no pets allowed, but that is pretty normal these days.
I have no problems recommending The Sweet Lemon Inn and think it is a great addition to the Texas Bed and Breakfast scene. I think Rachel and her husband Kevin have done a great job and filled a need for place to stay near the town square that is clean, comfortable, decorated beautifully and has a great staff.
The Sweet Lemon Inn and Cafe is located on 812 South Church Street, Georgetown Texas and the cafe is open Tues. – Sat. 7am – 2:30pm. You can reach them at (512) 270-0812 or check out their website.
The Sweet Lemon was kind enough to sponsor my stay but all thoughts are mine and if you have followed me for any time you know I never recommend anything that I don't fully believe in.
(Visited 60 times, 1 visits today)