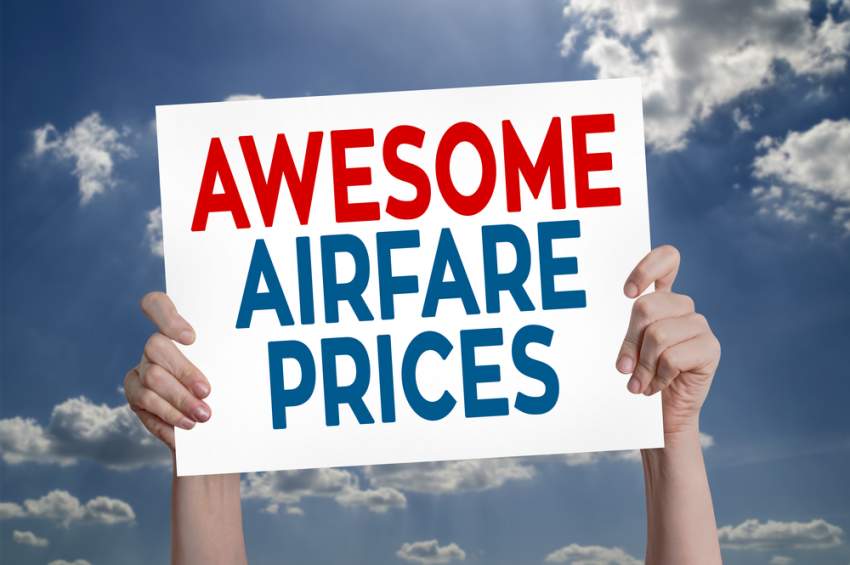 You have seen all the photos on Instagram of beautiful beaches, pristine snowcapped mountains and iconic landmarks and you have decided to take the plunge and go away for a week or two. You then look at airfares, see the prices and decided instead to just stay home. Let's face it, expensive airfares are probably the biggest reason people don't travel.
With all the "beautiful people" posting selfies in exotic locations you start to wonder "What the hell are they doing to afford this and why can't I?"
Before we start let's dispel the myth of all the people posting travel photos and writing about exotic locations. Many, including myself, are invited to locations to write about and publicize to our audience about destinations and venues. Some pay for their own travel but many get their travel expenses provided as part of the working agreement.
1. Go Incognito
If you are going to do a search for airfares on any booking site do so from an "incognito" window. In Chrome click on the 3 little dots in the top right hand corner, select "New incognito window" and do a search from there. Other browsers also allow this. You can also go to the website duckduckgo.com where you can search incognito. By doing this the booking sites won't retain your IP address and hike the airfares each time you search.
Although industry execs say that searching incognito doesn't help, Travel and Leisure stated that Dynamic Pricing is not only real and airlines track your ip address but they also look at previous airfare search habits and show you prices based your previous search and booking history.
2. Take Advantage Of Your Groups
Remember those clubs, groups and associations you belong to? Most likely they offer travel discounts. Unfortunately, a lot of people forget about that until after they booked the trip and then remember they should have at least checked.
Places like:
Industry organizations, senior discounts, student discounts, alumni organizations and even Groupon.com.
Check them out and see what kind of deals are being offered. You can score some significant savings just by using the memberships you already have.
3. Search for airline error and sale fares and be flexible
Airlines occasionally make mistakes with airfares. This can happen for various reasons – currency conversion mishaps, technical glitches, or human error. If you know where to find airline error fares, you can save big bucks on a ticket.
There are two sites that will email error fares and deals to you.
Scott's Cheap Flights and Secretflying.com both have email newsletters you can subscribe to that will send you some great deals.
Scotts Cheap Flights recently showed Dallas to Belize round trip for $274, They not only show you the fare, they give you detailed instructions on how to book the ticket.
Secret Flying recently had a round trip deal for New York to Hawaii for $324
Cheap Fly Club is another site where you can receive airfare deals like their recent one of Chicago to London for $208
Some other sites to get notified of airfare deals are:
Hopper is an app for both Apple and Android that offer "secret airfares". They have partnered with several airlines to show fares up to 35% off other sites for long haul flights.
One thing to consider is the possibility the airline won't honor the mistake fare. This occasionally happens but it's not common. Consumer protections in the United States, and particularly in Europe, often prevent airlines from reneging on mistake fares. To be safe though you should wait at least a week before booking any non-refundable hotels or activities.
Also, do a search from nearby departure airports. Flying out of Newark instead of JFK can sometimes save you money.
4. Best Booking Sites
While many use Expedia or TripAdvisor, those are the worst sites in which to book a flight. Some of the best booking sites are:
SkyScanner
Skyscanner searches multiple sites to find the best deals. You can search using specific dates or target the entire month to find the cheapest fares. One recent search showed Houston to London departing on a Sunday for $612 but if you waited until Wednesday it was $447. Sky Scanner also has an explore feature which allows you to choose your departure city and search for fares anywhere for certain months. If you have some time off and just want to go somewhere it is a great feature.
Momondo
Momondo has similar features and sometimes shows better prices than SkyScanner. A recent search showed New York to Bangkok for $494
Kiwi
Kiwi is another site that allows you to search for flights anywhere using by selecting anytime dates and anywhere destination.
It is good to search using all three to find the best airfares.
AirWander
Airwander allows you to search for flights with multiple cities or long layovers. Say you want to travel somewhere but might like to spend a day in another city. Airwander searches those so you can fly from Denver to China with a day spent in Japan exploring the sites.
JetRadar
JetRadar has one thing going for it. It searches a lot of budget airlines that the other sites don't search.
Yapta is mainly for corporate travel but also has search for individual travelers. It searches out low cost deals from your selected departure city.
While you may not find the best airfares, Google Flights is a good site to compare flight dates to see which are the best/cheapest days to fly.
Google purchased ITA Matrix in 2010 and although it shows a lot of similar things to Google Flights it is a useful tool. You can perform in depth searches using the interactive calendar and Geo search functions and it can help in finding hidden options the other search engines miss.
5. Hidden city ticketing
What is hidden city ticketing? Let's say you want to travel from New York to Denver. It might be cheaper to book a flight from New York to Los Angeles that connects in Denver. You just get off in Denver and not use the last leg of the ticket. Airlines don't like it and there are downsides.
If you are not switching planes at the connecting airport you might not be let off the plane.
If you check any baggage it is going to the final destination so you can only have carry on bags.
You should only do this with one-way tickets since if you miss your flight to the final destination the airlines might cancel the entire reservation leaving you with no return ticket.
Never use your frequent flyer miles or list the number on your reservation since the airlines might confiscate all your miles for breaking their rules.
If you still want to try it then head over to Skiplagged which shows hidden city fares. Just take into account the risks and do your research.
6. Book connecting flights yourself for less
Sometimes by booking using two destinations you might save money over booking a round trip fare from one place to another. It takes some work but you find significant savings. For example, a ticket from Houston To Las Vegas and one from Las Vegas to Los Angeles costs $254 round trip, while a round trip from Houston to Los Angeles on the same dates cost $507.
7. Don't forget about Regional and Low Cost Airlines
A lot of the search engines listed don't always cover the small regional airlines. You can do a Google search for local airlines to find a lot of these. While some like Mesa Airlines contract out to major airlines like United Air Express or American Eagle, some operate independently.
Remember this when looking at this list. Airlines fly both ways which means you might score a deal from Europe to The Middle East using a Middle east Carrier or using a Latin American carrier to fly from the US to Latin America. So, checkout a few and see what destinations they service.
In the United States
Canada
Jetlines billed as Canada's first Ultra Low Cost Airline
Europe
Norweigan Air great fares from North America to Europe
Asia
Latin America
Africa
Middle East
Of course, there are others also.
Just remember when booking these airlines, some are very basic, you pay for a seat. Anything else might cost you, carry on or checked luggage, water, snacks, etc. Each airline has its own rules so check them out thoroughly. Also check what airports they use. Some use smaller airports far away from the large international airports.
You can however get some amazing deals with these airlines.
8. Use Airline Miles
Airline loyalty programs are not what they used to be but still worthwhile. By signing up for an airlines program you can accumulate miles toward future flights. A lot of credit cards will give you miles and some airlines have branded credit cards. American airlines routinely offer sign up bonuses for their branded card giving you up to 60k miles. Delta does as well.
Here is the trick with using credit cards to rack up miles.
Only use the credit card to make purchases you would normally make. Instead of using a debit card or non award card to book airfares use one of these instead. You can purchase your groceries, gas and other usual monthly expenses using a credit card and rack up points. There are sites that educate you in the ways of "Travel Hacking" to do everything from choosing the right cards to paying your rent with them.
Brian Kelly has been educating people for years on how to travel cheaper and more often using airline miles and deals.
Chris Guillebeau has a site that shows what you need to do to accumulate points and guarantees you will get 4 free trips a year as long as you remain a member.
There are also Face Book groups dedicated to Travel Hacking.
9. Change your location and check different currencies.
Remember "Dynamic Pricing"? Well, airlines think that customers in certain countries can pay more so they show higher priced fares. Instead of just searching flights to Asia using the company search page, most let you change your country. On Kayak, for instance, go to the bottom of the page where you can select your country and currency. You might be able to save several hundred dollars.
Lastly, sign up for airline emails. Many airlines send out specials, promo codes and flash sales to their email list.
I hope this helps in finding you some low cost airfares so you can travel more or travel to that exotic faraway destination you have only been dreaming of.
If you have some tips please leave a comment and feel free to share this.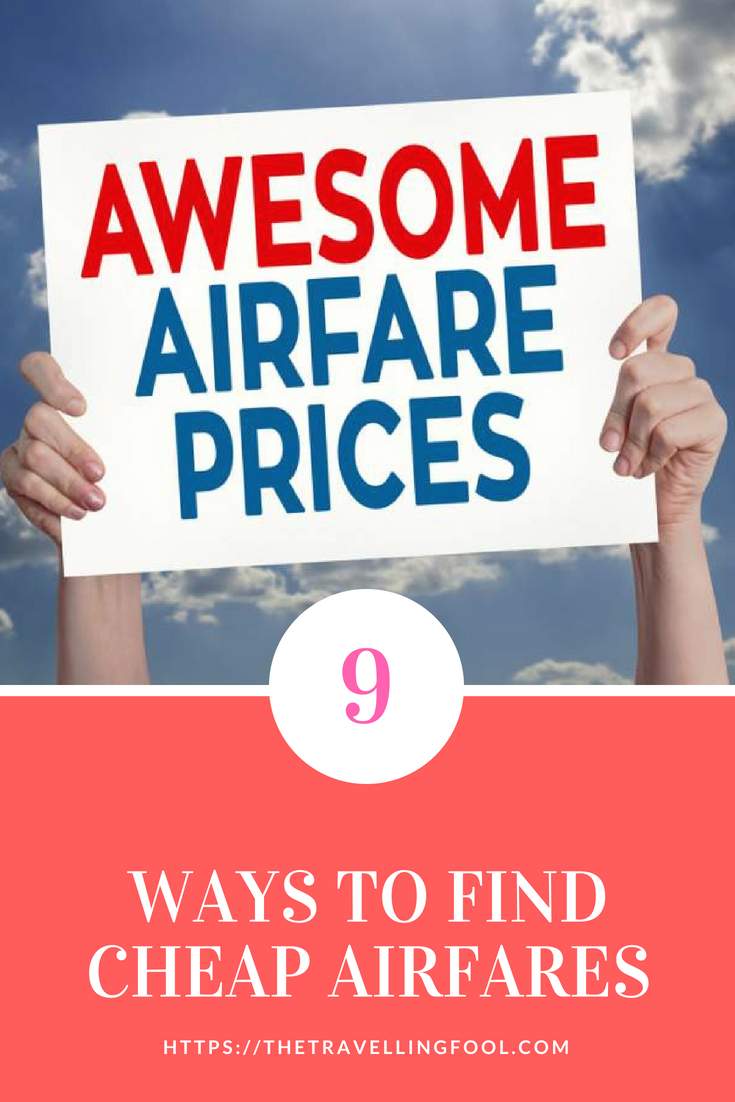 (Visited 1,193 times, 1 visits today)