One of the great things about island life is seafood fresh off the boat.
While staying at a small resort on Bantayan Island Philippines I was on the beach next to where the fishing boats come in. Having watched this daily ritual for a couple of days I ask the girl at the front desk of the place I am staying if they will cook some fish for dinner if I buy it. Once agreed I am off the next day to do some shopping.
Every morning between 7 and 8am the boats arrive with their catch of the day. The fishermen beach their boats and begin stacking the catch into a bag or small net so they can bring them onto the beach and have the women sort and weigh them.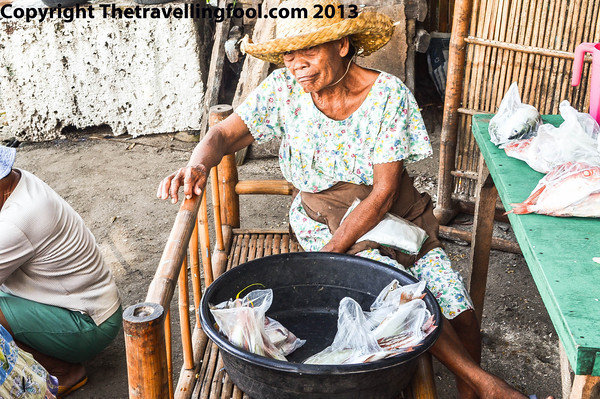 Occasionally you might see someone walking into the surf to negotiate directly with one of the boats or perhaps they had a special order that was filled. Pesos and fish exchange hands and another hard day at work is culminated in enough to feed the family for a while.
Meanwhile the women at the fishing shack are busy stuffing different types of fish into bags weighing one kilogram each. From here they either sell directly to those that come by, send over to the market in town, or walk around to the various resorts and restaurants in the area selling them out of a basket to anyone interested.
After picking out three fish weighing a total of one kilogram I hand over payment equal to $3.20 USD. Now I am sure I got the foreigner rate but still not a bad price.
I stop by the front desk and drop off my bag of fish and she tells me they will grill it around 6 pm that evening.
Bantayan is a great island to explore or just relax on the beach but all day I keep thinking about fresh fish. I even stop by the market and pick up some fruit and a few items to go with dinner.
Arriving back at my room I am greeted by the sight of the grill being brought out and the fish being prepared. Now I am more of a fish filet kind of guy. Here on the island the fish is cleaned, scales, head and fins left on and stuffed with onions, garlic and native limes then grilled.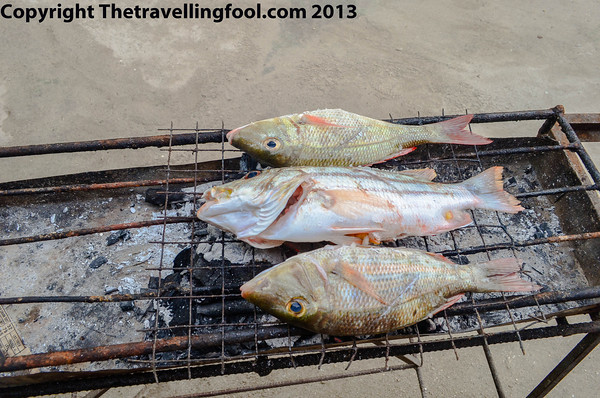 After what seems like three hours of me watching the fish being grilled which, in reality is about twenty minutes, the girl begins to plate the goodies. Knowing I can't eat three fish I tell her one is for her and the other staff to add to their dinner.
Soon fresh grilled fish straight off the boat arrives on the table along with slices of chilled fresh pineapple and mangoes. Too bad we don't have smell-a-vision at this point because it smells good.
Cracking open the fish the garlic, onions and lime come drifting out and even though it was grilled on a makeshift grill and served at a bamboo table on the sand it might as well be in a fancy restaurant with white tablecloths. The sweet pineapple and mangoes are the perfect side dish along with ice cold San Miguel Pilsner beer.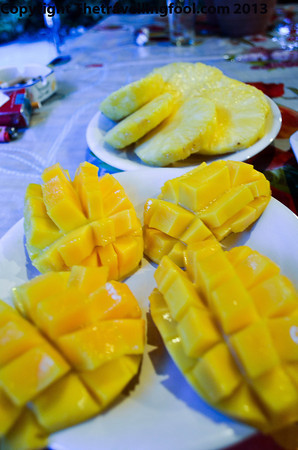 There is nothing better than eating fish straight off the boat.
Oh and as a side note I decided to stay on the island a few more days and moved to a different resort with a better beach. I am writing this now while sitting on the beach having a fresh pineapple shake and shrimp tempura.
Island life sucks doesn't it?
(Visited 724 times, 1 visits today)