The following is a sponsored post courtesy of Punta Gorda Florida however all opinions are mine
On a recent trip to Punta Gorda Florida with the guys from Men Who Blog we spent one morning having fun courtesy of the folks at Florida Tracks and Trails. Now there is a lot to do in the area including fishing, enjoying the beaches, eco tours and of course all the great food but sometimes you just gotta get dirty.
This place is big, with great tracks for motocross and trails for ATV's and UTV's along with a beach and paintball activities.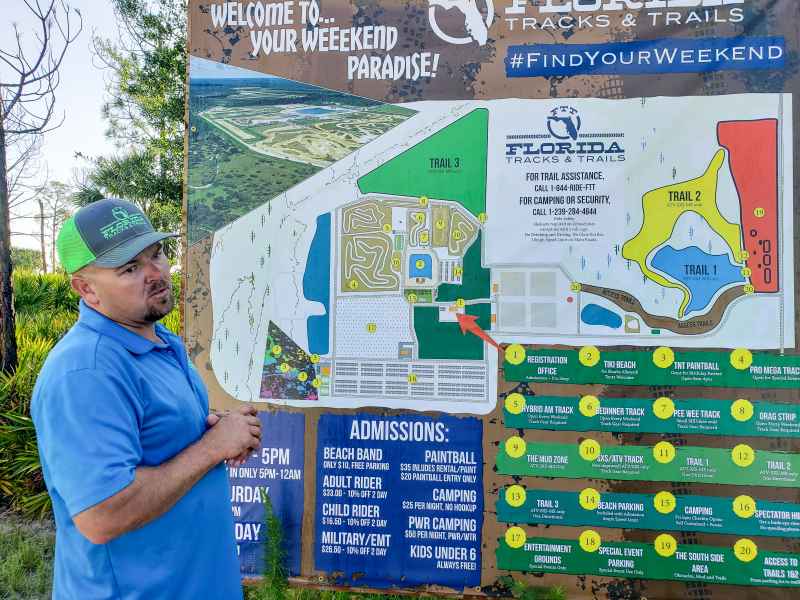 There had been some pretty hard rains the night before we showed up so the tracks had a lot of water on them. Now that can be good or bad depending on your perspective. For people who regularly ride on ATV trails probably not the greatest when there are huge pools of water 2-3 feet deep. For a bunch of guys like us out to have a few hours of fun? Well you get the idea.
There were five of us on the trip, Rick from Rick on the Rocks, Sujeet from Guys Gab, James from Mantripping, Steven from Travel to Blank and yours truly. We started off at the office where we signed forms regarding safety guidelines and other legal forms and got our helmets. While it is cool to have the wind rushing through your hair as you hit the trails, wear a helmet or you might not have a head.
Next, we headed out to get our vehicles. We were given a Polaris Ace 570, a 4 wheel one seat, enclosed ATV with a roll bar, a Polaris Rzr 900 which is a 2 seat UTV enclosed with a roll bar and a CanAm Outlander, a 4 wheel ATV which Steven and I took out. Ok just a quick note ATV is a one seat or motorcycle type seat vehicle while UTV is side by side seating.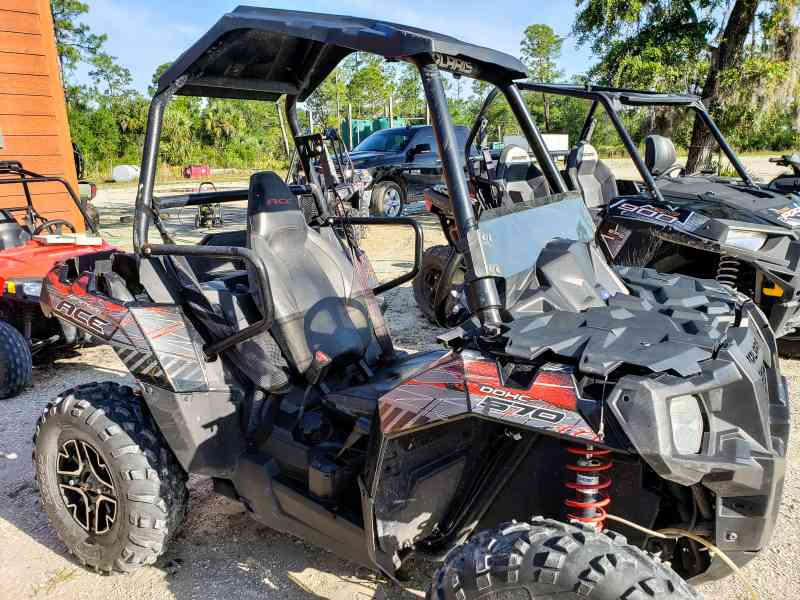 Since not everyone has a dirt bike or ATV, Florida Tracks and Trails has teamed up the folks at Florida Motorsports in Naples Florida to rent out a wide assortment of vehicles. You can rent an ATV, a 2 seater UTV or even a 4 seater UTV.
As I stated earlier this place is big, there are over 25 miles of one directional trails with twists and turns and a mud zone. Vehicles allowed on the trails include ATV'S, Dirt Bikes, UTV'S (side by sides), Go Carts (roll cages mandatory) and Golf Carts (off-road tires mandatory). When we were there we hit two of the trails and while we didn't go crazy we had to take the advantage of regressing to little boys and drive head first into flooded mud paths and make sure we sprayed water everywhere we could.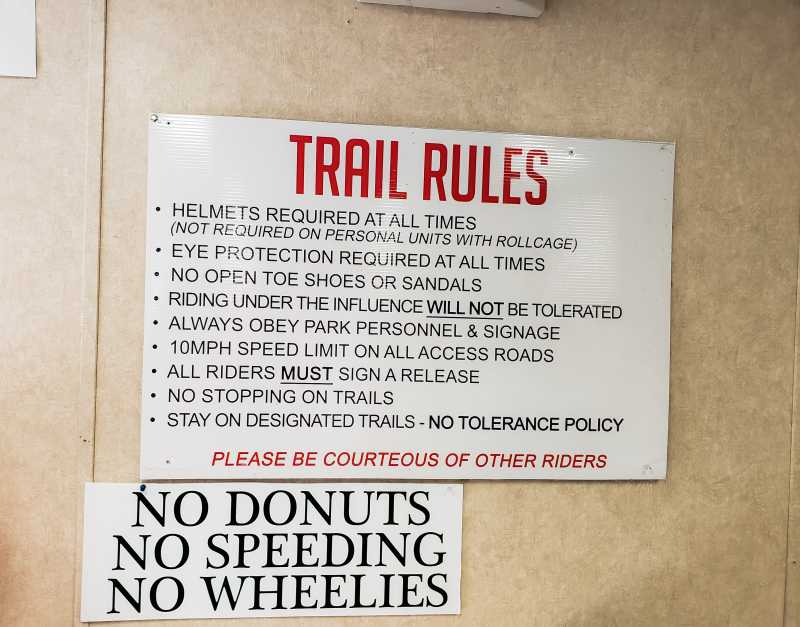 Florida Tracks and Trails also draws a lot of dirt bike riders with four motocross tracks including a Pro Mega track geared to advanced and pro riders. There are also beginner tracks and a pee wee track for the younger kids.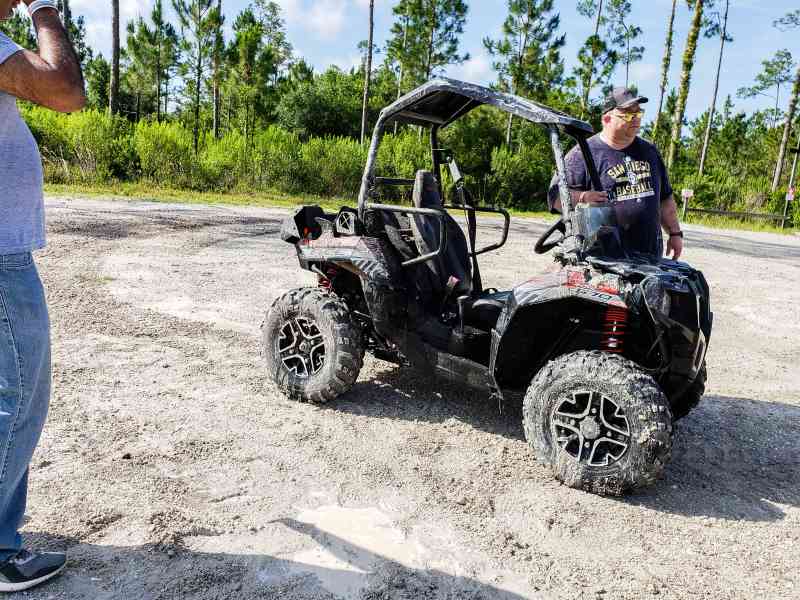 In addition to the tracks and trails for riding there is also a paintball area that includes five fields that include a wooded war zone, urban tactical sites, a hyperball field and two professional PSP regulation Speedball fields.
If you want to make a weekend out of it they have you covered there also. There are camping and RV sites with full hook ups and a fresh water beach so you can take a swim and relax after hitting the trails. The Tiki beach offers food and has a full bar. If you don't feel like camping there is a 2 bedroom 1 ½ bath rental available but you need to reserve in advance.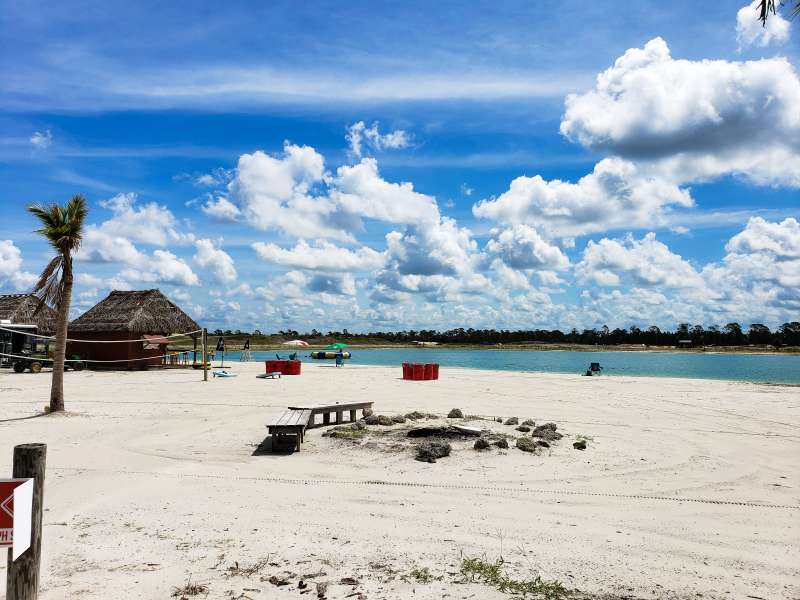 After spending a few hours riding the trails I can see why Florida Tracks and Trails is so popular. While they have their regulars that know about the place I think word is getting out to those that are vacationing that you can go, spend the day, and have a lot of fun. Whether you want to run around shooting paintball guns or hit the trails it is well worth your time to check them out. I know our group had fun. The only downside of the whole place was the bugs, but hey this is Florida get used to it.
The park is open every weekend and is located about 20 minutes from Punta Gorda Florida at 39450 Bermont Rd, Punta Gorda, FL and you can contact them at 844-743-3388
Fri Hours : 8am-4pm Track, Trails open until 5pm.
Sat Hours: 8am-6pm (Tracks close at 4pm)
Sun Hours: 8am-6pm (Tracks close at 4pm)
Looking for a Hotel In Punta Gorda? Check on TripAdvisor
(Visited 657 times, 1 visits today)