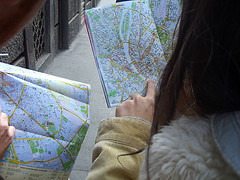 Image by skidder via Flickr
When getting ready for that long awaited vacation the internet can be a wealth of knowledge. It can also be a little time consuming having to search and sift through pages to get what you want. There are sites for getting the best airfares, hotel reservations and reviews, city and country guides. The list is almost endless. Here are a few tips to get you started.
First if traveling to another country your first stop should be The State Department Travel Page . From here you can get info on travel warnings and alerts, sign up for the Smart Traveler Enrollment Program which with send you updates on the country you are traveling to. The program also lets you register your trip so in case of an emergency in the country the US Embassy can contact you and if need be help in evacuating you from the country.
Next take a look at Trip Advisor from there you can get candid reviews from travelers regarding hotels and other information about the sights, nightlife and more. They do not list all the hotels but there is a good amount of information. Virtual Tourist is another good site with hotel reviews from travelers. For Hotels in Europe check out Venere you will find hotels and reviews not on other sites. For Asia check out Agoda . By checking one or two sites you can get candid reviews and photos from people that have been there.
For information on the location you will be traveling to go to Wiki Travel, type in the location and get info regarding attractions, nightlife, history of the city and more. Each month the site also showcases a place of the beaten path and you can uncover some real gems. While you are looking, open up a map and see what towns are nearby and check them out also. In Europe a nearby town is just a short train ride away. Once you get to your destination pick up a pocket travel guide and you might find a few more places of interest.
You can also check out forums pertaining to the place you are visiting and get some good info from others.
By using these sites you can get a good picture of where you are going, hotel reviews and what attractions you might want to visit. While it doesn't have to be planned out for every minute and every detail it does help to have some information before leaving home.
(Visited 150 times, 1 visits today)