I hate traveling. Let me explain. I love getting to a new place and seeing everything there. The people, culture and experience of being somewhere new is why I love travel. I know you're confused right? Okay here goes. The physical part of getting from Point A to Point B just rubs my butt like a city dude on a horse.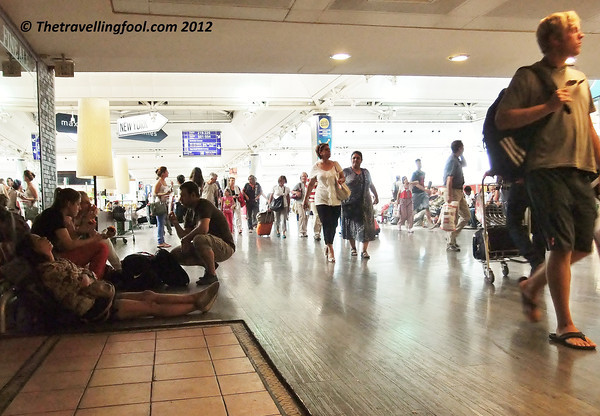 This last trip was a fine example. I had two layovers, one for eight hours and one for five hours. It took all my will to survive airport hell. Once you get past the overpriced crap at duty free and the cup of coffee that costs more than Middle East crude oil, the mediocre restaurants with prices the equivalent of Peter Luger Steak House in New York, what is there to do?
Please, tell me. It seems I always get stuck walking behind three people taking up the room of a marching band but strolling slowly along as if they were walking a dog in the park. And then they stop. STOP! They just stop and look around pointing at something. I want to yell, move the hell out of the way! Maybe a portable air horn like they use at sporting events. Just blast it.
If you're lucky you can find a place to park your tired sore butt for a little while. It won't be at the food court though. Buy something and try to find a seat and what you find instead is a bunch of people not eating but parked out with all their crap on the tables and chairs half asleep. Even if you do want to pay triple the price for a hamburger where do you sit? Get lucky and find a chair somewhere in the waiting area or the departure gate and you have hit the jackpot, a decent size seat where you can relax.
This brings me to the airlines. The seats at the departure gates are semi comfortable, usually wide enough to relax and stretch out a little. Although I usually wind up next to someone with their shoes off, feet on their carry on like they were in a recliner and snoring. But why are the seats at the gate the size they are only to get on the plane and be squeezed into a seat one third that size? Are the airlines just messing with our minds? Like a car dealer using the old bait and switch. They get you thinking, hey this isn't bad and then they get you on the plane, lock the doors and switch the mid-size seat with the economy version.
Unless you pay a lot of money or have the miles to get into business class you are relegated to economy hell. They won't even let you peek into business class. Go ahead, try to move the curtain. You will be staring at the eyes of a flight attendant looking like a school principal that caught you in the hallway while class is in session.
Yes, Economy Class, the airlines version of a livestock trailer. Sitting closer to complete strangers than you did with your date in High School. My last flight I was behind a very hairy guy wearing a sleeveless shirt, shorts and crocs. Next to me was a young lady with her pink pillow curled up in the fetal position and sleeping and across the aisle was a middle aged woman in sweat pants, a yellow shirt with a picture of a cat with some damn cutesy saying on it and bunny slippers. I swear, bunny slippers.
I am not saying you should wear a three piece suit but damn people; you don't have to look like someone getting arrested on one of those police reality shows or dressed like you are at a teenage girl's slumber party.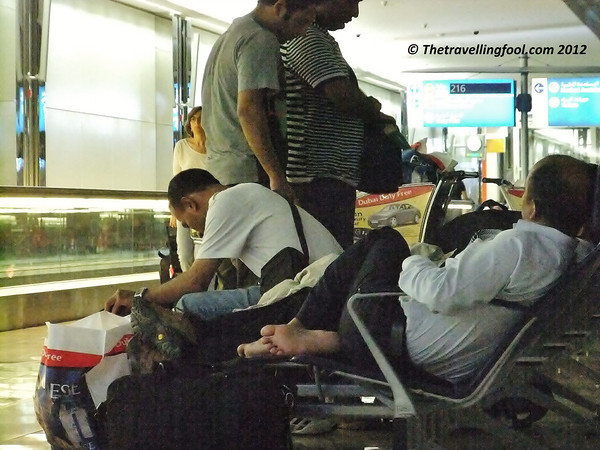 And why is it that the guy who hasn't taken a shower in the last 48 hours wants to take his shoes and socks off? I would punch my brother if he did that next to me and I don't know you.
Crying babies, kids that want to stare at you or poke you, the guy eating his favorite curry dish he brought with him on the plane and the woman laughing out loud at the movie when I am trying to sleep. It is no wonder that you hear about a flight attendant snapping and going postal.
I need someone to hurry up and invent a transporter like in the Sci Fi movies. Just zap my ass to my destination so I don't have to put up with traveling. Until then I guess I will take a sleeping pill, loosen my pants, slip my shoes off and go to sleep until the flight arrives. I promise I will try not to snore or pass gas.
(Visited 9 times, 1 visits today)