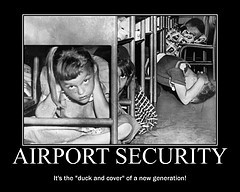 Image by dmixo6 via Flickr
Well I leave in 24 hours so I won't be posting for a couple of days. Taking this last day to finalize everything, packing, getting copies of reservations and passport printed, and a few other final touches. Then I will off on what is assured to be a cramped, overcrowded flight. Two stops which isn't too bad, gives me chance to stretch my legs. That's the only part of traveling I don't like, dealing with long lines at the airport and cramped planes.
Air travel has evolved from anticipated pleasant experience to more of a journey in a cattle car, unless you get Business or First class. Oh well what are you going to do? Unless you splurge for upgrades it is what it is. At least when I get there I can relax and enjoy what I like doing best which is experiencing different cultures, foods and sights. And on the bright side I get a little action at the TSA patdown area.