Taking advantage of a long weekend I decided to take a road trip from Kosovo to Lake Ohrid Macedonia and spend a few days. I will be posting some articles of the trip over the next week or so. However as a tip for anyone driving or hiring a driver to get from Kosovo to Lake Ohrid I offer the following.
First, You can get to Skopje Macedonia by bus or taxi from Kosovo and then take a bus to Lake Ohrid. I decided it would be better just to get a taxi to take me the entire way so I could save a few hours. The driver did not go through the border near Skopje but instead went a shorter way over the mountains and through Tetova in order to get there.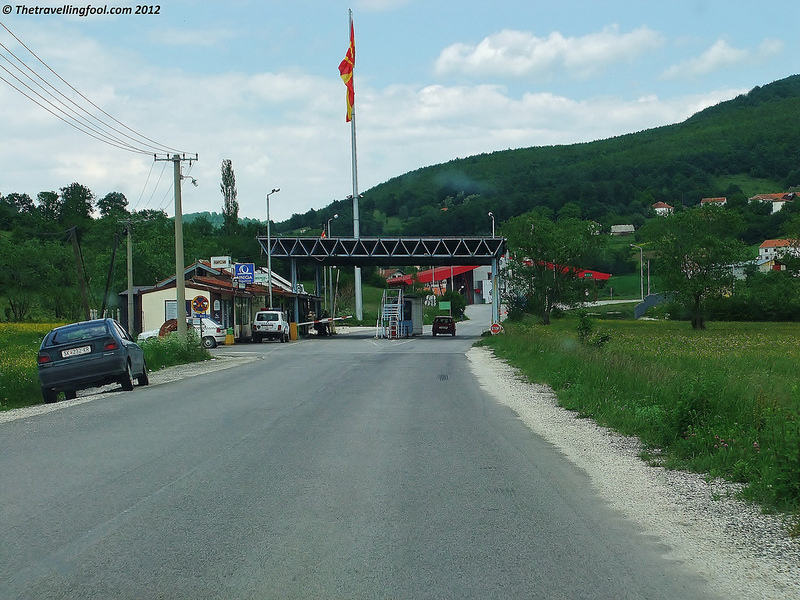 This has pros and cons. Pros are it is shorter and great scenery. Cons are if your driver doesn't know what he's doing your day can turn bad real quick. The road is over the mountains and is nothing but a series of turns going either uphill or down.
People drive fairly fast and although I have been told they are taught how to drive I sometimes wonder. It is not uncommon for drivers to pull out in front of you or turn in front of you. This is a fairly small road when passing trucks and going fast can get you in trouble.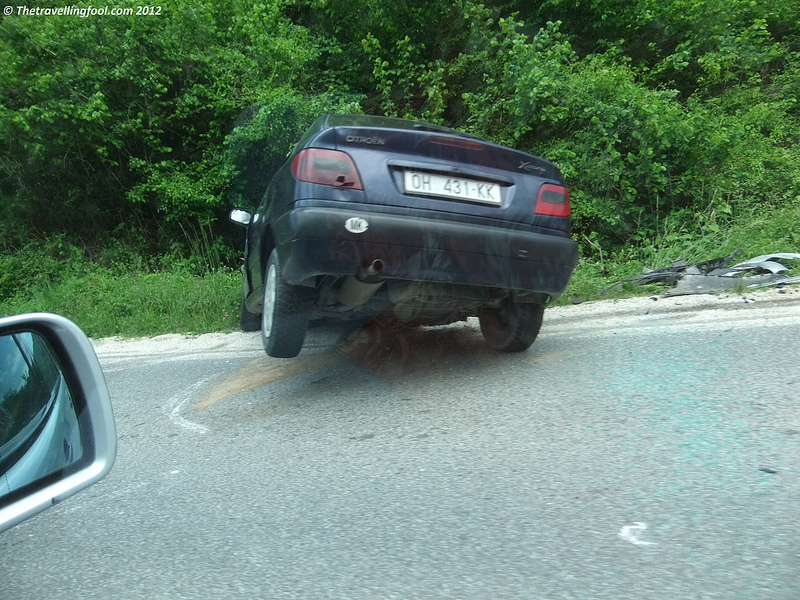 This was actually a head on collision that happened on the road. The other vehicle is off to the right of the photo. I tried to get a shot of both vehicles but my driver was going fast also.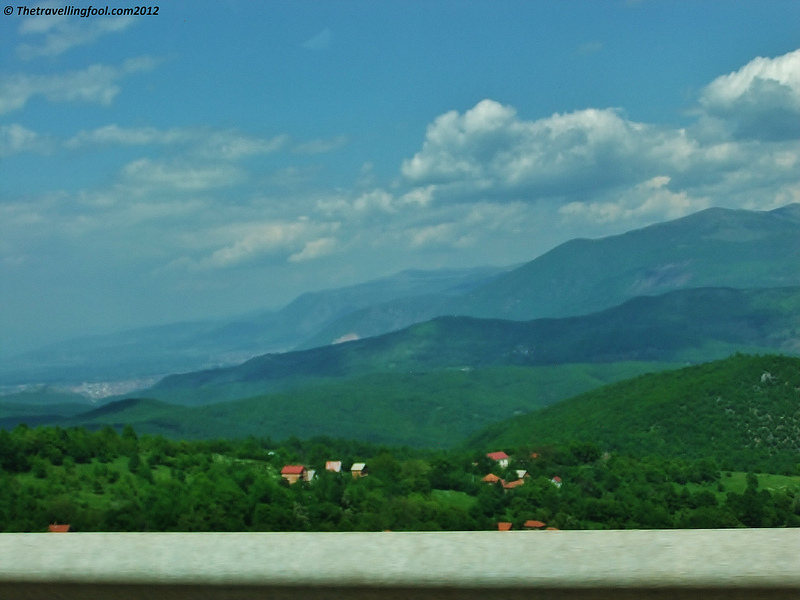 As I said the views are great and you can see throughout entire valleys.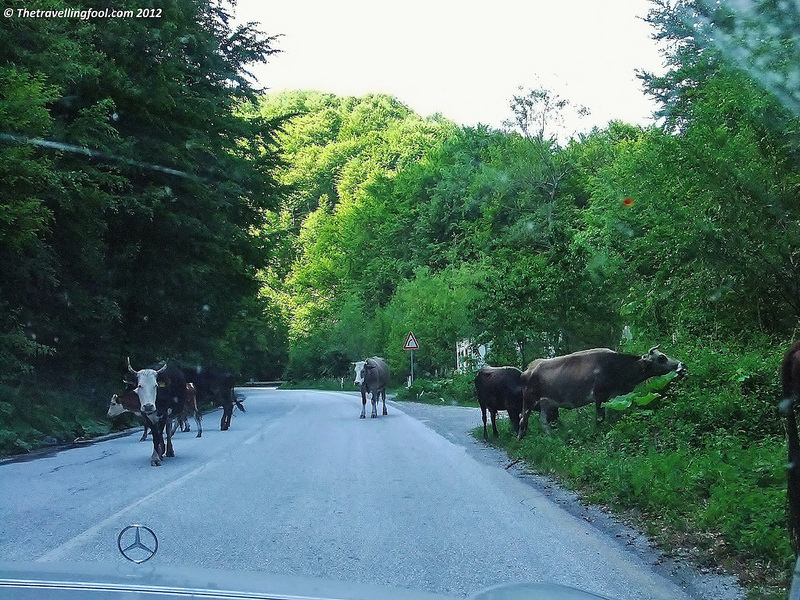 Watch out when you take those turns because you never know what might be in the road.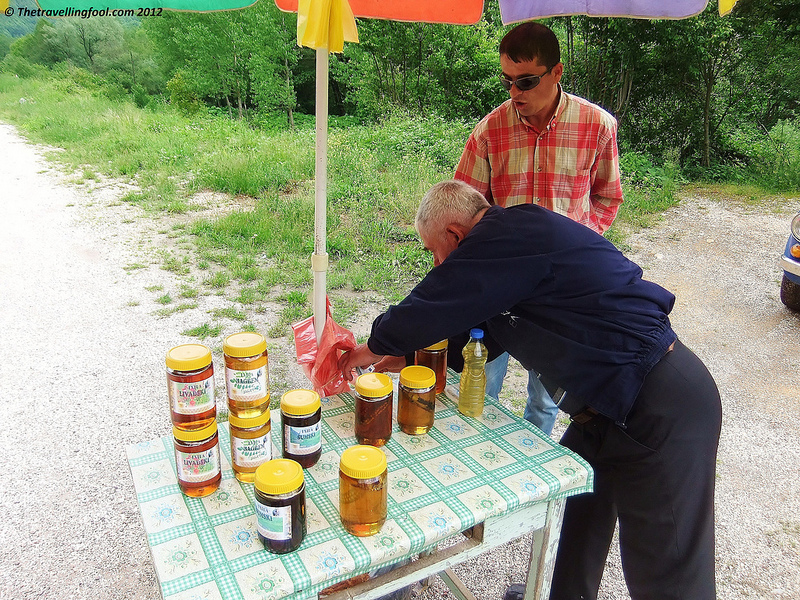 The good thing about a road trip is stopping along the way. After crossing into Macedonia you will see several vendors selling honey on the side of the road. My driver was correct when he said this stuff is really good. A jar should cost anywhere from 3 to 7 Euros depending on light or dark. I bought the medium amber colored and it was 5 Euros.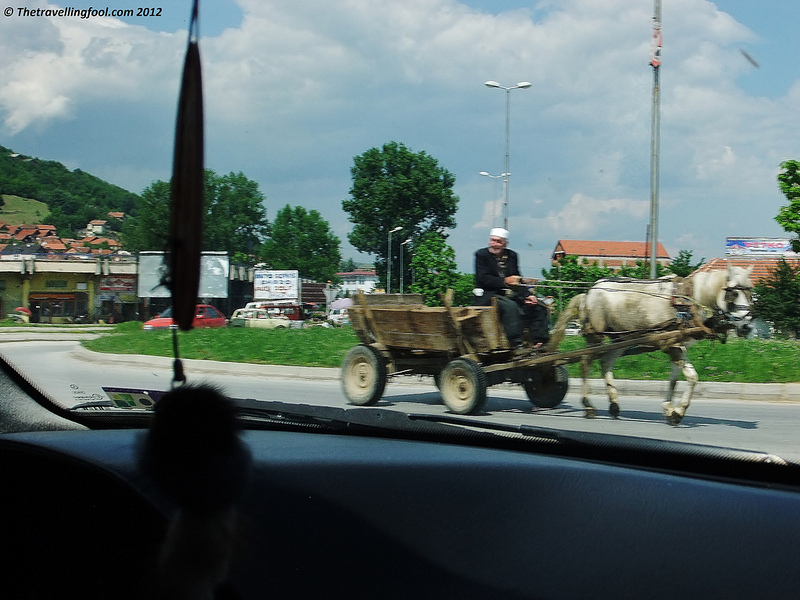 Once you get into Macedonia and the city of Tetovo you still have to watch out for everything from bicycles to horse drawn carts.
Traveling through Skopje it should take you 3 to 3 1/2 hours from Skopje to Lake Ohrid by bus. I traveled from Kosovo to Lake Ohrid using this route and the entire trip was about 3 hours.
Lake Ohrid was beautiful and the road trip was definitely worth it.
(Visited 63 times, 1 visits today)