Sometimes when you are traveling around you come across strange, confusing or funny signs. Sometimes this is due to a bad language translation but sometimes it is just funny. I have run across a few of these during my travels and am sure you have seen a few also. I decided to ask a few of my travel blogging friends if they had also come across some funny signs during their travels they responded with sending me a few that they had encountered.
If you look around you can find funny signs everywhere. I came across this sign in the Philippines. It was located behind a church on the island of Bohol. The thing is, you know that they must have had problems for them to erect a sign telling would be lovers to stay away.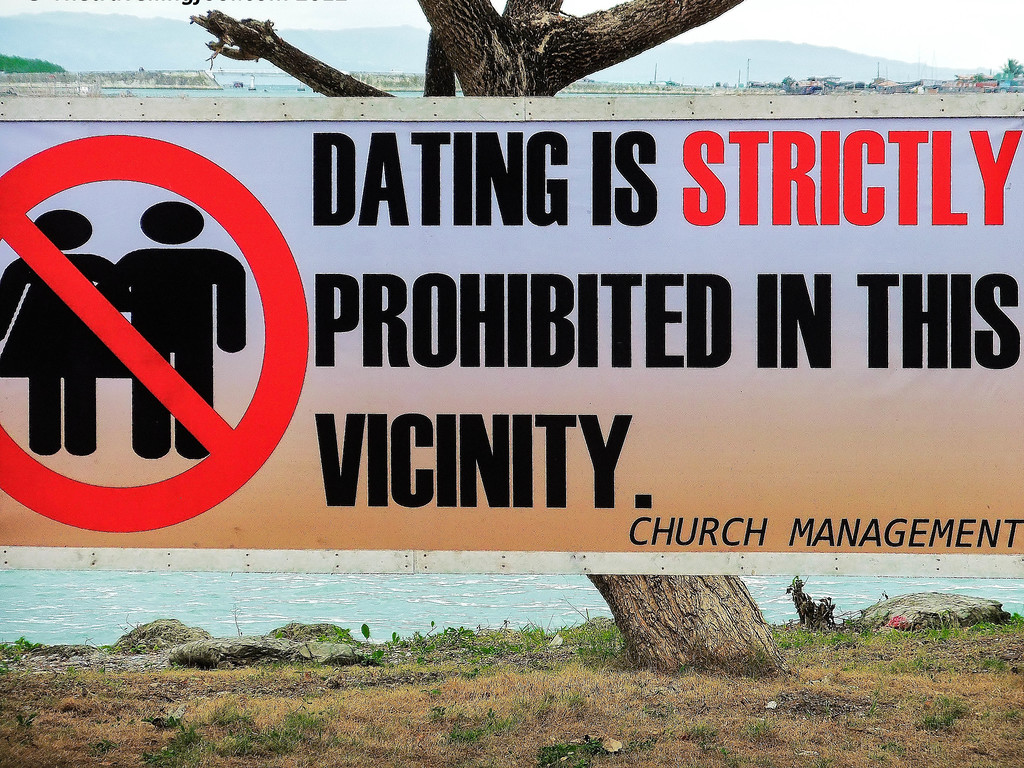 Another one I discovered in the Philippines. Yes, I know that it is fried fish and meat balls but still I found it funny as hell when I came across it at a Food Market
I saw this one in Houston, damn near had a wreck. I wonder how many people didn't bother to read the third line and visited the bar?
Danielle Ditzian from Like Riding a Bicycle sent in this photo from San Pancho, Mexico. Sometimes you just gotta have a drink and when the drink emergency strikes it's good to know exactly where to go.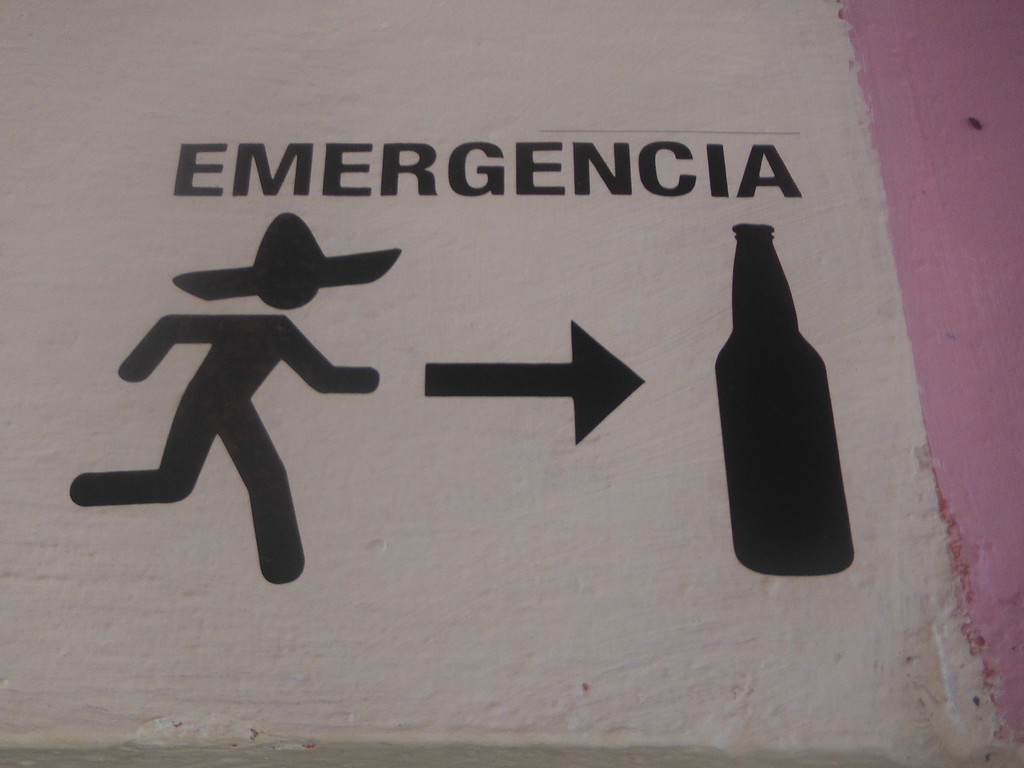 Chris Backe from One Weird Globe sent me a couple of photos. The first one was taken at the International Flea Market in Auburndale, Florida, where he came across this… interesting one… I get the dogs, the hover boards, the skateboards… but the snakes?!

The second one is from Naples, Florida, in the Marco Island area – while approaching the island he saw these signs a couple times. Apparently they really do have panthers trying to cross the road…
Charles McCool from McCool Travel sent this one over. It is on the ferry boat in Quebec City. What does it mean? No one could quite figure it out. I call it, "No disco dancing allowed."
Lotte Eschbach from Phenomenal Globe Travel snapped this photo while traveling in Japan. Lotte stated "The illustrations alone were very enough to make me laugh out loud. But what was even funnier is that a couple of Japanese girls were feeding the deer and then started screaming when the deer kept chasing them for food. Seriously, what did they expect!"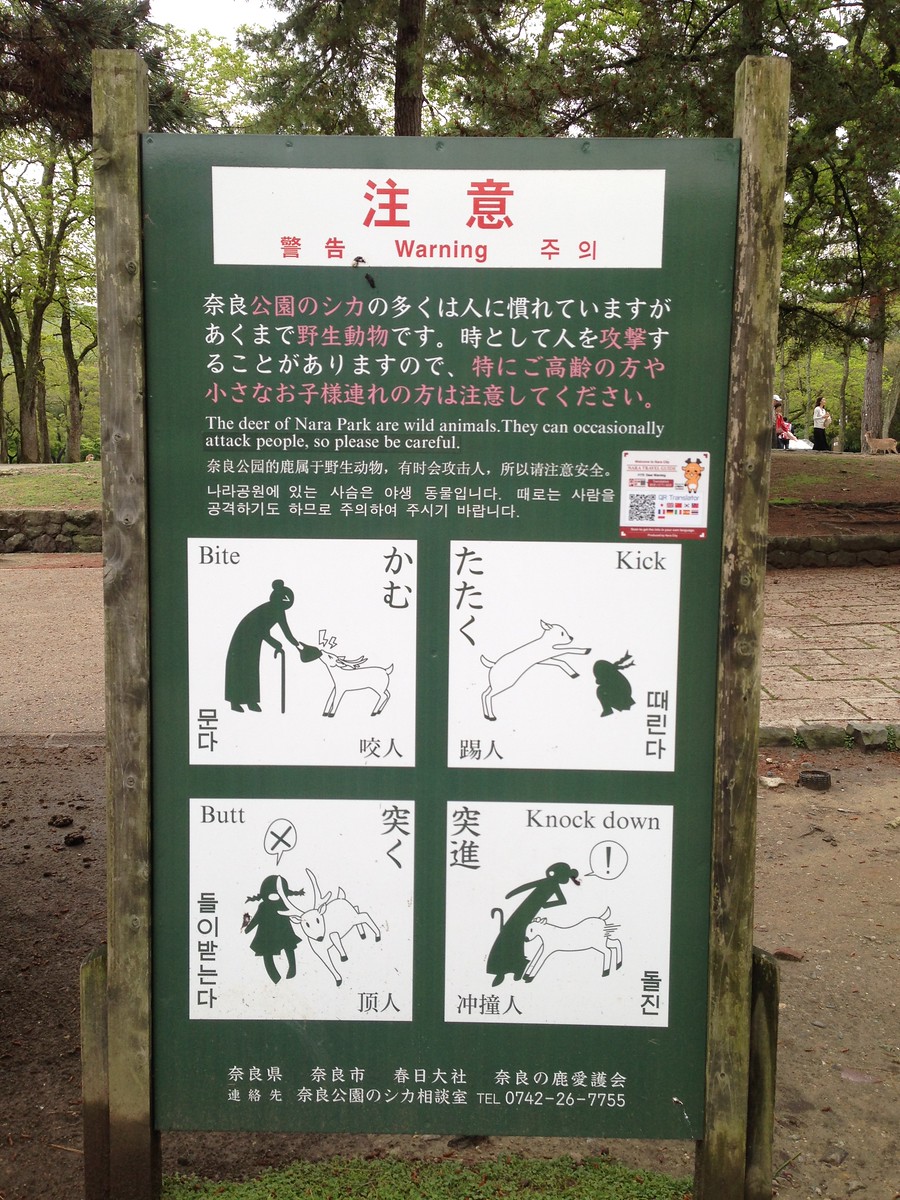 Amanda Kendle from Not a Ballerina also sent in one from Japan. It was at a shop in the onsen, which is a Japanese hot springs, town of Arima in the mountains above Kobe, in a stall at the front where they were selling the special local snacks, a kind of hot biscuit.

Geoff & Katie Matthews from Wander Tooth submitted this hilarious sign. "I spotted this advertisement for a hair salon while wandering around the Mehringdamm neighborhood in Berlin, and had to take a quick photo. My German is rusty at best, but it translates something along the lines of "all the best hairdressers in the world." I was very tempted to stop my errands for the day and get a haircut, just to see whether the sign was sarcastic or not, but alas I chickened out!"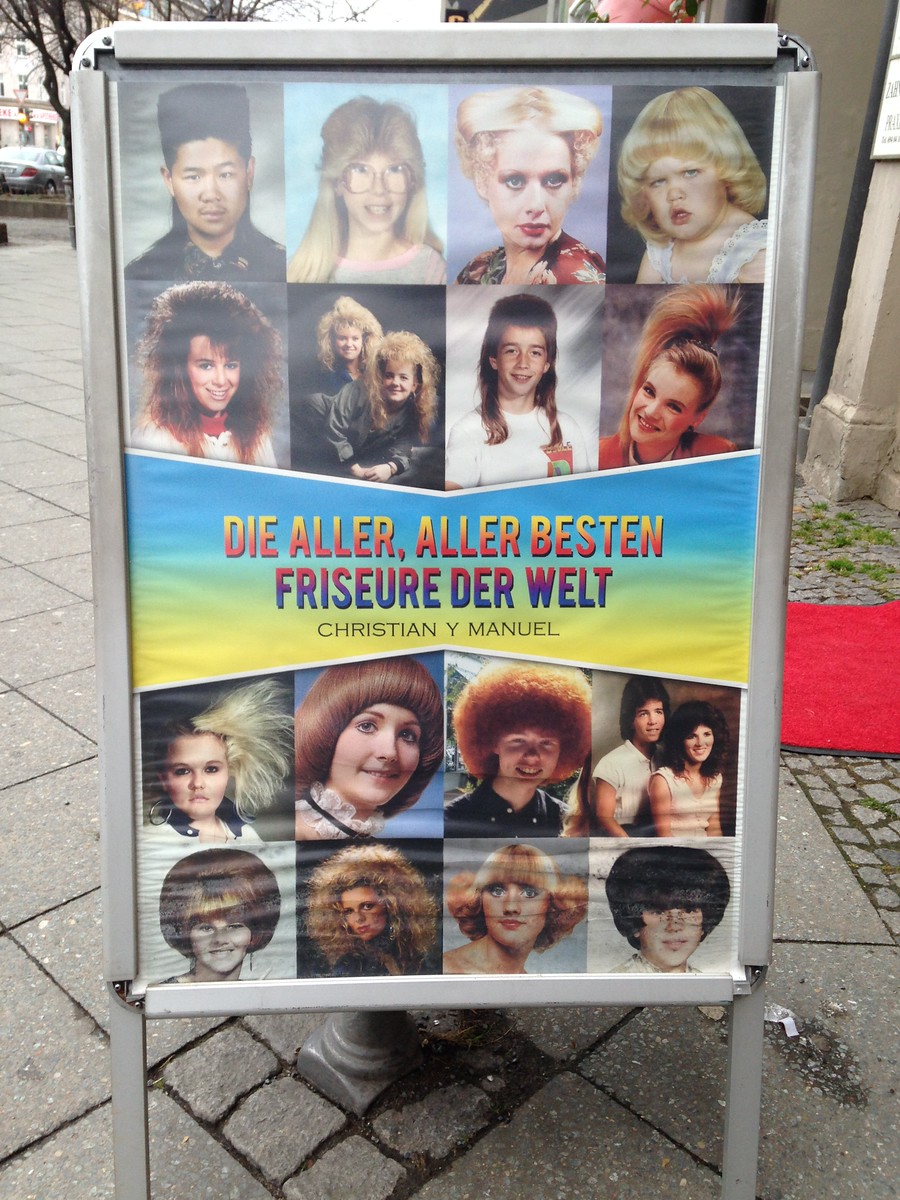 Jürgen Klein, who runs the popular website Dare 2 Go, submitted this entry. He snapped this photo in Agua Azul in the south of Mexico.

Gabor Kovacs from Surfing The Planet saw this photo in Bangkok. He came across this funny toilet sign in the biggest market of Bangkok, the Chatuchak Market. I guess you have to Run, Stop, Sit. Kind of like Stop, Drop and Roll.
Sue Fockner who actually runs a yachting business in Turkey sent me two photos. The first picture is from Istanbul, Turkey – a souvenir shop near Topkapı Palace.
The second picture is from a bus stop in Ölüdeniz, Turkey. It is a little blurry because she was on a moving bus and grabbed a friend's point and shoot camera to capture it.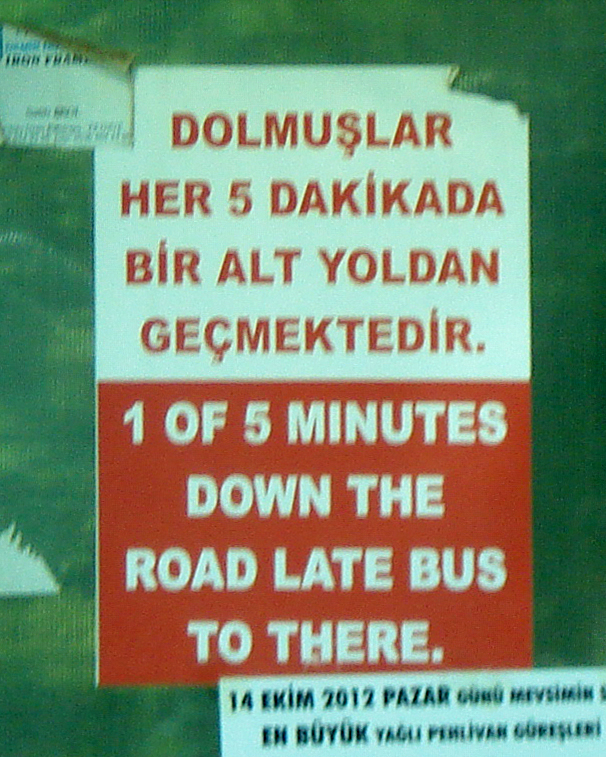 Tom Stevenson from The Travelling Tom took this photo in Australia. "I came across this sign when I was traveling through Wilson's Promontory in Australia as part of a road trip from Adelaide to Melbourne. At first, I didn't really notice anything strange about the sign. It wasn't until my friend, driving our camper van, stopped next to the sign that I realized it had been tampered with! It certainly made us laugh and confirmed that the Aussies like one as well!"
Mikkel Paige from Sometimes Home just got back from a trip to Thailand. While there she came across these two signs. The first one is from the BTS train in Bangkok. Notice the Monk on the far left?

The second was taken at the airport in Phuket.
Maria Lisboa from The Wanderer's Chronicles saw this in Florence Italy. "We saw this sign in Florence, on our way to Piazza Michelangelo. These kinds of signs were all over the town and eventually we found a shop where they sold stickers with all kinds of traffic signs customized in this funny way."
Betsi Hill from Betsi's World took this photo in Key largo Florida. "We ran into this sign in Key Largo, Florida at Jules Vern Undersea Lodge."
Here is the dangerous "Sea Serpent".
Rosemary and Claire from Authentic Food Quest saw this in Bangkok. "This funny sign just cracked us up. How exactly does one use the toilet seat by stepping on it? This question continues to baffle us to this day. Nevertheless, we took this shot while using public restrooms in a shopping mall in Bangkok."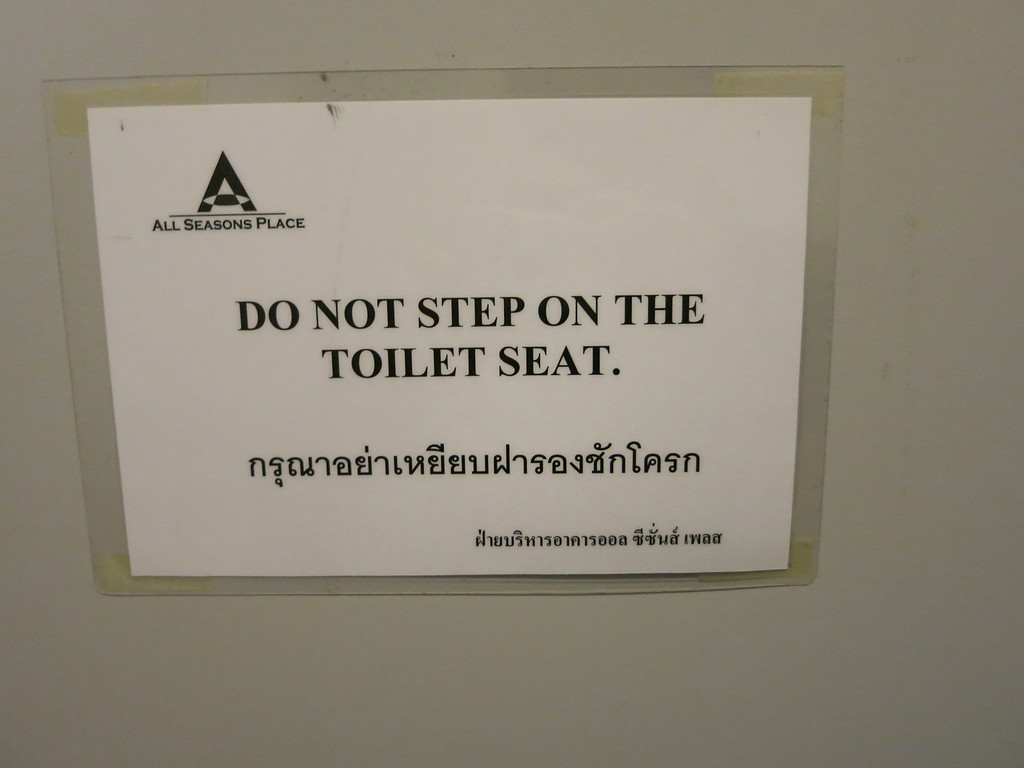 Mark Wyld from Wyld Family Travel was in Poland when he saw this. "I found this sign in Wroclaw Poland. It was located on the edge of Wroclaw old town. I thought it was rather cute and unique as I have never seen one like this before." The Poles are friendly people.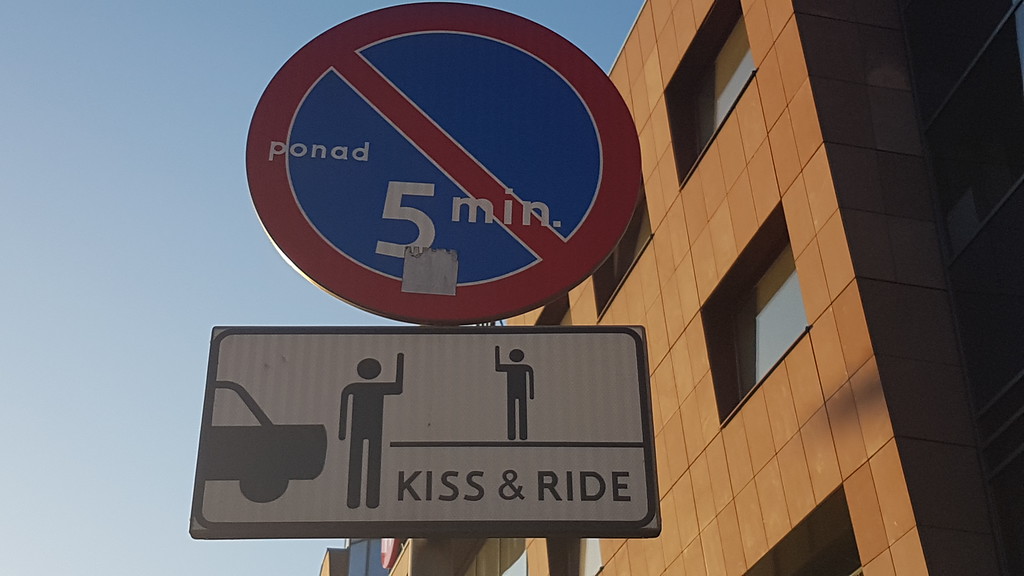 Danielle Desir from The Thought Card submitted this. "

Since I had only seen Clet Abraham's street art in Paris, spotting the French artist's silhouette in Florence was a refreshing sight to see. This Christ figure perfectly captures Florence's deep Christian roots in a whole new way. Next time you're in town, make sure to pay attention to all of the street signs, posters and door knobs while admiring the architecture."
Katie Ford from Study Hard Travel Smart saw this one in New York. "I found this today on the Brooklyn Bridge and thought it was great!"
Chrissy Manika from Travel Passionate saw this one in Greece. "I stumbled across this funny sign at the St Paul's Bay beach in the village of Lindos Rhodes. Obviously, no ball games are allowed on the beach!"
Julie McCool from Fun in Fairfax Va sent in this one. "This funny sign warns hikers of a hidden danger in the field at Turner Farm Park in Great Falls, Virginia, a short drive from Washington DC. Also used by horseback riders, the field may be festooned with an unwelcome surprise for those on foot. We particularly love the crazy "broken leg" angle on the faceless man's leg as he deftly avoids a pile of horse poop."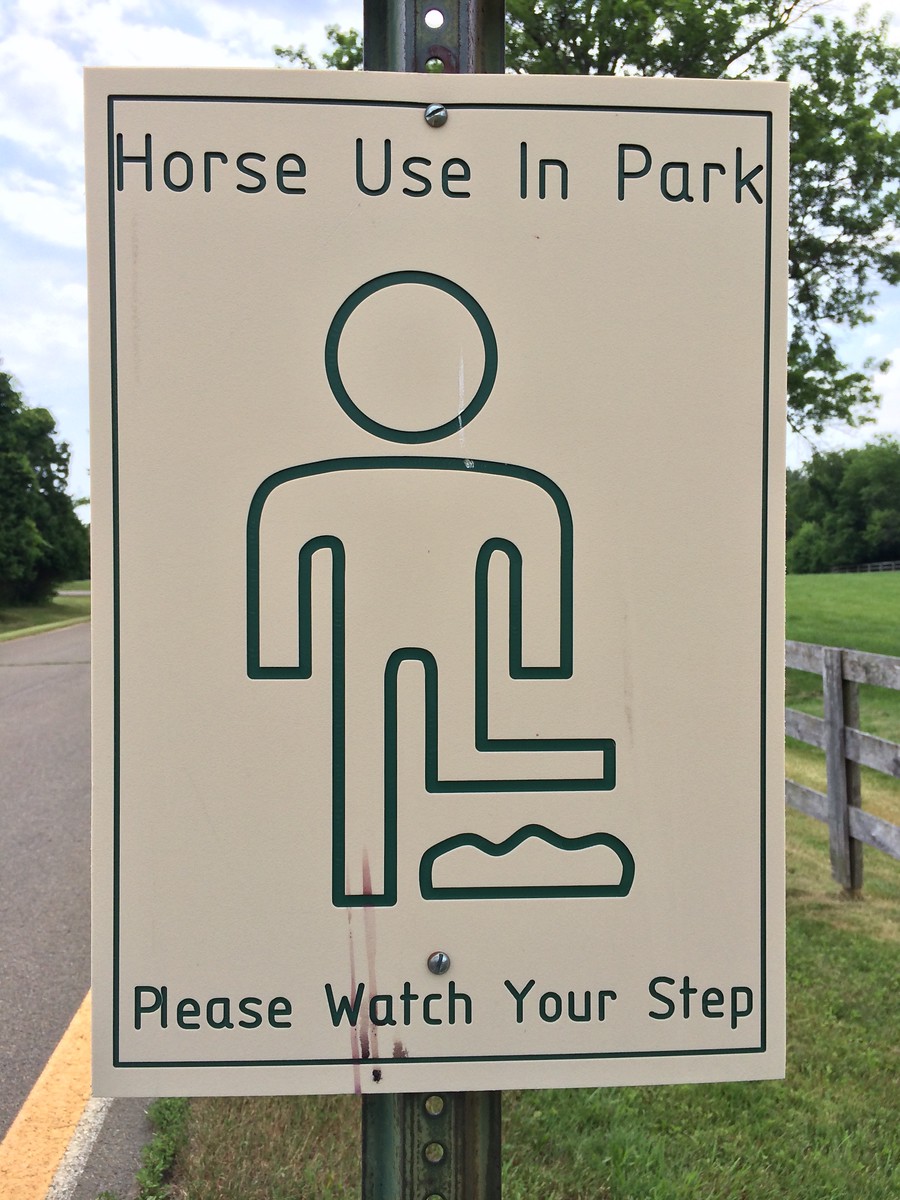 Stefan and Sebastien from Nomadic Boys found this in El Nido, Philippines and struck a pose.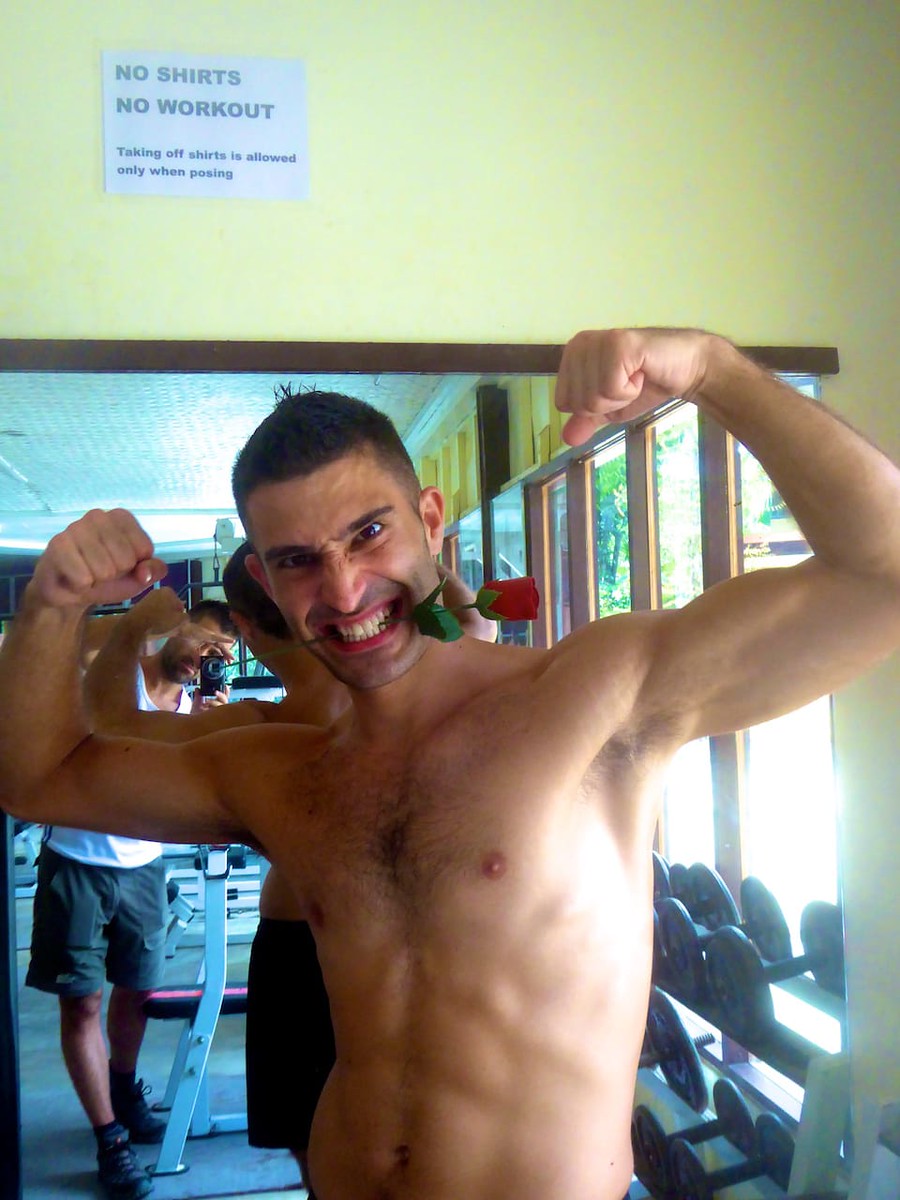 I have learned a few things while traveling and one is to always look around. You never know what you might see. You never know when you might come across strange, confusing or funny signs when you're traveling so keep that camera ready.
I want to thank everyone that submitted photos and if you get a chance head over to their site and check them out. Some great stories there.
Have you ever run across any funny signs that made you chuckle or was just plain scratch your head confusing?
(Visited 2,480 times, 1 visits today)