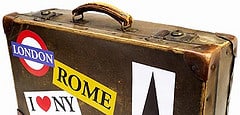 Image by John Barnabas Leith via Flickr
Crunch time, 48 hours until I leave for my first trip to Thailand. I will be gone almost a month and although I don't really follow an itinerary I usually have the first part of the trip planned, so let me go through my checklist.
Plane tickets, check just need to print out the e-ticket and I have it saved on the desktop of my netbook which I will be taking. A lot of people leave computers behind but I like the option of staying connected when I need to so I have a Toshiba netbook. Weighing in at under 3lbs and a battery life of 7-8 hours it is great for web surfing and checking email and fits easily in a backpack.Plus I can keep copies of my passport, tickets and reservations handy. Of course the other option would be to put that data on a flash drive and tuck it into a side pocket.
OK gotta get back on track, Hotel reservation check. I will be arriving around midnight and since I don't want to be stuck somewhere I made a reservation for 2 nights at a hotel. That gives me time to decide  what I am going to do and where I am going to go.
Passport, check, along with 3-4 color copies I can carry and tuck away in bags. Makes it easy if a bag gets misplaced or if you loose your passport it helps in getting a new one.
Medicine, check, not only any medication needed for the trip but also things like a small bottle of aspirin and a few Imodium tablets and anything else you might need on short notice.
Dog food, check. I know, I know it's not for me. Well there was this one time when I had way too much to drink that I … never mind. I have a couple of dogs so I made arrangements for them to be taken care of and fed while I am gone. Gotta remember those dogs, cats, birds, snakes, whatever. Make sure you leave them adequate care while your off trippin the globe.
Ok that's good for now, 48 hours, I have time to finish up the rest and not be rushed. What the hell am I forgetting?
Did you enjoy this article?
Subscribe for Updates
I promise not to bombard you with emails and I will never sell or share your information with anyone.