I like reading

travel blogs

. I get inspiration, ideas and insight from people that travel the world. I am always looking for new Travel Sites that are well written and offer the reader something. Whether that something is a how to guide, a descriptive destination report or a close up look at people and cultures. I also like to share my discoveries with others and although the following people have a loyal following already they might be new to some of you.
In 1999 Earl decided to reward himself with a little 3 month trip. Twelve years later Earl is still traveling the world and so far has logged 6 Continents and over 70 countries. Earl takes on various jobs throughout the world and when the urge hits him he hits the road. In one story he will tell you about being questioned by US Customs because of what he was carrying and where he had been to eating the biggest Schnitzel he has ever seen. And if you think that all bloggers ever write about is white sand beaches, European Architecture or the top 10 party towns then check out Earls entry regarding one of his volunteer jobs.
Wild Junket is the creation of Nellie Huang, who is not just a blogger but a travel journalist. In other words she makes a full time living at it and has had her stories published in various newspapers and magazines. She has a way of making you feel like you are sitting around having a drink together while she relates stories of her latest trip. With the photography and the way she describes the various locations she has been, it is no wonder that she is one of the top travel writers today and it has garnered her a huge following. This post of her trip to the Amazon Rain Forest in Ecuador is one example.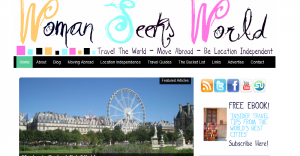 This blog by Nicole is a little different than most. While she writes about destinations and gives the traveler insights for what to expect, she informs people on how to travel and be location independent. From giving you information on solo travel, funding your travels, checklists for moving abroad and setting up a business that is location independent, her articles are written by someone who has done it and is willing to part with her knowledge. Check out her article on how to be a location independent freelancer.
Check these travel blogs out and you will discover well written, informative and insightful articles from some of the best bloggers on the net. I will bring you more of my favorite blogs later.
Did you enjoy this article?
Subscribe for Updates
I promise not to bombard you with emails and I will never sell or share your information with anyone.