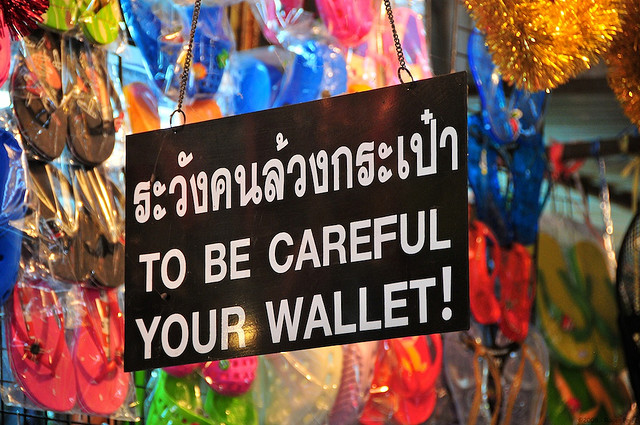 I wanted to share a travel warning with you. This particular scam has been going on a long time but it seems there is renewed activity in certain places. Travel has its pitfalls and whether you travel solo or in a group you need to be mindful of your surroundings and be security conscious.
Travelers to Asia seem to be particularly targeted in this scam. It is one where unsuspecting people are slipped a drug and their possessions wind up missing. Now I know what your thinking. The dirty old man deserved it when he took that pretty little thing to his room. This however has a twist.
It seems Starbucks in particular and other coffee shops in Bangkok and Pattaya Thailand along with coffee shops in Makati Philippines have been the location of choice lately.
Reports from authorities are saying two separate gangs in Thailand, one Filipino and one East African are approaching unsuspecting people at Starbucks and other coffee shops and striking up a conversation. You know how it is, you meet people they are curious or fellow travelers and start talking about each others trips, sights to see and so on. During the conversation a drug, suspected of being an animal tranquiler, is slipped into the coffee and usually within 10-15 minutes the unsuspecting party has dozed off. At this time the thieves take off with the wallet, purse, laptop or whatever and just blend back into the crowd outside.
Authorities in Makati Philippines have reported similar crimes lately as well as a few cases in Hong Kong.
As with anything else this should not stop people from traveling and having a good time but people need to be aware of what is going on around them. Don't accept drinks from "your new friend". Don't leave your drink unattended at the table and use the mindset that travelers are always targeted in any country by thieves.
In India there have been some similar incidents happening to train travelers. Recently authorities found 10 people drugged and robbed of their belongings while on a train. Cell phones, watches, cash and other valuables were taken. A link to the story can be found HERE
So the rule is have fun but be careful. Check out the latest Travel Warning for the country your visiting, use common sense and look out for each other while traveling.