The following article contains affiliate links
Who doesn't enjoy a lovely beachfront resort? You just want to get away and unwind after spending time stuck in traffic to get to a job where you spend time dreaming of being somewhere else, right?
Beach resorts in Texas provide visitors with an excellent experience as well, despite the fact that beach resorts in Florida, the Caribbean, Mexico, or even Europe or Asia receive a lot of attention. Now there are some great Texas beach towns and a lot of hotels near the beach and some even directly on the beach but for this list, the beach hotels and resorts had to offer more than just a room in a motel on the beach. Some are more luxurious than others, but all of the Texas beach hotels listed make for a great beach getaway. So, with that being said the top 10 Texas beach resorts are listed below.
GALVESTON
The Galvestonian
The Galvestonian is not a hotel but bills itself as having resort condo rentals with direct and private access to beach. Located on a strip of East beach less than 2 miles from the main tourist areas of Galveston, the Galvestonian gives you the opportunity of staying in 1 to 5 bedroom condos complete with kitchens and private balconies overlooking the beach. Also on site are tennis courts, a pool elevated on a deck so you can enjoy the beach view, fitness room, outdoor grills and picnic area, and the have beach umbrella and beach chair rentals.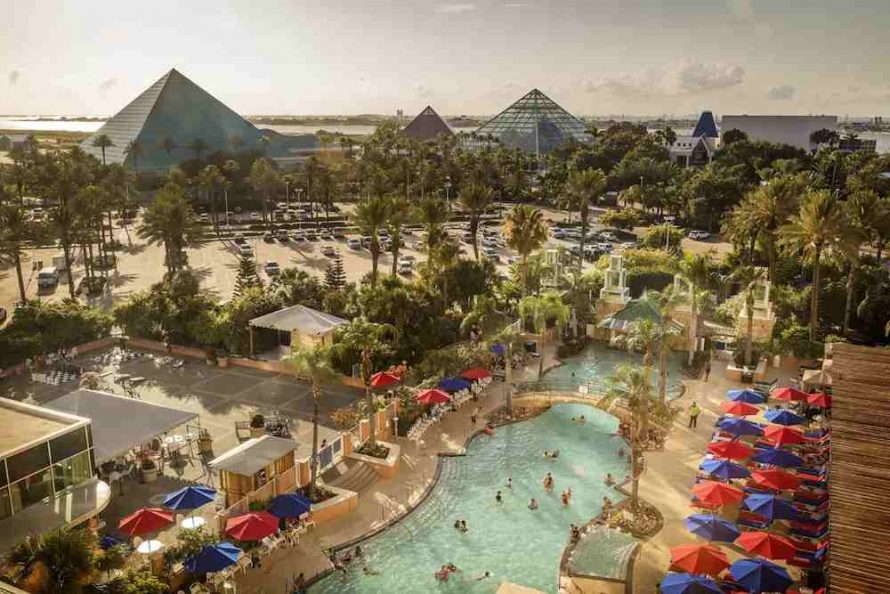 Moody Gardens Resort Hotel
Moody Gardens Resort Hotel offers the iconic Moody Gardens pyramids with a variety of world-class attractions and the Moody Gardens Golf Course. The aquarium pyramid is a 1.5 million gallon aquarium featuring seals, sharks, penguins and much more. The Rainforest Pyramid offers exotic plants and animals found in the Amazonian rain forest. Also onsite is the Discovery Museum, 3D and 4D theaters, and the Audience Recognition Theater, which is an interactive theater getting the audience involved. There is also a golf course, spa and several dining options on site to include seafood, steaks, a coffee shop, lobby bar, and pool bar. You can opt for a regular guest room, a junior suite or go big with a 2 room 900 sq foot suite. There are also packages you can by that let you get behind the scenes and have private animal encounters with the penguins, otters and seals. There is also a ropes course, zipline and manmade outdoor beach water park.
PORT ARANSAS
Palmilla Beach Resort
Palmilla Beach Resort offers the longest stretch of beach front in Port Aransas. The resort also has an Arnold Palmer designed golf course as well as a pool with cabanas and a new pool with swim up bar soon to open. The fitness center is open 24 hrs a day and the resort has beach cart rentals as well as beach cabanas, chairs and umbrellas. While you are at the beach you can enjoy the VIP beach experience with chef prepared meals and air conditioned washrooms. Two restaurants the Black Marlin and REDS offer fresh seafood, steaks and casual dining and the poolside Agave Cantina curbs you hunger while enjoying the pool. Palmilla is both a community and a vacation rental facility and has several cottages for rent ranging from two to seven bedrooms with some having their own private pool and hot tub.
Port Royal
Port Royal is a Port Aransas condo rental resort that boasts the largest lagoon pool in Texas complete with water slides and an Olympic size lap pool. The 25 acre resort is a condo rental resort where the units have balconies, full kitchens and laundry facilities. The onsite restaurant 361 serves breakfast, lunch and dinner. The Cabana Bar is located poolside and The Port Royal Strong Food truck offers up snacks, pizza and drinks. There is also a frozen station open seasonally near the pool where you can enjoy scoops of Blue Bell Ice Cream. Sandcastle lessons, movie nights at the pool, yoga and aqua Zumba lessons are some of the activities you can enjoy. A 100 yard boardwalk takes you down to the beach where 17 miles of beach front await. You can get a one, two or three bedroom suite, all with balconies overlooking the gulf.
SOUTH PADRE ISLAND
Isla Grand Beach Resort
Located on South Padre Island, the Isla Grand Beach Resort has a wide ranging option of rooms. You can get a Cabana with either beachfront, beach view, or pool and garden view. The Cabanas have either two double beds or a king with a sleeper sofa, patio or balcony and mini fridge. They also have condos that have full kitchens and private balconies overlooking the beach. Located on 10 acres, the resort has two pools, hot tubs, tennis courts as well as a restaurant open for breakfast, lunch and dinner, a nightclub that has live music a poolside bar and a grill poolside. There are also courtyards and hammocks as well as secluded 3decks to relax and have a drink, and they have a coffee shop as well.
Pearl South Padre Resort
The Pearl has 200 rooms with private balconies and patios and 53 condos ranging from 1 to 3 bedrooms with private balconies and full kitchens. Also onsite is the Landshark Bar and Grill serving breakfast, lunch and dinner as well as the Salty Rim Swim Up Bar. Located on the beach, all rooms are Ocean View and when not enjoying the beach you can relax by the pool or hot tub, or relax in the full service spa. They also have a fitness center and gift shop.
My Sapphire South Padre Island
My Sapphire offers luxury beachfront condo rentals offering both beach and bay view balconies from every unit. They also have private bungalows by the pools. There is a wine room, a game room and a movie room along with a full service day spa on the grounds. They have also arranged for guests to have exclusive access to the Landshark Bar and Grill as well as the Salty Rim swim up bar located next door at the Pearl Resort. With easy beach access a few steps away My Sapphire makes for a great beach resort.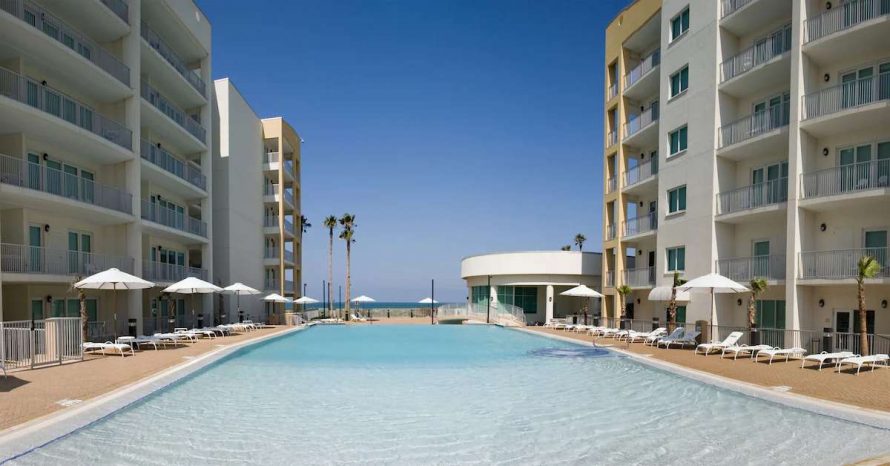 Peninsula Island Resort and Spa
Peninsula Island Resort is another of South Padre Island's resort condo rentals offering studio, one, two and three bedroom condos for rent. Each condo apartment has a sitting area with sofa bed along with kitchenette or full kitchen. The resort has a swimming pool, sundeck, wellness center, onsite spa, and private beach access. The onsite Las Olnas Restaurant Bar and Grill offers fresh seafood and features coastal cuisine from Mexico along with an extensive wine list. The 24 hour concierge is there to assist you in making sure your island vacation is memorable.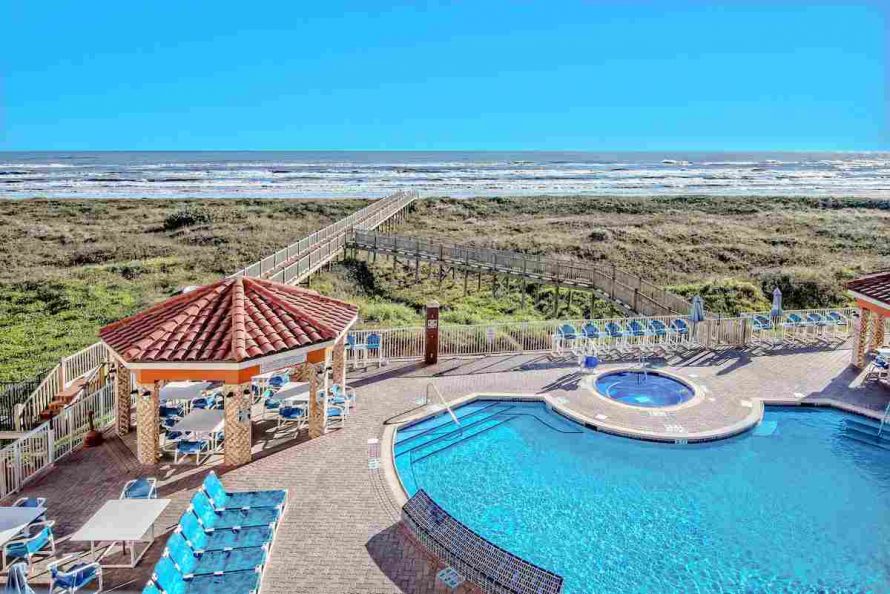 La Copa Resort
The La Copa resort offers a variety of rooms from Ocean front with balcony to three room family suites. Many of the rooms come with a large, jetted bath. All rooms have mini refrigerators, microwaves and coffee makers and suites have kitchenettes. There is a Starbucks Coffee in the lobby, fitness center, gift shop, complimentary breakfast, free shuttle to the airport and concierge. Also onsite is the La Copa Cabana Bar and Grill. They have a great pool, sundeck and hot tub along with a private boardwalk that extends over the dunes to the beach.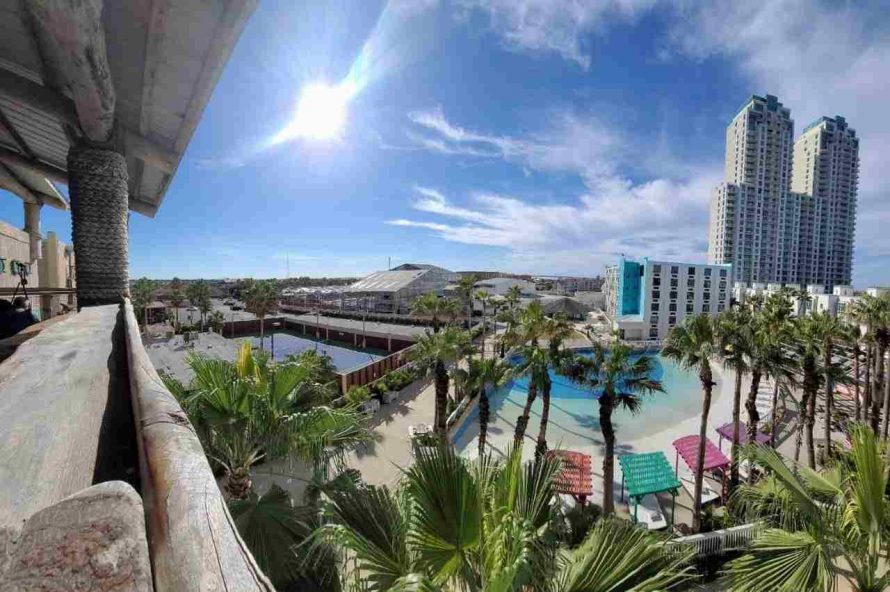 Holiday Inn Resort South Padre Beachfront
The Holiday Inn Resort South Padre is a beach front hotel offering 3 bars. A swim-up bar, a beach bar, and a poolside bar along with beachfront dining, and beach cabanas. The hotel also has an onsite restaurant, The Seaside Bar and Grill. There is also a fitness room and guest can choose between a standard room or suite. They even have a rooftop open air venue that can accommodate up to 600 people for events. Beach cabanas, umbrellas are available and there is easy access to beach by way of a boardwalk. Check out the terrace or enjoy the picnic are while you are there.
There are a lot of beachfront hotels and resorts along the Texas Gulf Coast where families, couples or even singles can go to relax, and enjoy the beach. The next time you get the urge to getaway for a few days check out one of these great Texas beach resorts. In fact, Pin it and save it for later.
SIGN UP FOR THE NEWSLETTER AND GET ALL THE LATEST TRAVEL NEWS
(Visited 1,351 times, 1 visits today)