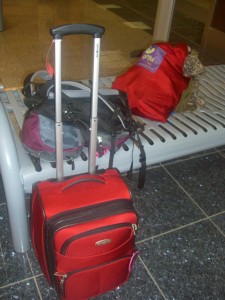 Regardless of your thoughts on the TSA, they are here to stay. So we have to deal with long check in lines, bags being scanned and searched and ever changing rules on what you can and cannot take on board flights. There are some things you want on your travel packing list in case things go wrong or so you can have them when needed.
1. Any electronics you don't want to wind up missing or stolen. Thieves still target checked in bags so put cameras, laptops and cell phones in your carry on.
2.Take your medications in your carry on. I am not talking about aspirin or other over the counter drugs but any prescription medication. You don't want to arrive at your destination to find out your luggage is lost and your stuck trying to find a way to get your meds. As a side note be careful with medications, some countries look at certain medications differently so make sure your name is on the bottle. You don't want to be sitting in an interrogation room trying to explain to some customs official why you are smuggling unmarked medicine into the country .
3. Take a small battery operated flashlight. They cost a few dollars at any mega retailer and don't take up any room. Trying to rummage through your stuff late at night in a new place can be a pain, especially if you stay in Hostels or you are just trying to find something in the dark.
4. Pack a change of clothes. This could be a t-shirt, extra shorts or whatever. If you have ever traveled and had lost luggage you know what I mean. A change of clothes in your carry on can be a life saver. At least you won't have to wear the same clothes for 3 days while your luggage catches up to you.
5. Things that should be common sense, but if your like me you always forget one of them. Or instead of your carry on you bury it in your checked bags. Passport for International travel, extra passport photos for getting visas and extensions, Drivers License for extra ID, ATM cards and copies of itineraries and flight confirmations. I usually go to my local bank and get $100 changed into the destination currency before I leave so I can have a little spending money when I get there for taxis, buses or whatever. And my pet peeve, bring a damn pen. Every international flight I am on no one has a pen and you know you are going to have to fill out immigration and custom forms.
Those are my 5 carry on essentials, what is on your travel packing list?
(Visited 4 times, 1 visits today)