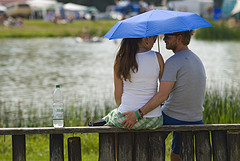 Image by Merlijn Hoek via Flickr
Aaah Romance, whether it is a honeymoon or you screwed up and need to make nice with the wife one sure fire way is to go on a romantic getaway. Somewhere just the two of you so you can relax, enjoy each others company, rekindle that passion or just keep the passion burning. There are lots of places and everyone has their opinions but here are five to consider. Click on each Hotel name to go to their website.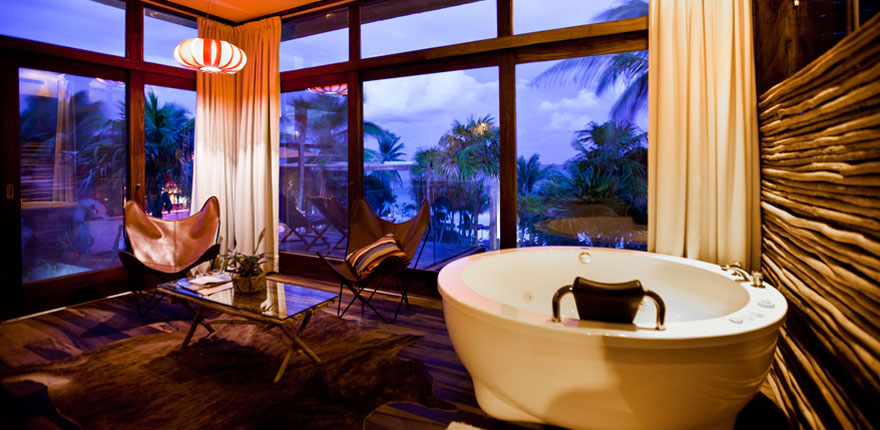 Image from Be Hotels
BE Tulum Hotel
Located in the town of Tulum Mexico, just south of Cancun, this boutique hotel is surrounded by tropical forests on one side and white sand beaches on the other. With twenty rooms, all suites, the hotel is small enough to be quiet, get lost and be attended to. With its location on the Maya Riviera there is something for everyone. You can spend quiet days at nights at the hotel, lounging at the pool or maybe going to the spa, enjoying the pristine beaches or just staying in and getting room service. Once you venture out of the resort, there are Mayan ruins in the town and Cancun is a short drive to the North.




Image by MarcelGermain via Flickr
Located in Santorini Greece the Mystique has eighteen Suites and Villas, Pool, beautiful view of the Aegean Sea, Gourmet Restaurant and a Wine Cave. Suites are appointed differently, all have terraces, some have Jacuzzi tubs, some steam baths, one has a treadmill and fitness machine with a spa bed. The Villas have separate living rooms and dining areas. With its natural beauty, seclusion, architecture and romantic cafe's and bars, Santorini and the Mystique Hotel definitely make the list.
Il Pellicano
Image from Il Pellicano website
Located on the Tuscan Coast of Italy the resort prides itself on being an exclusive, secluded resort. Having been bestowed with numerous awards it is rated as one of the top hotels in the world. The resort is more of a cluster of villas than a traditional hotel. With ten Deluxe Suites, five Junior Suites, 35 Double Rooms and a few Cottages, there is something for everyone.There is a Health and Beauty Center, Michelin rated Restaurant, an open air grille and two bars. The hotel was originally built in 1965 by a former WWII British Pilot and a Hollywood Socialite who found love and set out to create a place that others could come and enjoy. With flowering gardens and deep blue seas this is the place you want to go to be away from everything.
Located on Vabbinfaru Island, Male Atoll, Maldives the resort has 48 rustic villas encircled by a white sand beach. Each villas
has a bedroom with an open terrace, king sized bed, recessed sitting area, daybed, open air jet pool and private sundeck. Whether it is world class cuisine at the hotel or being taken by speedboat to a secluded area where you dine privately on the beach lit by torches, there is ample opportunity to enjoy this romantic escape. Of course you could always enjoy a one, two or three night sailing package aboard a double masted yacht enjoying your elegantly appointed cabin complete with queen size bed, air conditioning and ensuite bathroom.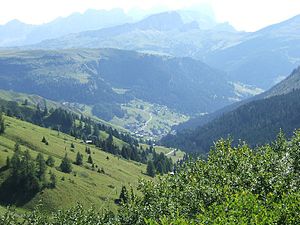 Image via Wikipedia Located in the legendary Dolomites, the lodge is an exclusive retreat. Not a hotel but your very own Chalet, with a kitchen, dining room, tea room, day room and terrace on the ground floor. The first floor has four bedrooms, a lounge and a relaxation area. If you like wine your in luck because you will have your very own wine cellar. With lots of activities in both Winter and Summer you can stay busy or just relax in one of the most beautiful regions in Europe in your very own Chalet.
So there are five suggestions for your honeymoon or romantic getaway. No matter what the reason, even if it is because you screwed up, one of these places should get you back in good graces.
(Visited 1 times, 1 visits today)