I recently spent the weekend in The Woodlands Texas as a guest of the Woodlands Resort and Conference Center. For those of you not familiar with The Woodlands, it is an incorporated city about 27 miles northwest of Houston Texas and worlds away.
In the early 1970's oilman George Mitchell wanted to develop a suburban oasis with easy access to Houston's Intercontinental Airport and the city of Houston. Mitchell envisioned a place where retail malls, office parks, golf courses, conference centers and homes ranging from affordable to upscale would coexist in a master planned community.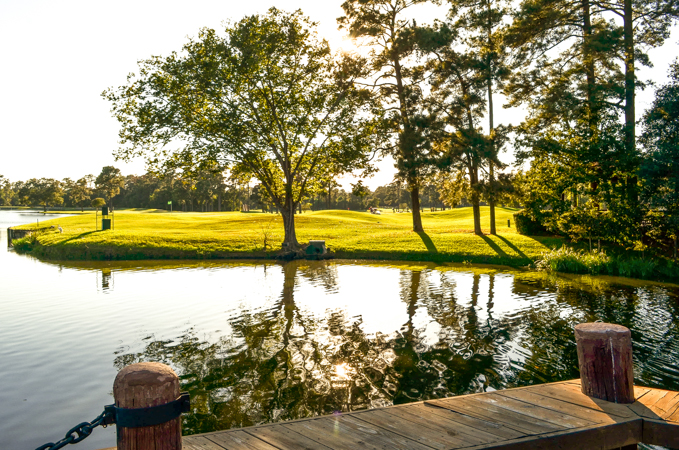 Shortly after The Woodlands development began, the Woodlands Inn was built in 1974 consisting of 218 rooms. What once was the Woodlands Inn is now the Woodlands Resort and Conference Center. Over the years The Woodlands has evolved into a premier destination for businesses and people looking to move out of the city but still have all the amenities of city life. The Woodlands Resort and Conference Center is no exception and is a popular destination for business travelers, conferences from around the country, family getaways and golf vacations.
1. Friendly and Attentive Staff
It is easy to see why the resort is popular. When I arrived I just wanted to check in so I parked a little bit away from the front doors. Even so, I was immediately greeted by the doormen asking if they could be of assistance. The Woodlands Resort is pretty expansive and as a result there are several buildings. The main building is the resort check in and has all the conference meeting rooms, banquet rooms, restaurant and bistro. The rooms are located in other buildings. You can drive yourself over to the where the rooms are and park or you can have the valet take care of it for you. If you choose the valet they can also take your luggage and put in your room so when you get there everything is available for you.
2. Big Comfortable Rooms
My room was in the end building on the first floor and almost at the very end of the building but even so it wasn't very far from the parking area. The room I stayed in was one of the standard rooms and had everything I needed. I was glad to see the room came equipped with an ironing board and iron since I had to attend a couple of meetings and needed to get the wrinkles out of some clothes. In fact all the rooms have safes, a mini IPad, free Wi-Fi, study area and most have a patio or balcony. The bed was big and comfortable. The kind where you fall asleep and wake up in the same position as when you laid down. The rooms are pretty good size and the bathroom has a big walk in shower. If I had a complaint it would be the shower has one of those big rain shower heads. You know the kind, it feels like you are engulfed in a gentle shower. Now I know a lot of people like those, but I prefer a raging thunderstorm not a gentle spring shower but that's just my personal preference. My room had a fenced in patio that over looked the lazy river and part of the water park area.
3. A Freakin Waterpark
While the Woodlands Resort has 5 swimming pools, most are incorporated into a massive water park. The Forest Oasis Waterscape comes complete with spas, waterfalls, slides and a lazy river that flows through part of the area. The water park also has a café with a bar and movies are shown outside on some nights. I walked around one evening and saw a few families lounging in pool chairs enjoying a movie and others enjoying food and cocktails at the bar. This wasn't some Cancun spring break pool bar with blasting music and dancing on the bar. There was music playing but it wasn't blasting and everyone seemed to be enjoying themselves, sitting out by the water falls and just relaxing and socializing. There are a lot of places around the resort where you can sit outside and relax. You know it has to be Texas sized big when they give the water park a name all its own.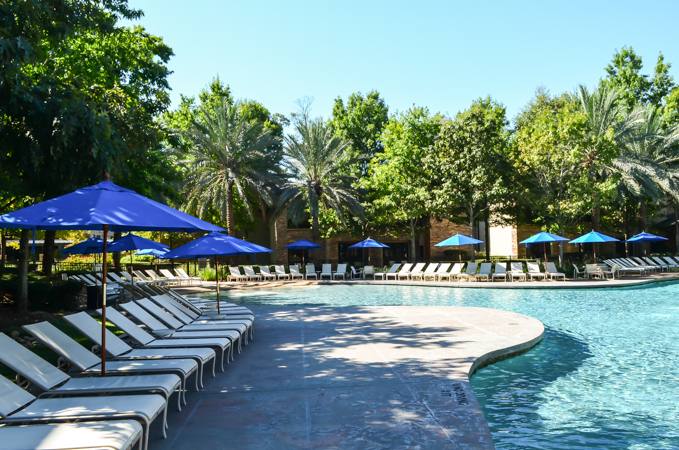 4. Great Food
The resort has a couple of dining options, The Bistro is open from 4pm to midnight and is a casual dining area along with a bar and billiard room. The Bistro has a couple of televisions on the wall and is a great place to watch the game or relax for a drink.
The Woodlands Dining Room overlooks the golf course and has a pretty good breakfast buffet including eggs to order, fresh fruits and cereals plus all the standard breakfast items. The Dining Room is also open for a la carte dining from 11 am to 10 pm. I was having breakfast one morning when the place got overrun by a group of conference goers. Seems they all woke up late and didn't have much time to eat before the first session started. They swarmed in like a horde of locust, piling up dishes of food on the tables. Just as quick as they came in, "poof" they were gone. The staff never blinked an eye and had the tables cleaned and reset in no time. During all that they still managed to bring me a coffee refill.
The Cool Water Café is located in the pool area and open 10 am to 8 pm during the week and stays open to 10 pm on the weekend. The café serves up burgers, wraps, finger food, ice cream and some killer drinks.
Robards Steak House is a separate stand-alone restaurant located at the resort and offers some really great dry aged steaks, chops and seafood.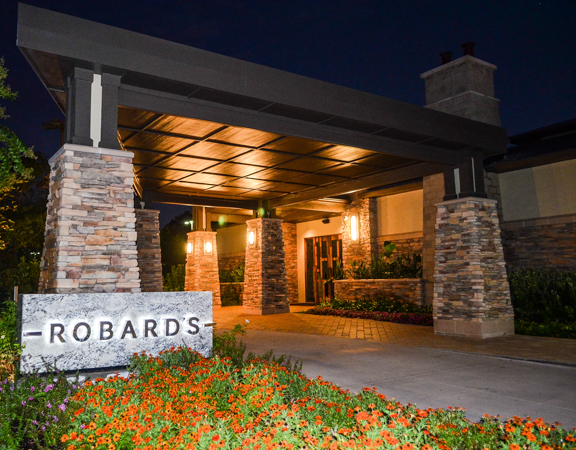 The tables are all arranged so as to look out the massive windows onto the 18th Green of the resorts Panther Trail Golf Course.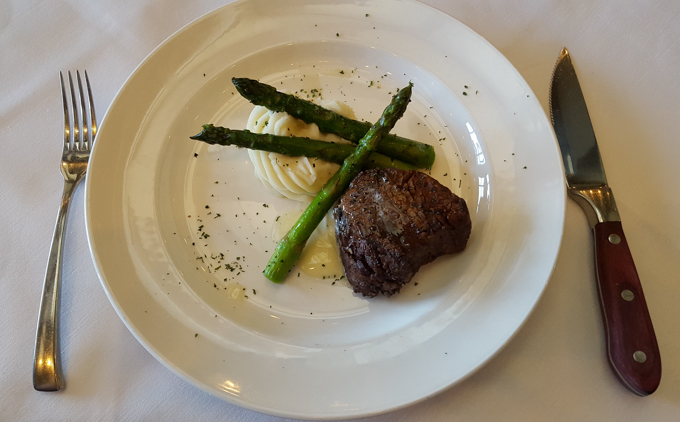 Complete with their own butchery and smokehouse they dry age the beef on site and have a 1,100 glass encased wine cellar.
I can tell you from experience the Filet Mignon is great. The restaurant also has a great bar with craft beers and a patio.
Of course they have room service and the resort also has a couple of venues for weddings such as the Wharf Terrace and Sunset Terrace overlooking Lake Harrison and the 350 seat Forest Deck where the resort can cater meals.
5. Sports and Fitness Activities
The Woodlands Resort offers 36 holes of championship golf on the Panther Trail course and The Oaks course. Awarded as one of the best 75 Golf Resorts in America by Golf Digest, the courses wind through tree lined fairways and water hazards. Stock up on golf balls because many golfers swear the water hazards act as a magnet. It has been awhile since I went golfing but taking a look at the course I am pretty sure I would put more than one in the water.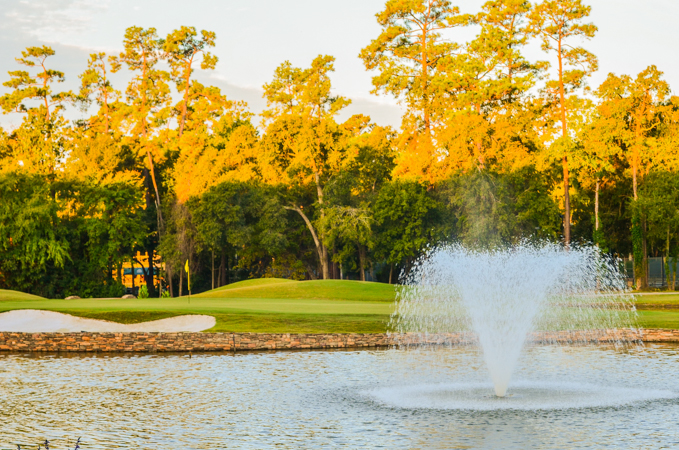 Add in 21 tennis courts, a Spa, fully equipped Fitness Center, Sauna, Steam Room and bicycle rentals where you can explore some of the 194 miles of trails in The Woodlands and there is plenty to keep you occupied.
6. Conference and Meeting Facilities
While I was there I attended a couple of meetings and a couple of companies were having their national conference going on. The conference center has 60,000 sq. ft. of meeting space that includes 33 meeting rooms and a Grand Ballroom that is over 13,000 sq. ft. The staff had refreshments set out and the rooms were comfortable and came equipped with audio visual equipment. I took the time to walk around the majority of the conference areas and one thing I noticed was there was staff readily available. In a lot of places you have to send someone to the front desk and ask if they can provide something or fix a problem. Not so here, in fact on more than one occasion, while I was walking around, I was asked if I needed assistance by the staff. At first I thought it was because I was wandering around just looking but I saw them ask a few other people too so it made me feel good they didn't think I was totally dazed and confused.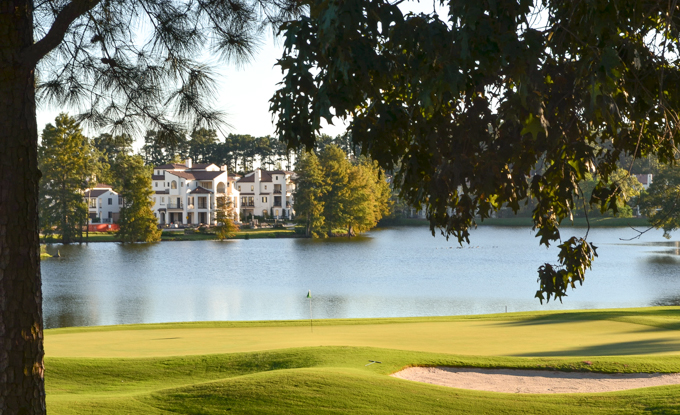 For the business traveler looking for a great place to stay, companies looking for conference and meeting space, golfers looking for a great golf resort and families looking to relax and enjoy top notch activities and services it is hard to find anywhere around The Woodlands that offers it all in one location.
I liked the fact that it had all that going for it and the place is big, with a huge water resort area and yet it wasn't crowded at all. Because of the way the resort is spread out in different buildings, everything is nearby but still away from everything if that makes sense. Even though nothing is ever too far from anything the resort still has little shuttle carts to take you from the room areas to the main conference center building.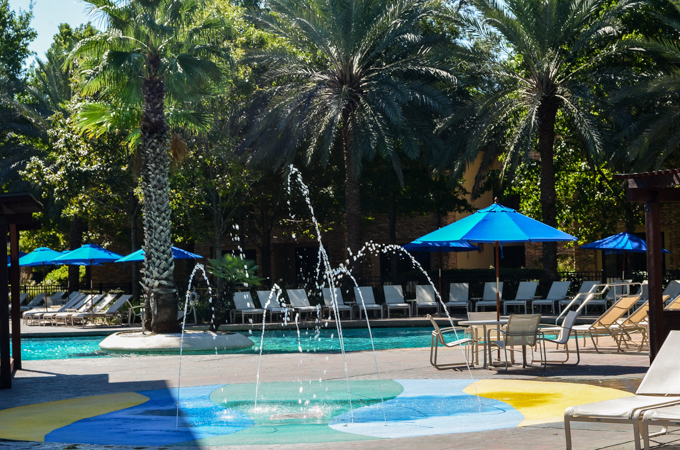 The Woodlands has great shopping and dining and the Woodlands Resort and Conference Center offers shuttle services along with airport shuttle services to and from George Bush Intercontinental Airport. Take a ride over to Market Street where you can find upscale and boutique stores along with national brand stores.
Even though my accommodations were provided by the resort, the review is mine and I can honestly say I didn't see or find anything that would stop me from returning or recommending you stay there. I had a great time at the resort. The staff goes out their way to accommodate you and the resort has everything you need to have a great time.
The Woodlands Resort and Conference Center is located at 2301 North Millbend Dr. The Woodlands, Texas. You can reach them at 800-433-2624 or check out their website.
(Visited 1,084 times, 1 visits today)