They say a man's home is his Castle and in the case of Mike Newman that is true.
Mike has always marched to the beat of a different drummer though. Maybe his dream was inspired when traveling through Europe in his 20's or maybe it was born from his love for adventure, like the time he sailed across the Atlantic. Whatever the case may be, one day in 1998 he sat down at a table in his bakery in Bellville and began drawing out plans for his castle.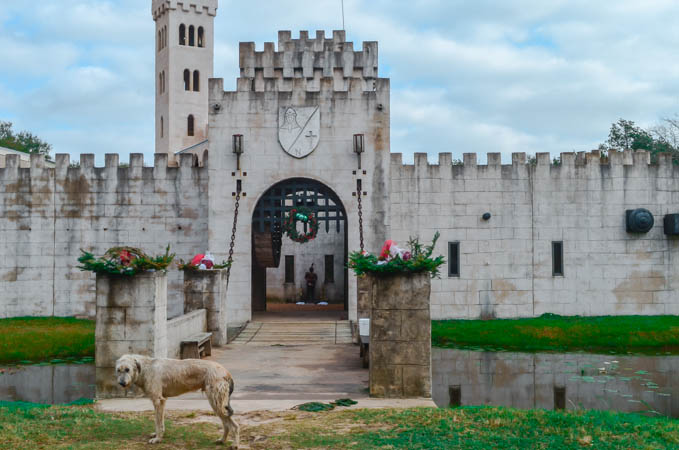 Mike owns Newsman's bakery, a popular spot for the weekend motorcycle crowd, where people stop in for breakfast, sit and have a chat over a cup of coffee and get some donuts to go. I have stopped there myself a few times on a weekend ride in the country. After buying 20 acres outside of town Mike decided to build a home so he could get away and relax.

What transpired instead was an 8-year labor of love in which he transformed the wooded area into a 3,400 sq. foot castle complete with 18 foot walls, 24-foot-tall turrets, a bell tower and working drawbridge, all surrounded by a moat.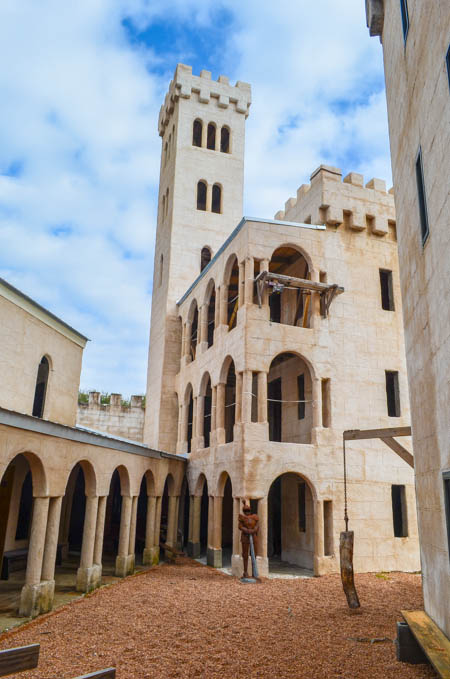 Not being satisfied with just a castle for a home, the construction is still ongoing. Besides being a home where he lives, Mike is continuing to build and has turned two rooms in the main building into guest rooms that can be rented. Current construction is adding an additional six guest rooms in a building next to the bell tower.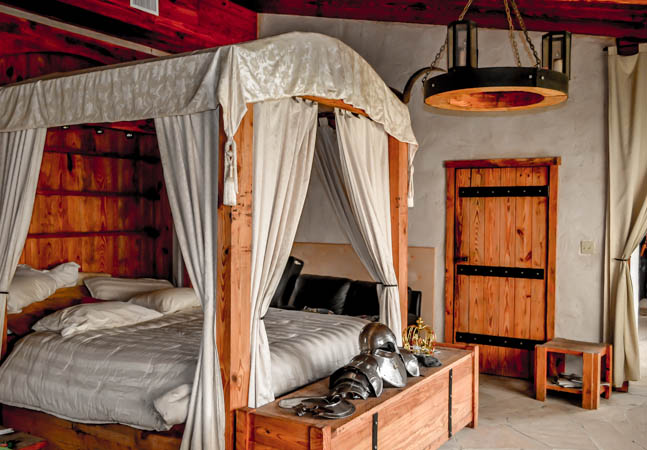 Mike, along with a worker he hired, has done all the construction himself and he has plans to continue expanding the castle into a place where he can share his passion with others.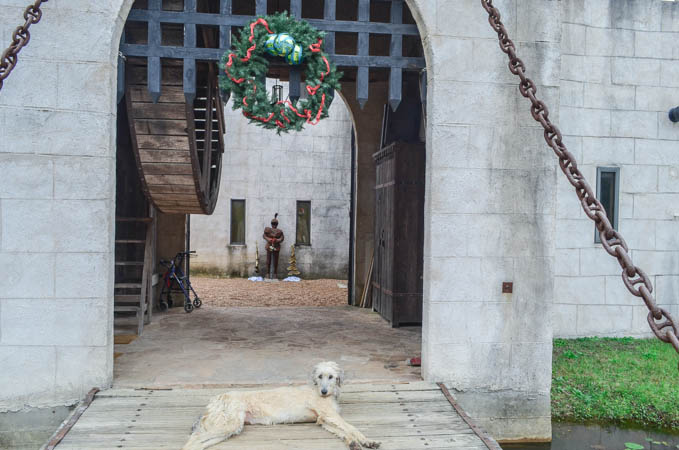 In true royal fashion the castle is guarded by an Irish wolfhound that takes particular interest in sleeping on the drawbridge. The drawbridge is raised and lowered by good old fashion people power.

The day I visited, Mike and his loyal helper climbed into the wheel like human Guinea pigs and began walking in the wheel until it was raised.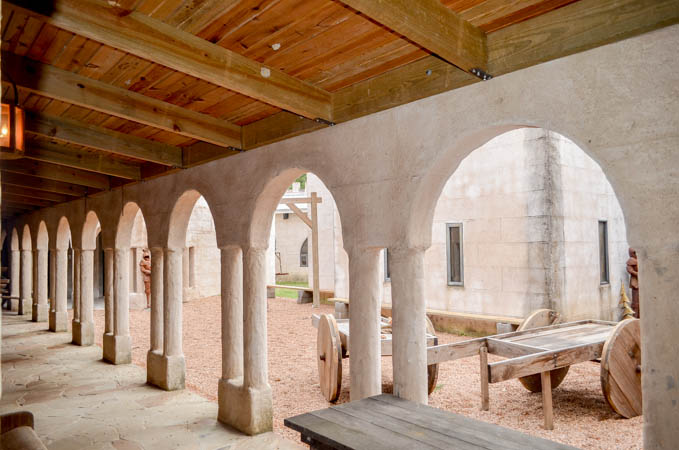 Once inside the castle grounds King Mike, complete with crown and sword, gave a guided tour to a small group of people that traveled from Houston to see the castle.
While there are modern conveniences such as electricity, hot and cold water and such the castle has been built using timbers for the stairs and the furniture was all made on site.
No Castle would be complete without a dungeon, dining hall and chapel. The bell tower has three large bells that when rung make the Irish wolfhound start to howl.
Not too many people would want a bunch of strangers wandering around their home but Mike not only doesn't mind, he encourages it. Tours of the castle are available during the week. Groups meet at the bakery in town and then travel by bus or he will give you directions so you can drive out to the property. After a brief welcome, people enter through the drawbridge and take a 30-40 minute tour of the facilities where Mike encourages you to explore anywhere you want. The group then sits down in the Knights Hall for a box lunch of sandwiches, sweets and pies from the bakery before heading out.
Over the years the castle has hosted weddings, murder mystery dinners and been the setting of a movie. People looking to stay the night in a unique setting are greeted with comfortable rooms and since being out in the country away from the lights it is an excellence place to do some star-gazing.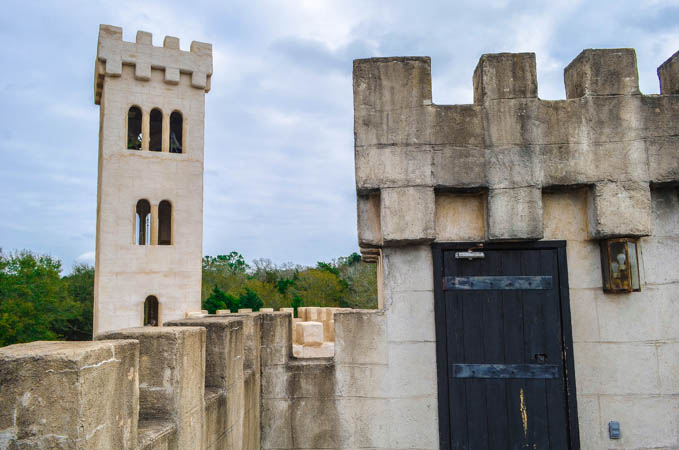 Bellville, located about an hour from downtown Houston Texas is on FM 529 and the bakery is next to the railroad tracks. If you are in the area and want to schedule a visit you can contact Mike at his website. If you are looking for a great place to stop for breakfast on your weekend motorcycle ride the bakery can't be beat.
In the spirit of full disclosure, I am not being compensated for this post. I contacted Mike and asked if I could come out for a visit and he graciously accommodated me.
(Visited 1,128 times, 1 visits today)