I recently visited Savannah Georgia and my trip was hosted by Visit Savannah
A few miles Southeast of Savannah Georgia is Cockspur Island and Fort Pulaski National Monument. With 11ft thick walls, a moat and mighty cannon, it is an imposing sight.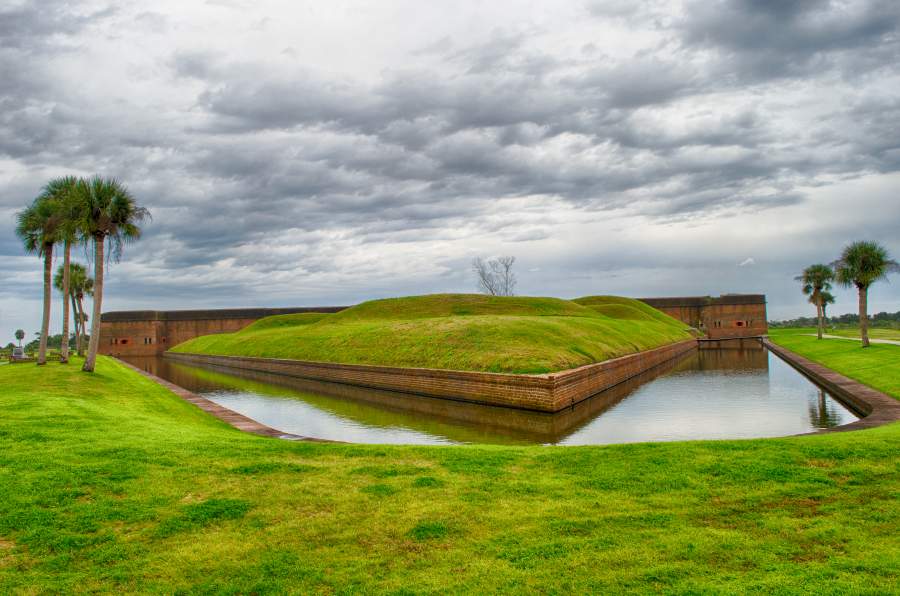 Named after Count Casimir Pulaski, a Polish hero of the American Revolutionary War, construction began on Ft Pulaski in 1829 and took 18 years to finish. Built to guard the river approaches to Savannah Georgia, Fort Pulaski was built to be impenetrable. The walls were 11 feet thick and it was thought that only land based artillery could penetrate the thick walls and they had a range of only about half a mile. Tybee Island was the nearest land and it was much farther away.
Ft Pulaski served as a garrison for the Georgia State Militia in the early days of the Civil War and in April 1862, after 2 days of bombardment, the garrison had been bombarded by 5,275 shot and shell, many coming from 11 batteries of heavy mortars from Tybee Island, but the walls were breached almost entirely by three guns–two 84-pounder and one 64-pounder rifles.
On April 11, 1862 Fort Pulaski, under the command of Confederate Colonel Charles Olmstead, surrendered to the Union forces.
Olmstead and 384 Officers and enlisted were sent to a POW camp on Governors Island New York. Union forces garrisoned Ft Pulaski until the end of the Civil War. After 1880 a caretaker and lighthouse keeper, for the adjacent Cockspur Island Lighthouse, were the only occupants of the fort.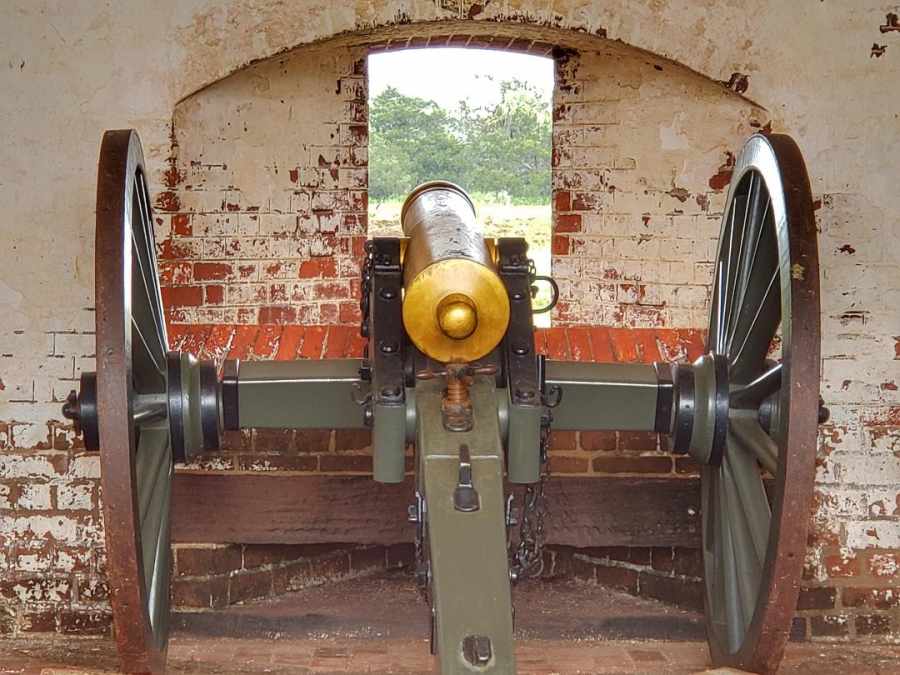 The fort and island were made a National Monument in 1924 and restoration began in 1933. Today visitors can walk the fort and explore the various underground passages to get a glimpse of history.
Visiting Fort Pulaski National Monument you get a sense of what it was like during Civil War times. The fort being situated on the river on this tiny island commanded a formidable presence and played an instrumental part in cutting off any Confederate forces to gain access to shipping by way of the coast of Georgia and entirely closing the Savannah river to blockade runners.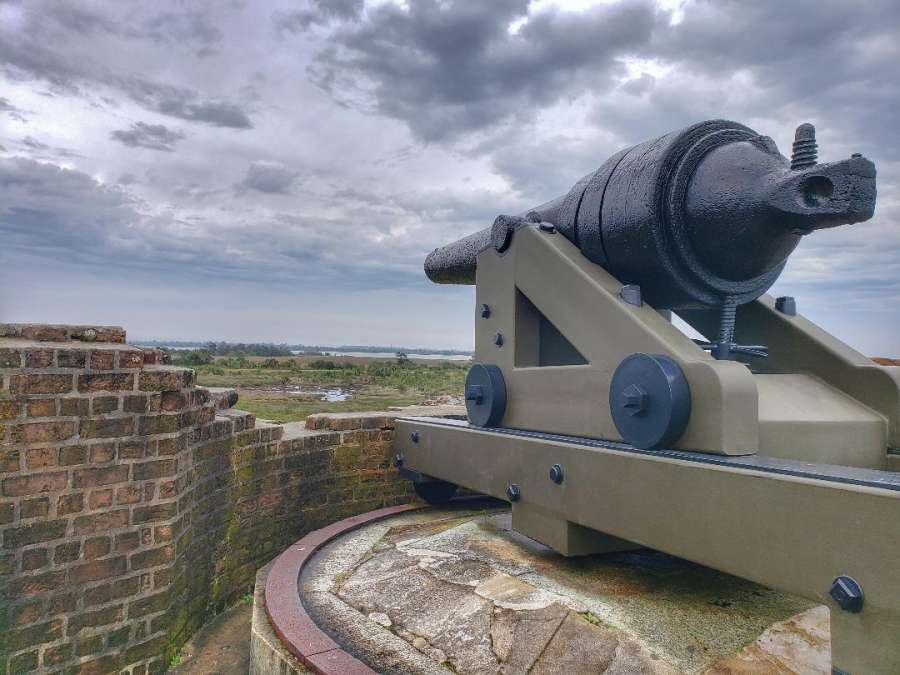 Very few Civil War fortifications exist today and Fort Pulaski is one of the best restored and preserved examples. When you think about the 558 Confederate Prisoners of War interned in Fort Pulaski and the Union troops stationed there, it must have been a very crowded and dirty place. Nothing like the romantic notions many have of war.

From the minute you walk across the drawbridge the powder magazines and gun emplacements, just outside the main fort, are open for you to explore.

Once inside the main fort you can walk the passageways and see the gun emplacements, barracks and the small area where the prisoners were kept. You can also climb the stairs and walk out onto the top walls, where cannon was also placed, and get a really good view of the entire area.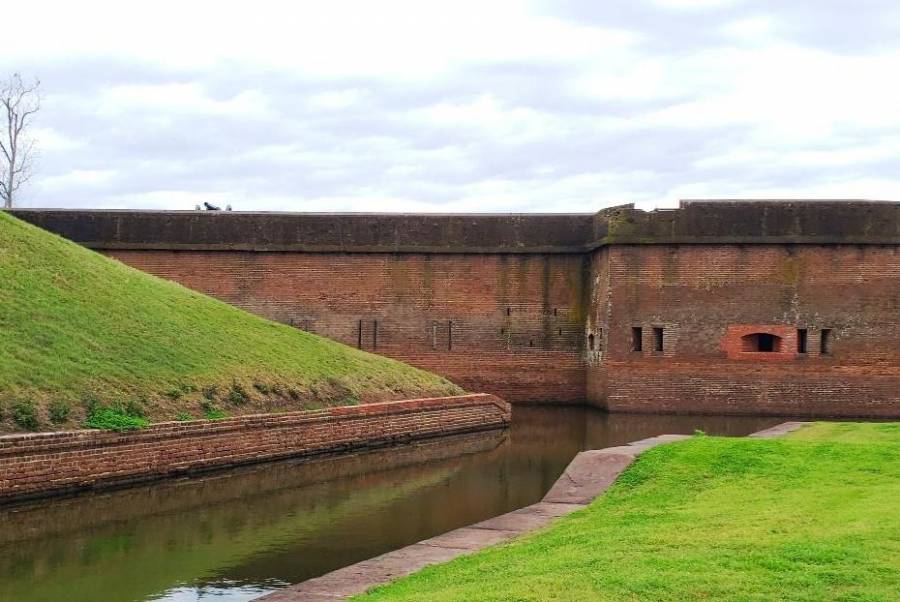 If you plan on visiting Savannah Georgia or Tybee Island then Fort Pulaski needs to be on your list of places to visit.
Fort Pulaski is located about 14 miles Southeast of Savannah Georgia on US Hwy 80.
Fort Pulaski National Monument is open year round from 9:00 a.m. to 5:00 p.m, except for New Years, Thanksgiving, and Christmas Days. The Visitor Center is open from 9:00 a.m. to 5:00 p.m. and historic Fort Pulaski is open 9:00 a.m. to 4:45 p.m.
(Visited 946 times, 1 visits today)