Image by steve_w via Flickr
The name tourist conjures up in my mind images of someone wearing plaid walking shorts black socks and dress shoes with a Nikon camera strapped to his neck taking a picture of his equally fashionable wife standing in front of some obscure fountain in Europe. Although at one point I was a tourist I think over the years I evolved into more of a traveler. And just to clarify I never wore shorts, I don't look good in them. Travelers differ from tourists in the way they approach their wanderings from home.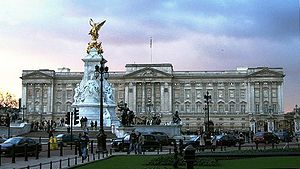 Image via Wikipedia First let me say there is nothing wrong with tourists. I just don't want to be one anymore after having been exposed to traveling.Tourists usually get a vacation package or book it themselves and hit all the popular spots wherever they go. Let's take London. A typical tourist hits London and spends three days in a choreographed stampede with others seeing and snapping pictures of Trafalgar Square , Picaadilly circus, The Houses of Parliament, Big Ben, Westminster Abbey, The Tower of London & Buckingham Palace. If your lucky the tour guide will tell you the best place to stand to get that perfect photo.
The traveler on the other hand takes a different route. Instead of being one of the masses the traveler strikes out on his or her own. By getting away from the typical tours you can really see what a place is like. First the hotel. Find a place that is relatively close to major transportation in a decent area. That is all I really look for since I don't spend much time at the hotel anyway. After all I didn't come here to watch British comedies on TV. Get a day or week pass from the London underground that allows you to get on and off at any stop along the route. Pick up a pocket guide to London and strike out on your own. Get off the tube at Piccadilly Circus, walk around and find that street shop selling fish and chips. You want to see Buckingham Palace do it on your own. After the changing of the guard walk around the corner and see the changing of the guard at the Royal horse Guards barracks. You can actually get closer and it is just as impressive.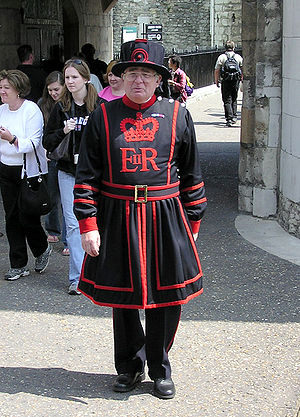 Image via WikipediaThe Tower of London can be toured by purchasing a ticket and taking a self directed tour. You can purchase an additional ticket to see the Royal Artillery Museum on the Towers grounds. I found out by speaking to one of the beefeaters, the proper name Yeoman Warder, at the tower that they live on the Tower grounds rent free and are retired Army. They have to learn the Towers history and give tours of the tower. Their official job is to guard any prisoners in the Tower of London and guard the British Crown jewels, which are on display there.
Outside the Tower near the tube entrance you can take a walk. Not just any walk but one which will take you to the murder locations of Jack the Ripper. London Walks offers walking tours with knowledgeable guides in all areas of interests. Ghost walks of haunted London, Shakespeare walks and more it is one of the best ways to see the city at a leisurely pace with an informed expert.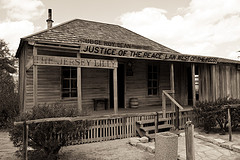 Image by Bill Herndon via FlickrBy getting off the tube at any location you can explore the city on your terms. With pubs on every street and shops to look at it is much more enjoyable. While walking I looked across the street and noticed a Pub named the Jersey Lilly. Born Lillie Langtry she was an accomplished actress, a mistress to the Prince of Wales, socialite and more. I was intrigued because of Judge Roy Bean. Judge Bean named a town after her, Langtry Texas, and also his saloon. Having a pint at the Jersey Lilly and talking to the bartender I spent an enjoyable couple of hours.
Whether it is London, Paris, Prague, Barcelona, Tokyo, Bangkok, or San Francisco, check out the shops, the markets and talk to the people. You will come away with much better memories.
By being a traveler instead of a tourist you can get off the beaten path, explore the locale and interact with its citizens ensuring your trip will be much more enjoyable and memorable.
Did you enjoy this article?
Subscribe for Updates
I promise not to bombard you with emails and I will never sell or share your information with anyone.