You have probably seen on television or read about the deadly gang fight that took place in Waco Texas on May 17th 2015.
What started out as a laid back Sunday afternoon for families out shopping and dining turned into an all-out battle between rival biker gangs resulting in 9 dead, others wounded and over 170 arrested.
Immediately people began commenting on social media and in article comments about bikers in general. Comments ranged from "anyone wearing leather and riding a bike is either a criminal or a wannabe tough guy", to "All bikers are the scum of the earth".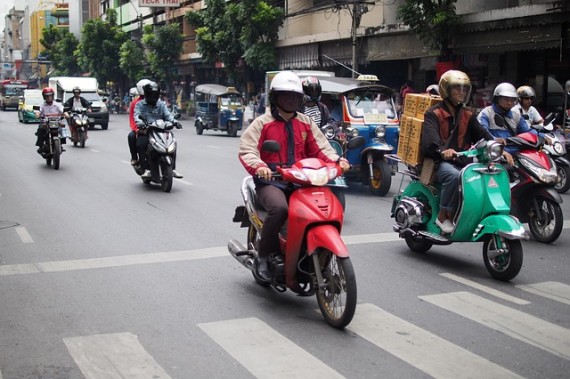 While in other parts of the world motorcycles can comprise the majority of vehicles on the road, in the US it's a little different. I would venture to say the majority of people riding motorcycles in the US do it for pleasure and not as a sole means of transportation.
You can Google motorcycle clubs and get an education on when they started becoming popular and the differences between the various types of clubs.
While the notorious Hells Angels, Bandidos, Mongols, Outlaws and others are considered one percenters and wear a patch showing 1%, and are what any normal person would call a criminal enterprise. The other 99 percent are fraternal, social or family type clubs.
Motorcycle clubs that fall into the mainstream are The Blue Knights. While the largest of the 1% clubs boast a membership of less than 3000 worldwide, the Blue Knights, made up of active and retired Law Enforcement Officers have over 19,600 members in 26 countries.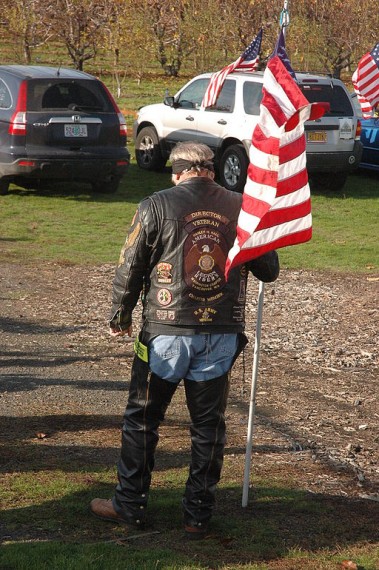 There are numerous Military Veterans clubs and one in particular needs mentioning, The Patriot Guard. Known as Patriot Guard Riders or PGR, they state on their website "The Patriot Guard Riders is a 100% Volunteer, Federally registered 501(c)3 non-profit organization which ensures dignity and respect at memorial services honoring Fallen Military Heroes, First Responders and Honorably Discharged Veterans" In other words they escort remains, hold flag lines at grave side, provide bike escorts for servicemen and women returning from combat zones. Escort and stand flag lines for military ceremonies and place flags on graves over Memorial Day. And yes some have beards and wear leather vests and are big and scary looking.
There is the Rolling Thunder and the Red Knights . There are numerous Military, Police, Firefighter related clubs. There are clubs for every make of motorcycle from Harley Owners Group (HOG), Honda , Ducati, BMW, sport bike clubs, masonic clubs, church clubs and more.
Most of them wear leather and have patches. Not to look mean and scary but the leather serves a purpose of protecting your skin if you should hit the road. The patches designate the clubs and also the individual tastes of the rider. Some are patriotic, some funny, some vulgar and a few just make no sense but the rider who wears them likes them.
Some patches are kinda like tattoos. Whether you are famous, not so famous, sitting in prison or whatever I have seen some tattoos that make no sense. But the person that got the tattoo liked it. At least they thought so at the time. The difference is the patch can always come off the vest. Not so with a tattoo on your leg stating "No Regerts"
Here is a little etiquette for when you happen to see bikers on the road.
First and foremost. Pay attention. You know, like you were taught when you started driving? I can't tell you how many times people have pulled out right in front of me. Don't tailgate, we get it you're in a bigger vehicle. If you decide to pass, don't see how close you can come to my bike when doing it. And if you see a group of bikers riding two abreast down the highway you might want to think twice about passing at all. If you happen to pass a 1% club out for a ride they might take offense.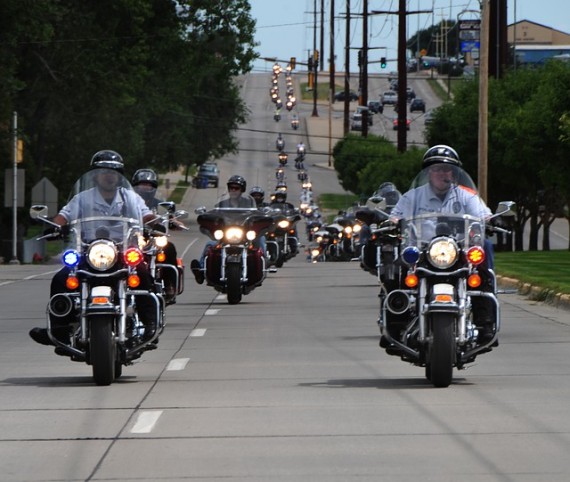 Having come across the evil 1% patch guys on occasion, I can say I have never encountered problems. As is the case of the incident in Waco, most violent fights occur between rival clubs and not directed at the "civilian". But as you saw in the reports when fighting does occur they have little regard as to the innocent bystanders.
The bottom line is not all bikers are outlaws. In fact most aren't, that's why the outlaws wear a 1% patch.