For those planning on flying during the holidays, my sincere sympathies. There is nothing worse than trying to navigate the long lines, TSA security and thousands of frantic and frustrated travelers as they just try to get from one place to another.
Every year we see horror stories on the news about stranded flyers. Freak snowstorms and computer glitches leave travelers sleeping in the terminals. YouTube clips of frustrated travelers yelling at the airline check in clerks because they arrived 10 minutes late for the flight and local news reporters shoving a mike in someone's face asking what their thoughts are about the long lines.
Resign yourself to the fact that flying during the holidays will be as much fun as having a tooth pulled without Novocain. There are a few things you can do to dull the pain however.
If you are flying during the holidays, follow these holiday travel tips and you just might arrive at your destination without losing your cool.
Book Early and Pick Your Seat
Since you already know it is going to be hectic, go online and book your flight early. You may have a couple of options on arrival times and not be locked into having just one flight available. You will also have the best chance of getting a direct flight and not have to change planes three times. While you are at it go to Seat Guru and check out the seating charts. Once you scope out the best seating option, most airlines will allow you to select the seat you want. That way you don't get stuck in a middle seat.
Check In Online
One of the best ways to keep your blood pressure from boiling over before you ever get to the departure gate is to check in online. By checking in online you can print your boarding pass and avoid the long lines at check in. Holiday travel will always be a time for crowds and by avoiding the long check in lines you will at least get your journey off to a good start.
Pack Light
Pack only what you absolutely need. Avoid checking any bags if at all possible. You don't want to arrive at your destination only to stand in yet another line for an hour or more waiting on your bags to arrive or worse have them rerouted to San Francisco when you are headed to Chicago. If you are taking gifts, mail them instead of trying to take them on the flight. For one reason, if they are wrapped and TSA has any issues with them, they will be unwrapped faster than a 6-year-old ripping apart a box under a Christmas Tree. Check the TSA prohibited items and only take what you need in a carry on bag. Here is a quick tip; invest in a portable charger for your electronics so you won't run out of juice for your phone when you need it and you also won't have to try and find a charging station at the airport.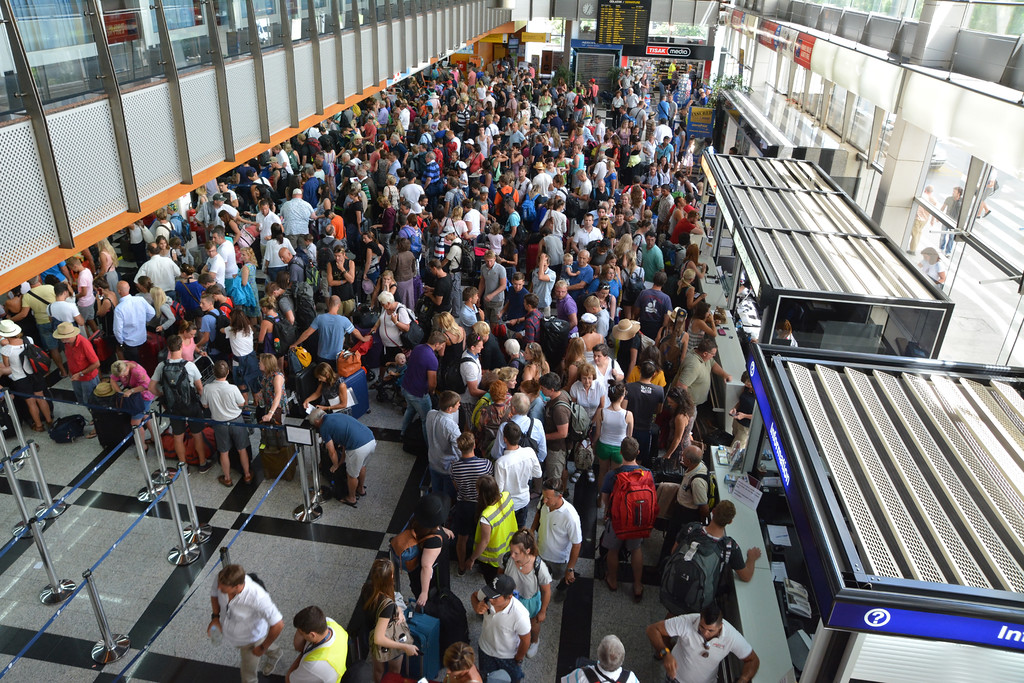 Prepare for Security
You already know that the security lines will be long and everyone including the TSA agents will be frustrated. If you haven't enrolled in the TSA pre-check it is probably too late for this year's holiday travel. Do yourself a favor and enroll for next year. There is no need to remove belts, shoes, laptops and such and it really helps in getting through the security lines. But there are still things you can do to make it a little easier. Don't wait until you get to the security conveyor belt to start digging around in your luggage. Belts, coats, shoes, laptops and liquids all go in the bin. Liquids needs to be in containers 3.4 ounces or less and placed into a 1 quart resealable bag. Place your watches, jewelry, money, wallet and anything else in your pockets into your carry-on bag. You can take them out after you pass security.
Take a Break
Once you run the gauntlet of check-in and security and get inside inner sanctum you might still have some time to spare before the flight takes off. If you have connecting flights or if your flight gets delayed, you can find yourself in a very crowded situation. One way to alleviate the situation is take advantage of the airport lounge. Airlines and third parties run lounges so even if your airline doesn't have a lounge in the terminal a third party might. If you are flying domestic chances are your business or first class ticket will not grant you lounge access. You can purchase a day pass which for airlines might run $40-$60 or a third-party lounge might be $25-$40. A one-time pass for United Club will run you $59. Some credit cards will gain you access to the airport lounge and if you travel a lot, some airlines will grant entry once you hit elite status.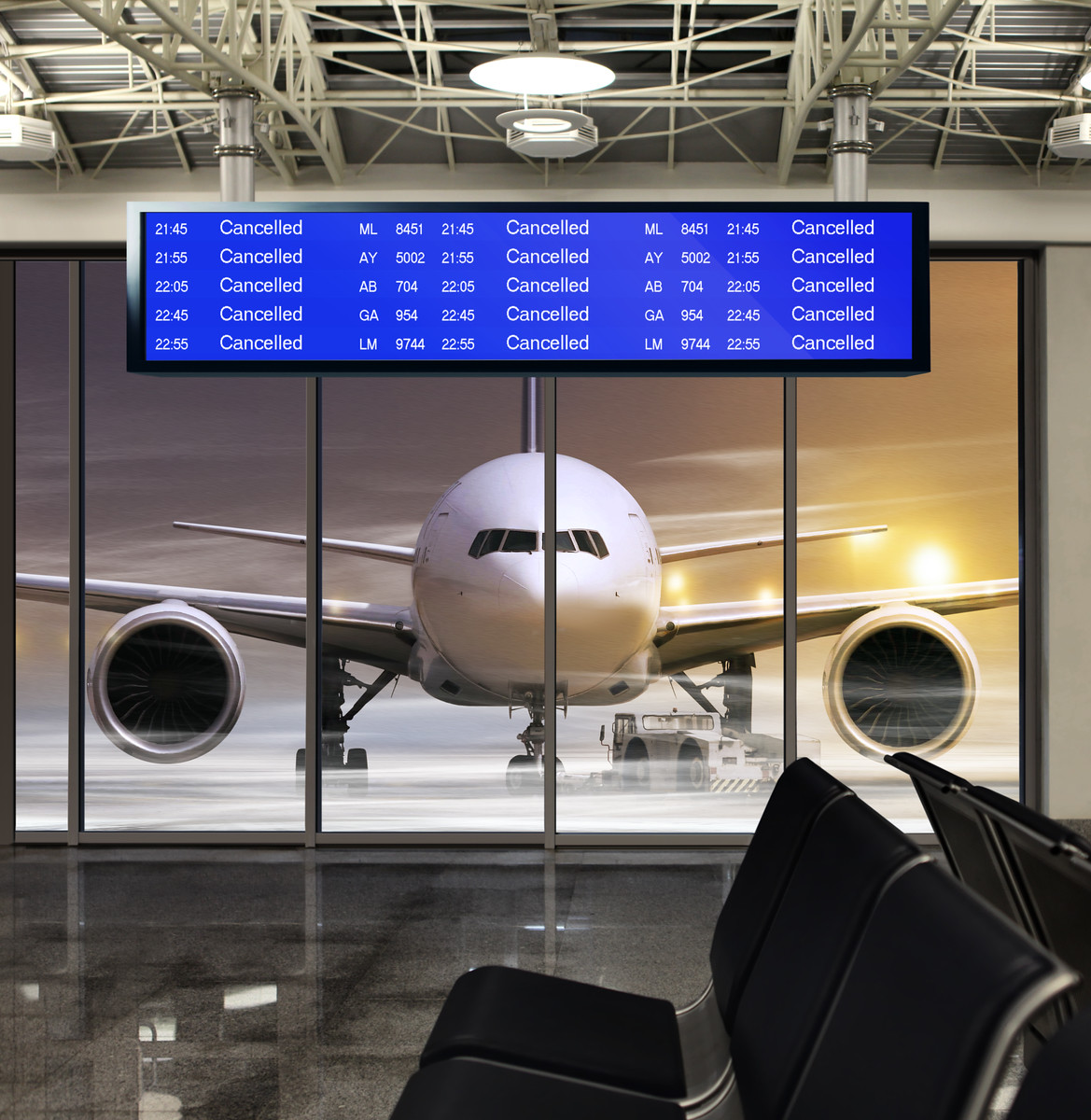 Stay Connected
One of the best ways to solve any problems with an airline these days is social media. When it comes to reporting a problem, Twitter is king. Some airlines are more responsive than others. According to a report by Conversocial, Southwest Airlines is the most responsive to direct @ mentions, while Alaska Air has the best response time of around 2 ½ minutes. On the bad side Spirit Air is the least responsive, only answering around 11 percent of the messages. If they do answer it averages over 5 hours, so not very helpful. Have the airline contact info available, follow on social media and download apps for airport and weather conditions. Apps like GateGuru and FlySmart apps can help in navigating the airport and give you information on shops, restaurants and more.
If your flight does get cancelled, get on the phone and call the airline immediately, even if you are standing in line at customer service. Sometimes you can get a quicker response and re-book another flight by calling.
By following these holiday travel tips, you just might be able to arrive at your destination without too many problems.
Of course, you can send this list to the relatives and have them use it to visit you, while you stay home.
(Visited 58 times, 1 visits today)