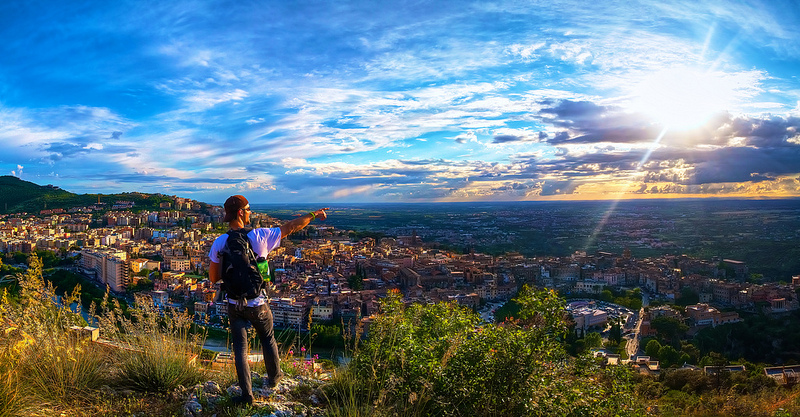 photo credit: Zach Dischner via photopin
When Magellan decided to take a trip did he go to Venice or Paris, both major destinations for the well-traveled at the time? No, he decided to sail the Pacific.
Ernest Hemingway left his job as a reporter for the Kansas City Star and traveled to the Italian front, where he enlisted into World War 1. Hemingway later covered the Spanish Civil War and Normandy landings as a reporter, attended bull fights and went deep sea fishing.
Marco Polo didn't pack up and visit Rome or London, both hot spots for the time. He embarked on an epic journey to Asia instead
All three of these intrepid travelers had one thing in common. None of them ever took boring trips. Instead they opted for the epic adventures that made others envious, ask them about their travels, inspired books and made history.
While you may never be made famous in the history books or land a publishing deal there are things you can do to make that next trip an epic one.
Magellan took two years in planning and funding his travels in the Pacific. During that time he raised money and collected information about where he was planning to go. It may not take you two years but spending time saving money and planning on having enough to enjoy yourself without having to worry too much about the expenses will insure you have a great time. Having back up funds to pay for those unexpected side trips, last minute change of plans or great find in an obscure bazaar will go a long way to making the trip much more memorable.
Hemingway was anything but ordinary. While other authors of the time spent days sipping coffee and exchanging stories, Hemingway forged ahead to places that made other authors envious and go to him for advice. The same can be said of people that travel. While traveling to famous sites such as the Eiffel Tower or the Roman Colosseum can be rewarding and memorable, you can turn your travels into an epic trip by visiting the out of the way places. After the tourist area of Rome try visiting the Celian Hill area, which is full of ancient sites, small cafes and charm. Or how about Ostia Antica, the ancient port area of Rome where you will see the remains of warehouses, baths and houses. Or just strike out on your own and discover what the area holds.
IMMERSE YOURSELF IN THE CULTURE
Marco Polo spent 24 years traveling Asia where he learned several languages, became a confidant of the Emperor of China, and had many epic journeys on the emperor's behalf. You don't have to spend 24 years traveling, although that would be epic wouldn't it? There are some things you can do to immerse yourself in the culture. Get off the tourist path and enjoy time with the people that live there. Eat where they eat, shop where they shop and it helps to learn a few words in the local language. The people there will be impressed you took the time to learn and often will strike up conversations with you because they are as curious about your culture as you are about theirs.
With a few little tweaks to your usual trip planning and schedule you can turn that annual holiday trip into an epic trip that will have long lasting memories.
Did you ever do anything out of the norm that made one of your trips epic?
(Visited 121 times, 1 visits today)