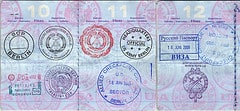 Image by nathangibbs via Flickr
I do a lot of traveling and I pack what I need taking into consideration where I am going and how long I will be gone. But these are things I always do no matter where my travels take me and so far it has worked out pretty good.
Copies of Your Passport
Before you leave home get color copies of your passport made. Put one in your wallet or purse, one in your carry on bag and one in each checked bag. It is always a good idea to carry a copy of your passport on you after you check into the hotel and you are out exploring the city. This way you can leave your passport locked up in your luggage in the room or in the rooms safe. Extra copies are also important if you lose your passport and need to get one at the nearest Embassy. Having a copy on hand makes the process easier and quicker.
Small Flashlight
I travel in a lot of out of the way places but even in if you stay in the more populated areas a flashlight is a good idea. Blackouts, brownouts, unexpected storms whatever if you have a small flashlight it makes things much easier and safer. A compact flashlight small enough to put in your pocket or a zippered area of a bag costs as little as $2.00 and can be bought at any sporting goods store, Walmart or K Mart.
Universal Adapter
There is no need to take several adapters and cords for plugging in and staying connected.  Whether it is an electric shaver, cell phone charger, computer charger or anything else, a small universal converter does the job. I bought mine six years ago in the airport in Frankfurt Germany and it is still with me. At about 1 inch squared it fits easily in any bag and comes in handy. Just remember if you take electrical items to check the voltage, cell phones and computers don't usually have problems and can recharge anywhere but try to plug in a 110 volt electrical item in Europe and you won't have it long.
Baby Wipes
Even if you're not traveling with a baby these things come in handy. They are great for freshening up after a long plane ride, or after and hour of walking around in the heat. They don't take up much space and you will be glad to pull one out and wipe away the grime from your face, neck and arms.
Anti Bacterial Hand Sanitizer
Small bottle goes a long way. Whether you're walking around and stop at that roadside food vendor or your hot, sweaty and dirty, after touring that tropical site, it is nice to get the dirt and germs off. A small bottle can fit into your pocket and you won't even notice it.
First Aid Kit
Okay, before you say anything just wait. I am not talking about some big and bulky box. Lots of places sell a small kit about the size of a cell phone. I have found them at Walmart in the pharmacy section, Dollar Stores, Target and other places. Look for one that has a couple of band aides, some antiseptic cream and if it doesn't have the following then put it in there; a couple of Imodium tablets, a couple of antacid tablets and a few aspirin or other pain pills. Doesn't take up hardly any room and with any luck you won't need it but you'll be happy to have it if you do.
When I travel I take all of the things mentioned and like I said, it doesn't take up much room, in fact it takes up less room than those neck cushions I see everyone using on the airplane. I don't have one of those I just ask the stewardess for an extra pillow.
OK one last item and this is it I promise. Stop at the bank before you go and exchange some money for the currency you are going to need at your first destination. You have money as soon as you step off the plane without waiting in line with everyone else. Doesn't seem like a big deal but take a 15 hour flight then stand in line behind 10 people and have that kid that bothered you for the duration of the flight playing stomp the big guys foot and you will be glad you have the cash already.
What do you always pack?
Did you enjoy this article?
Subscribe for Updates
I promise not to bombard you with emails and I will never sell or share your information with anyone.