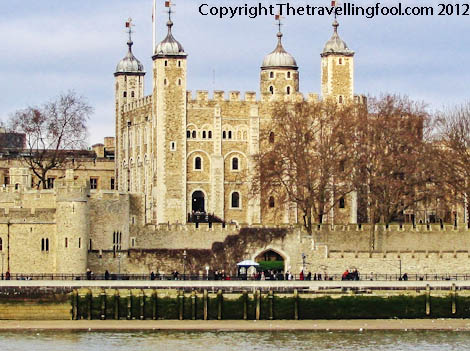 Well if you are talking about time travel using a machine with dials that physically transports you to another date…then no.  But if you're talking about stepping back into history while traveling then I would say yes. One of the reasons I love to travel is the ability to see firsthand the historical sites I have always read about. As I reflect back on my travels I realize this is something that was instilled in me at a young age. From a great teacher that brought History to life to vacations I took as a kid.
Today I see the throngs of tourists snap photos of famous landmarks and wonder if they really realize what took place at some of these locations. I find myself looking at places with an eye to history and events that occurred a long time ago.
The Tower of London is a major tourist venue with the Crown jewels being the star attraction hosting tourists from the world over to gaze upon some of the most beautiful jewels in existence. When I saw them my mind went back to the kings of old and I found the most interesting items to be those from when the Empire was governed by the great kings I had read about in history books. Far more than the jewels I was fascinated by the facts of the Tower itself.
The Tower, founded in 1066 is actually a castle fortress structure with the name being derived from the White Tower built in 1078 by William the Conqueror.  Used at various times as a royal residence, prison, armory and Royal Mint.
Some of the more famous prisoners held there included William Wallace, yeah the one from the movie Brave Heart for you non History types. There were Kings and Queens held there along with a high ranking Nazi during World War 2. A list can be found here.
I find myself looking at places a little differently when I think of what occurred in the very spot I am standing in. Fort Santiago in Manila is a prominent landmark in the city and a favorite destination of people wanting to look at old shops in the area and visit the manicured gardens. When I visited the Fort all I could think of was what the various people went through that had been there before me.
Originally started in the 1500's the fort was completed in the 1700's along with the walled city of Intramuros. Still standing are the fort and the walls around Intramuros with dramatic views as you look out over where cannon once stood guard awaiting an invasion. Fort Santiago was founded by the Spanish and was used as a fort, dungeon and military headquarters. The most famous prisoner to have been incarcerated there was Jose Rizal, the national hero of the Philippines. Rizal was imprisoned and after being convicted of rebellion, conspiracy and sedition resulting from the revolution, he was executed in 1896. The footsteps where he was marched to his execution are laid out inside the Fort along with the cell where he spent most of his time. The fort was also used as a US Military headquarters during World War 2 and subsequently became a prison for US soldiers when the Japanese invaded the islands.
Years ago in Germany I stopped at a Castle for a quick tour. This was no ornate castle with gold gilded furniture and expensive paintings. This castle was occupied by the current owners and their two small children, who lived in a small portion of the castle. They allowed people to come in and look around the part they were not living in. Built in the 900's, this was a true Medieval Castle with no frills. One room had bunk beds that were small by today's standards and stacked four high. We were told the room, roughly 1.5 sq meters, housed up to 40 soldiers. One room was about the same size and had a portion on the floor removed with a rope leading down. The castle owner told of how his predecessors used the room to punish tax evaders.  Failure to pay taxes could result in being thrown in the hole for up to 30 days and given a little water and bread. If you had the strength to climb the rope at the end of your sentence you were free to go otherwise stay there. The entire tour I kept imagining what it must have been like to live during that time. No light except candles and fires, bitter cold in the winter, unsanitary by today's standards, cramped crowded and dangerous. Every day was an exercise in staying alive, not thinking about work, traffic, retirement funds, vacations or anything, just trying to survive.
The next time you travel to that famous landmark put yourself back in time and think what it would have been like.  What was it like to be a revolutionary in Boston, trying to form a new country, where the British considered you a terrorist? What was it like to live the life of a gladiator in Rome, knowing you were there to perform for someone's pleasure and having to learn to fight and kill just to survive another week of imprisonment? What would you feel like being a young man in any of a hundred places thousands of years ago and part of an army of thousands facing another army of thousands knowing you had to rush forward with nothing but a club or sword and at the end have thousands lying dead on the battlefield?
By taking a look at places through the eyes of history sometimes you can come away with a better appreciation.
Did you enjoy this article?
Subscribe for Updates
I promise not to bombard you with emails and I will never sell or share your information with anyone.