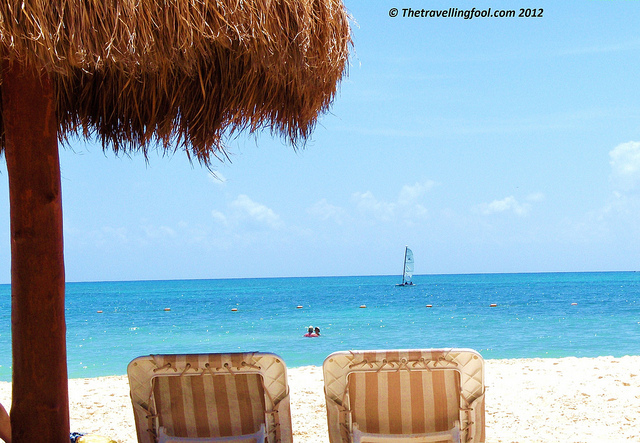 Well today is the one year anniversary for The Traveling Fool. Before I go any further I want to thank all the readers and subscribers to the blog. In January of 2011, a contract I was working on in the Middle East came to an end. After having worked in the region for eight years I decided to take a break. A friend told me I was lucky to have traveled to so many places so I decided to start a blog so I could share some of my travel experiences and maybe give a few tips.
At first there were no readers, I did no marketing, I wasn't on twitter. It was more of an experiment and a way to express myself. I did a little traveling when I first left my job and in April a friend and I went to Thailand for 6 weeks, partly on business and partly pleasure.  In August I decided maybe I would try and get a little serious about the blog. I switched from blogger to a self-hosted WordPress blog, purchased a custom template and started getting involved in social media.
I woke up one day and damn, people were reading, even had a few comments. I started reading other blogs and found that I am damn sure no Hemingway but I kept it up. I started meeting people on social media and found out that travel blogging as a business is hard work. Maybe that's why I still approach it as a way to express myself, entertain and inform people. It isn't because I am making any money at it. Then again I haven't really tried to. I do have a few sponsored posts and I stayed at a resort that was compensated for but if you add it all together it comes to about 2 weeks worth of pay from my last job. A couple of my posts have been published in USA Today Travel section and I contribute on The Holidaze website.
I may be taking on another contract soon but I think I will still keep blogging about places I have seen, maybe a travel tip or two and in general trying to inspire people to get out and see the world. I have been fortunate to have the opportunity to travel and see lots of places others just dream about. Most people never leave their home country or if they do it is for a once in a lifetime trip. If I can inspire a few people to see new places or introduce them to other great travel bloggers, all of whom are far better at this than me, then maybe the fool has accomplished something.
Thanks again to everyone that's made this fun to do. I want to especially thank Earl from Wandering Earl, Matt Karsten from Expert Vagabond and Wes Nations from Johnny Vagabond. All three were kind enough to answer dumb questions when I had them and give me some great advice when I was starting out.
Did you enjoy this article?
Subscribe for Updates
I promise not to bombard you with emails and I will never sell or share your information with anyone.