I recently visited Savannah Georgia and my trip was hosted by Visit Savannah and this post contains affiliate links
When looking for places to eat in Savannah Georgia you have a lot of choices. From the popular tourist locations to restaurants where the locals eat and some of the best food anywhere. Savannah is a fabulous city full of history, culture and home to great food.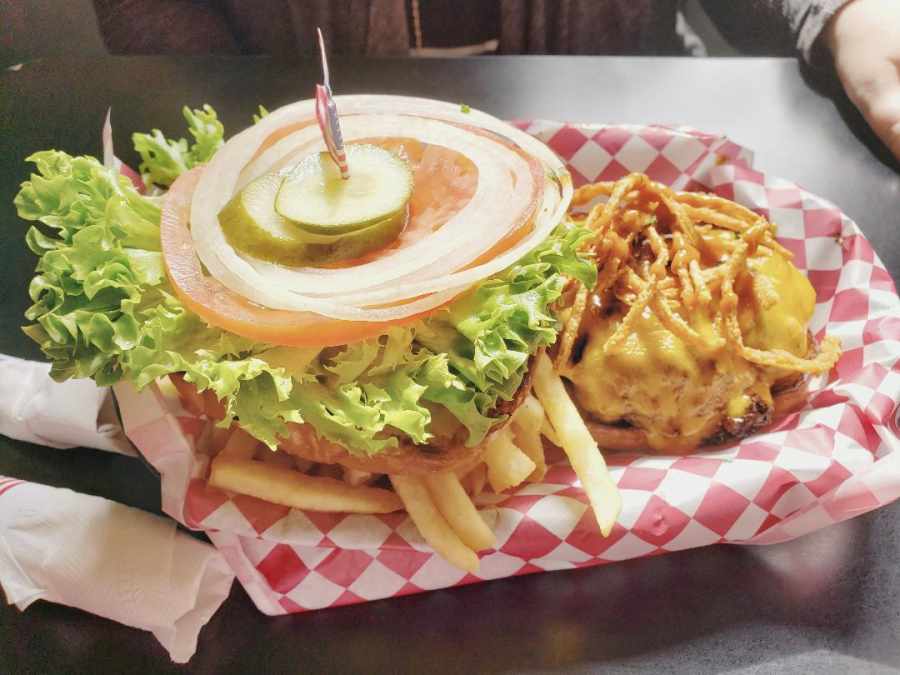 People visiting Savannah tend to spend most of their time in the historic area, and who could blame them, you can spend a week there and still not see everything. As a result, a lot of visitors never experience some of the less touristy places to eat. Not that the places catering to tourists aren't good, some are really good. There are some great restaurants in downtown Savannah Ga. When I travel though, I like to find the little known places that are often overlooked. I enjoy a great steak or a fancy dinner but I also enjoy just plain old good food so I like to ask the people that live there where to eat.
So, where do locals eat in Savannah? Well some are well known but a few are not on many visitors radar.
Breakfast
I like to wake up early when I am traveling so I can walk around and take photos before the town starts to get busy with traffic and people. After walking around for awhile it is good to grab a light breakfast and I found a couple of great places to do just that.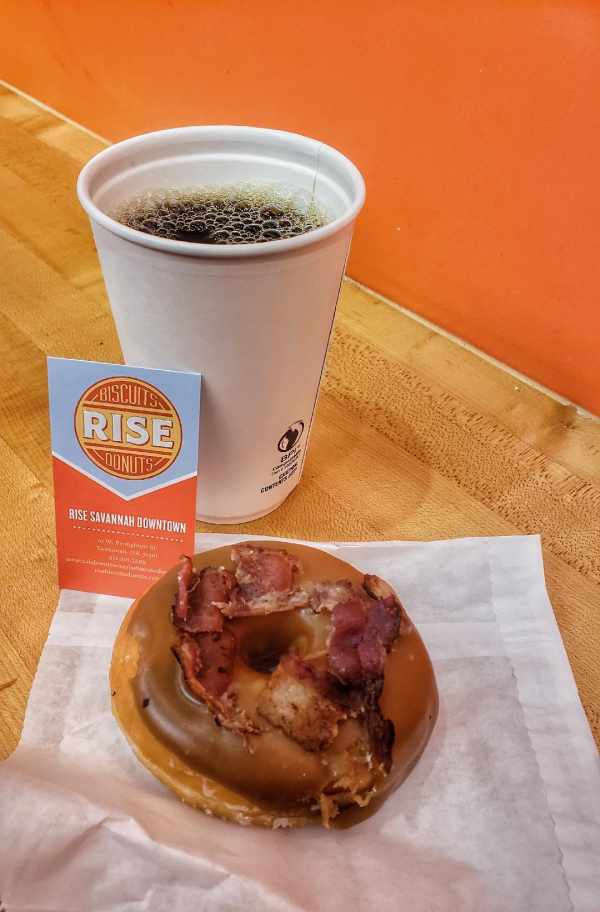 Rise Biscuits and Donuts
One taste and you will see why Rise Southern Biscuits and Righteous Chicken is a favorite breakfast and lunch destination. Rise serves Southern Biscuits, Righteous Chicken Sandwiches and Sweet Stuff all day long. Started in North Carolina in 2012 they have rapidly expanded to 16 locations in 6 states. They have a wide assortment of donuts for breakfast, like the Maple Bacon doughnut I had, along with pretty good coffee. They also have southern biscuits with their righteous chicken or sausage. Check them out, you won't be disappointed.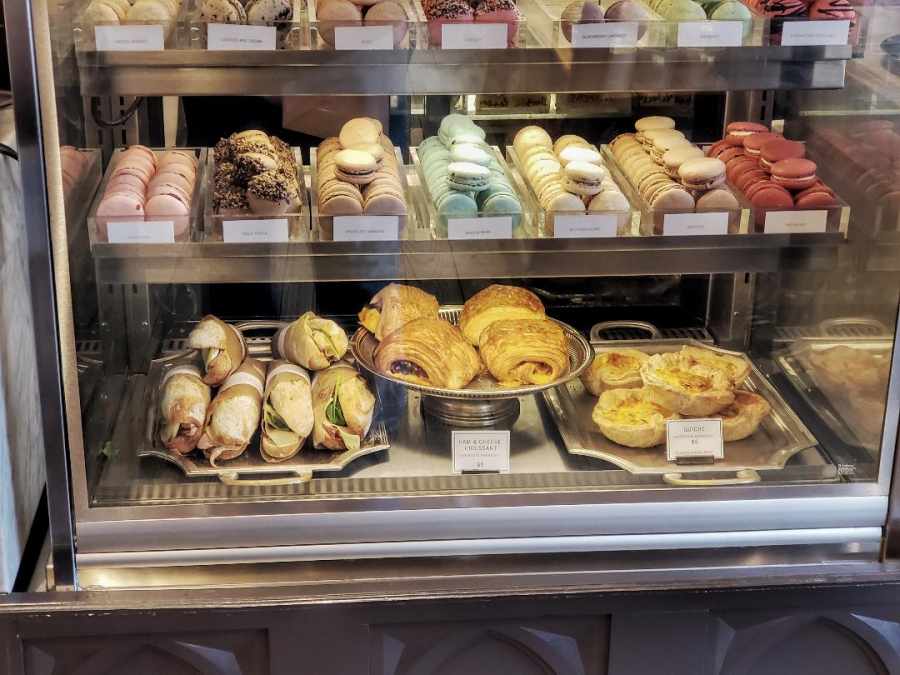 The Paris Market Café
Located inside the Paris Market and Brocante is their Café. It is more of a coffee shop styled after a Parisian street café. They have great coffee, croissants and Danishes for breakfast and offer sandwiches for lunch. This is a great place to start off your day since after you have a croissant and coffee you can spend time wandering around and looking at everything inside the market. They have some really cool stuff and who knows you might find that one item you can't pass up.
Find Accommodations in Savanna Ga

Lunch and Dinner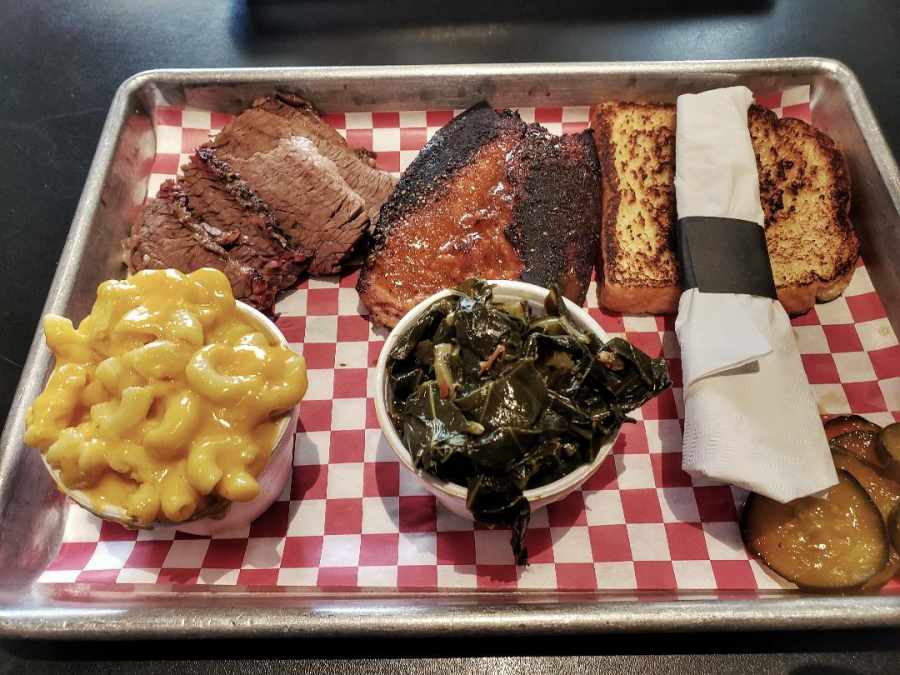 Sandfly BBQ
I may not be an expert but I have been smoking and eating BBQ for a long time and when I am in a new place, I like to sample what they consider good BBQ. There is no better way to find a good place than ask the people that live there and when I asked where a good BBQ place might be, Sandfly BBQ was the answer. They have two locations but I went to the original one near Isle of Hope.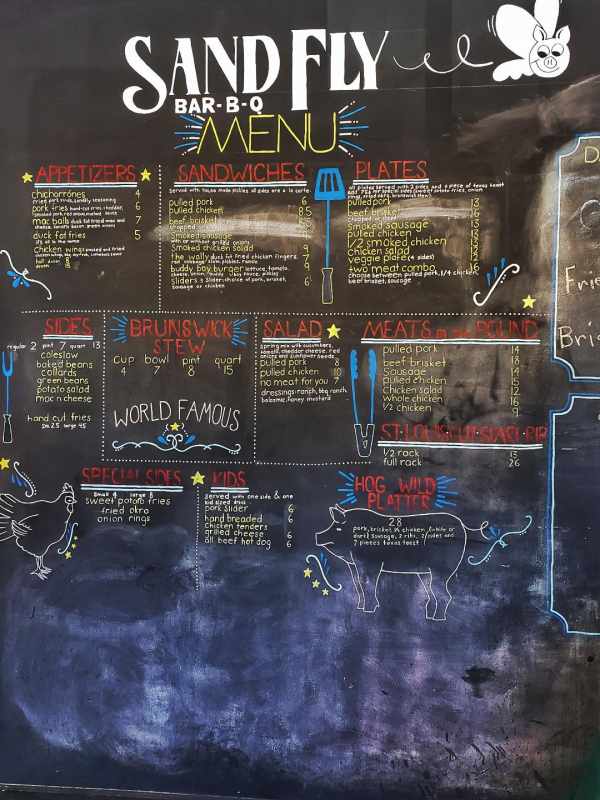 Tucked away in a strip mall Sandfly BBQ puts out some really good BBQ. When I entered, I noticed they had around 40 to go meals ready and about to be delivered. That's always a good sign that you are in the right place. With pulled pork, beef brisket, smoked sausage, chicken and all the sides these guys do it right. I had the brisket and sausage and was not disappointed. They also serve peach cobbler but for some reason they only do it a few days of the week and I was there on the wrong day. If you are looking for BBQ in Savannah this is the place.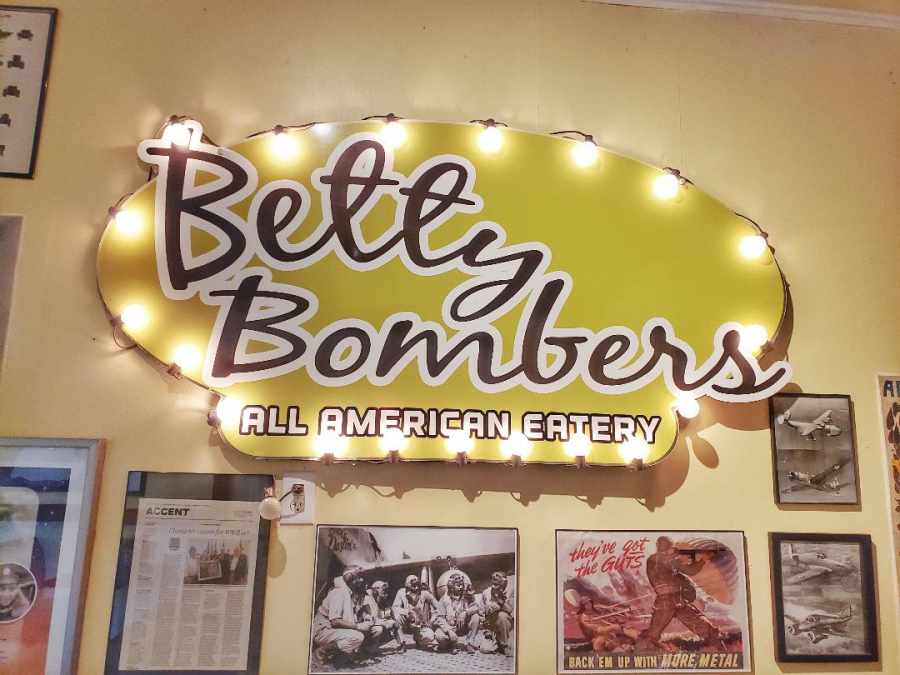 Betty Bombers
Betty Bombers is located inside the historic American Legion Post 135 and serves great burgers, sandwiches and appetizers. The place is decked out in a military theme with photos and signs from the 1940's. It's a casual eating place with really good food.

The guys behind this are two local chefs Patrick Zimmerman & Seth Musler who have over 30 years combined experience that just wanted to serve good food with fresh ingredients. I love a good burger and this place is good, trust me. I recommend the onion rings as well. Good food, reasonable prices and a fun atmosphere.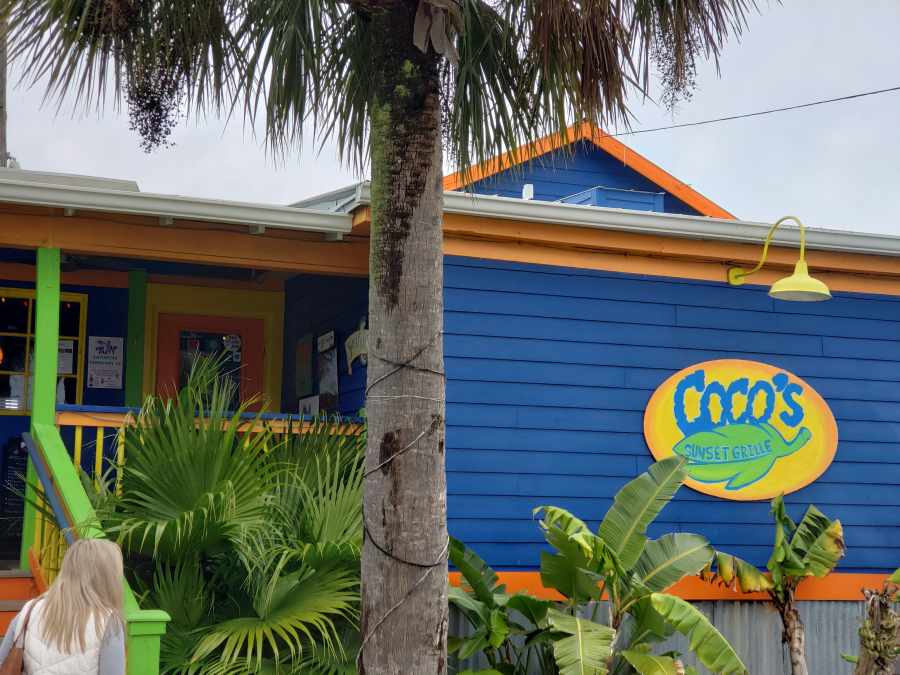 Coco's Sunset Grille
Tybee Island is only a few miles away from Savannah and well worth the trip. There are a lot of places vying for your tourist dollars and there are a lot of good places.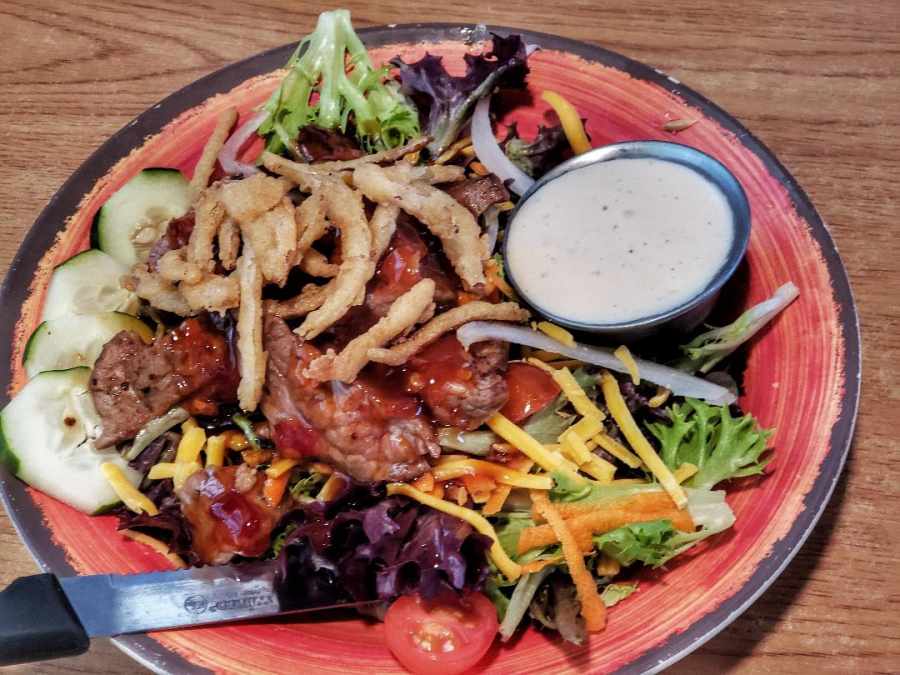 I can recommend Coco's Sunset Grille. Located on a creek, Coco's is one of the few restaurants located at an operating marina. Just a few feet from the docks to the restaurant mean you get some of the freshest seafood around.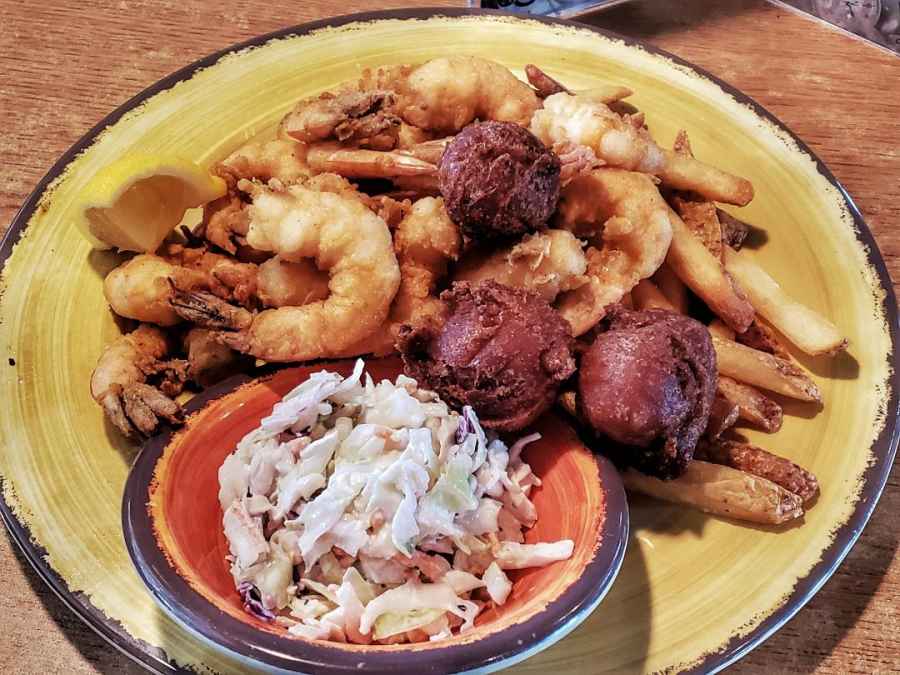 The shrimp basket I had was fantastic and the tropical drinks are great. Throw in good music and the best place to watch the sunset on the island and you have a winner. If you visit Tybee Island you need to check out Coco's Sunset Grille.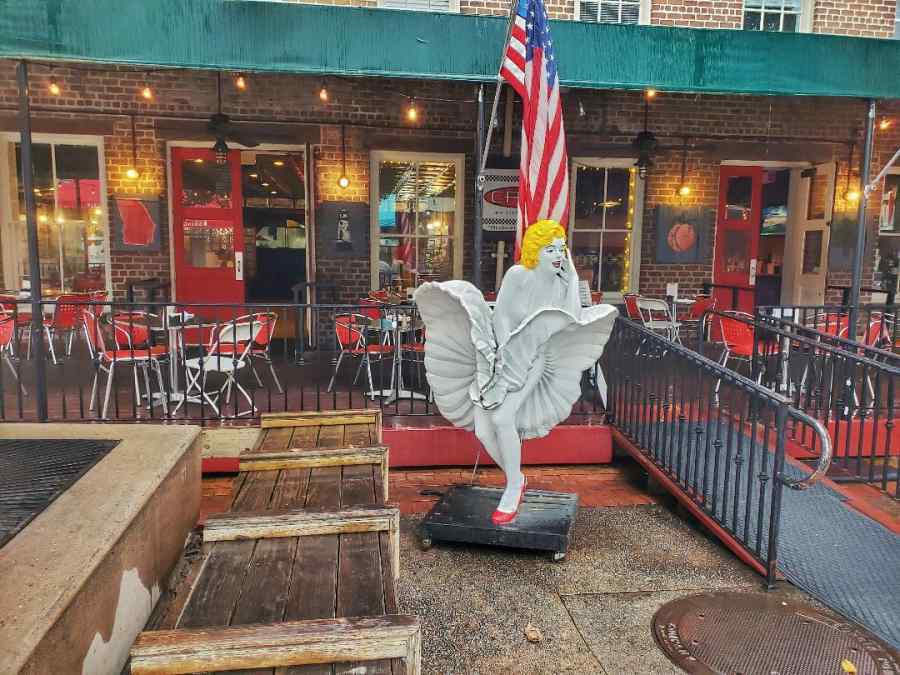 Café at City Market
City Market in Savannah covers four city blocks and is the go to destination downtown for specialty stores, restaurants, live music and other venues. One of the places where you can grab a bite to eat is The Café at City Market. You have the option of dine in service or sitting outside on the patio where you can partake in some people watching while you enjoy great food and drinks. With everything from salads to burgers fish and steaks there is something to please everyone and they have some killer drinks. I had the Georgia Peach Sangria made with White Zinfandel, GA PeachPuree, Triple Sec and Sprite. Too bad I couldn't have tried them all but I still needed to walk.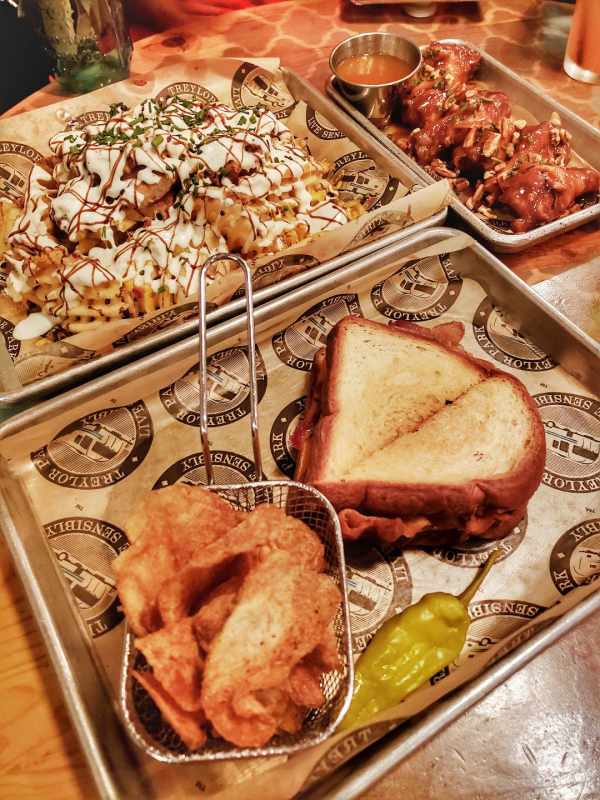 The Treylor Park
The Treylor Park in Savannah has a motto "Quality over Quantity" but I gotta tell you the quantity is there as well. This place is conveniently located downtown on Bay Street, close to the river and everything in the historic district. Popular for both lunch and dinner they cook up comfort food with a twist. How about PB&J Chicken Wings? Fried wings tossed in a peanut/ pecan butter and peach jelly sauce. I tried them; they are good. Or try the Nachos Grande made with waffle fries, chicken, bacon cheddar cheese and chive ranch dressing. Great sandwiches, killer tacos, and desserts like fried Oreo's and Bacon Brownies along with cocktails and local beers on tap and you can see why this place is popular. They have a couple of other locations as well listed on their website.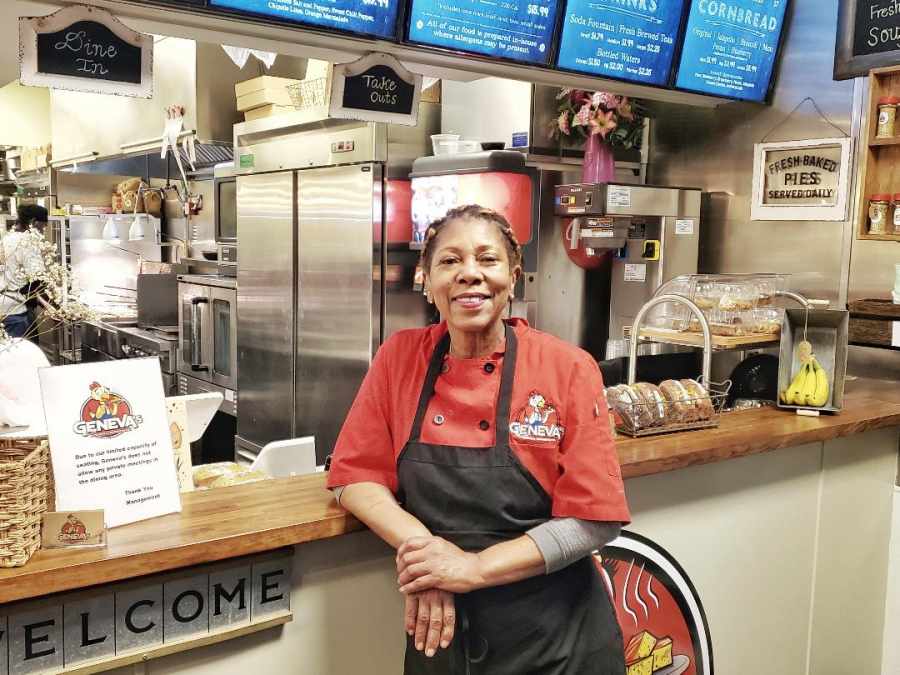 Geneva's Famous Chicken and Cornbread
Like I said earlier, if you want to know the best places to eat then ask the people that live there. When I asked where the best locally owned fried chicken place was, I was told hands down it was Geneva's Famous Chicken and Cornbread Co. Sometimes you can find the best food in little out of the way places.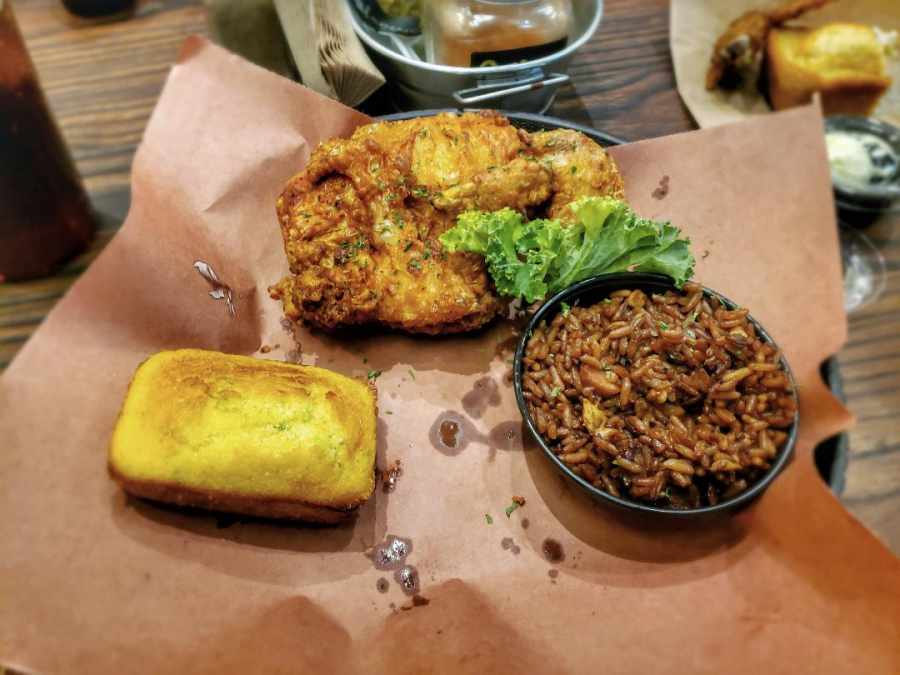 Geneva's is located in a shopping center out of the tourist area and is crowded with locals that know good cooking. I was lucky enough to meet Geneva while I was there and sample a little bit of everything. The fried chicken is fantastic and the cornbread is so popular they have someone doing nothing but making cornbread all day long.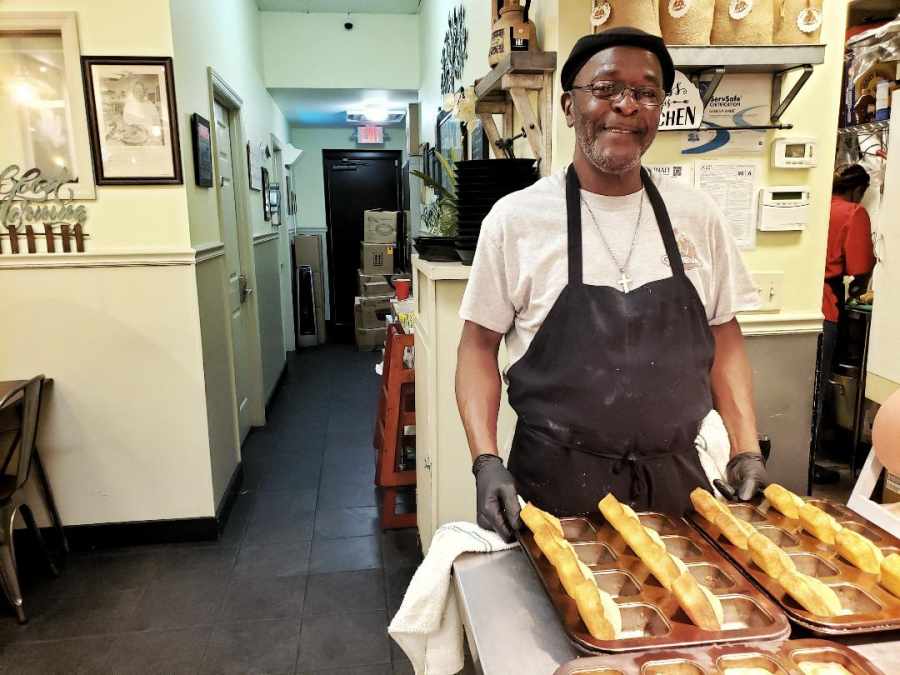 They make regular and specialty cornbread like blueberry and pecan cornbread and serve it with their home made spreads. The sides are all really good and leave room for the banana pudding at the end. Geneva's is another family run business where they put the love in what they cook. When you go, tell her I said hi and send me some cornbread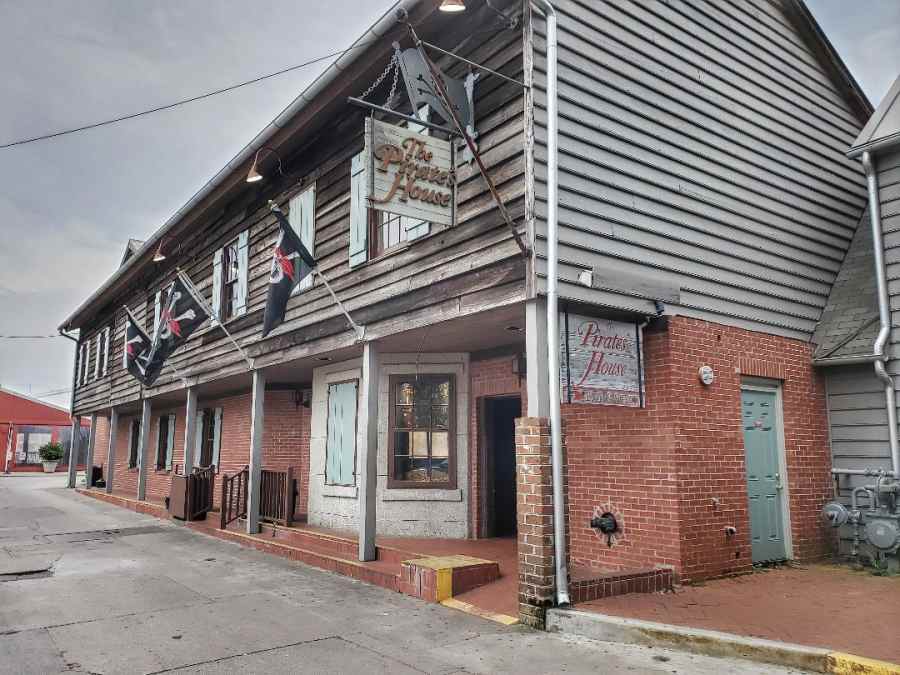 The Pirates House
Okay, this is probably one of the best known restaurants in Savannah but it made my list for a couple of reasons. The food is good, they have a great bar, the staff is friendly and it is located in the oldest building in Georgia. Part of the current building dates to 1753 when it opened as an Inn and a rendezvous for pirates.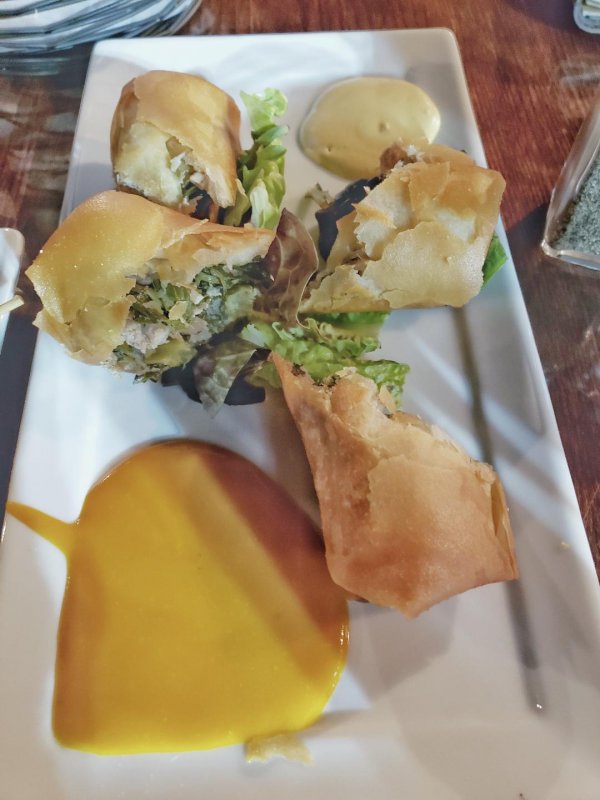 They serve up some really good seafood appetizers including the corn fritters and shrimp and their menu offers everything from honey pecan fried chicken, shrimp and grits, pastas and steaks. The Pirates House in Savannah is mentioned in Robert Louis Stevenson's book Treasure Island and upstairs in the Captains Room, rare early edition pages of Treasure Island are on display. Rumor has it the place may even be haunted.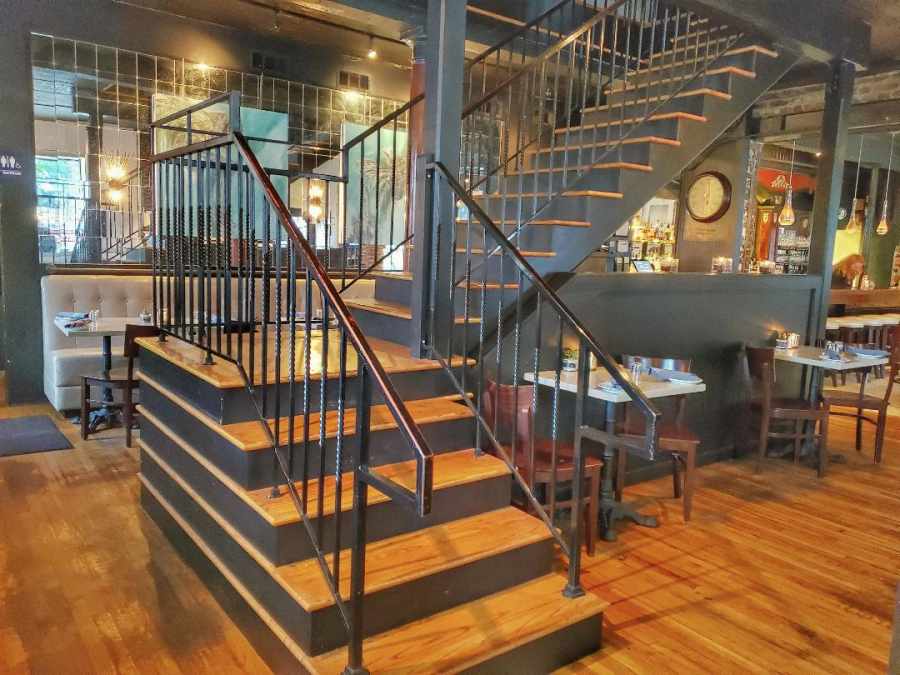 B. Matthews
Located on the edge of the historic district, B Matthews Eatery looks like a cozy neighborhood restaurant. Serving Breakfast, Lunch, Dinner and Brunch they use fresh locally sourced ingredients when possible.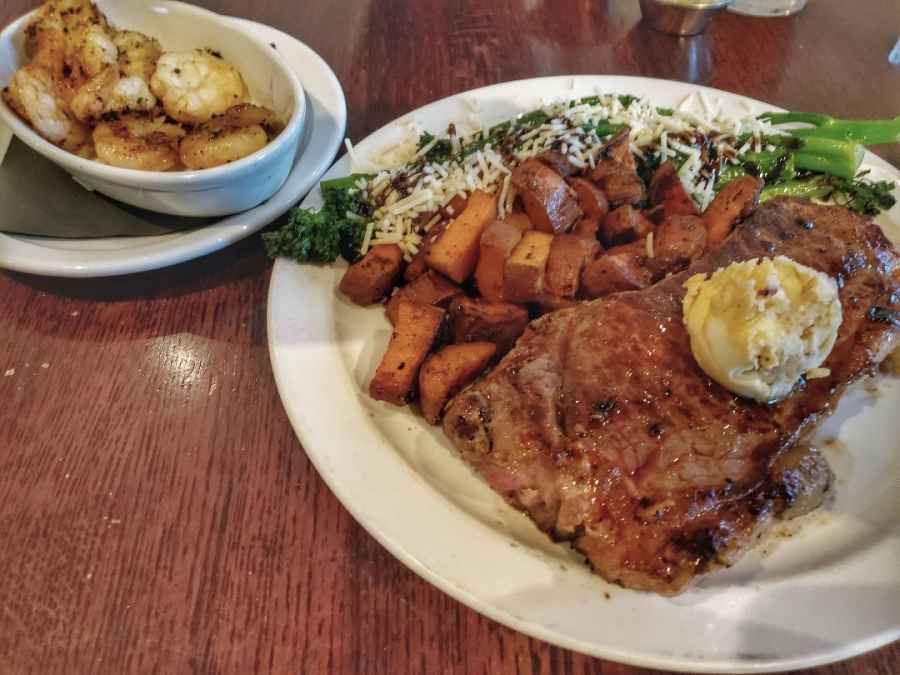 The menu tends to change from time to time but you can always count on really good food, everything from burgers, steaks, crab cakes and shrimp and grits can usually be found and the cocktails are just as good. I had a great steak and a cocktail to go with it and thoroughly enjoyed it.
Sweets and Indulgences
Every now and then you just have to stop and indulge and I can think of no better places than the two listed here.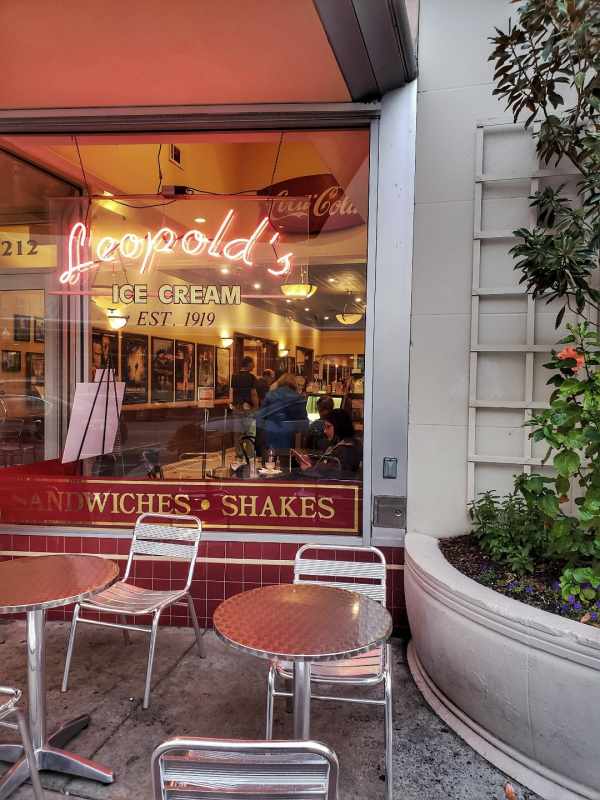 Leopold's
Local favorite, tourist must do, Savannah institution and downright good is Leopold's Ice Cream. Founded in 1919 by three brothers from Greece, Leopold's has been making Savannah citizens and visitors happy for over 100 years. Famed songwriter and Savannah native Johnny Mercer even worked there in his youth. One of the brother's sons, Stratton, went on to become a Hollywood producer of such films as Mission Impossible 3, The Generals Daughter and others.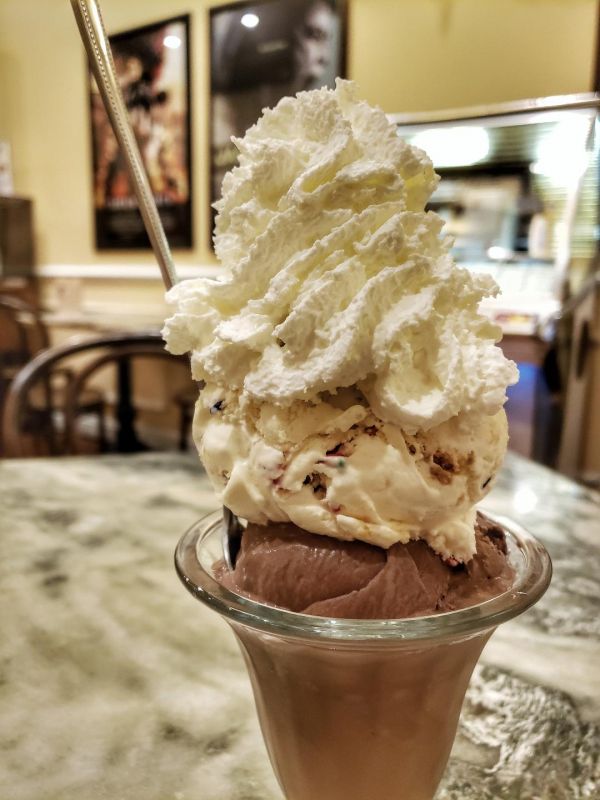 As a result, the walls are adorned with celebrity photos and Leopold's has even had a cameo appearance in a couple of movies. When not in Hollywood, Stratton can often be found still helping out behind the counter at the family run Ice Cream Shop. Having said that, no business stays around 100 years unless they are putting out a great product and Leopold's Ice Cream is good. Take my word for it.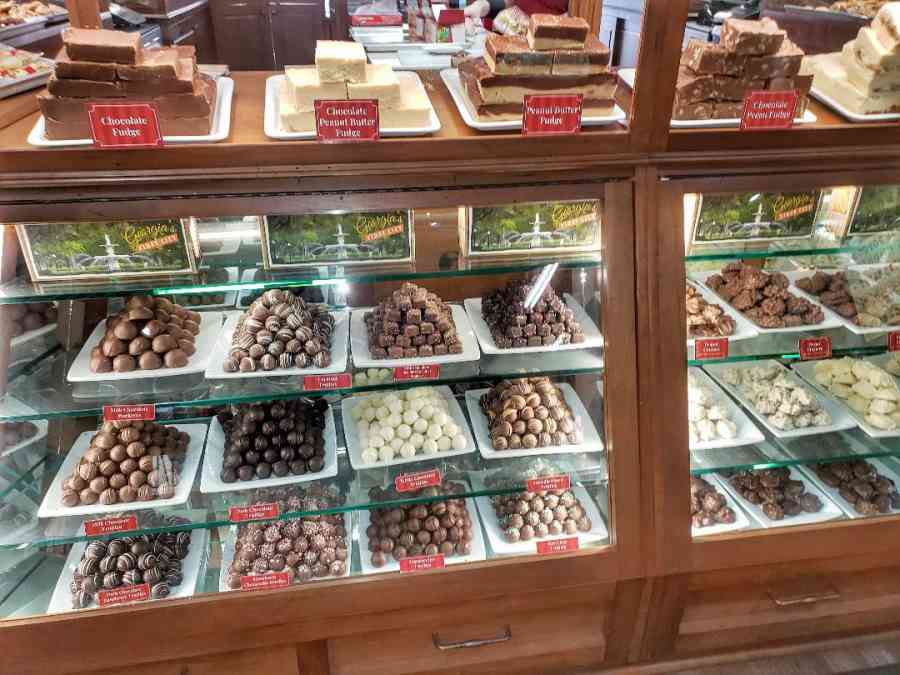 Savannah's Candy Kitchen
Another family owned business is Savannah's Candy Kitchen. For over 40 years the Strickland family has been making Southern candy and sweets using the family recipes.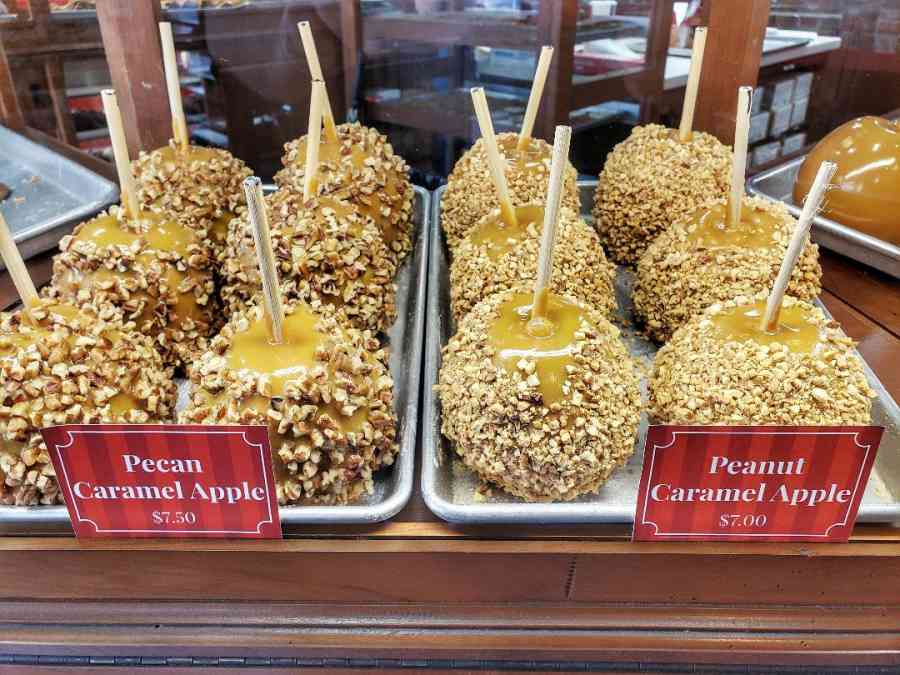 What is Southern Candy? Well how about things like Pecan Pralines, Pecan Logs, Old Fashioned Peanut Brittle, Divinity Candy, Fudge, Cakes, pies and list goes on and on and on. If you have a sweet tooth then this is the place to visit. Heck it is fun just to look around but if you do just be warned, something will catch your eye and you will wind up buying something.
Drinks
When I travel to a city I walk around. I spend time just exploring the city and discovering little places not in the guide books or spend time meeting and talking to people. I find that's the best way to learn about a place and the people that live there. After a while it's nice to take a break and there are a lot of places in Savannah to relax and enjoy a drink but next time you visit try these two places.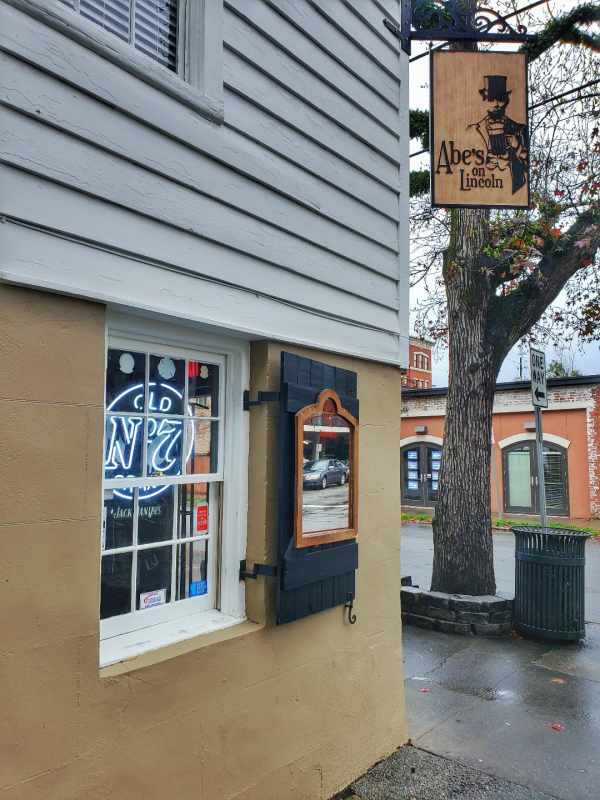 Abe's on Lincoln
When you travel there are touristy bars and then there are the ones where it feels like a neighborhood bar. Abe's on Lincoln feels like a neighborhood bar where locals and a few tourists lucky enough to stumble in feel right at home. Unlike a bar that caters to the tourist industry, Abe's is cozy, friendly and has a great atmosphere for just having a drink, striking up a conversation with someone or just relaxing from a long day of walking around town. The drinks are good, very reasonably priced and there is quite the art scene going on.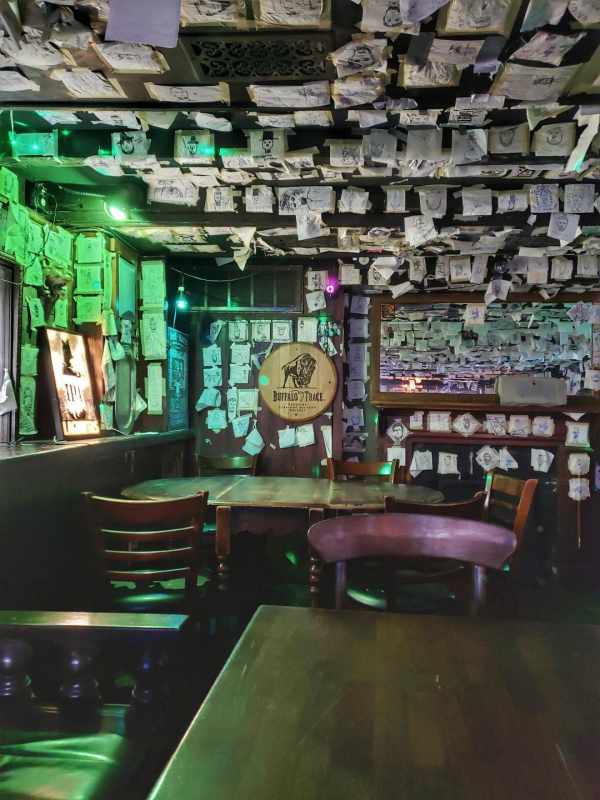 Everywhere, and I mean everywhere, there are drawings on bar napkins hanging up. On the walls, tacked to the ceiling and on the doors. Most of the drawing are renditions of good old Abe Lincoln but there are others that are self portraits I assume or of other people. Some are pretty simple but some are really good and you can spend quite awhile checking them all out. There is also an outside patio that is cigar friendly, hey you know I had to have a good place for a whisky and a cigar. Abe's also has open mic nights on Mondays and a DJ on the weekends. It's a great place to take a break without being gouged on the drinks.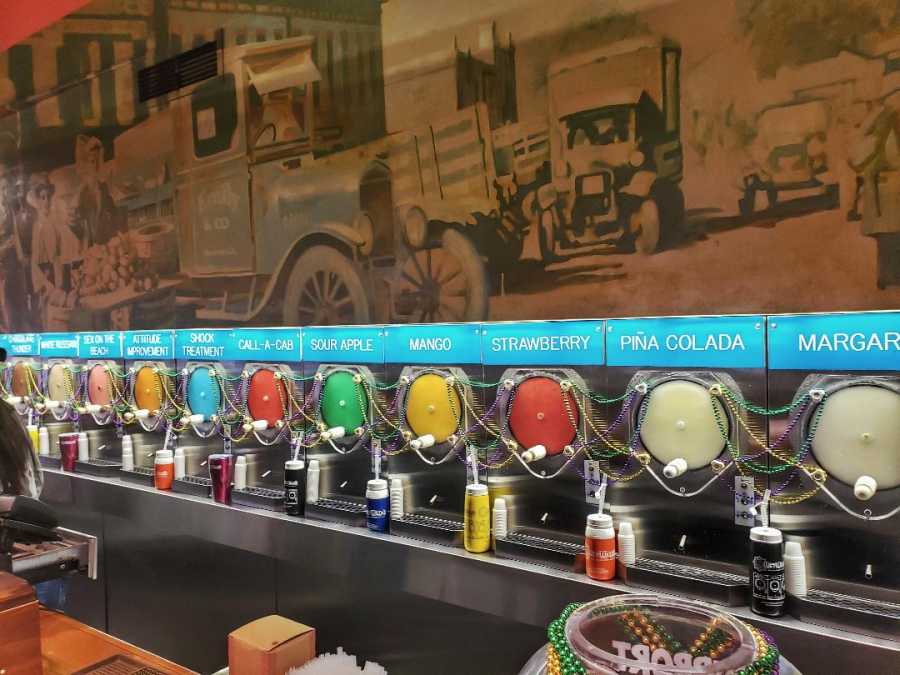 Wet Willies
Located at City Market, Wet Willies is a welcome relief in the Savanna Summer Heat. Let's face it Savannah can get hot and if you are checking out all the sights it can be a little uncomfortable at times. Well Wet Willies is here to the rescue. They have a huge assortment of frozen daiquiris that just plain hit the spot on a hot day. They also have some pretty good food to munch on while you are cooling off with one of their drinks.
The next time you are in Savannah check out some of these places to eat and drink popular with the locals, as well as visitors in the know.
If you know of any other great places to eat and drink in Savannah that might be off the tourist path, let me know in the comments.
(Visited 3,640 times, 1 visits today)